Puzzles For The Dead by pabon(

m

): 2:00pm On Feb 19
Alright. Here we go again.
This story isn't new. I worked on it while I was serving Nigeria in a small village in the West.

I hope you like it. I enjoyed writing it (although it ain't finished, yet).
With your support, we could get to the end in no time.
Re: Puzzles For The Dead by pabon(

m

): 2:02pm On Feb 19
COPYRIGHT © PABON 2020
All rights reserved. No part of this publication may be reproduced, stored in a retrieval system or transmitted in any form or by any means, without the prior permission in writing of the author, nor to be otherwise circulated in any form of binding or cover other than that in which it is published.

All the characters in this book are fictitious, and any resemblance to actual persons living or dead is purely coincidental
Re: Puzzles For The Dead by pabon(

m

): 2:03pm On Feb 19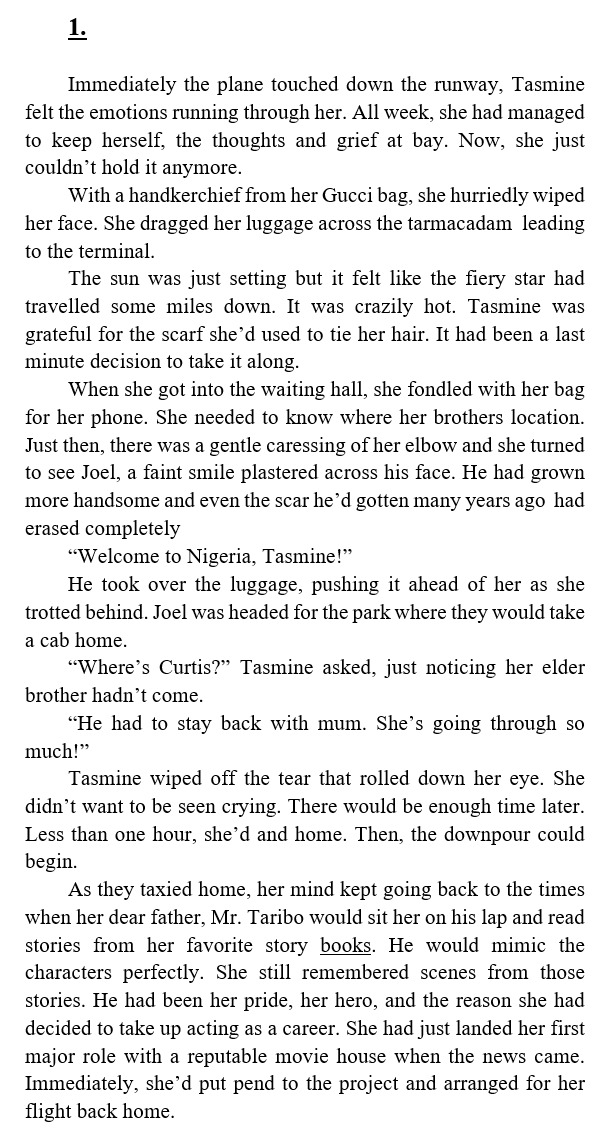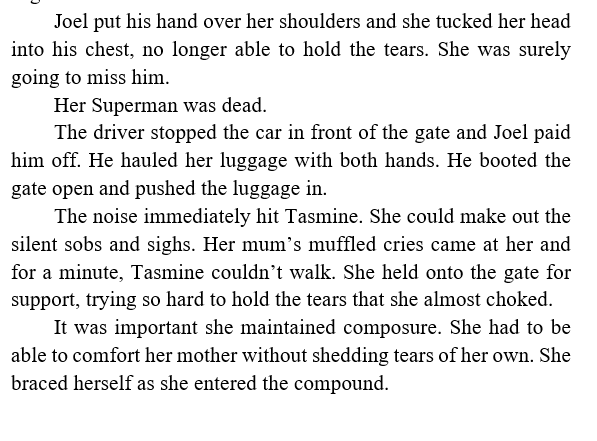 1 Like
Re: Puzzles For The Dead by pabon(

m

): 11:36am On Feb 20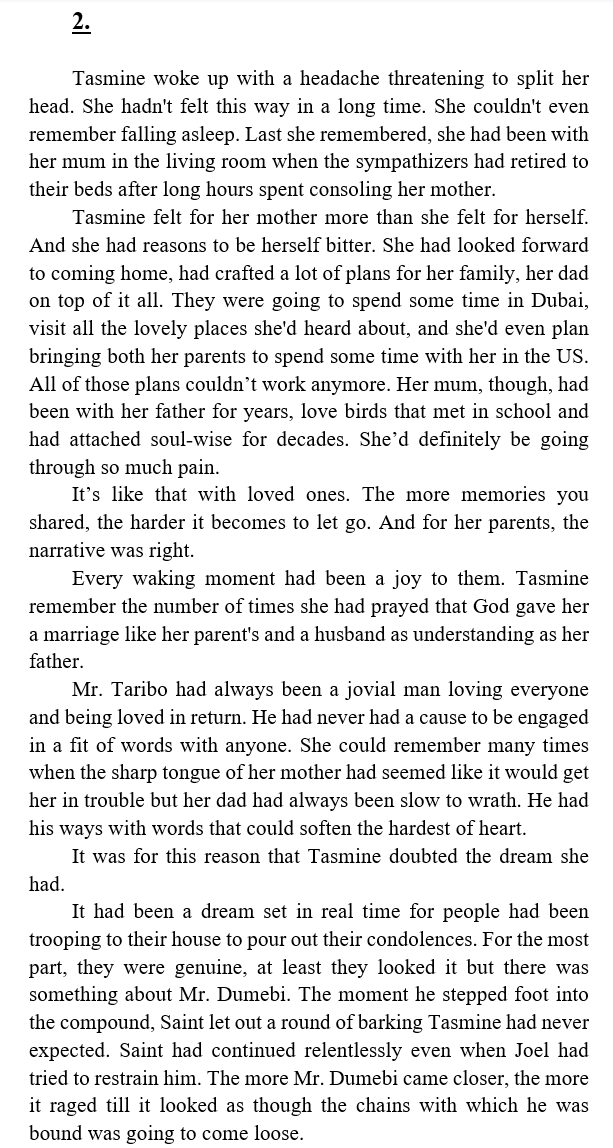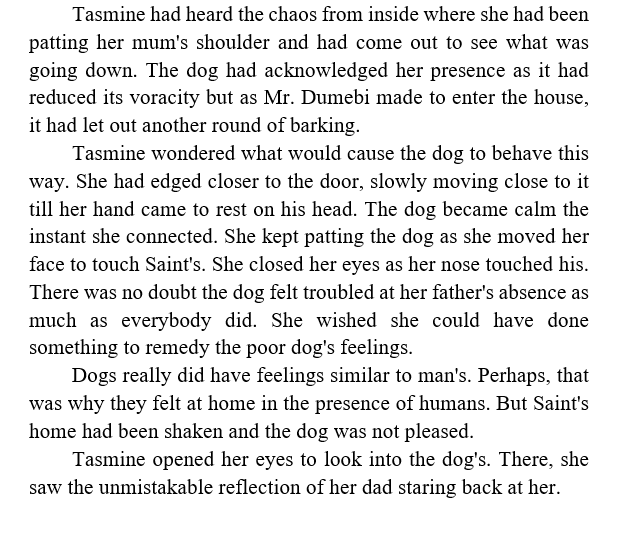 1 Like 1 Share
Re: Puzzles For The Dead by BlessedNiel: 3:36pm On Feb 20
It is sure going to be an interesting ride
Seat booked
More inspiration
1 Like
Re: Puzzles For The Dead by pabon(

m

): 7:13pm On Feb 20
Welcome BlessedNiel. I hope you enjoy this story. Thanks for being the first to comment.
1 Like
Re: Puzzles For The Dead by NavyBlue(

f

): 11:00pm On Feb 20
Following
1 Like
Re: Puzzles For The Dead by BlessedNiel: 12:32pm On Feb 21
pabon:
Welcome BlessedNiel.
I hope you enjoy this story.
Oh yes
You never disappoint
Re: Puzzles For The Dead by pabon(

m

): 6:19pm On Feb 21
BlessedNiel:

Oh yes
You never disappoint
Wow. Thanks for the vote of confidence.
1 Like
Re: Puzzles For The Dead by pabon(

m

): 6:21pm On Feb 21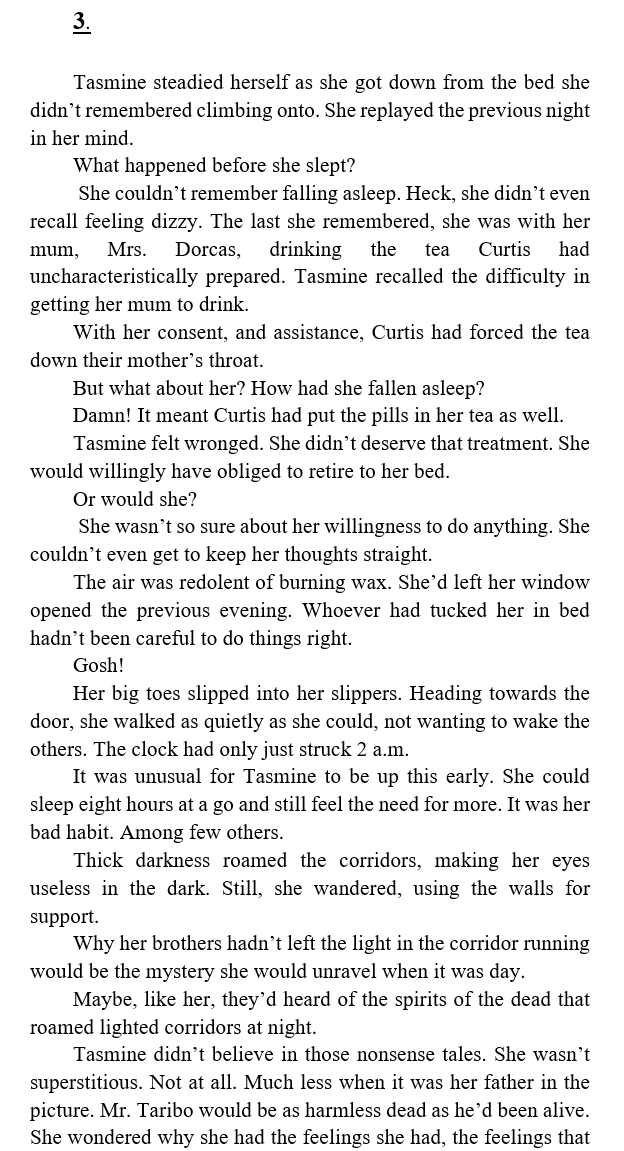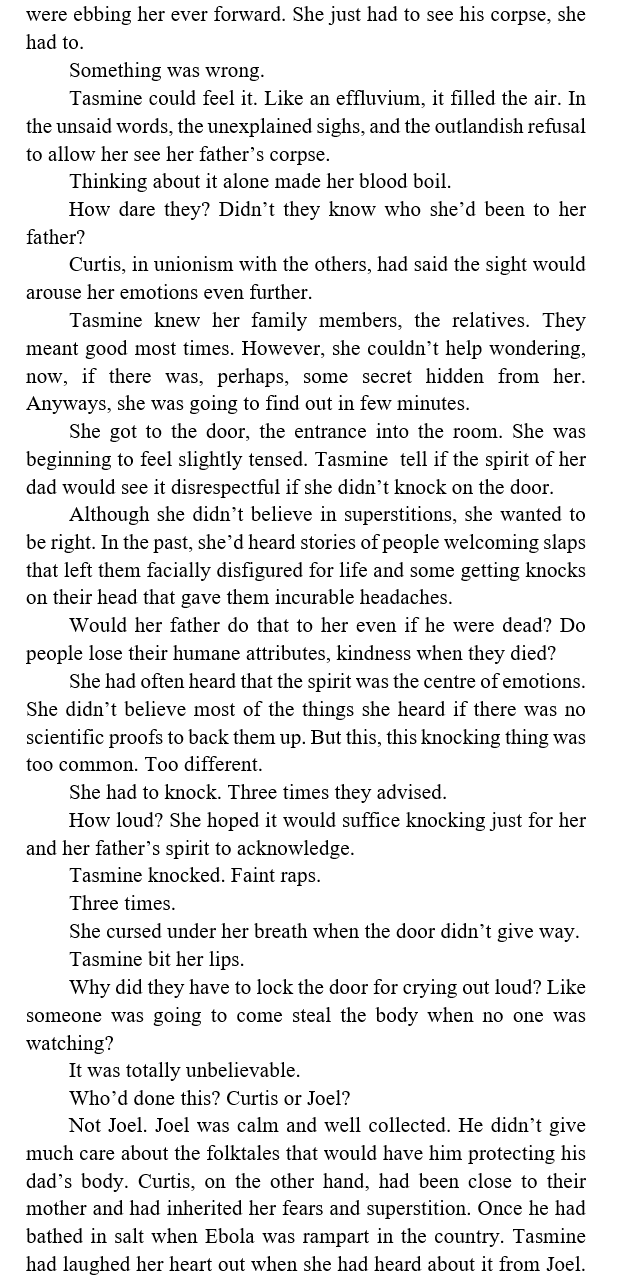 1 Like
Re: Puzzles For The Dead by pabon(

m

): 3:16pm On Feb 27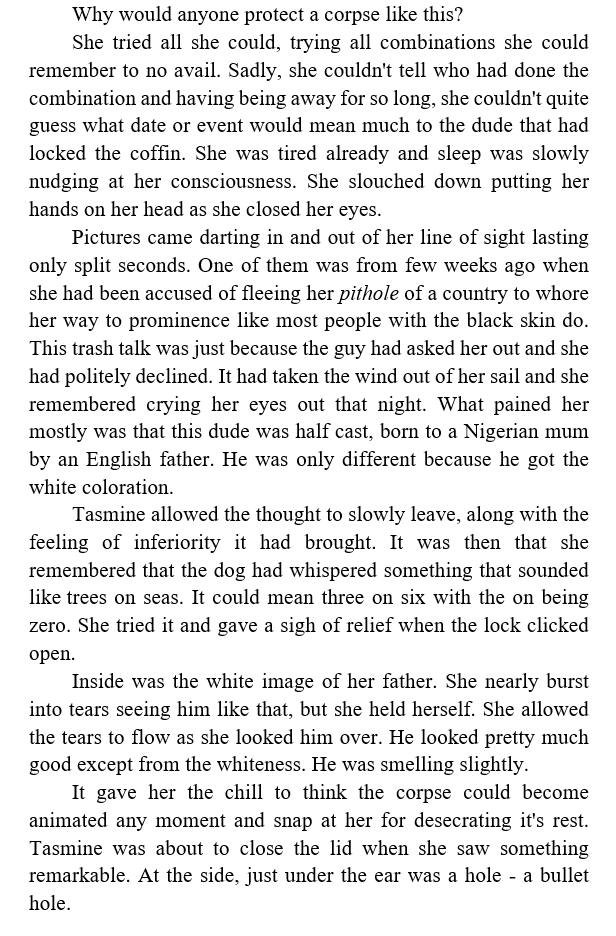 1 Like
Re: Puzzles For The Dead by Devilpen(

m

): 3:46pm On Feb 29
.
Re: Puzzles For The Dead by Devilpen(

m

): 3:46pm On Feb 29
Oga Sir, it's been a while o
what about our Mystery of no land
Re: Puzzles For The Dead by pabon(

m

): 12:27am On Mar 01
Devilpen:
Oga Sir, it's been a while o

what about our Mystery of no land
It's very much in progress. Few minutes ago, I published the first book. It's available now on
Okadabooks
.
At the end of the book, you will get more information about book two. Thanks for checking up on me.
Re: Puzzles For The Dead by BlessedNiel: 3:46pm On Mar 02
I hope this Tasmine of a girl is not about to turn detective shah

Weldone Mr. Pabon
More than grace
Re: Puzzles For The Dead by pabon(

m

): 4:42pm On Mar 03
BlessedNiel:
I hope this Tasmine of a girl is not about to turn detective shah

Weldone Mr. Pabon
More than grace
Let's wait and see. BlessedNiel, please send me an email. My email address is on my signature.
1 Like
Re: Puzzles For The Dead by pabon(

m

): 8:01pm On Mar 07
MYSTERIES OF NOLAND (BOOK 2) AVAILABLE ON OKADABOOKS(click here)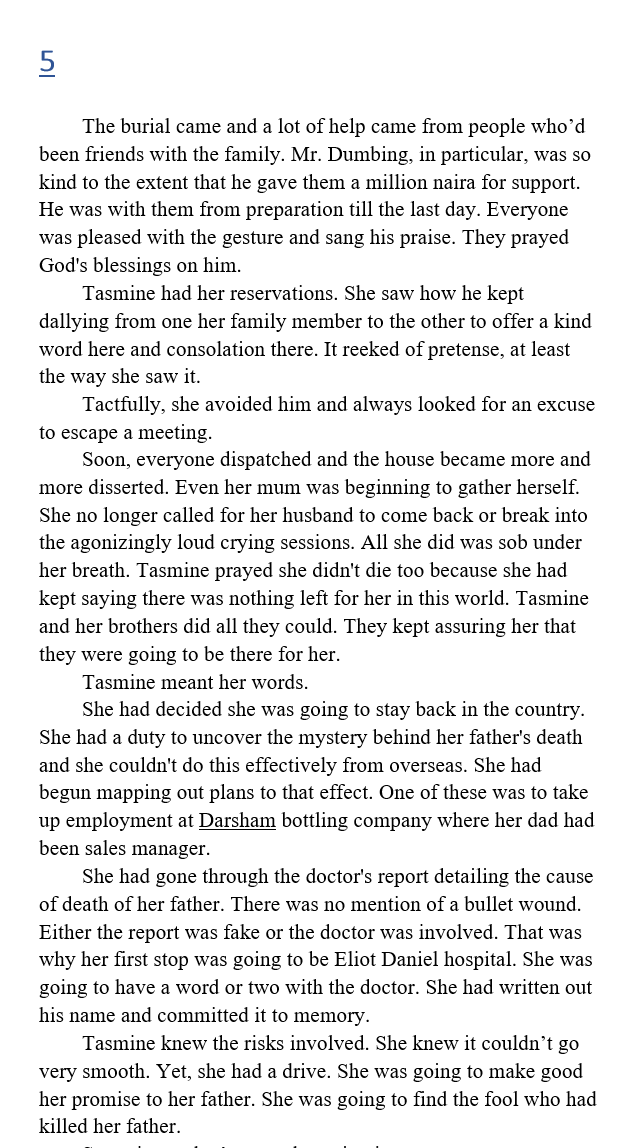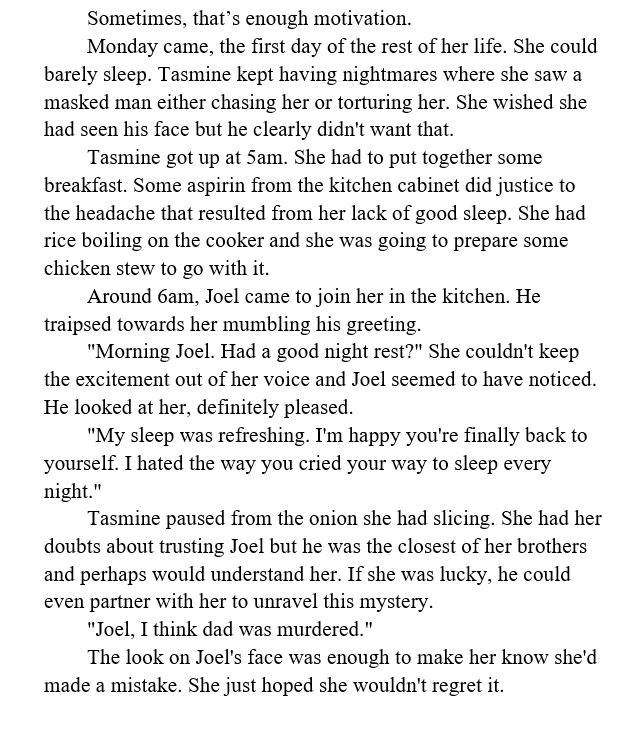 Re: Puzzles For The Dead by Ann2012(

f

): 10:43pm On Mar 07
Following, I ain't gonna miss this interesting story
Re: Puzzles For The Dead by pabon(

m

): 5:12pm On Mar 09
Ann2012:
Following, I ain't gonna miss this interesting story
Thanks. I haven't seen you for some time. How've you been faring?
1 Like
Re: Puzzles For The Dead by Ann2012(

f

): 10:38am On Mar 10
pabon:

Thanks. I haven't seen you for some time. How've you been faring?
I've been so busy, thanks dear
1 Like
Re: Puzzles For The Dead by pabon(

m

): 11:56am On Mar 12
Ann2012:


I've been so busy, thanks dear
Thanks, Ann. This is one story I'm going to finish here.
If you can afford it, please do get a copy of Mysteries of Noland book 2 on okadabooks. However, for this one, you will get everything here.
1 Like
Re: Puzzles For The Dead by pabon(

m

): 10:26pm On Mar 13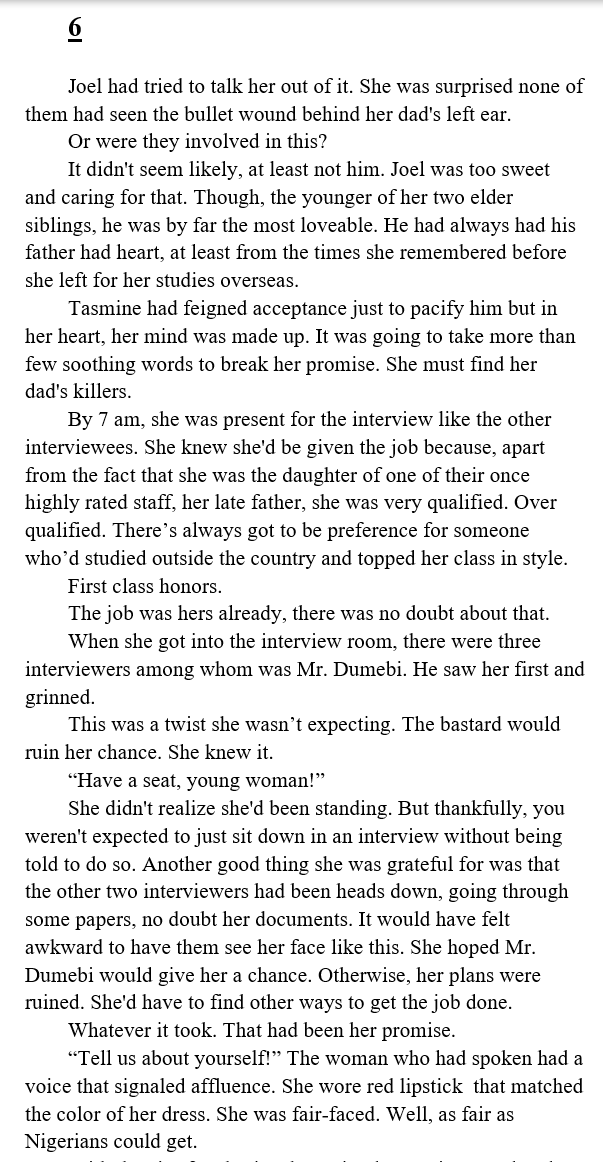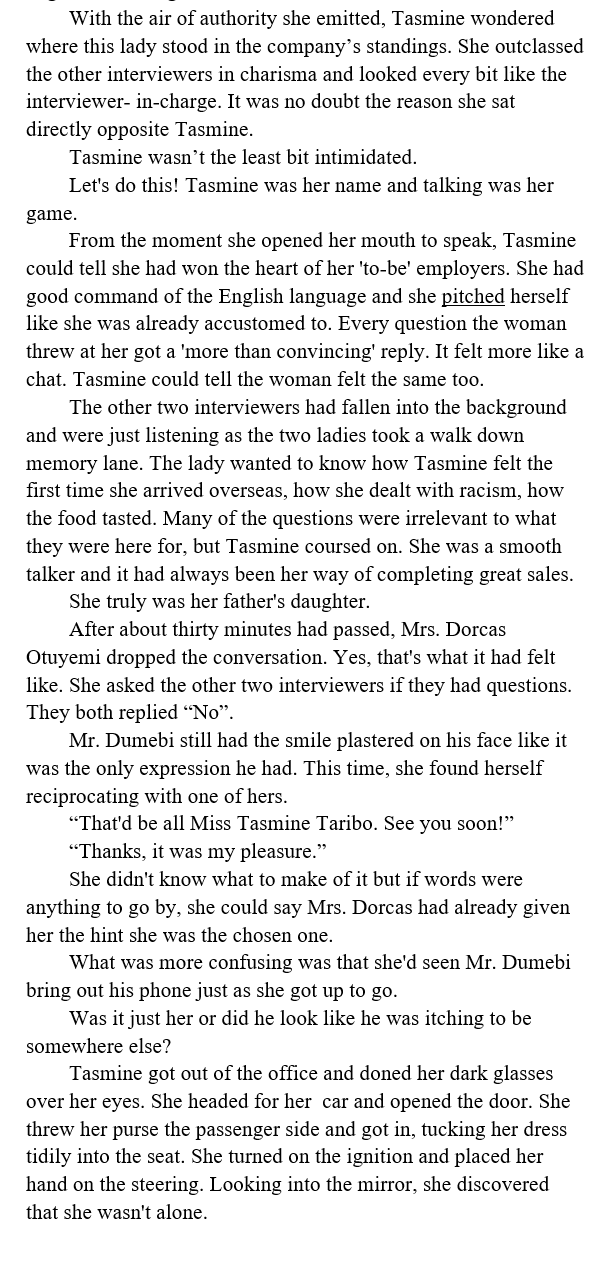 Re: Puzzles For The Dead by Ann2012(

f

): 7:25am On Mar 14
pabon:


Thanks, Ann. This is one story I'm going to finish here.
If you can afford it, please do get a copy of Mysteries of Noland book 2 on okadabooks. However, for this one, you will get everything here.
Alit dear
Re: Puzzles For The Dead by pabon(

m

): 8:21pm On Mar 15
This book came to me while I served during NYSC at one village in the West. It used to be my morning routine to write first thing when I woke up. The village had no light. It had been a constant for seven years (that's as at 2018 when I left. It would be nine years now). I wrote to a point and got bored.
Why am I saying this?
You might notice that the work looks somewhat amateurish, although not as amateurish as when I started Call of the Wind (I still get the cramps when I go back to read it. The sheer work needed to edit that book has made me abandon it for the now).
My story writing improved a great deal when I came out from service and began to purposely develop my craft. So, as I bring more updates, pardon the minor grammatical errors. It will be cleaner when I pick up from where I stopped writing.
Expect another update tonight.

#MadeOfMore!
Re: Puzzles For The Dead by pabon(

m

): 8:38pm On Mar 15

7
Tasmine was relieved when she discovered it was Joel.
"You scared me Joel."
"I tend to have that effect."
"Be serious, jor."
He slid into the seat next to her as she drove out of the company's driveway and into the road.
"So tell me, how did it go?"
"What do you think?" She sneered at him.
Joel knew she was good. So, Tasmine didn't like that he'd asked that question. There was only one way it could go.
What he didn't know was that she was going for this job with a different purpose entirely. Who would leave a very good job in the US to become a marketing manager in Nigeria? Well, not her.
"I trust my sister. You are the best at what you do. Dad always said that."
The moment he said that, he knew he had made a mistake. A short spell of silence took over. Tasmine reminisced the moments when, as a young girl, she had come running to her dad with her report card in hand, a proof that she had once again topped her class and with good margin. This happened virtually every term as she could remember. She had gotten lots of gifts and mini- celebrations to prove that she indeed was well appreciated.
And now, to imagine that some idiots took that caring man, her role model out of her life. Forever. She was going to make them pay. "All of them!"
She didn't know she had said it aloud and wished Joel wouldn't ask but as if on cue, he spoke up.
"All of what?"
"Hmm... I meant all of them were pleased at my performance. If I knew better, I'd say the job is mine already."
Joel's face lit up immediately.
"That's great news. Let's so celebrate then."
Tasmine placed one hand to her lip, feigning contemplation. Joel looked attentively, a smile brimming on his face.
"Well, that's something... But I thought you came because you had news for me, a message perhaps."
"Well, it's nothing much. Yes, except that Curtis wants you around, everyone as a matter of fact. He said he wants to make an important announcement."
Tasmine nodded to show she'd gotten the message but she didn't know what to expect. She remembered now that her father's will hadn't been read yet. She wondered now what would be in it for her.
Usually in this part of the world, it was believed that the males should take the lion's share of the inheritance. As a matter of fact, the first son would take about fifty percent of the inheritance leaving the rest for the remaining successors. Anyways, this was a will and things could be different.
Tasmine's mind played a scenario where Curtis had an altercation with her father because he had revealed that he wasn't taking the largest share of the inheritance.
Could he have been part of the assassination attempt for this reason?

She shook her head as she weaved past a Lexus jeep that had slowed down and would have collided with her were she not the skilled driver that she was.
"What's on your mind?" Joel asked suddenly.
The question unsettled her. She had almost forgotten there was someone beside her. With one hand on the steering, she brushed her hair backwards.
"I don't know Joel. There's so much on my mind. I had plans for us, our family, everything has changed."
"Oh... I'm sorry it has to be this way but one less person doesn't mean you can't go on with your plans. You still have a family. You've got us. I believe daddy will be happy wherever he is if you'd continue with your plans."
"I guess so."
She took a right turn into a narrow lane. They were close now and in few minutes, she would discover what Curtis had planned.
A growing surprise was the ease at which she could label her brother evil. It's not like he'd been a rebel. That Curtis didn't talk much didn't mean he was mean or always up to no good.
Tasmine knew she had to stop making assumptions so it doesn't hamper her relationship with her family. And if any of them were somehow involved, they wouldn't see anything coming.
Element of surprise.
And talking about surprise, as she drove in, the first face she saw was that of Cherry, her best friend from the States.

1 Like
Re: Puzzles For The Dead by Ann2012(

f

): 10:20pm On Mar 15
Thanks for the update
1 Like
Re: Puzzles For The Dead by pabon(

m

): 8:21pm On Mar 16
Ann2012:
Thanks for the update
You're welcome.
1 Like
Re: Puzzles For The Dead by pabon(

m

): 8:22pm On Mar 16
8

Tasmine got down from the car rather slowly. She couldn't believe it was Cherry. What was she doing here and without even calling to say she was coming?
She had Joel come over to her side and put his hand over across her shoulder. She held it because she felt she needed support at the moment. Cherry rushed to her and gave her a very warm hug. She took it with doubt.
"What's going on Cherry?"
Cherry gave her a 'shush'. "You'll know when we get in."
They both led Tasmine inside. As she got into the house, a loud shout rent the air and it was that of 'Happy birthday Tasmine.'
She almost melted where she stood.
Tasmine had completely forgotten it was her birthday. She was all smiles as they each gave her a warm hug. Even her mother was looking happy today. Tasmine was grateful and happy to see them lighting up once more. She made up her mind there and then that after all was done with her dad's death demystified; she would take them on that vacation she'd planned for her parents.
There was much laughter and merriment. Three of her friends from secondary school had been invited; Mofe, Lola, and Danielle. They had all been in the burial ceremony for her late dad but she hadn't had the time to catch up with them. Today, however, she was going to have chats with them and know what they were doing with their lives. There was no law that said you couldn't have some fun while you tried unravelling a mystery.
It turned out Curtis had planned everything well. Mofe was to be the MC and he was as funny as Tasmine remembered. He reeled them with jokes that left their ribs hanging as they took drinks and ate rich food, the kind only her mum could make. They played games that tested their memory and strength. It was all fun and everyone laughed.
After a while, when they had separated into little groups to chat, Tasmine with the trio of Mofe, Lola and Danielle, Curtis called her over to talk to her.
"Happy birthday, Tasmine."
"Thanks, Curtis. I'm very grateful for what you've done for me today."
"Common, you deserve it."
Tasmine took off her heels. She wasn't used to wearing them for long. Curtis looked ahead, something obviously ticking on his mind.
"I just wanted to change the atmosphere a bit and your birthday provided the perfect opportunity. So, I should be grateful."
"How did you get Cherry to come, how did you even know her?"
"Oh, you forgot you gave her the phone to talk to me once while we spoke."
"Yeah, but...."
"Well, I got a call from her days later. She said she wanted to know me more."
"Are you..." Tasmine trailed off. She was shocked beyond words. "I'll kill Cherry... And she didn't tell me. She had no right to go through my..."
Curtis held her hands and it did well to pacify her a little.
"Let nothing spoil your day, Tasmine. You can handle Cherry later. She wanted to break the news to you before everything that happened took place. I had to tell her to put it on till a better date."
"Still...," Tasmine protested. She just couldn't accept that her closest friend was seeing her brother without even letting her know. She felt betrayed.
"Calm down. Let's go inside."
Tasmine had a hard time keeping the smile on her face as different people came to wish her their versions of 'happy birthday'. One of the most surprising was Mr. Dumebi. She hadn't noticed him arrive.
"Happy birthday, Miss!" he said when he got close. She was standing by the wall admiring the portrait Danielle had brought.
"You were invited too?" She couldn't keep the dislike from her voice. She hoped he didn't notice. She put up a smile to cover up immediately.
"Of course I was. Have you forgotten I was your dad's best friend? This is one way of honouring him." He stopped to take a sip of his drink while Tasmine took the opportunity to look around. She wished someone would come immediately and rescue her from the presence of this man. Any moment now, she won't be able to keep the loathing from her expression. The fake smile was killing her already.
Nobody came. Mr. Dumebi opened his mouth to speak again. "About the inter..."
Just then the microphone sounded. Tasmine had never felt more grateful. Though she would have been happy to hear about the result of the interview, she preferred hearing it from someone else.
Quickly, she rushed back inside before the MC would change his mind.

Re: Puzzles For The Dead by pabon(

m

): 10:11pm On Mar 18

9

"It's not what you think Tasmine!"
Cherry had been like this all day and Tasmine was threatening to explode. She'd prefer the truth but Cherry was still trying to corner her way out of the situation. How did she even come to have this kind of girl as a friend?
Tasmine had left the party before Cherry could finish her speech. The vibe was that she was too flattered for speech. If only they knew the truth, the truth that was hurting her so much right now. She had headed for her room and had shut the door behind her and cried her eyes sore.
Crying felt like the only relief she had in these kinds of situations. She felt that with the tears flowing out, so would her life's worries slowly ebb out.
Tasmine didn't know when she slept off. She was woken up two hours later by a banging on the door. She had quickly dried her eyes and unlocked the door. Cherry had tried to scold her for not seeing her visitors off, and not giving a vote of thanks. Tasmine had lashed out on her, not able to neither bear the pain any longer nor keep it bottled inside.
Cherry had come up with the excuse that she'd very observant. Tasmine knew she was lying, and had read her diary. That was the only way she'd have gotten Curtis' number.
"How can you lie so confidently, and to my face? Gosh. I barely recognize the lady standing before me!" Tasmine seethed.
Cherry sat down slowly on Tasmine's bed. She had her face covered in her hands.
"I'm sorry I did it. The first month we spent together, I was scared you were putting up a personality that wasn't yours. That's why I encroached into your privacy. I wanted to find out more about you than you displayed on the surface. I'm sorry Tasmine, I really am."
It felt like the truth this time. Tasmine hesitated, and then stooped down, though against her raging heart. She put a hand around Cherry's shoulder.
"It's alright. I believe and forgive you…"
She'd said that and nothing more. Tasmine couldn't bring herself to say she'd take it off her mind. No, she was going to be careful with Cherry until she was certain she could be trusted. For all she thought, she could have had a hand in the whole thing.
Everyone was a suspect, for now.
At dinner that evening, Curtis announced his engagement with Cherry and there was excitement to go round. Tasmine had a hard time getting along with the positive vibe because it looked to her like she'd been kept on the sideline for God knows how long. Even Joel had known about them but hadn't said a word.
It felt like betrayal.
Tasmine ought to be the one to introduce Cherry to her family but now; she was already a part of it, at least from the look of things. Yet, she hadn't asked for consent. Tasmine wondered if they'd get along well after this.
Mrs. Taribo, her mother gave her consent and they had a toast to their married life in advance. Cherry announced that her family in Nigeria approved of her relationship with Curtis. All that was left were the proceedings according to the African tradition. Cherry was all smiles as she kept hugging Curtis, who himself was grinning from ear to ear.
Tasmine excused herself to go outside. She caught Joel's eyes looking her way just as she got to her feet. She wasn't surprised when he came to meet her outside few minutes later.
"What's going on Tasmine? Something bothering you again?"
Tasmine let out some air from her lungs and allowed her hands to feel the tiny markings on the railings. The air was cool and a soft gentle breeze was nibbling on her skin. She let it find its way as she was feeling hot inside. There was so much going on inside and she felt like she was going to explode soon.
"I'm not just happy to have been kept in the dark. Cherry was my closest friend you know and she never mentioned that she was seeing my brother. Like what the heck? I introduced him to her."
"I understand. Everything happened fast and we found ourselves here. She must have had her reasons for not telling you. Maybe she was afraid you wouldn't approve of her decision"
Tasmine was quiet after hearing Joel speak. It was true she may not have given her consent. She had always been protective of her family and wasn't sure she would have accepted someone whose background she wasn't sure about.
She took a sip from the glass of wine that Joel had brought for her. Joel changed the topic and asked what she planned on doing the next day but she wasn't sure. She complained that she was feeling light headed and needed sleep. Joel excused her but not before handing her a card.
"Mr. Harold said to give it to you. He said he's got something to discuss with you tomorrow. He said it was important."
Tasmine examined the card very well. Mr. Harold had been friends with her father and they belonged to the same golf club. She pocketed the card in her shorts as she went into the living room, passed the dinning, and straight into her room.


1 Like 1 Share
Re: Puzzles For The Dead by Ann2012(

f

): 6:29pm On Mar 19
Slow and steady Tasmine....

Thanks for the update
Re: Puzzles For The Dead by pabon(

m

): 7:00pm On Mar 24
I'm sorry, guys.
I haven't updated since because my PC has been acting up, refusing to connect to my phone's hotspot. I didn't want to use phone because of the stress involved. Now it has connected, expect another update soon.
Re: Puzzles For The Dead by pabon(

m

): 7:21pm On Mar 24

10

"I think she's still upset about the whole stuffs"
Tasmine stood back from the door she had been leaning onto, eavesdropping on the conversation Cherry and Curtis were engrossed in. They were having some sort of deliberations and kept their voices low. Tasmine couldn't quite make out the other details. She didn't have the time to wait either. She had an appointment to keep, and she didn't want to give the impression that she had no respect for punctuality.
At the time she set out, the birds were silently chirping away, the sky clear and promising. She got into the car, having gotten the permission to use it, her cologne leaving trails of fragrance behind her as she flung her bag into the passenger seat and got in.
Tasmine hoped the meeting with Mr. Harold would yield meaningful results. She hated to waste her precious time. She had limited knowledge of Mr. Harold. She didn't know much about him because he had never come across her as the outspoken type. Deeply introverted, he seemed to choose his words carefully before he spoke them.
Tasmine flipped the card in her hand. "11 Momodu avenue, off Yaba road."
She wondered why she had to meet in his house during working hours. She had expected he'd be in his office this time of the day. She knew he was definitely working in an office and had probably heard once or twice a reference to the department he oversaw.
Was it sales or personnel?
She'd find out when she got there.
The thought of getting a gun had come to her mind but given that this was Nigeria, the risk involved would put her in danger. Besides, she didn't want any attention.
Thankfully, the traffic this morning wasn't hectic as commuters had already gotten to their workplace. Even the traffic wardens were now chatting idly among themselves.
When she arrived at the house, she was surprised it was set in grand style. For someone with his carriage, she had expected he'd have a modest taste, probably a bungalow with three rooms and a car he shared with his wife. Standing before her was a complete deviation; a state-of-the-art duplex and a garage that could rival several prominent people's she knew. The latest range rover was idling with reckless abandon, flanked by a Toyota Avensis, the latest model.
Like, what the heavens? It hadn't even been in the market up to three months.
Still shell-shocked, she waited as the gatekeeper phoned upstairs, seeking to know if Mr. Harold had fixed an appointment with any young lady named Tasmine. The man hung the phone and gave her a nod to go ahead.
She sashayed her way towards the door that led to the stairs, trying hard not to look too astonished. When she arrived at the top, holding onto the handle that would lead her in, which by the way was coated in rich bronze, she wasn't sure what to expect.
The inside still did manage to beat her expectation. The air was richly scented, redolent with what smelled like spice and a flavor she couldn't quite wrap her mind around but was sure she'd perceived before.
This was grandeur.
The walls were plastered with marbles the like she'd never seen even in the US. Her feet sunk pleasantly in what she recognized as Oriental Persian rug which made her feel like she was gliding through well mowed carpet grass.
Paintings hung on both sides of the wall, depicting ancient times, and would most definitely cost a fortune. One, though, caught her attention.
It was that of a woman with lustrous blue eyes that was somewhat feline. There was sadness in the eyes and they seem to gaze beyond Tasmine to a place beyond her mind's grasp. She found herself reaching for it and when her fingers found the surface, she allowed them run freely around the eyes.
"That painting never ceases to do the charm."
Tasmine froze at once and withdrew her hands. She had better manners but had just been stunned by the beauty she saw.
"I'm sorry I might have trespassed."
Mr. Harold waved it off as he made his way down the stairs. He still had his nightly pajamas on and the blue were a good complement to the rich red of the rug. He gestured for her to take her seat on the sofa and took the one opposite her. Tasmine liked that there weren't too close else he would have noticed her unease.
"Would you mind a glass of wine? I know it's a bit early"
"Not at all."
"Alright then." He strolled to the mini-bar hid from view by an archway that separated the living room from the dining area. He came back wielding two glasses that held the dark liquid half filling them. He passed one to her.
"Your dad always loved that painting too. He literally begged to have it but I couldn't just let it out of my sight. It is the most cherished possession I own as it holds memories of my late wife."
She noticed he cringed as he said the words 'late wife'. Tasmine felt genuinely sorry for him.
"I'm sorry to hear about your loss. I know how you must be feeling."
"Yeah. I know. She was my everything. We had dreams, aspirations that would make a lot of difference. She just..."
He trailed off to cover his eyes from her.
Tasmine reached out to hold his hand but he whisked it away before she could touch him. He took a deep breath and sat up straight.
"I didn't call you here so we could reflect on our losses. No, there's more to your coming than that."
He stood up and made for a shelf she hadn't seen. It was engraved into the wall behind the front door. It was near impossible to notice it on one's own.
He brought out a folder. It was dull brown in color and as he approached her, she could see that it had rough edges and most of the pages disentangled. He placed it on the table and sat down again.
"He wanted you to have this, your father. He wouldn't want any other to have it. He said it was his little gift to you. He said there was something he had been meaning to tell you but wasn't able to."
Tasmine pulled the book towards her and opened the first page.

What's mine is yours and what's yours is mine
Just tell me it's okay and I will be fine

She couldn't help it as a tear came rolling down her cheek. She didn't think Mr. Harold would care and so she absentmindedly turned on to the next page.
It was here that things got blurry. Instead of words and letters were uneven arrangements of dots, hyphens, and slashes. She looked up and saw the anxiety in Mr. Harold's face. His brows creased. He was as eager to find out what was written, the hidden messages, as much as Tasmine. She kept turning the pages and each and everyone were filled with similar markings.
"Can you make sense of anything there?"
"I can't right now but I'll definitely try," Tasmine said.