Phones / Re: Where Can I Buy Iphone 14 In Lagos. by HisExcellence(

m

): 3:55pm On Sep 30
gaetano:
Do y'all know if its possible for me to find the charging box for this apple earpod in the market?
Yes you can get it, on this website. I think it's Airpd Pro. It goes for 20-35k
Phones / Apple Iphone 14 And 14 Plus Unveiled: Satellite Msg, Esim Only In The US by HisExcellence(

m

): 9:28pm On Sep 07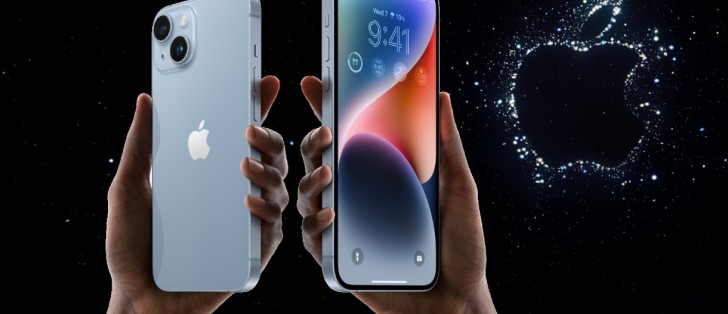 Part of the rumors you heard about the iPhone 14 series are right, some are wrong. "Yes" on satellites, "no" on iPhone 14 Max. But putting the rumors aside, today's announcement has major implication for Apple's non-Pro phones.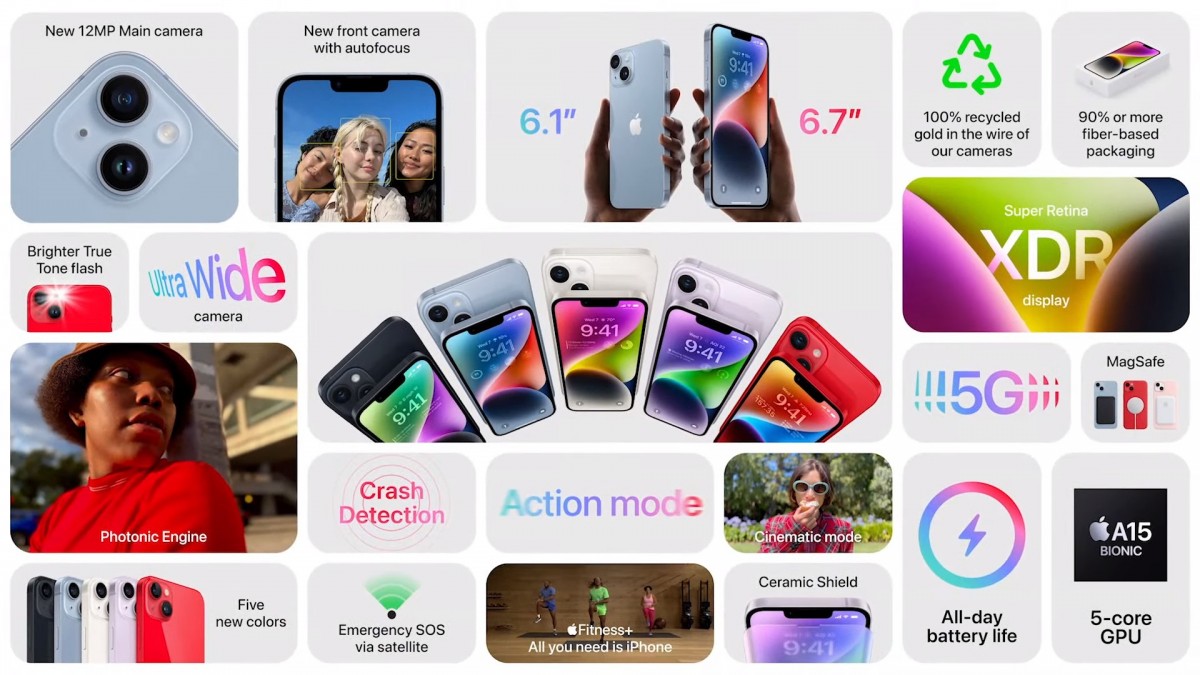 First things first, the mini is no more, the 6.1" iPhone 14 is the smallest, cheapest option (but we'll talk about the price in a moment). The series still has four members with the addition of a 6.7" non-Pro model. Its name is iPhone 14 Plus.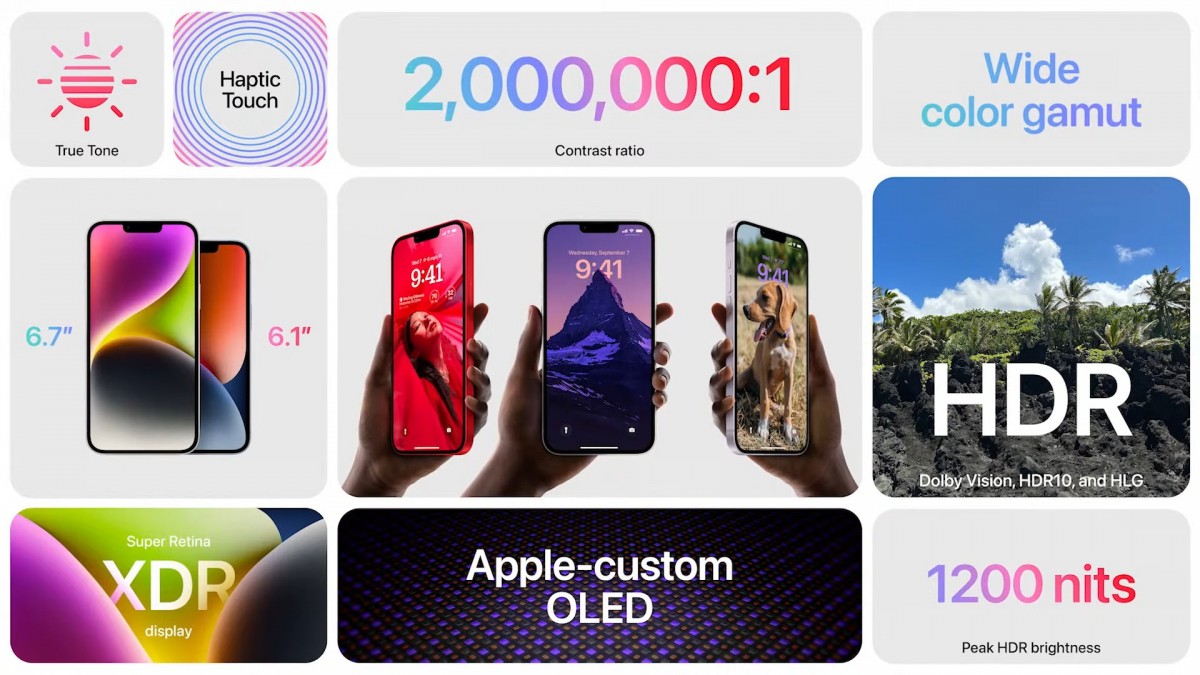 The Plus has the best battery on an iPhone ever, yes, including the iPhone 14 Pro models. You can watch up to 26 hours of video on the Plus, up to 20 hours on the vanilla 14 and 19 hours on the older iPhone 13. The extra size also allowed Apple to improve the cooling system to deliver better performance.
This is a nice segue into talking about the chipset – it is the Apple A15 from last year. One thing to note here is that this is the version with a 5-core GPU, which was inside the 13 Pro duo rather than the 4-core versions of the vanilla and mini phones. Thus it delivers an 18% graphics increase in performance over the previous non-Pro models.
Apple had a lead in processing power, so it claims it still has a performance lead over Androids of any price. And some of that processing power has been roped into improving the camera quality.
The iPhone 14 and 14 Plus still use 12MP cameras. The main camera uses a larger sensor with 1.9µm pixels (up from 1.7µm) and has a brighter f/1.5 aperture (up from f/1.6). The end result is that it captures 49% more light compared to the iPhone 13 camera.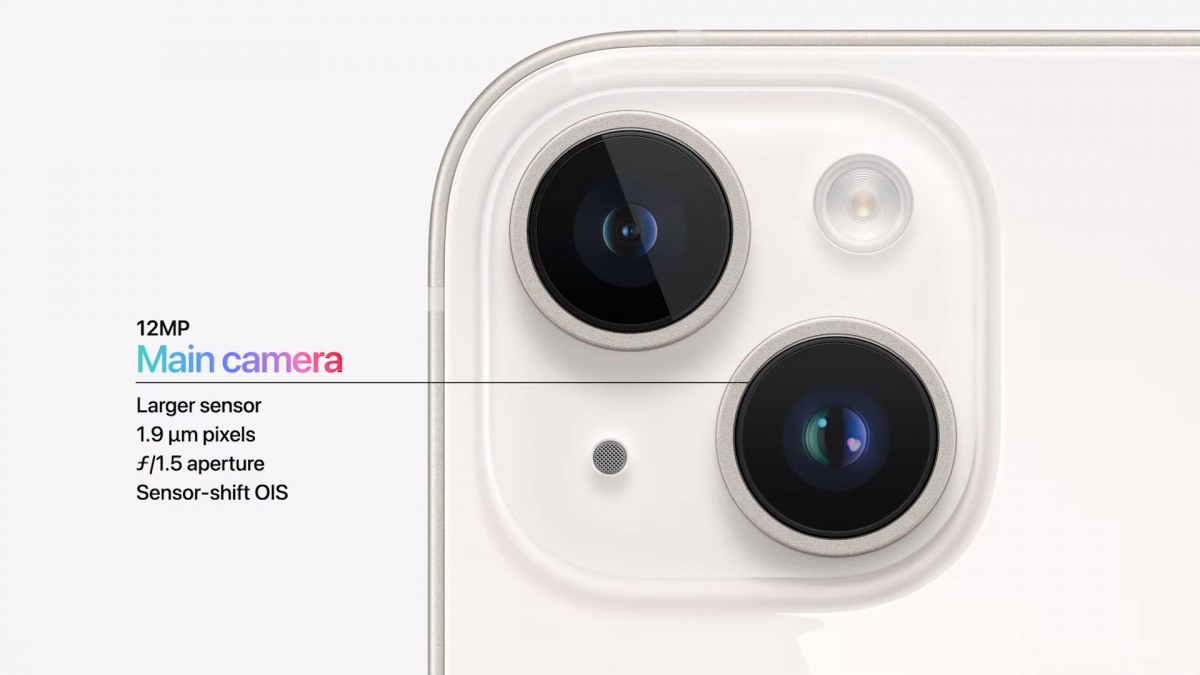 This is just the raw hardware advantage over last year's model. Software processing brings what Apple calls the Photonic Engine, building on Deep Fusion. The Photonic Engine dramatically improves low-light photos – compared to the iPhone 13 Apple promises 2x on the front camera, 2x on the ultrawide and 2.5x on the new main camera.
Also new is the Action Mode, which works kind of like an action camera – it provides better stabilization so you don't need a gimbal and it also supports capturing video in Dolby Vision HDR. The camera still maxes out at 4K resolution (60fps), however.
The iPhone 14 pair still uses a notched design for the TrueDepth camera, however, it now has autofocus for the first time. Also, hardware improvements allow it to capture 38% more light for better low-light performance, in part thanks to the brighter f/1.9 aperture (up from f/2.2).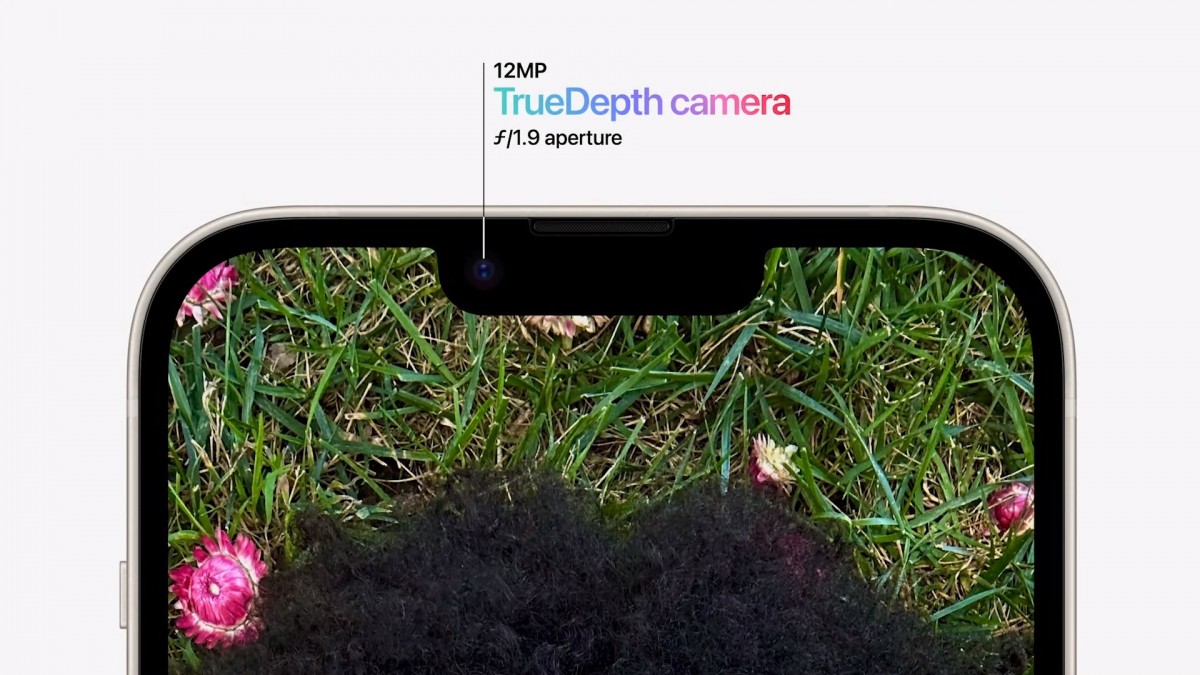 Okay, enough about the cameras – let's talk about connectivity. Apple dropped two bombshells tonight. First, satellites. Second, eSIM-only iPhones.
The satellite feature required designing all-new custom hardware and bespoke software to make sending out a message to a satellite possible without bulky antennas. This service is text-only and will be used mostly for emergencies, but it does support two-way communication so you will be notified when rescue is on the way. The Find My app will also be able to share your location with friends so that they can keep an eye on you.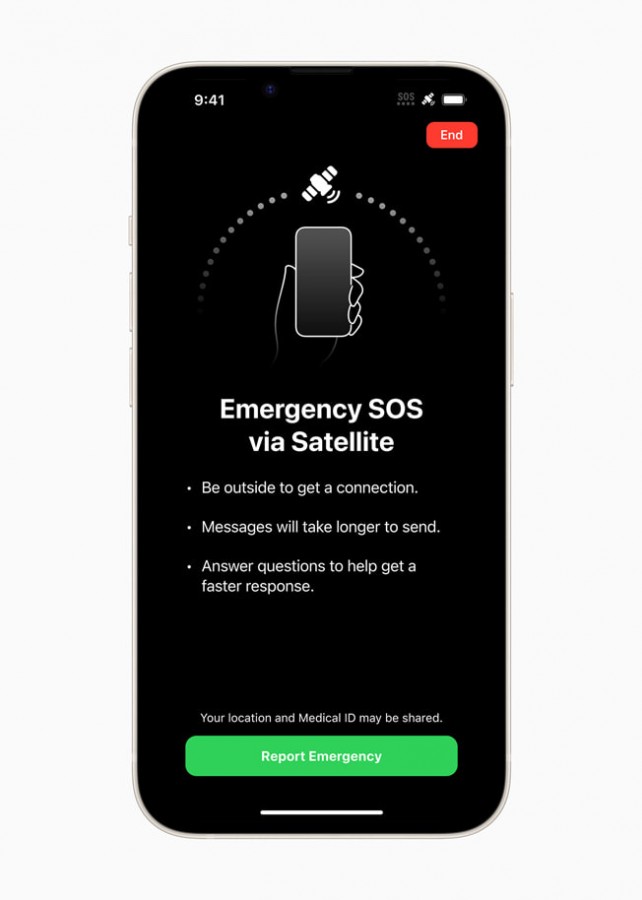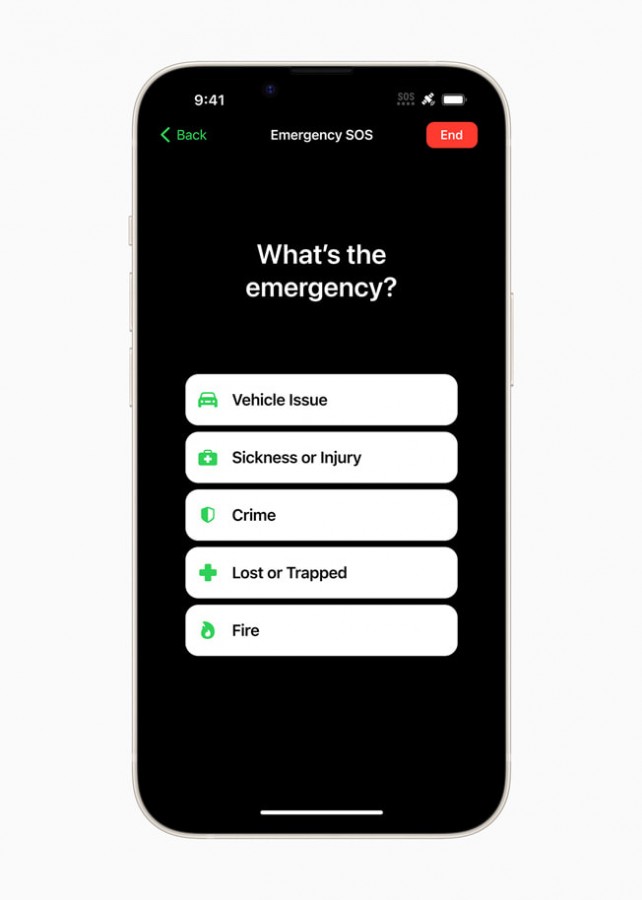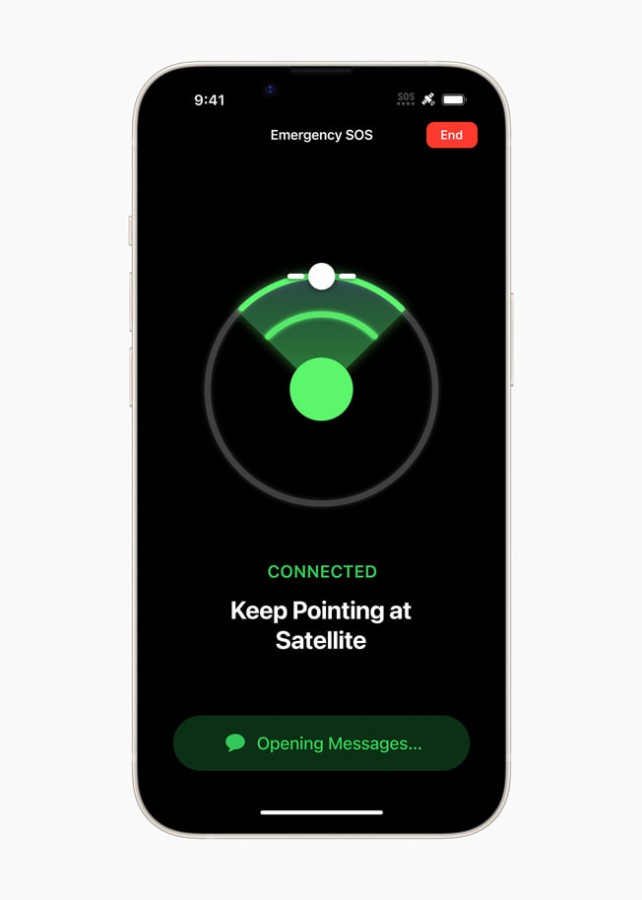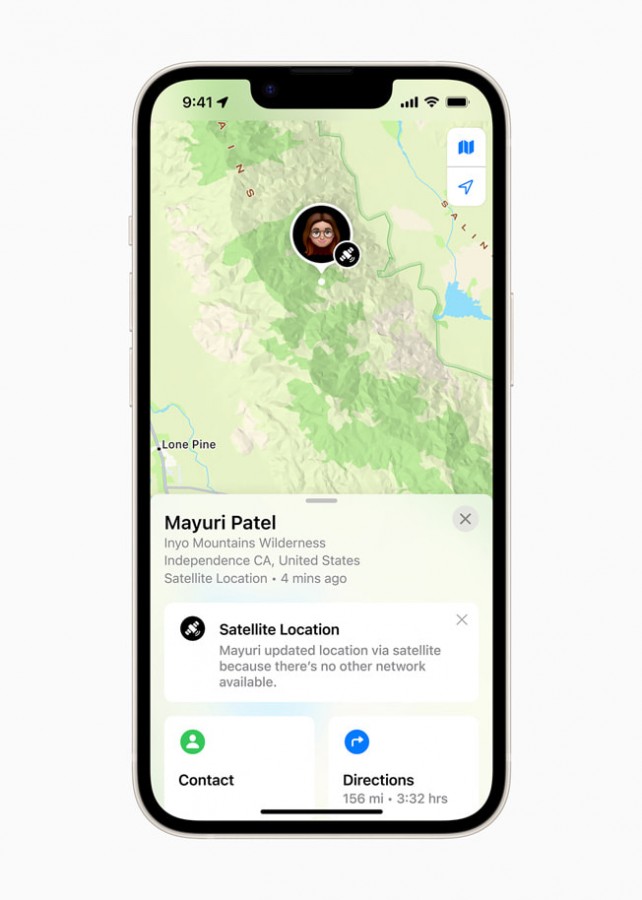 You can compose custom messages to explain your situation, but when speed is life-saving several specially-prepared questions will let you send out a detailed SOS in just a few taps. In locations with a clear view of the sky a message can be transmitted in about 15 seconds, but if there are trees overhead it may take a couple of minutes. The satellite service will launch in November for users in the US and Canada and iPhone 14 buyers get a free 2-year subscription.
If you saw the new Apple Watch announcement, you've heard about crash detection. The iPhone 14 duo has it too, thanks to a new accelerometer that can detect up to 256G.
As for the eSIM-only iPhones, that applies only to the US for now. Apple touted the ability to quickly swap between multiple eSIMs and add carriers without visiting one of their offices. Dual eSIM is supported.
You can order the iPhone 14 and iPhone 14 Plus starting on September 9 (Friday). The vanilla iPhone 14 keeps the price of its predecessor, $800, and will be available on September 16. The iPhone 14 Plus will start at $900 and will be available a few weeks later on October 7 (but you can still order one today). These prices are for the 128GB models, there are also 256GB and 512GB phones.
For our European readers, the iPhone 14 starts at €1,000, the iPhone 14 Plus at €1,150. If you're in India, you're looking at ₹80,000 and ₹90,000, respectively. For China the prices are CNY 6,000 and CNY 7,000.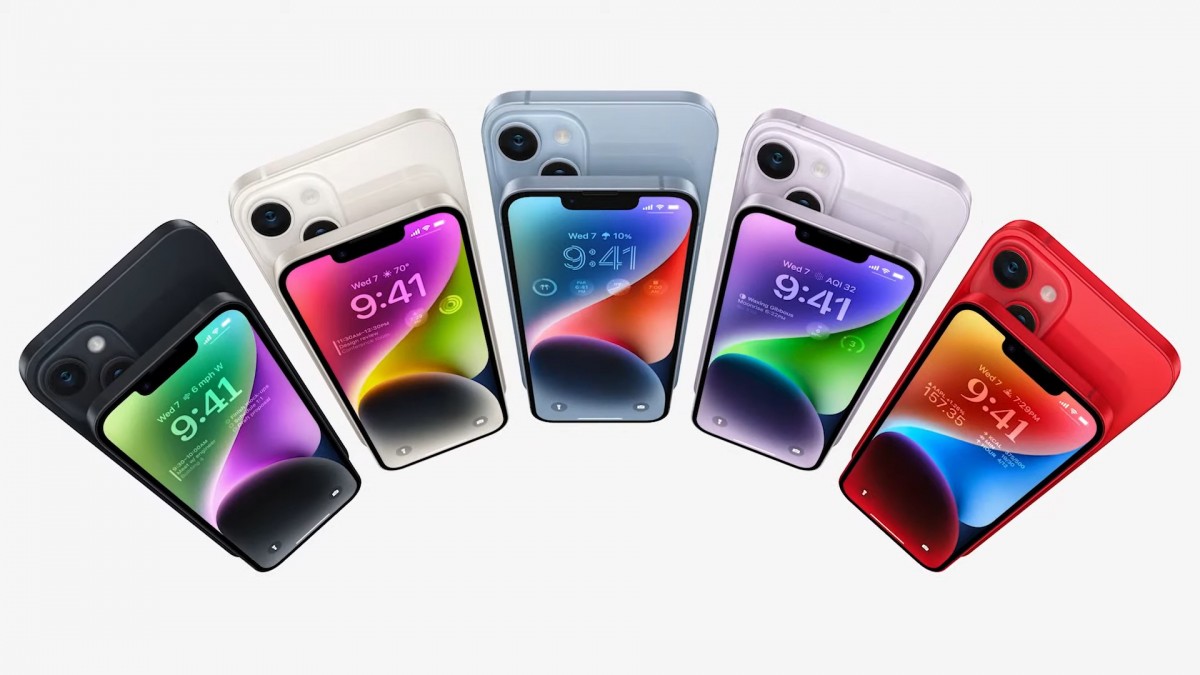 3 Likes
Phones / Apple Watch Ultra Debuts With 49mm And Bigger Battery, Watch Series 8 And SE. by HisExcellence(

m

): 8:10pm On Sep 07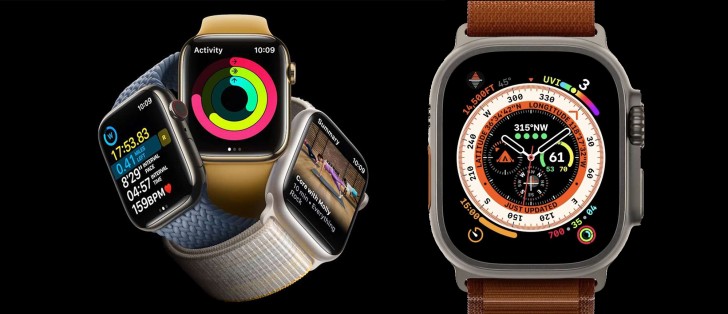 Apple's first announcements of the Far Out event were the new Watch Series 8, Watch SE, and the heavily anticipated Apple Watch Pro Ultra.
Apple Watch Ultra
Let's start with the new Apple Watch Ultra (known as Pro when it was still a rumor) - a huge deal in both size and importance given its screen time at the event. It's a whole new category of smartwatch for Apple, so see what it brings.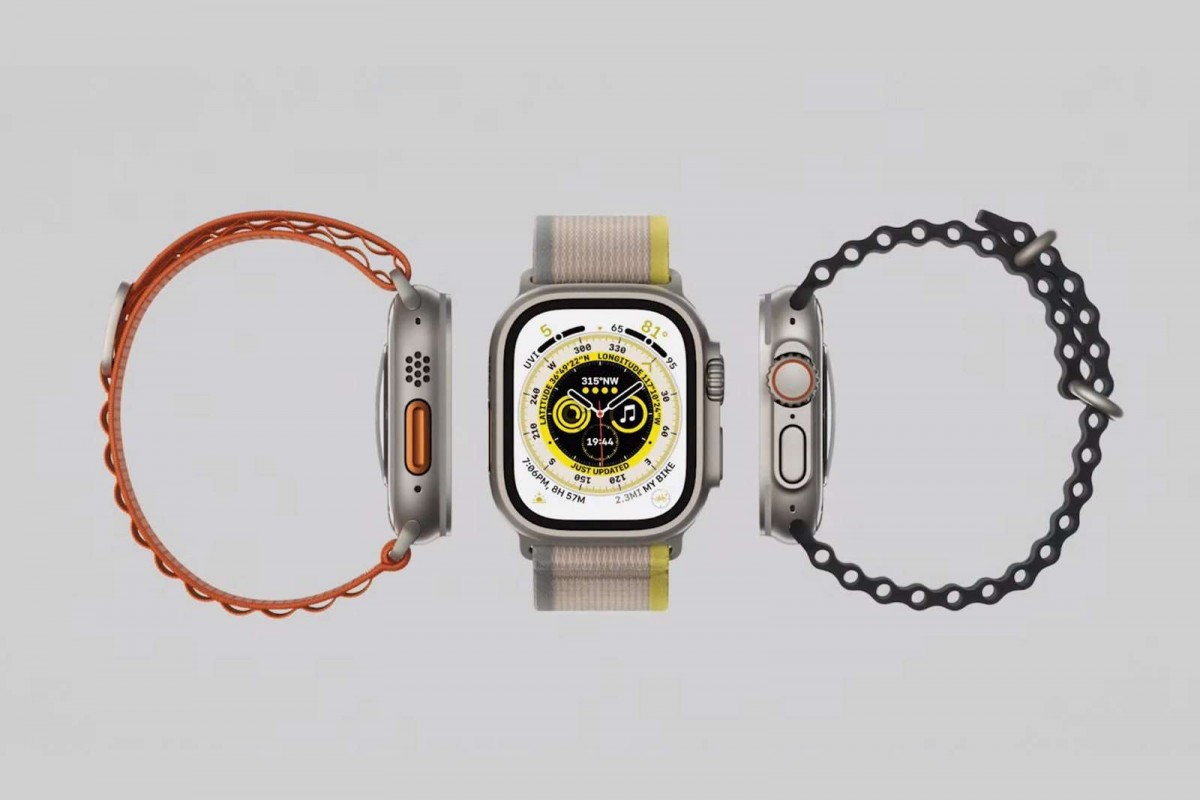 Upfront, the Apple Watch Ultra is immediately distinguishable from Apple's other wearables. It has a huge 49mm case that encompasses the biggest (and brightest) display on an Apple Watch yet.
The case is made of titanium with a raised edge to protect the display. The display sits under a flat sapphire crystal cover. Apple claims up to 2,000 nits of brightness for the display - an unbelievable figure (literally!).
Apple has created a new watchface specifically for the larger display, called Wayfinder. It accommodates a lot more information and can be customized for the different environments you'll find yourself in.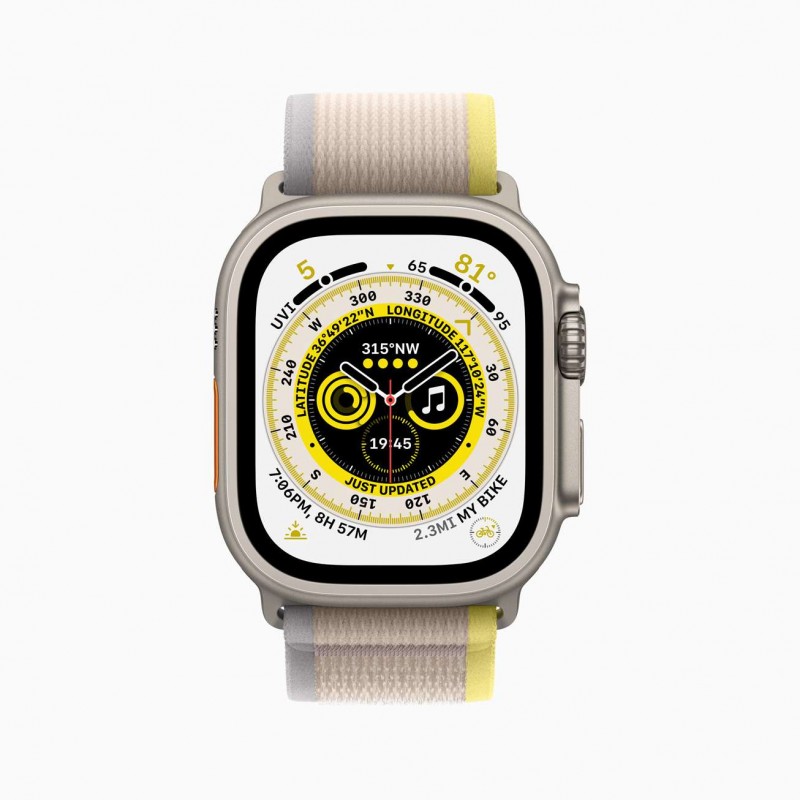 On the left side, the Apple Watch Ultra has an extra speaker, which can be used to produce an 86-decibel siren for emergencies, as well as a new Action button painted in high-contrast international orange. The button can be customized for instant access to Workouts, Compass Wayponts or Backtrack - a feature that allows you to find your way back through a trail.
The usual home button and digital crown are located on the right side. The crown has a larger diameter and coarser grooves. There are three microphones on the Watch Ultra that Apple claims can help you be heard even in windy conditions.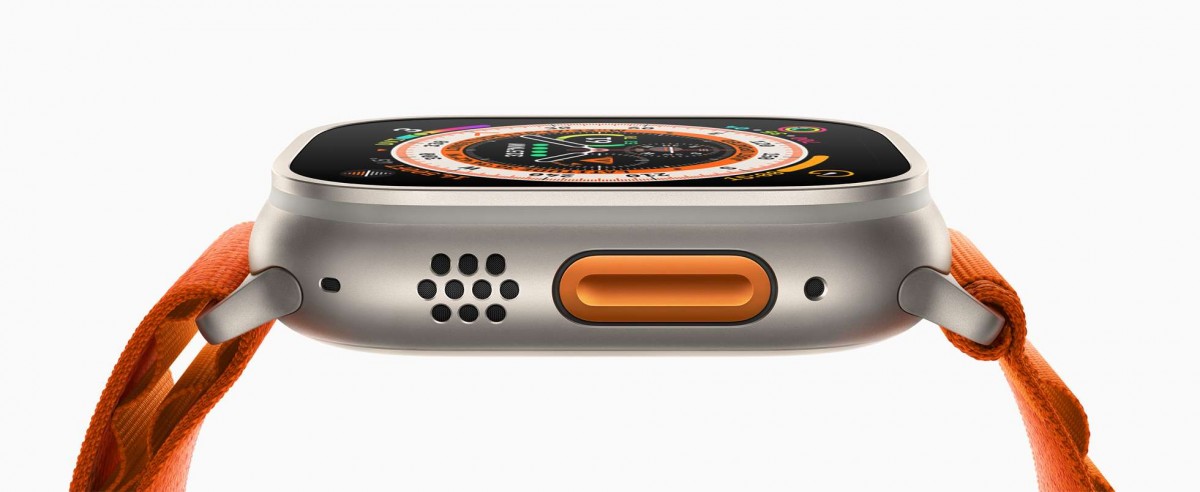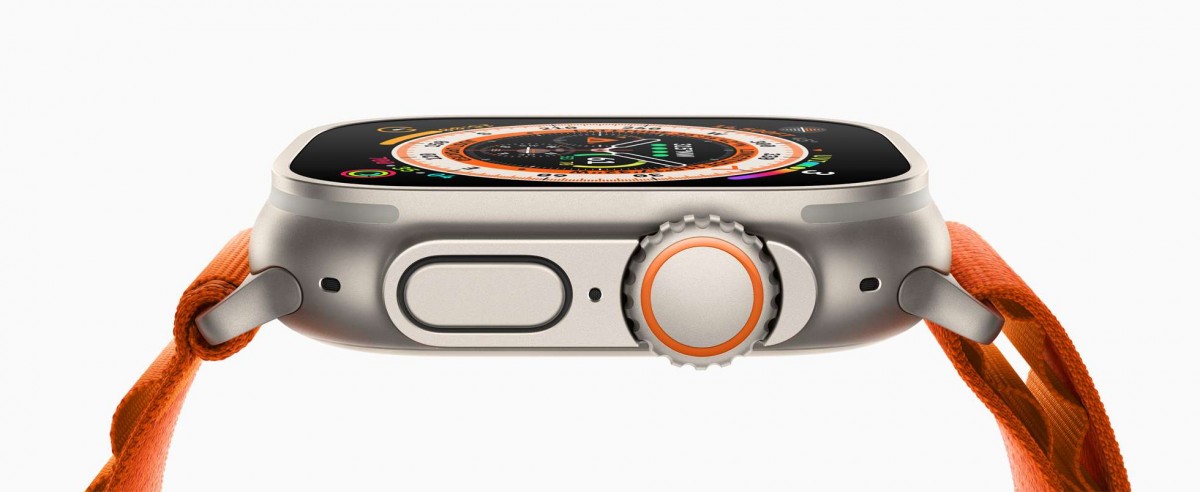 Moving on, being bigger than its peers, the Apple Watch Ultra has better battery life - up to 36 hours of normal use with always-on display, automatic workouts, and constant heart rate, as well as up to 60 hours with an Ultra low power mode that's coming later this year.
A word on endurance. The Watch Ultra can go down to -20° C and as high as 55° C. It's MIL-STD-810H compliant for Low Pressure (Altitude), High Temperature, Low Temperature, Temperature Shock, Contamination by Fluids, Rain, Humidity, Immersion, Sand and Dust, Freeze/Thaw, Ice/Freezing Rain, Shock and Vibration.
You can also use the Watch Ultra for water sports like kitesurfing and wakeboarding, and even do some serious diving. It's certified to WR100 and EN 13319 - the recognized standard for dive accessories. There's a built-in depth gauge that along with the Depth app shows time, depth, water temperature, duration under water, and the maximum depth reached.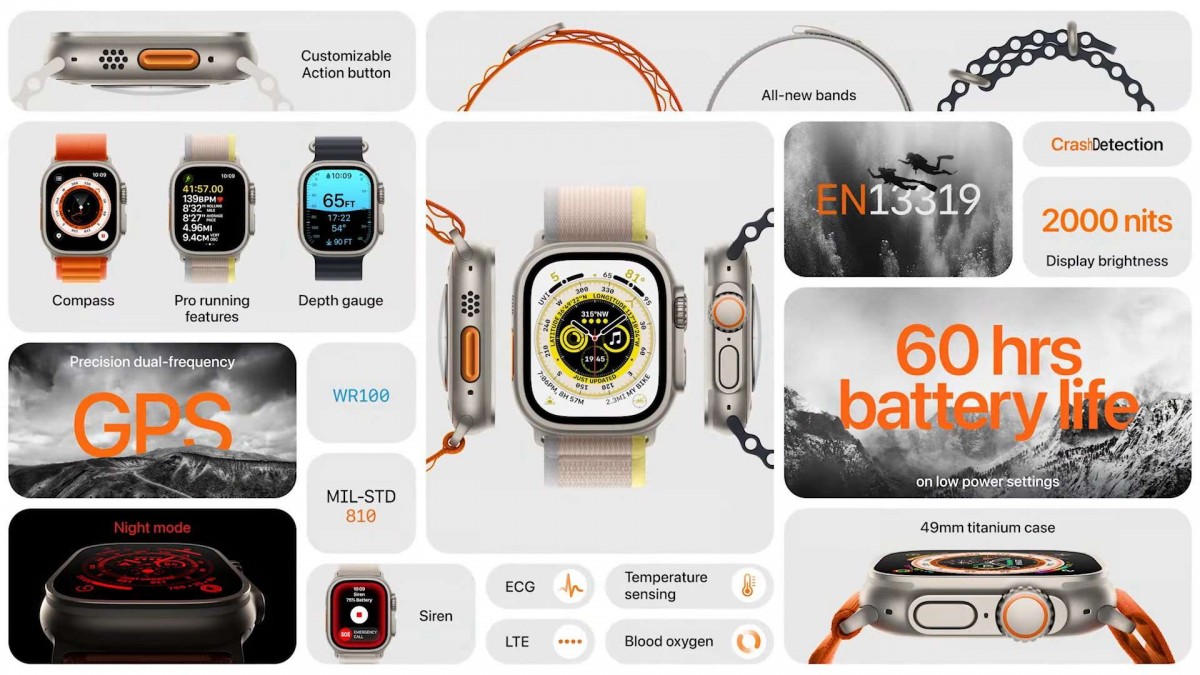 Apple's Watch Ultra comes with three bands - Trail Loop, Alpine Loop, and Ocean Band. All units come with GPS and Cellular connectivity and are on sale today for $799. The watch starts shipping on September 23.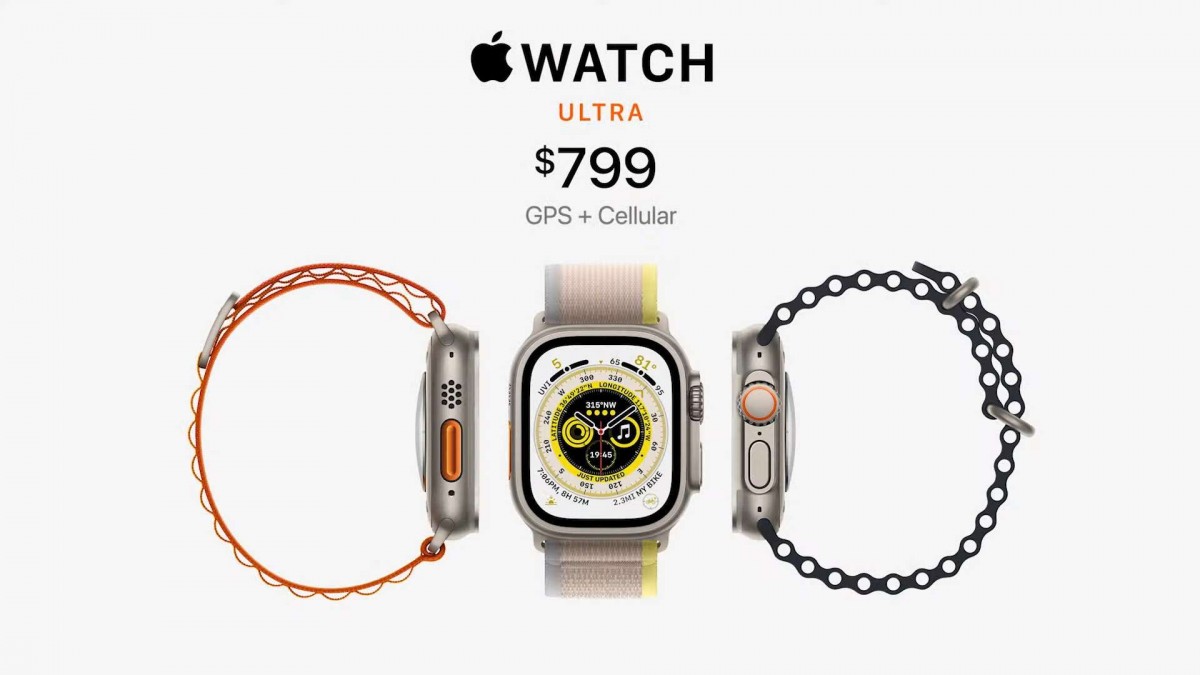 Apple Watch Series 8
Apple also unveiled the Watch Series 8. Physically, it's almost identical to the Series 7 but uses the new S8 chip, adds a temperature sensor, crash detection, and a new Ultra low power mode.
The temperature sensor will scan your skin temperature every five seconds, using a combination of two sensors - one on the skin and another just under the display. It can detect changes as small as 0.1° C and will help with Ovulation predictions and cycle deviation tracking.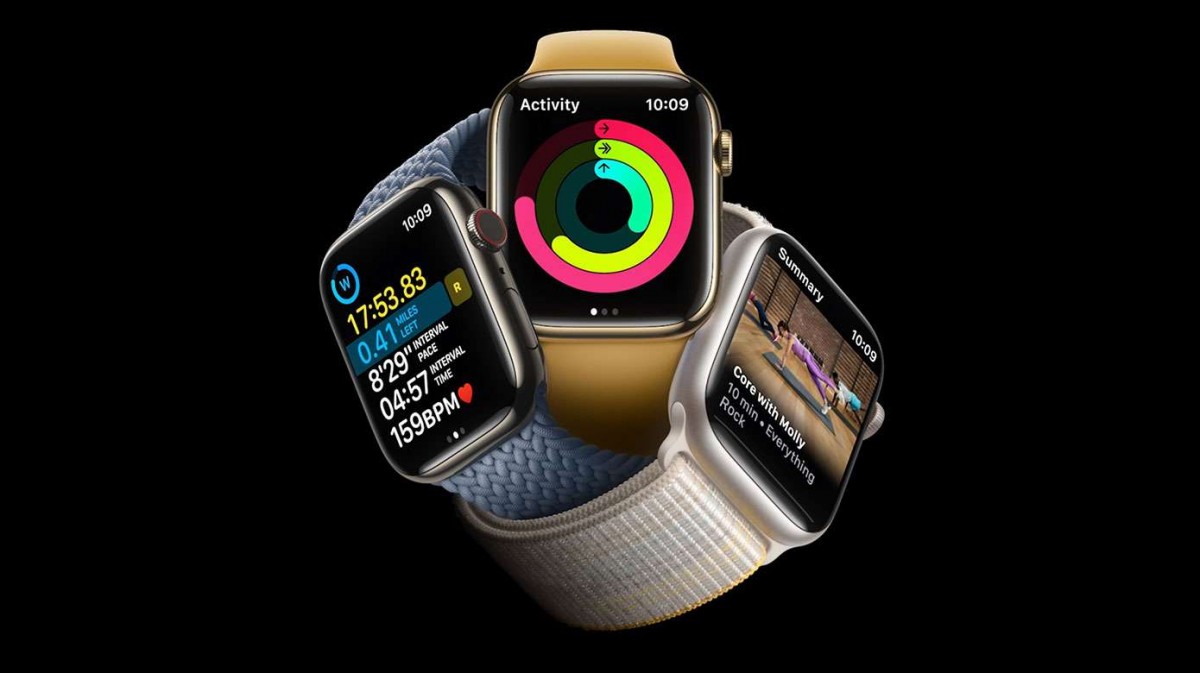 Crash detection works thanks to the 3-axis gyro sensor and a new High G-force accelerometer which can detect up to 256 G's. The new sensor samples motion 4 times faster than the old accelerometer and will be able to distinguish between a front or a side impact, a rear-end collision, or a rollover. Upon detecting a crash, the Watch Series 8 will automatically notify the emergency services and your emergency contacts.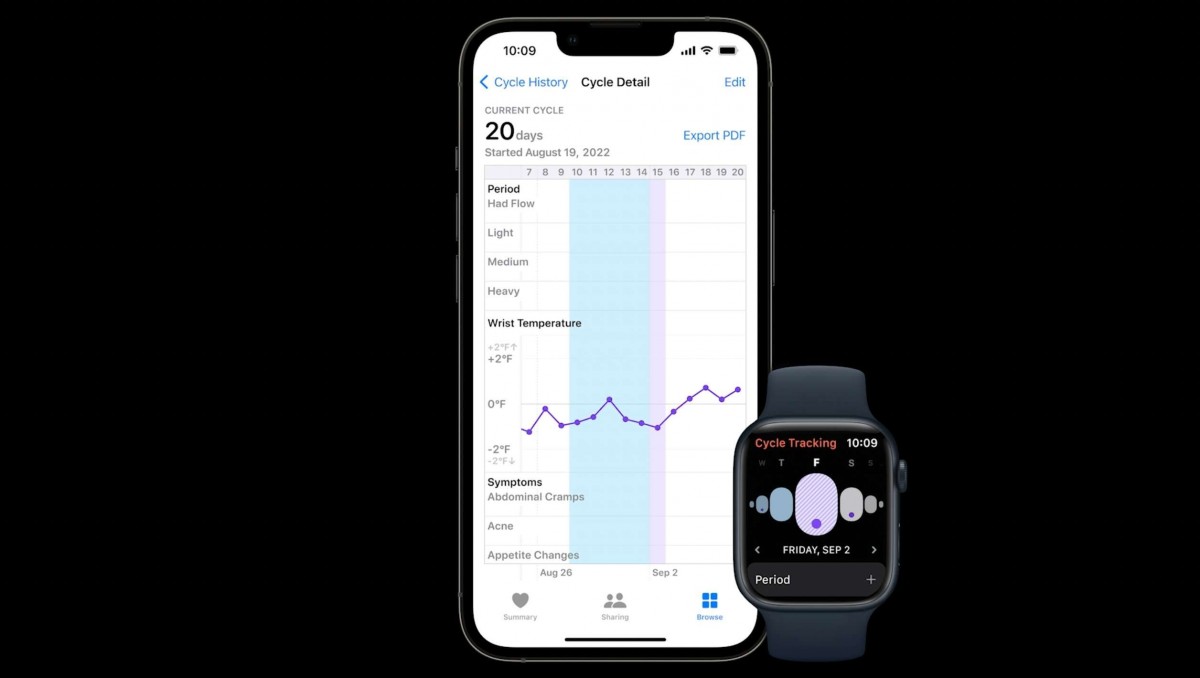 The Watch Series 8 gets 18 hours of battery life with an always-on display, automatic activity tracking, and fall detection, but the optional low-power mode lets you axe some of the features and double that to 36 hours.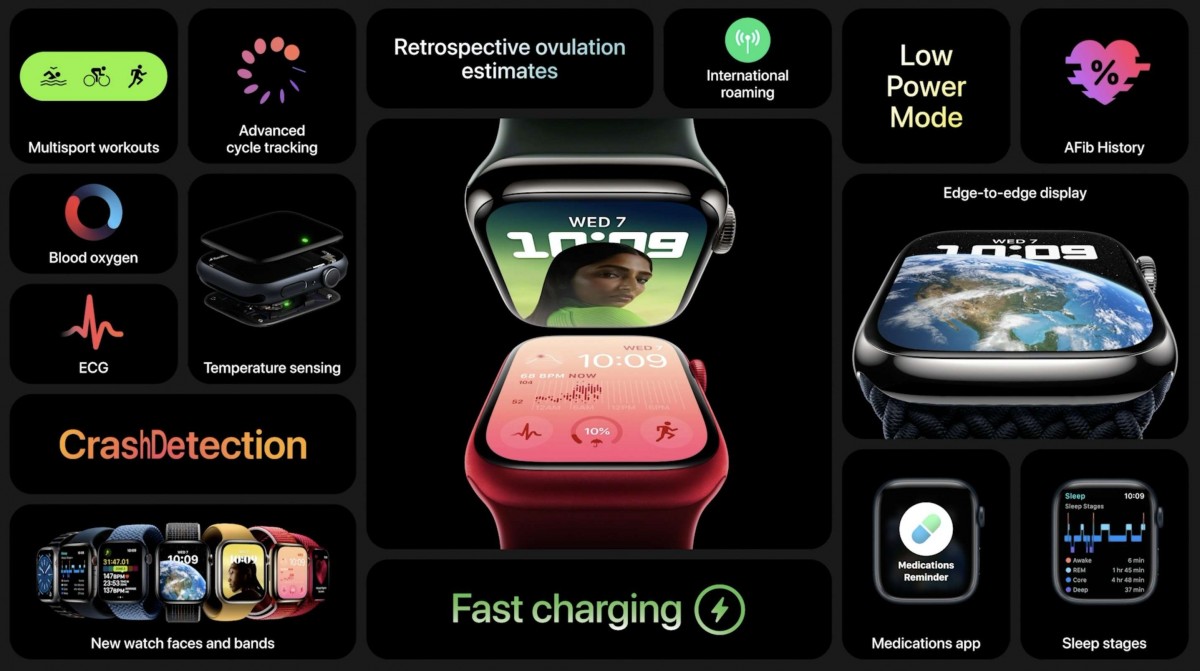 The Apple Watch Series 8 comes in four colors - Lunar, Astronomy, Metropolitan, and Modular, with a case made with 100% recycled aluminum, as well as three stainless steel models. Sales start today at $399 for a GPS-only model and $499 for a GPS + Cellular, shipments begin on September 16.
Apple Watch SE
Finally, the new Apple Watch SE drops the temperature sensor but has the same S8 chip as the more expensive Series 8 and Watch Ultra, and brings support for the new crash detection. The Watch SE has a case of 100% recycled aluminum and a new, redesigned plastic back.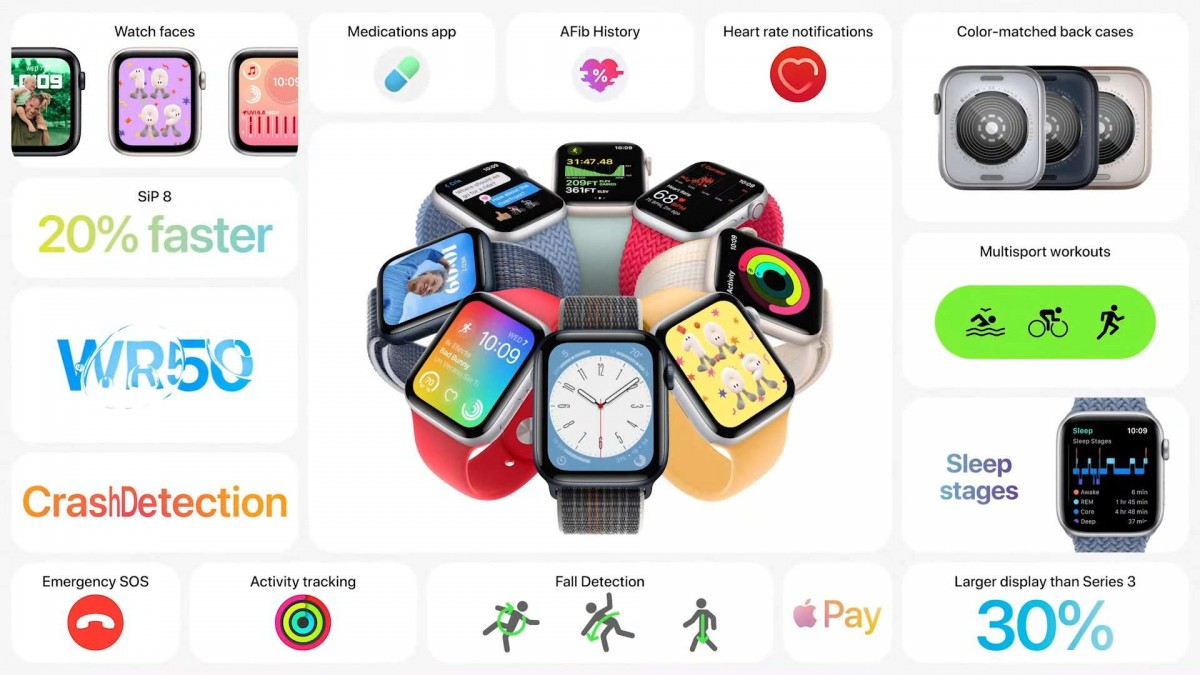 The SE is on sale today at $249 for the GPS-only and $299 for the GPS + Cellular, with shipments starting on September 16.
1 Like
Phones / New: Apple Airpods Pro 2 Get H2 Chip And Longer Battery Life by HisExcellence(

m

): 7:52pm On Sep 07
Apple sure took its sweet time to update the AirPods Pro, but we finally got the AirPods Pro 2. Powered by the H2 chip Apple is bringing a new low-distortion driver and amp on board that can cover a wider range of sound frequencies. The design remains just like before with in-ear silicone tips and stems on the side.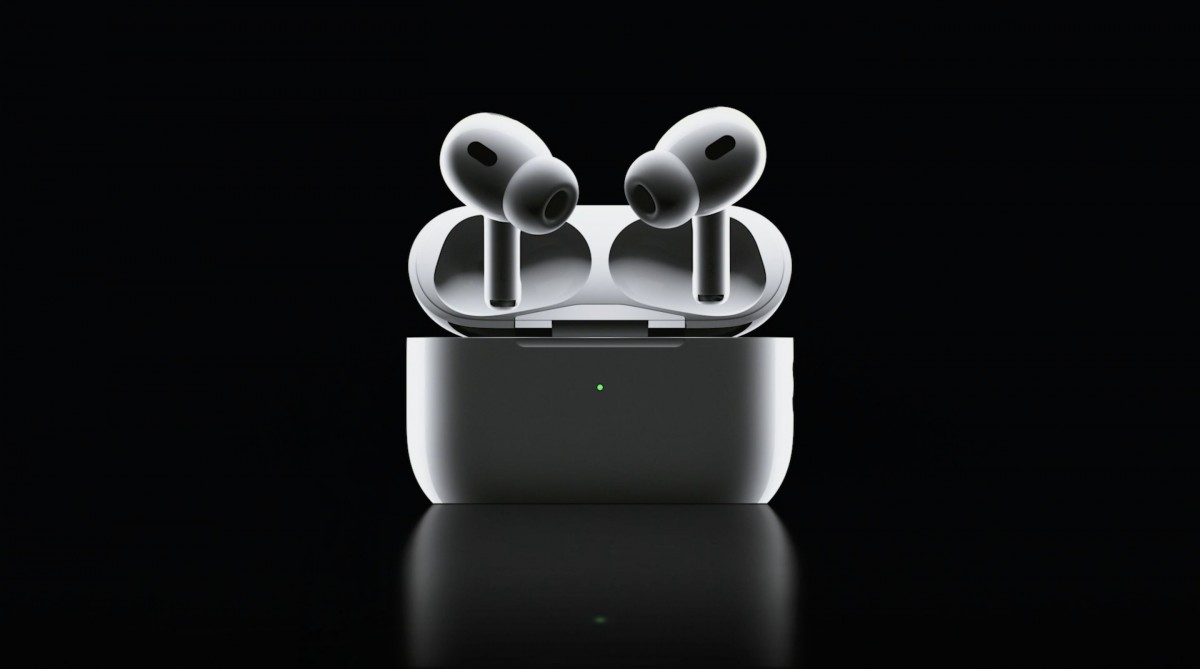 Spatial audio – Apple's surround sound tech is updated with the personalized Spatial Audio feature. It works by using the true depth cam on your iPhone to create a personal spatial sound profile based on the shape and size of your ears.
Active noise cancelation (ANC) gets advanced computation audio with optimized microphone placement. Apple claims you should expect 2x better noise cancelation compared to the first generation AirPods Pro.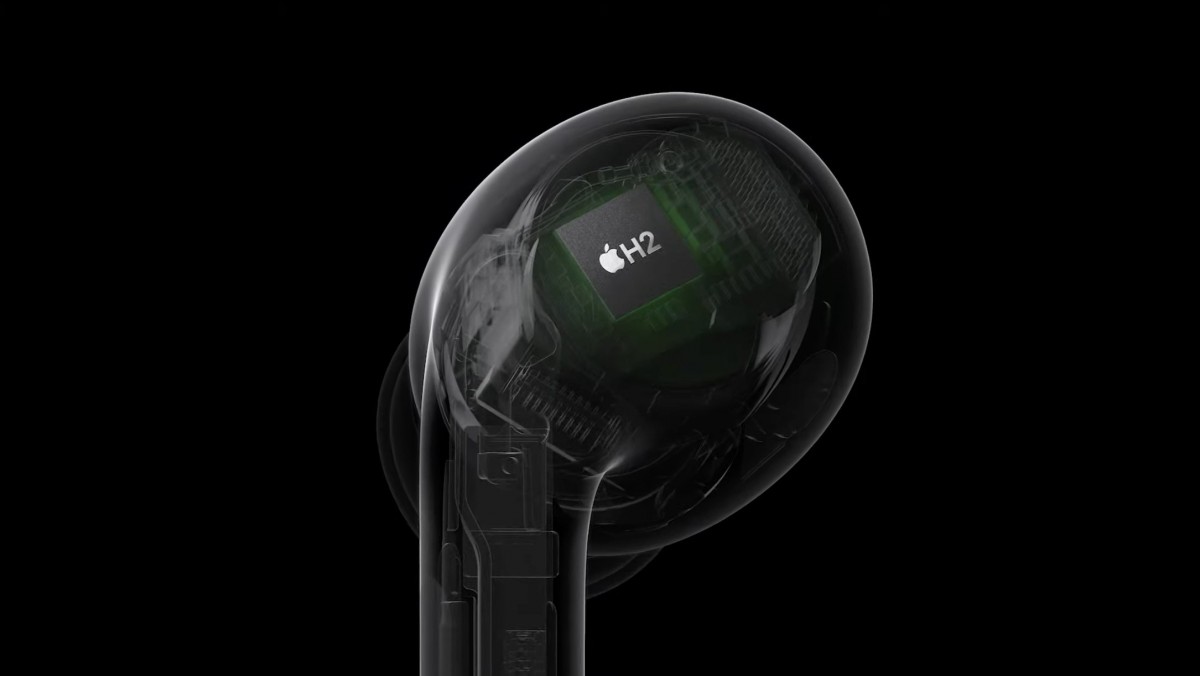 Adaptive transparency is a new mode that listens and cancels any high decibel noise around you – say a construction site while toning down the effect once you are further away and in a quieter environment. Apple's Force sensor control points now get additional touch controls for volume adjustments.
Battery life is rated at 6 hours of listening time and 30 hours with the case. The new charging case is compatible with the Find My service thanks to UWB and also gets a speaker that can play high pitch sounds to help you find it. The case can be charged from its Lighting port or wirelessly via any Qi charger, MagSafe charger or Apple Watch charger.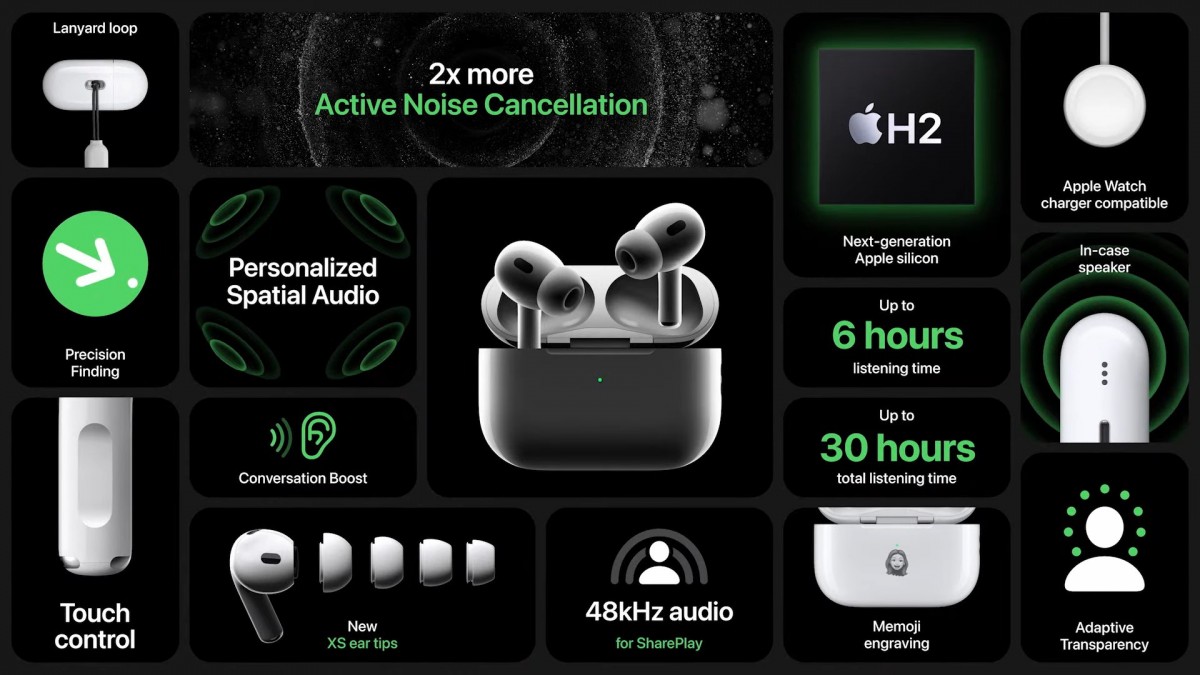 Apple AirPods Pro 2 will
cost $249.
You can place orders from September 9 while open sales start on September 23.
Phones / Re: Watch The Apple Iphone 14 Announcement Live Here by HisExcellence(

m

): 6:23pm On Sep 07
Apple Watch ⌚️ Series 8
Phones / Re: Watch The Apple Iphone 14 Announcement Live Here by HisExcellence(

m

): 6:11pm On Sep 07
The event have started………….
Phones / Re: Watch The Apple Iphone 14 Announcement Live Here by HisExcellence(

m

): 5:34pm On Sep 07
The event start soon at 6:00pm.

Front page
@ honsule, puskin, dragnet, Seun, Lala
Phones / Watch The Apple Iphone 14 Announcement Live Here by HisExcellence(

m

): 2:34pm On Sep 07
A glorious day for Apple fans and the smartphone industry in general - the iPhone 14 launch is taking place, and the announcement will be live-streamed on all major social media platforms.
The event at Cupertino begins at 10 AM PDT / 17:00 UTC / 22:30 IST and we've embedded the YouTube video below. It can also be streamed from Apple's website.
https://www.youtube.com/watch?v=ux6zXguiqxM
The event will see four new iPhones - iPhone 14 and iPhone 14 Plus, as well as iPhone 14 Pro and iPhone 14 Pro Max. The Pro models will have a pill-shaped notch, 48MP cameras and AOD, courtesy of the new iOS 16 and the new A16 chipset. In the vanilla duo a large screen Plus model is replacing the mini as Apple also gives up on super compact smartphones.
The Watch 8 series will also arrive, and we hope to see a Watch Pro. There are also new AirPods Pro incoming - you can check out this article for more details on what we expect.
Phones / What To Expect From Apple's Iphone 14 Event Today. by HisExcellence(

m

): 8:13am On Sep 07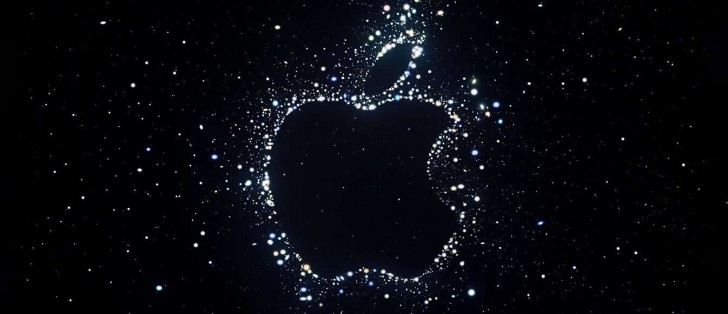 Apple's biggest event of the year is finally upon us. Titled 'Far Out' and taking place at the Apple Park campus, it starts 10:00 AM PT for both in-person attendees and those watching on stream from Apple's website and YouTube channel.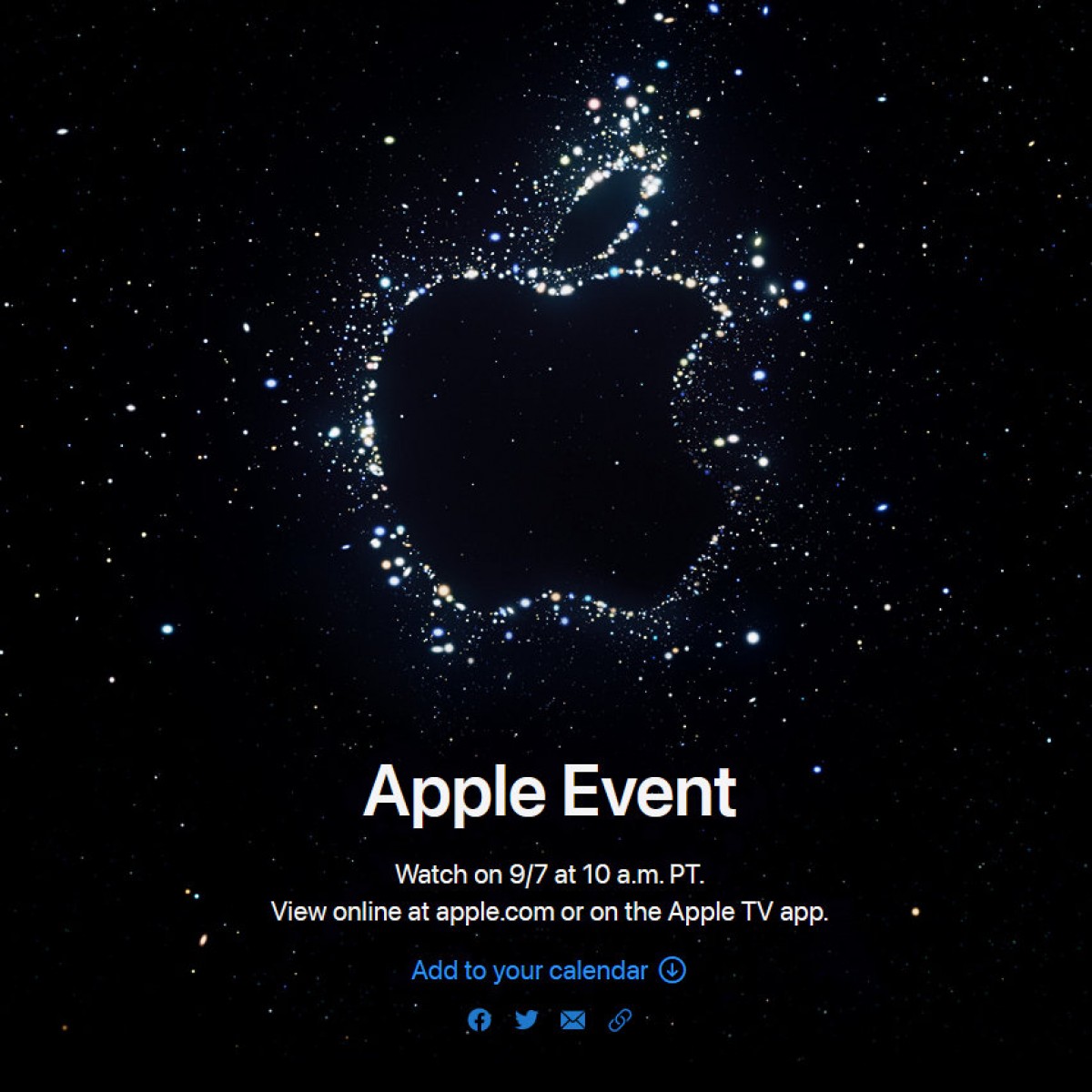 Here's what to expect.
iPhone 14
This is Apple's main Fall event and per tradition, it's all about the new iPhones. Apple will
unveil four new iPhone 14's
- the 6.1-inch iPhone 14 and iPhone 14 Pro and the new 6.7-inch iPhone 14 Plus and iPhone 14 Pro Max. The move to a more-affordable Plus-sized phone comes at the expense of the iPhone mini, which is getting axed due to disappointing sales.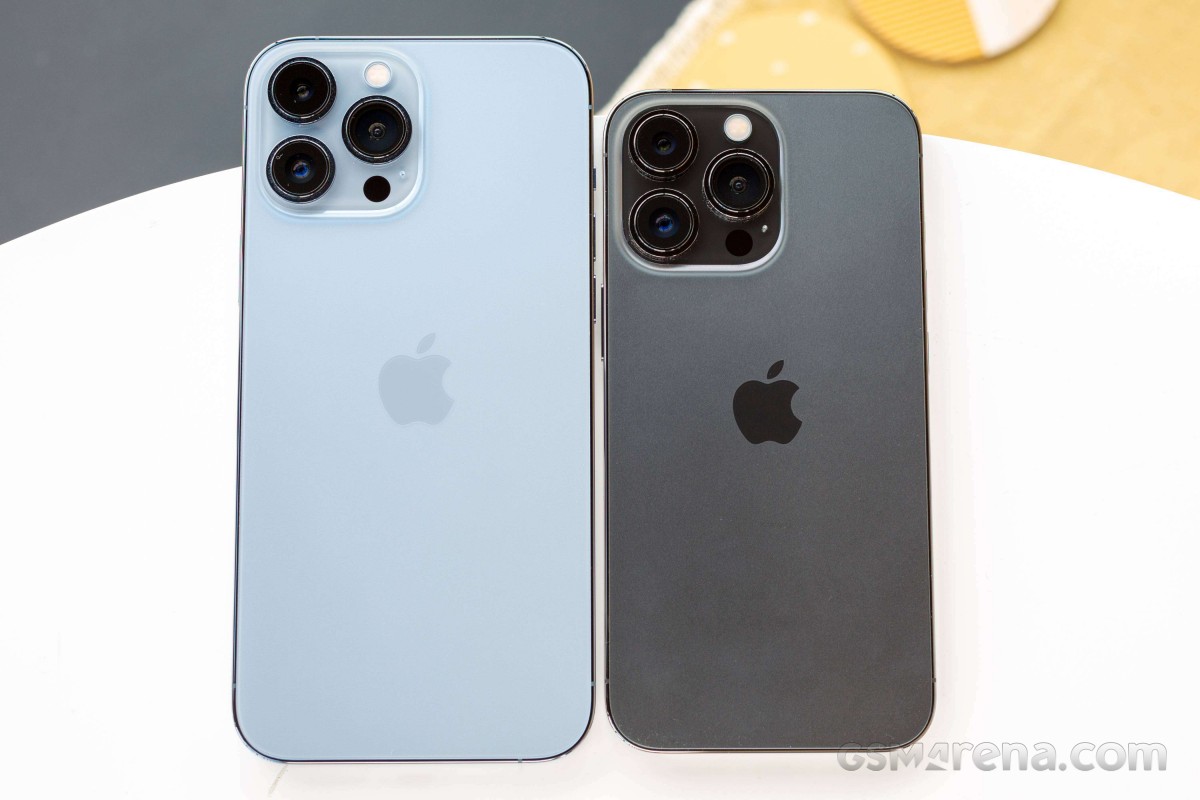 The more solid rumors point to the Pro duo having the bigger updates. The iPhone 14 Pro and iPhone 14 Pro Max will get a new dual cutout for the selfie and FaceID cameras, which will be joined in software as one long pill-shaped notch, which will fit the privacy indicators for the microphone and camera between the physical cutouts. The main wide camera will have a new
48MP larger sensor that will enable 8K video recording. The ultrawide camera will get a bigger sensor for improved low light shots and the selfie camera will finally get autofocus and likely imager improvements.
Rumors suggest Apple will finally show off an Always-on display for the iPhone. Finally, the iPhone 14 Pro models will get the new A16 chipset.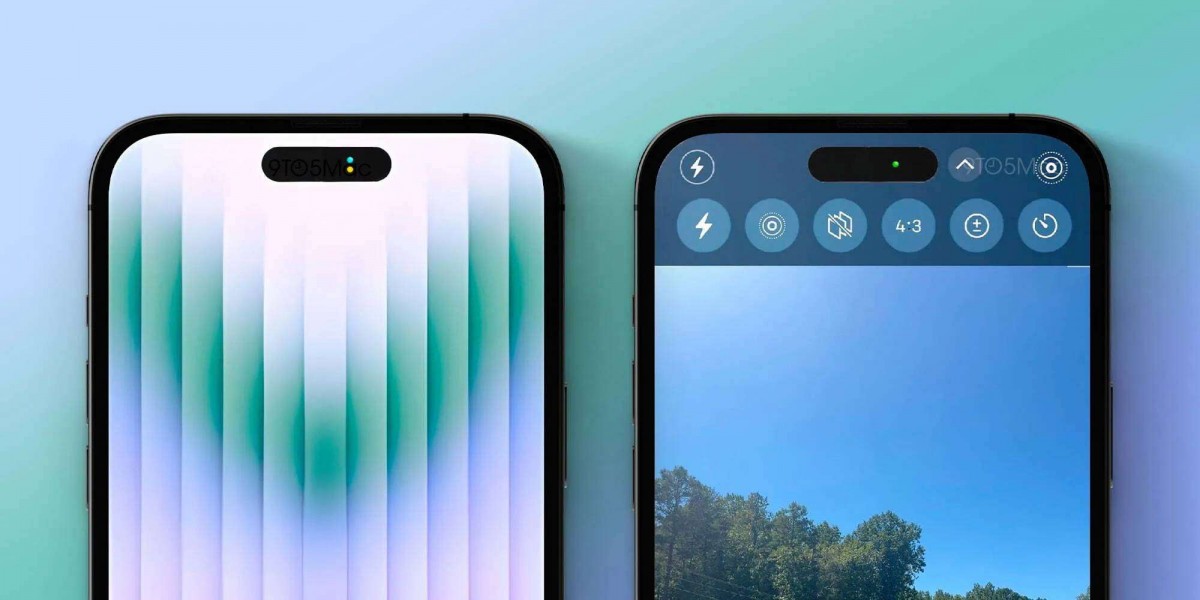 The non-Pro models will retain the A15 Bionic chip of last year and will likely inherit the wide camera from the iPhone 13 Pro - a bigger sensor with a brighter lens. Some rumors suggest the non-Pro models will get the improved ultrawide camera, but the reports are uncertain about potential AF on the selfie camera.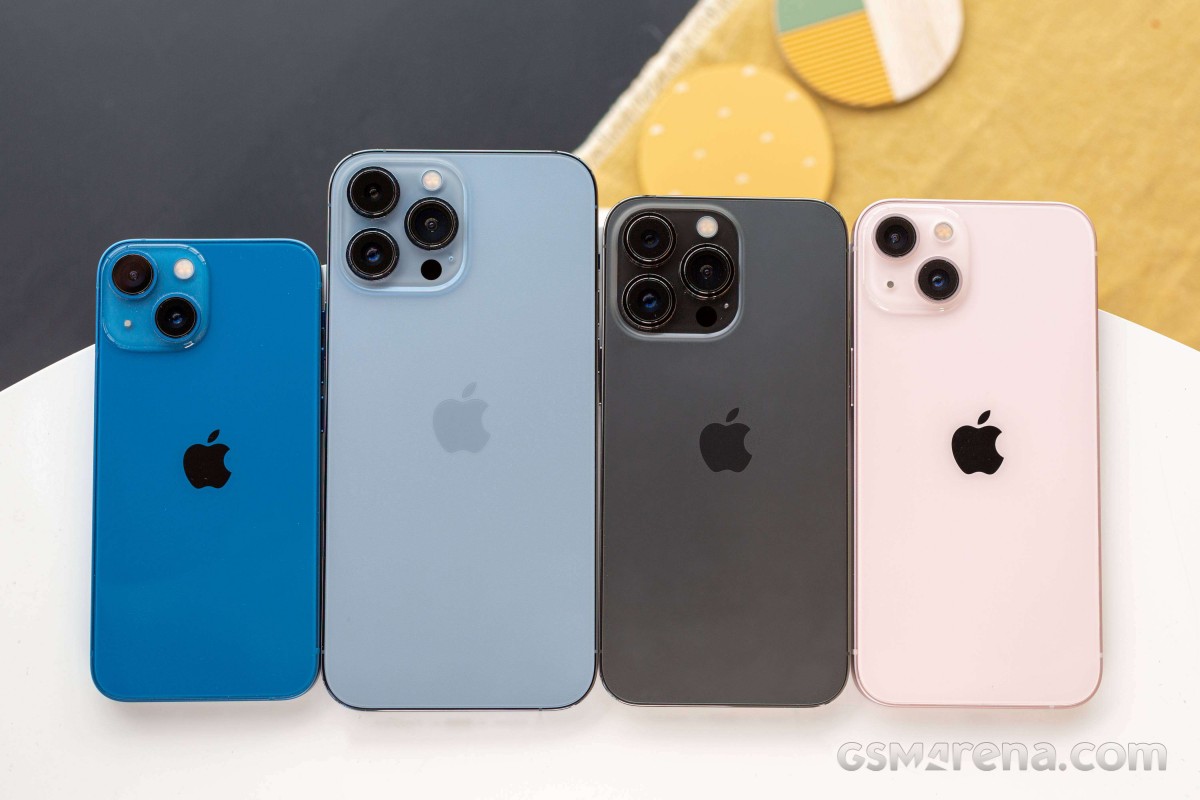 The new iPhones will retain the Lightning port for another year, but could see charging speeds increase to 30W.
The Pro models will likely see a price hike, $100 in the US and likely significantly more in Europe.
All iPhone 14 models could feature an innovative new satellite connectivity support, which Apple tried to unveil last year but couldn't finalize. That could be linked to the 'Far Out' tagline of the event. Satellite company Globalstar has been linked with providing connectivity for Apple. Think of the feature as a last resort when all other means of communication are lost, it will pack enough bandwidth for a call or a text message and nothing more.
Watch Series 8, Watch Pro, Watch SE
The next announcement, priority-wise, will be the Apple Watch Series 8, though it's conceivable that Apple will lead with it.
Expect to see the new Watch Series 8 packing a faster S8 chip. While it's unlikely we'll see blood pressure monitoring, we are likely to see a new temperature monitor that will alert the wearer of a possible fever and be able to help with fertility tracking.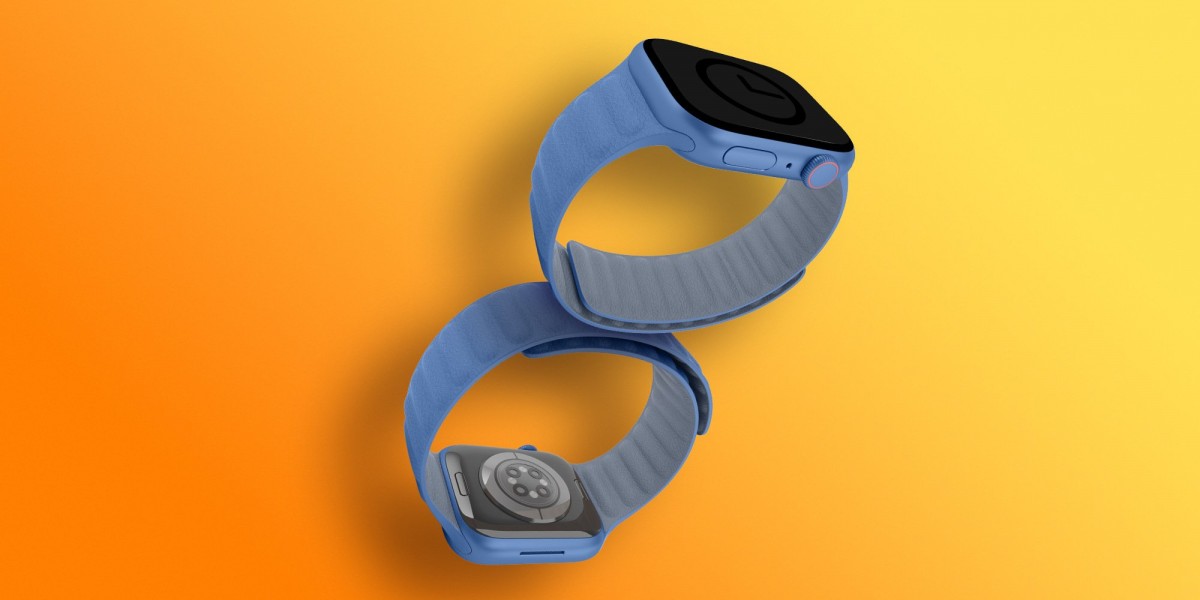 Apple will break ground on a new pro device - the Watch Pro. It will bring a larger 47mm case - up from the 41mm and 45mm sizes of Apple's current smartwatches. Rumors suggest the Pro could have a flat-edged display and will include superior build quality - possibly a sapphire display and titanium case. Expect the Apple Watch Pro to be in the $900-$1000 price range.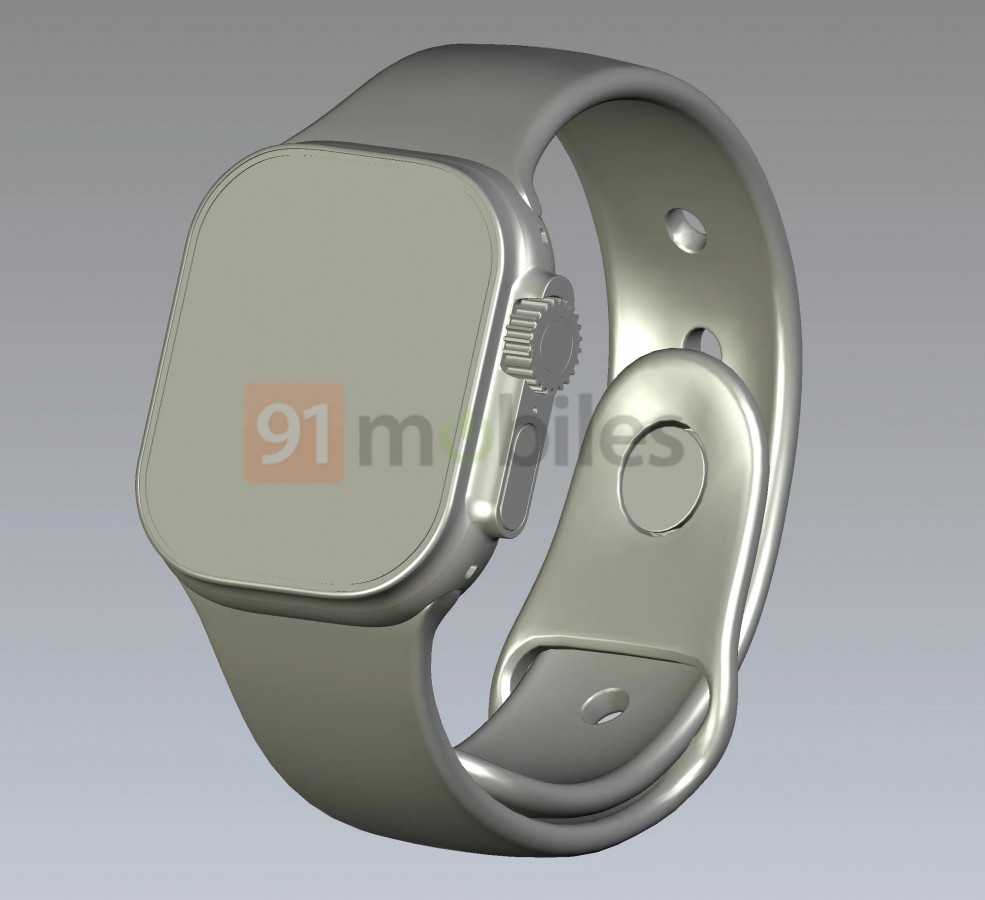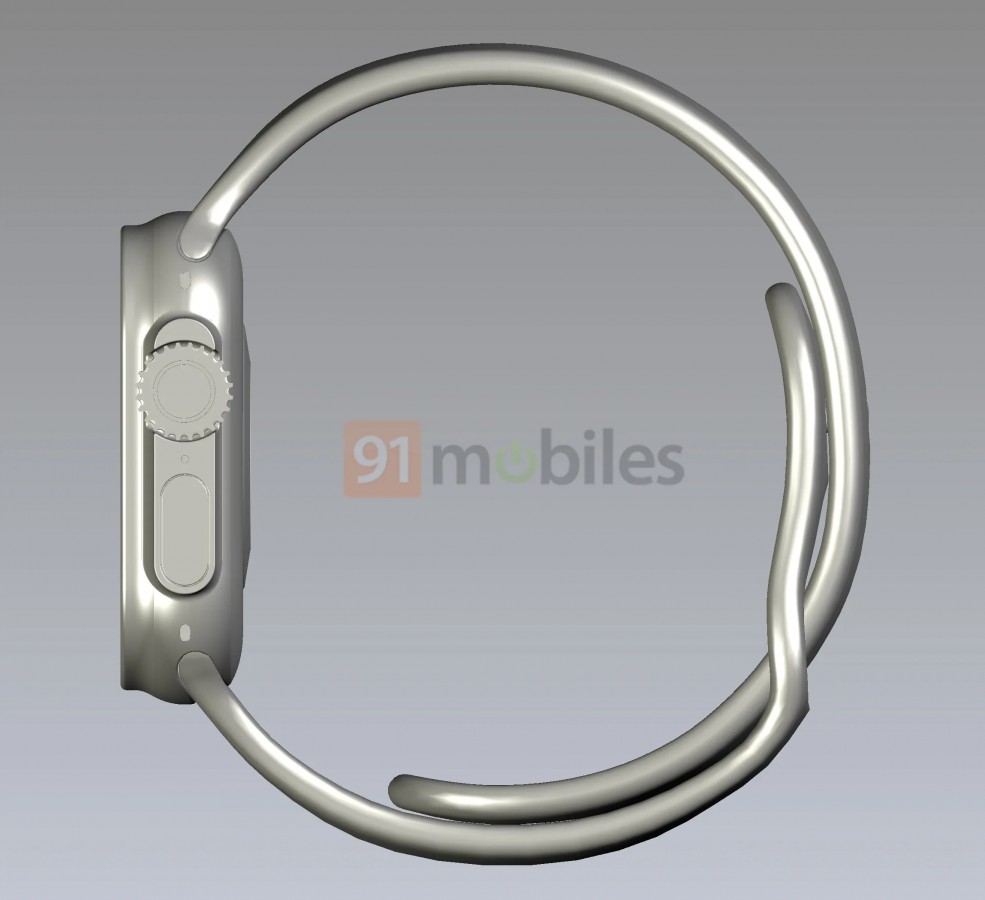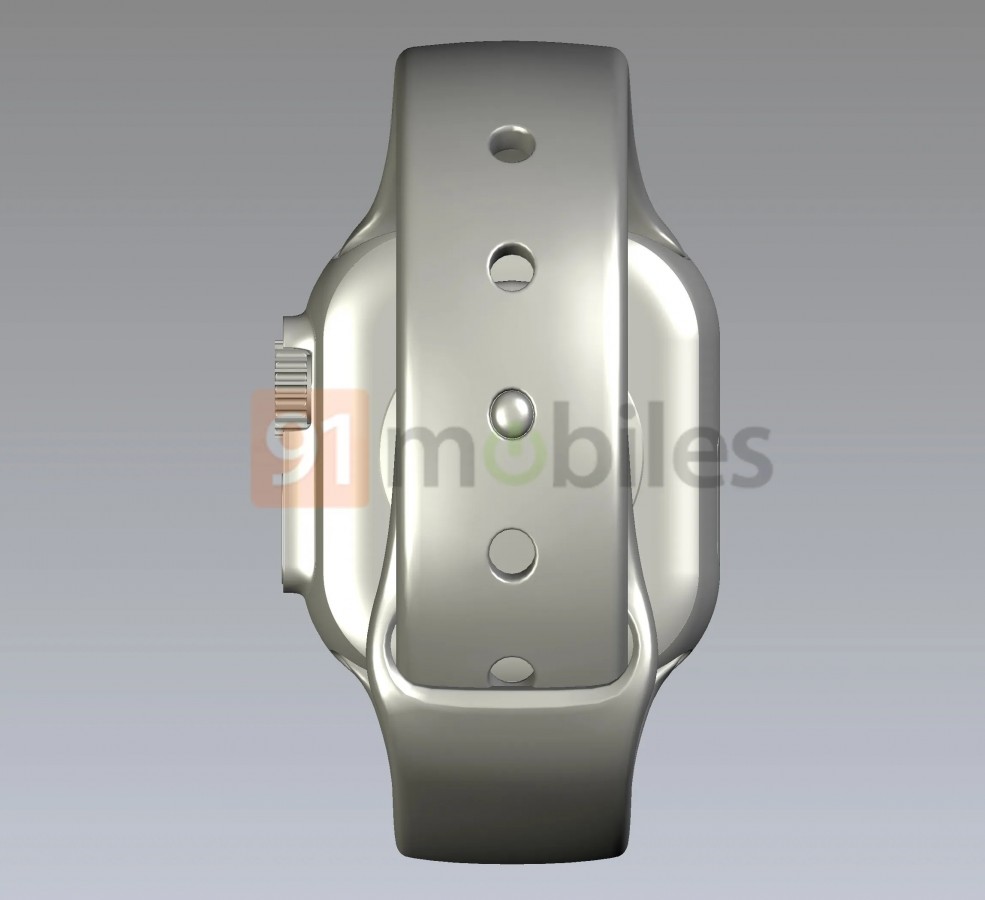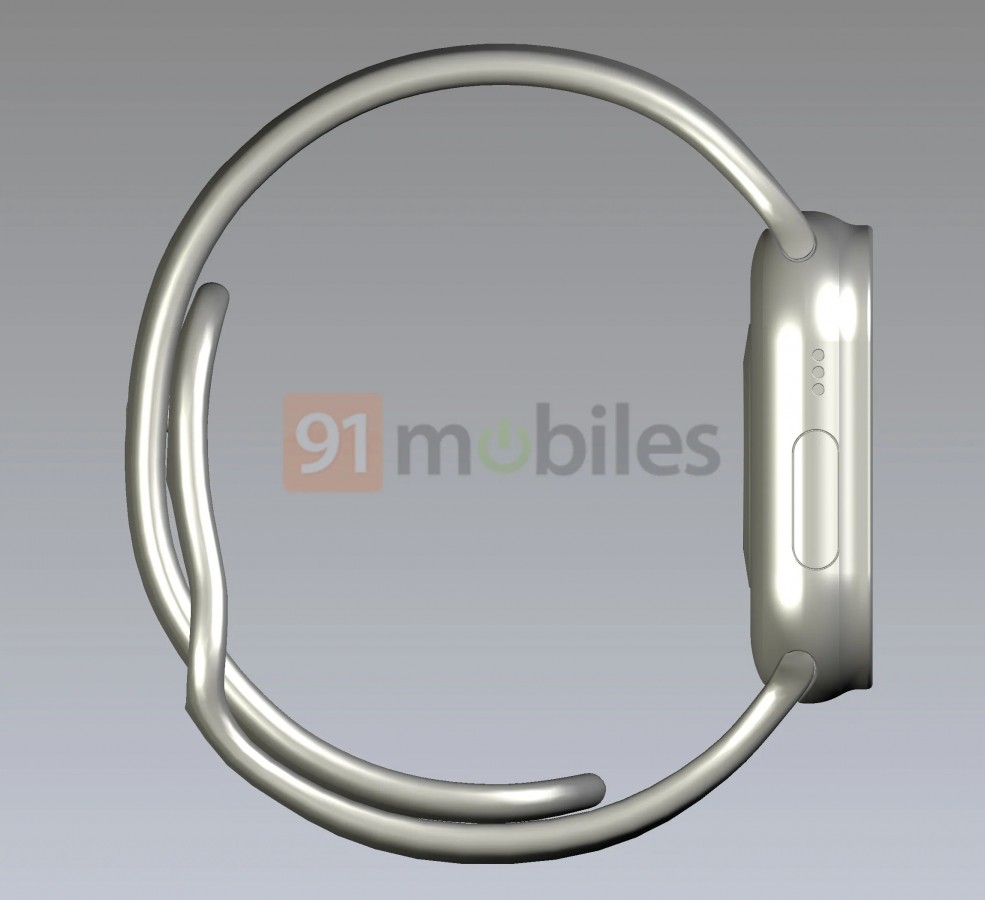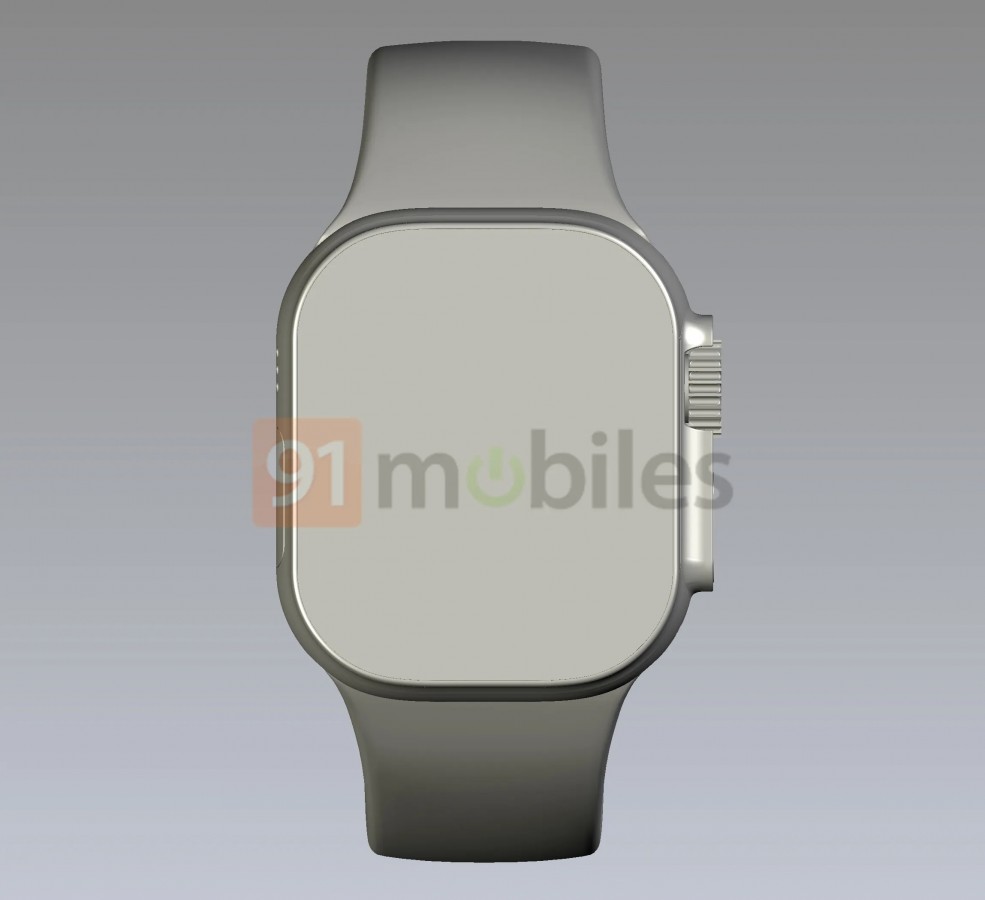 Finally, there's the new Watch SE. It should retain the display size of the current Watch SE, meaning the S8 chip will be the biggest improvement.
AirPods Pro 2 and iOS 16
The three-year-old AirPods Pro are getting a replacement. The new AirPods Pro will be the first to support Apple's Lossless Audio Codec (ALAC), which could tie in with improved Bluetooth support.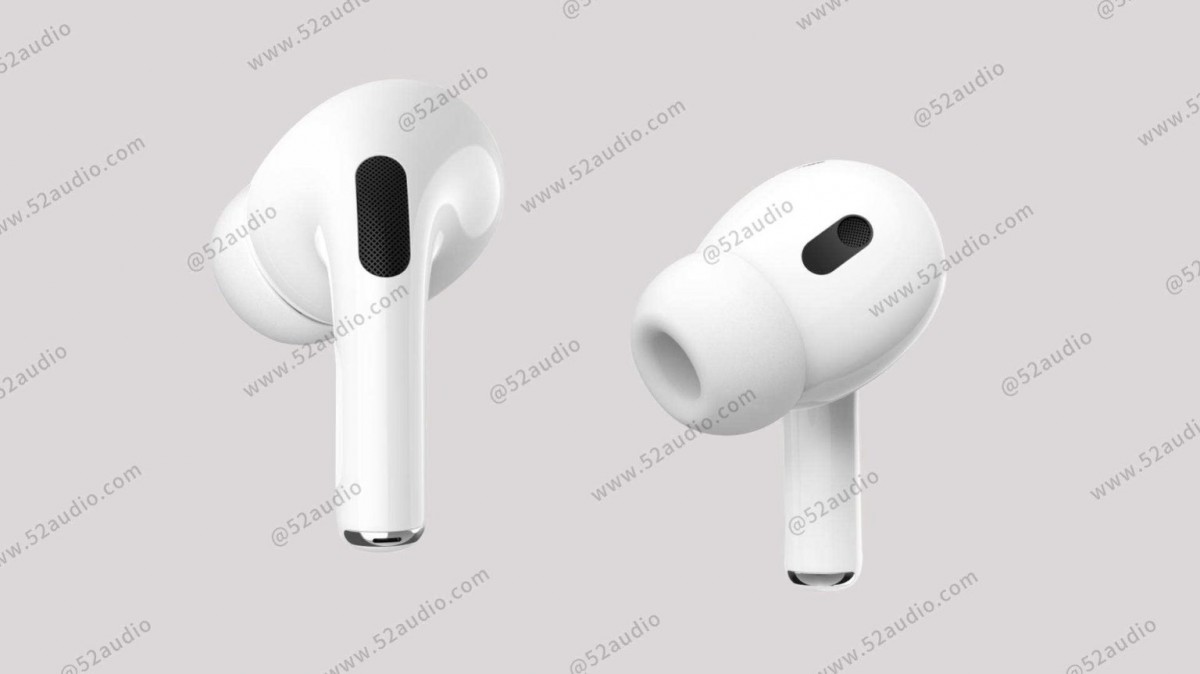 The AirPods Pro may feature a new stem-less design with built-in wing tips, similar to the Beats Fit Pro.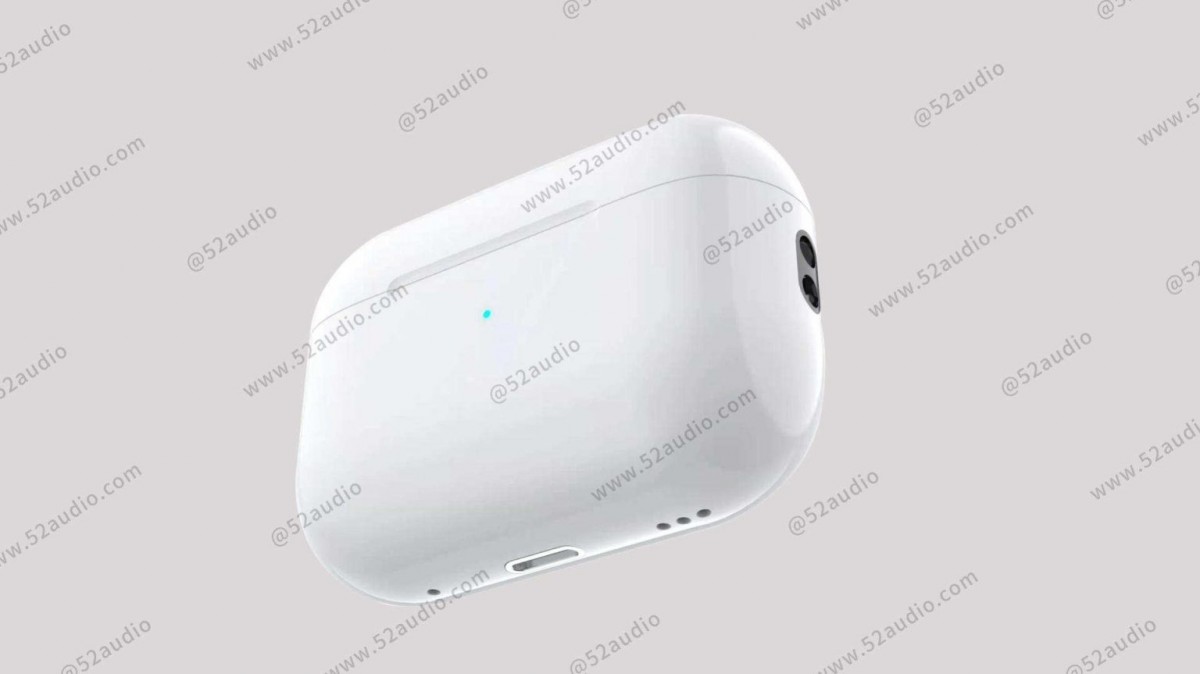 Apple is set to have finished work on iOS 16 and is set to launch the update a week after the iPhone 14 event. Among its biggest features are the new customizable lock screen, bottom-placed notifications, new profiles for different scenarios, and the ability to edit and unsend in Messages.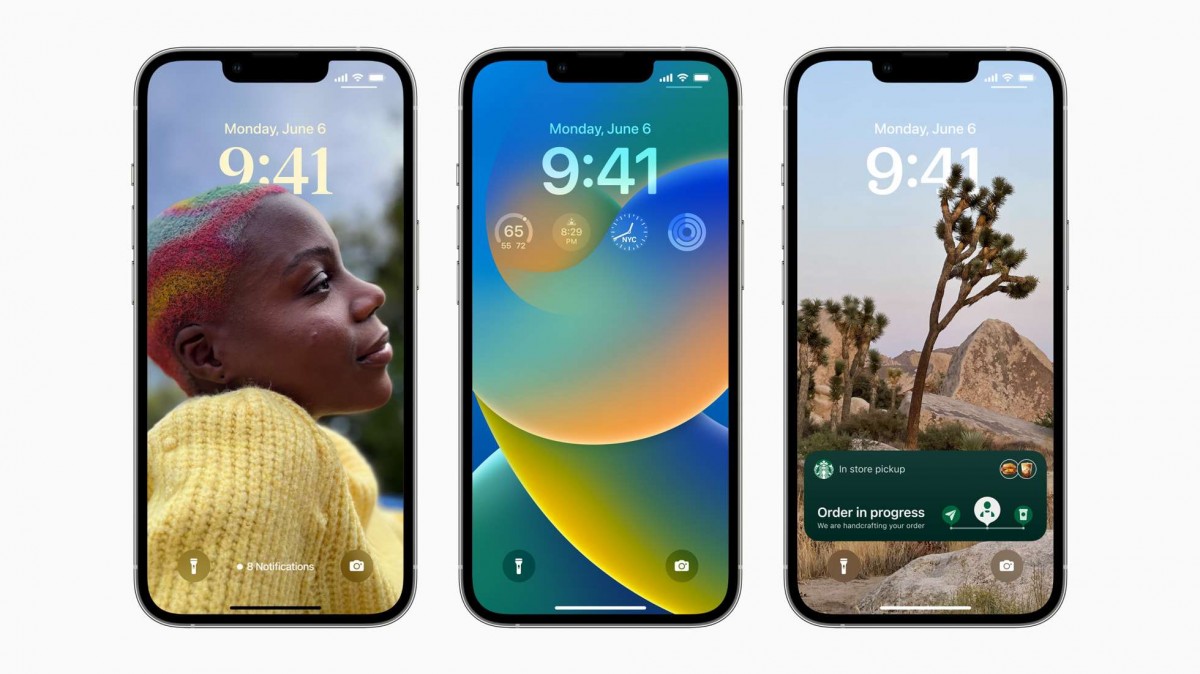 TV/Movies / Re: BBNaija 2022 Live Updates Thread by HisExcellence(

m

): 6:53pm On Aug 29
DOTUN WON HOH
Phones / Re: Iphone 12 Or Samsung Galaxy S20 Fe by HisExcellence(

m

): 8:36am On Jun 22
Greisen:

Lolz the only aspect Iphone is better than Samsung is in security aspect bro

Not only the security, even the camera aspect. The only thing aspect Samsung have over iphone is the Zoom.
1 Like
Phones / Re: Iphone 12 Or Samsung Galaxy S20 Fe by HisExcellence(

m

): 7:49am On Jun 22
Greisen:

You lie bro
Where's the lie?
I'm using iPhone 13 Pro Max and S22 Ultra. So I know what I'm saying.
Phones / Re: Iphone 12 Or Samsung Galaxy S20 Fe by HisExcellence(

m

): 7:14pm On Jun 20
tonexman18:
I wanted something with a bigger screen but also scared that the samsung spec may not be as good as the iphone 12
I'm using both brand, if big screen is what you want go for the Pro Max. Samsung S20 Fe is also a good phone. But no matter how iphone will always have edge over Samsung and others.
5 Likes 1 Share
Phones / Re: Iphone 12 Or Samsung Galaxy S20 Fe by HisExcellence(

m

): 5:47pm On Jun 20
tonexman18:
Please i have a question… Is it advisable selling an iphone 12 to get a samsung galaxy s20 fe??
Stay with your iPhone 12
3 Likes 1 Share
Politics / Re: Running Mates: APC Defers To Tinubu, Wike May Emerge As Atiku's VP by HisExcellence(

m

): 7:18am On Jun 15
Atozah:


TOP BUSINESS SECRET REVEALED!




READ THIS CAREFULLY IF YOU OWN A BUSINESS!!




You're not a business friendly person, you that it takes years to respond to your messages and also delivered your work. To correct a mistake in your work is another problem.
You better change, if you continue with this attitude of yours, Hmmmmmmmm. I prayed you change.
Good day.
Phones / Re: Infinix Note 11 Vs Xiaomi PocoM4 Pro 4g by HisExcellence(

m

): 8:19am On May 24
Abbeytoy:


Poverty no go kill you.

The guy go don buy new phone before it get fault.
And beside the phone don't get spoil easily, I used my Note 8 Pro then for good three years without having any issues and If you see the phone it still neat like new.
1 Like
Computers / Re: 2tb Ssd by HisExcellence(

m

): 11:42pm On May 18
chinli:
Item still available
Location?
Technology Market / Re: 8gb Ram Laptop Needed 80k Budget by HisExcellence(

m

): 8:25am On May 18
I have HP G3
Core i5 6th Generation
8gb/1TB HDD plus extra SSD slot
3-4hours backup
Phones / Re: Brand New Iphone 13 Pro Max 512gb GOLD by HisExcellence(

m

): 1:50pm On May 15
Still available
Phones / Brand New Iphone 13 Pro Max 512gb GOLD by HisExcellence(

m

): 10:19pm On May 14
Brand New Phone Only
iPhone 13 Pro Max
512gb
Gold
World Wide Done Already
620k

Location: Lagos.
Technology Market / Re: All Offerup, Letgo, Craigslist, 5miles, Ebay, Amazon Deals.*READ FIRST PAGE* by HisExcellence(

m

): 7:28pm On Mar 11
Baylam:
Want to purchase this but seller said he's in ibadan, is it safe to send funds??
I have 512gb
Gold
Brand New Phone Only
650k
Location: Ikeja
Phones / Re: Sa.... by HisExcellence(

m

): 10:26pm On Feb 26
najoomey:

How much are you selling the iPhone?
680k
WWU
Picture attached below.
Phones / Re: Sa.... by HisExcellence(

m

): 7:29am On Feb 26
Ibbaba:
Available
How much are you selling?
I also have
Brand New, Phone only
iPhone 13 Pro Max
512gb for sell in case .
Phones / Comparisonhuawei Harmonyos 2.0 Vs Samsung One UI 4.0: Quick Settings Panel by HisExcellence(

m

): 1:46pm On Jan 04
HarmonyOS 2.0 comes with a bunch of new features including the new Control Panel that replaces the old unified quick settings panel. On the other hand, you have the Samsung One UI 4.0 and we'll be going to compare it with HarmonyOS 2.0 for the quick settings panel in this comparison.
Let's talk a little bit about the One UI 4.0 first, Samsung's latest software is based on Android 12 and brings a bunch of new enhancements over its predecessor. Therefore, its UI has been revamped and supported by some extra customizations thanks to the latest Android version. However, one thing to note is that One UI 4.0 still has the unified quick settings and notification panel.
Now, let's begin our comparison of HarmonyOS 2.0 vs One UI 4.0 quick settings panel.
One UI 4.0:
The Quick settings panel of One UI 4.0 enhances the user experience over One UI 3.1. For instance, the quick switch icons now have a more subtle appearance and thanks to the Android 12 operating system, Samsung phones can customize the color of the entire user interface, including icons, based on the home screen wallpaper.
Another thing to mention is that the system font is also polished and increases the visibility for areas such as time and date. Talking about the minor changes, the One UI 4.0 has minor tweaks in the slider area, which has become a bit cozy to access. There are also, two large buttons for Device control and media output management.
HarmonyOS:
HarmonyOS 2.0 has its own vibe that will clearly reflect on its quick settings called Control Panel, you just need to swipe down from the right corner and bring it on. In comparison to One UI 4.0, HarmonyOS has separated the notification center and control panel for easy access to the different features in various interaction-friendly aspects.
The HarmonyOS sans font looks good on the user interface and system icons for Settings and layout editor are also there. The use of media and connectivity switches brings ease of access for specific features such as music, WiFi connections, and Bluetooth. On the other side, the quick access switches are brighter and come with a perfect size that won't miss a tap from your finger.
In addition, to Settings, you'll also see Super Device manager and smart connected device controller widgets below the quick settings.
Conclusion:
Both of these user interfaces are really good but HarmonyOS 2.0 has the upper hand in some areas of navigation and control over the quick settings. Still, One UI 4.0's new color palette and virtual power on the switch are really big features that HarmonyOS 2.0 missed.
Phones / LG Is Shutting Down Its Developer Website, Last Chance To Unlock Your Bootloader by HisExcellence(

m

): 9:49am On Dec 07, 2021
After LG announced that it's exiting the smartphone business, the company promised three years OS updates to its most recent flagship phones in order to extend their life cycle and make sure loyal users aren't left disappointed. But starting next month, the Korean tech giant will no longer provide keys to unlocking bootloaders.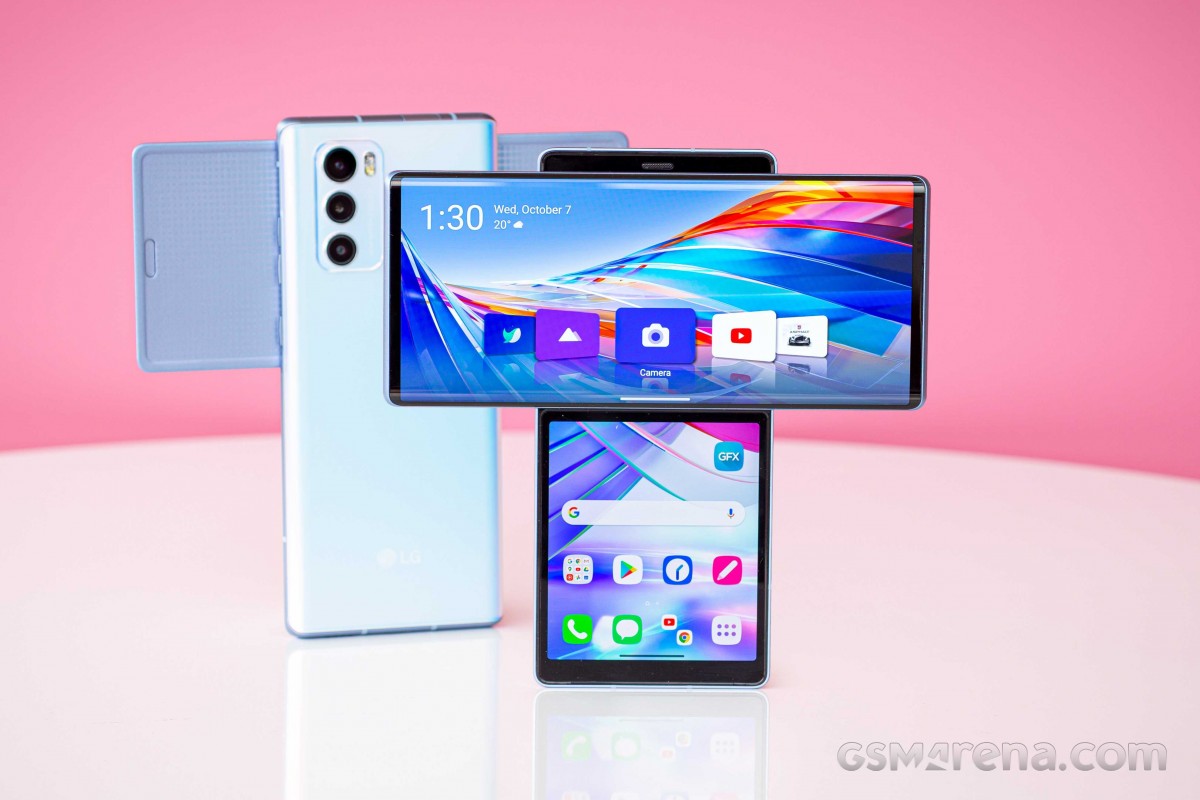 There's a notice on the developer website saying that the company will terminate it and "all information provided on the website and issuing the bootloader unlock key will not be available" after December 31, 2021.
So if you plan on keeping your LG phone a bit more and you would like to root it or install a custom ROM, now is your chance to get the key for the bootloader. After all, if you are a diehard LG fan, this is probably your best bet at keeping your handset relevant for longer.
SOURCE:
https://developer.lge.com/main/RetrieveNoticePop.dev?nticId=NOT00005060
Phones / Re: Come In, Samsung And Iphone For Sales At Best Price. by HisExcellence(

m

): 7:52am On Nov 24, 2021
Available.
Phones / Choose Betwen Iphone 12 Pro Max And Iphone 13 Pro by HisExcellence(

m

): 7:35am On Nov 24, 2021
Good day House,

Between this two phone which one can you advised someone to go for?


Both are Brand New but Phone Only and same Price

iPhone 12 Pro Max
512gb
Factory Unlocked

Or

iPhone 13 Pro
256gb
Factory Unlocked
Technology Market / Re: Spanking Fresh Samsung Galaxy Note 10 Plus Dual Sim 12gb/512gb by HisExcellence(

m

): 12:17pm On Nov 21, 2021
earthrealm:


Dual sim?....
Single Sim.
It's Snapdragon
Technology Market / Re: Spanking Fresh Samsung Galaxy Note 10 Plus Dual Sim 12gb/512gb by HisExcellence(

m

): 7:02am On Nov 21, 2021
I have UK used one.

12gb/512gb
Snapdragon

230k
Phones / Re: Come In, Samsung And Iphone For Sales At Best Price. by HisExcellence(

m

): 9:45pm On Nov 18, 2021
SA