[size=18]Nigerian-Born Oluwole Betiku Is College Football's Most Unlikely 5-Star[/size]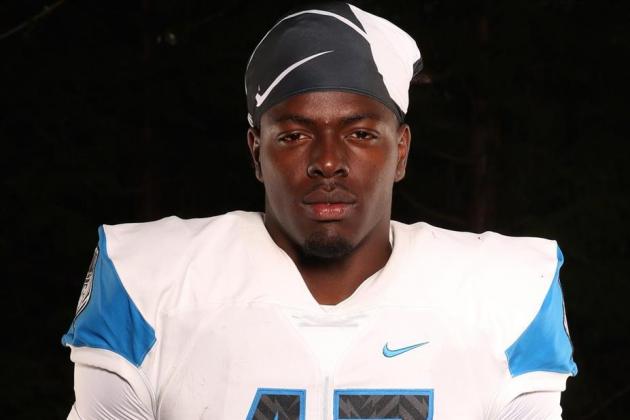 Imagine a world where you are a 5-star recruit, yet the people closest to you have no idea what that means.
In the span of one year, Oluwole Betiku went from learning the game of football to being recognized as one of the elite talents in the 2016 cycle.
It's been close to two years since Betiku departed his hometown of Lagos, Nigeria, for the United States with one mission entrenched in his mind.
He hasn't seen his family since he left, but bettering their living condition is serving to motivate his journey from football obscurity to the brink of stardom.
"I came into the game of football just to make a way for my family," Betiku told Bleacher Report. "Make a way in my life and just to find a good situation. My mom and dad are still in Nigeria. My sister is over there and my brother. I want to be the breadwinner of the family one day. I feel like sports was going to be the way."
He leaves behind a harsh reality that his family still faces back home—one filled with a lack of hope and military checkpoints in the northern part of his home country because of Boko Haram threats.
"Being in L.A. now, people talk about stuff happening, but it's nothing compared to what it's like in Nigeria, where you walk to the bus stop and there's a soldier with a tank driving around," Betikue explained. "Seeing things like that and being here now, it just makes me want to work hard for my family to get them out of there. You never know what can happen. They could be walking around and they could get struck at anytime."

Despite his relative inexperience in playing the game, Betiku—who is the nation's top-rated weak-side defensive end and the No. 11 player overall in the 2016 class—has racked up more than 20 offers from powerhouses such as Alabama, Florida State, LSU, Oregon, Penn State and USC.
He committed to UCLA in August and will begin life in college next January as an early enrollee
http://bleacherreport.com/articles/2572113-nigerian-born-oluwole-betiku-is-college-footballs-most-unlikely-5-star