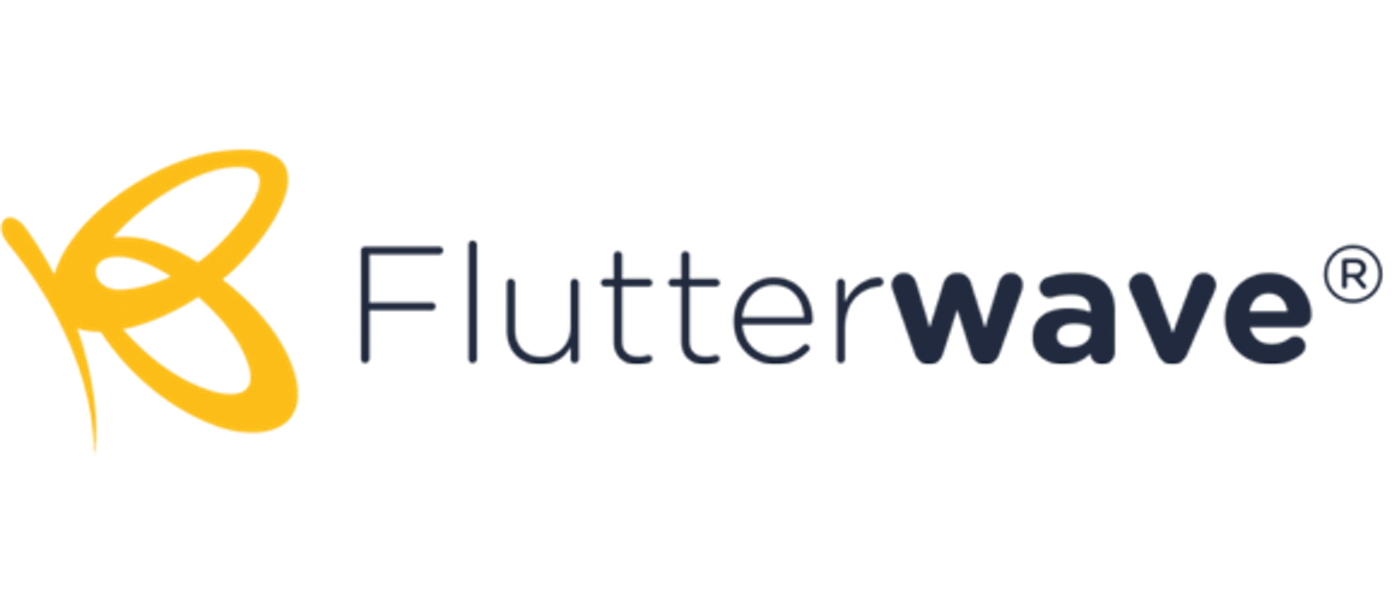 In my quest to determine one of the best e-payment gateway in Africa, I have found Flutterwave products to be No 1 African online financial/payment gateway that has been able to fully meetup with the needs of the people and business. I shall be elaborating on the activities of Flutterwave and its product in this my article.
I will start by defining the concept of Flutterwave
What is Flutterwave?
Flutterwave is a payments API that makes it easier for banks and businesses to process payments across Africa. The service allows consumers to pay for things in their local currency; Flutterwave takes care of integrating banks and payment-service providers into its platform so businesses don't have to take on the expense and burden. They also allows users to manage their finances, make payments and subscriptions.
Flutterwave with the goal of "CHANGING THE WAY THE WORLD DOES BUSINESS GLOBALLY" was founded in 2016 by a team of ex-bankers, entrepreneurs and engineers, they provide the award-winning technology core needed to provide business all around the world a powerful, reliable and intelligent payments gateway. In the recent time they stay ahead of the industry by challenging their products and improving on every feature they offer. The HQ is in San Francisco with offices in Lagos, Nairobi, Accra, and Johannesburg.
Their mission is to inspire a new wave of prosperity across Africa by building payments infrastructure to connect Africa to the global economy. They have made it easier for Africans to build global businesses that can make and accept any payment, anywhere from across Africa and around the world. The world's digital economy is progressing and it is the plan of Flutterwave to include African businesses in the journey.
Flutterwave Achievements in the recent time has put them to the top of the radar. The award-winning payments technology company, Flutterwave has announced the completion its Series A Extension round of financing. The latest round of financing includes investments from Mastercard, CRE Ventures, Fintech Collective, 4DX Ventures, and Raba Capital, among others. Flutterwave has now raised over $20 million to date and its largest investors include Green Visor Capital and Greycroft Partners. As part of the financing, current Green Visor Capital Chairman & General Partner and former Chairman & CEO of Visa, Joe Saunders, joined the Flutterwave Board of Directors
According to the statistical data on the official page of Flutterwave, $2.5B in payments process has been made, 100M transactions processed, 50 bank partners in Africa and over 1200 developers build on Flutterwave
Let me introduce you to the two major products of Flutterwave, they are as follows:
1. Flutterwave Barter
2. Flutterwave Rave
What is Flutterwave Barter?
Flutterwave Barter is a financial app on steroids. It provides financial functions much like any other banking solutions but it offers much more than most banking app, Barter App allows users to manage their finances, make payments, subscriptions and also designed to help customer focus more on enjoying life and less on how to spend, send and borrow money . All this can be done from Barter app when you Download & Sign Up.
To download Barter App choose from any of the following link
Click
https://play.google.com/store/apps/details?id=com.flutterwave.flybarter
to download from Google Playstore
and
Click
https://apps.apple.com/us/app/getbarter/id1378344716
to download fromApp World for iOS user
Barter get their customer notified of where their money is moving next and have full control over how much they are spending. If you need a partner you can count on in saving for your next project or managing your small business, Barter is the best deal.
With Barter, user can add their bank account to their app dashboard and manage funds in their local currency. They can also get detailed reports that show their spending patterns and insights. And if they need a boost to get to the next step, they can apply for easily repayable short-term loans, right in the app
Also, Flutterwave Barter has two plan for their users, I shall be enumerating the plans with their correspondent benefits
Barter Premium plan
Barter Premium is a bouquet of exclusive features available only to user on the Barter Premium plan. The service costs ₦500 per month. With Barter Premium:
a. User can create unlimited Dollar cards; as many as they need.
b. User can now increase their daily transfer limit from ₦50,000 to ₦200,000.
c. User pay zero fees on their first 10 bank transfers.
d. User also pay zero fees on their first 2 bill payments.
e. User get 2% cashback every time they buy airtime.
f. User get cheaper fees than regular users on certain transactions.
Barter Classic plan
Barter classic is our regular Barter plan. User on the Barter Classic plan are only able to create a maximum of two Dollar cards, N50,000 limit on bank transfers and do not get cashbacks on airtime purchases.
In my research, I have been able to discover what makes Flutterwave Barter different from Other Financial app. below are the special values and benefit that make them top the radar
Low Transaction Charges
While traditional and digital banks are charging N52 for an inter-bank transaction, Barter charges low amount on transaction compared to traditional or digital banks. This being the cost of the transaction payable to the switches, while Flutterwave earns nothing.
Zero Maintenance Charges
With Barter app, users will enjoy zero maintenance charges, unlike traditional banks that keep deducting your money in the name of maintenance charges.
Money Request
This feature is one of the most interesting features Barter by Flutterwave is offering to users. Users can easily request money back from debtors and get credited instantly. They can request money from friends and families via a phone number or account number
Unlimited dollar card
With Barter premium plan, user can create unlimited Dollar cards; as many as they need.
Here are some other features of Barter App and a brief on how to make use of the features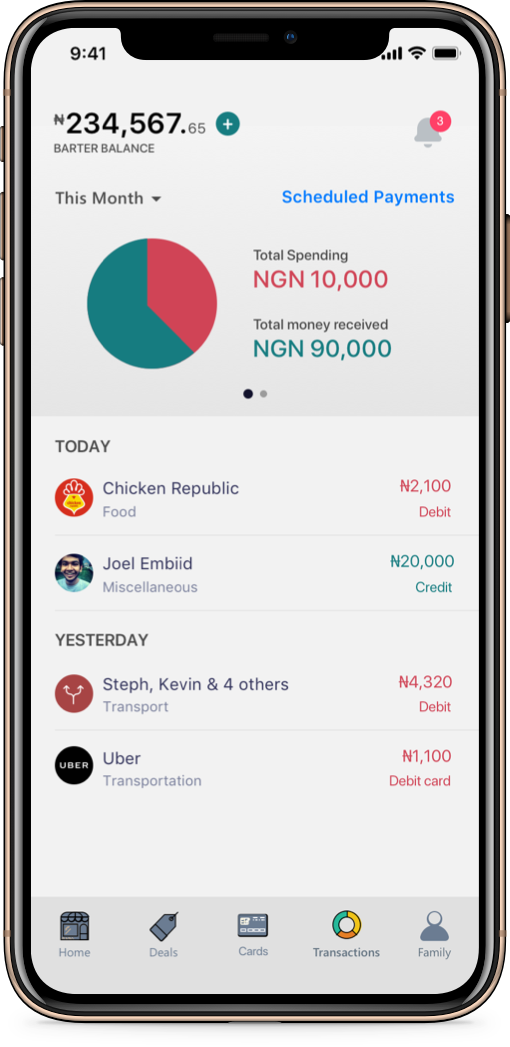 Send Money
User can send money on Barter to a bank account, to another Barter user, or to the recipient's WhatsApp number. From the home screen, tap Send Money, select the option you want, and follow the prompts.
Receive Money
User can receive money on Barter either from another Barter user via Barter to Barter transfer, or via deposit into their personalized bank account number. To receive money on Barter via deposit into your personalized account number, select Add Money on the top left corner of the home screen, then select Bank Transfer from the option. Copy your account details and use them to make the transfer. Any money deposited into that account is automatically sent to your Barter.
Request Money
From the home screen, select Request Money, then choose from your list of contacts who already use Barter who you want to request money from. You can also manually type their Barter phone number or email address if the recipient of the request is not in your contacts.
Paying bills
Barter lets you pay certain utility bills from within the app. To pay a utility bill or any other bill, scroll down on the home screen and select the bill you want to pay. Choose from the options presented, enter your information.
Pay with QR
Pay With QR, powered by VISA, allows you to scan a QR code to make payments with Barter. You can either scan the QR code with your camera directly or upload one from your photos.
Request for Loan
Flutterwave has partnered with Kwikmoney to offer loans to eligible customers. To access a loan, select Add Money from the top left corner of the screen and select Kwikmoney from the options. The terms and conditions of the loan are set by Kwikmoney and accessing the loan facility means you agree to abide by those terms and conditions. You will initially be able only to access a loan amount of about ₦15,000 or less. This amount will be determined by Kwikmoney and might be increased gradually over time as you continue to use the service. Loans are only available to select users in certain locations at this time.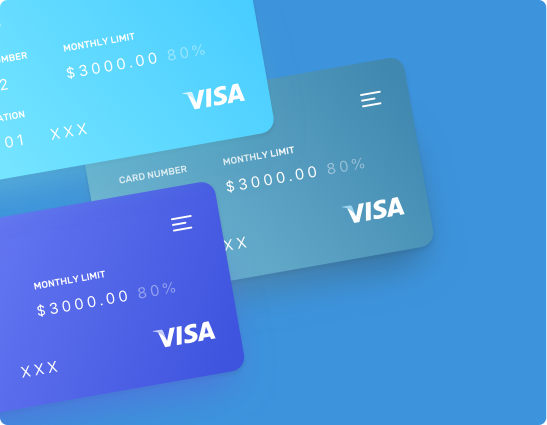 Create a Dollar Card
To create a Dollar card, select 'Cards' from the menu at the bottom of the app, then tap the yellow button with the plus sign at the bottom right corner of the screen. Choose one of the options to create a card for a specific purpose, or choose Continue to create a generic Dollar card. Enter the amount you want to fund your card with and tap Create Card.
Fund a Dollar Card
To fund a Dollar card, select Cards from the menu at the bottom of the screen, then swipe to the card you want to fund. Tap on the card to flip it and tap the Fund this Card button. Enter the amount you want to fund the card with and tap Continue.
Cancel or freeze Dollar cards
To freeze a Dollar card, tap on the card you want to freeze to flip to the Card Details page, then scroll down and tap on the Freeze Card button.
It is stated on the Barter app that:
● Barter Naira cards (the Yellow cards) only work with merchants who process payments via Flutterwave Rave platform. The customer are expected to look out for the Secured by Flutterwave notice when you pay.
● If customer's Dollar card is being rejected, customer needs to confirm that they are not using the card for a prohibited payment or on a prohibited site such as a Money Transfer site. Some websites may have geographical restrictions in place to restrict or reject payments for users from certain locations. The support team of the merchant they are trying to pay should be contacted for details of card rejection.
● Barter Dollar card cannot be use for which are:
1. To send money
2. To buy or exchange crypto currencies, or to fund a wallet or bank account on another site.
3. Also Barter Dollar card cannot be us for Money Transfer and on currency trading sites.
● Barter didn't have physical Dollar Card but they are working hard to get physical cards to their customer as soon as possible.
● Barter is open to everyone in over 100 countries, except to people in the following countries: Zimbabwe, Yemen, Venezuela, Russia, Syria, South-Sudan, Sudan, Somalia, North Korea, Nicaragua, Moldova, Libya, Lebanon, Iraq, Iran, Democratic Republic of Congo, Cuba, Central African Republic, Bosnia and Herzegovina, Bulgaria, Kosovo, Macedonia, Romania, Slovenia, Crimea, Burundi, and Belarus. Flutterwave Barter assured their users that they are constantly working hard to make Barter available everywhere soon.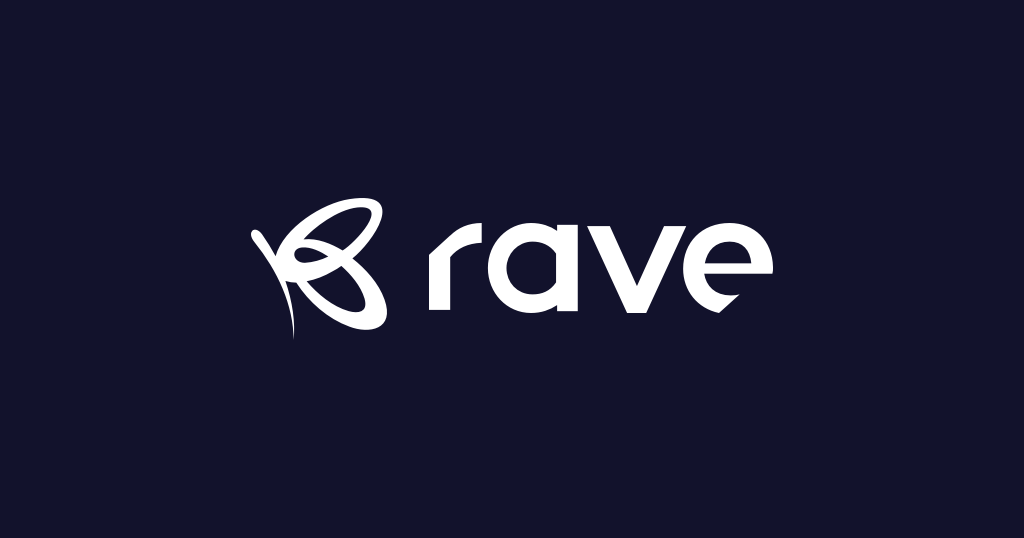 What is Flutterwave Rave?
Rave is the easiest way to make and accept payments from customers anywhere in the world. Building a business is challenging enough. But rave payments gateway solution makes it easier with secure and reliable tools. Whether you need a simple payment link or to manage payouts for hundreds of people, they have designed a completely integrated global payments platform.
Integrate your business into Flutterwave payments ecosystem where you'll experience 24/7 customer service, reasonable fees and the technology to achieve zero failed transactions. Flutterwave Rave allows you to set up your business with speed, ease, and functionality, in order to provide your customer with the best possible checkout experience.
With their flexibility in accepting all payment methods, Rave opens your business to more opportunities by letting you accept a range of payment methods from customers around the world.
To integrate Rave by Flutterwave as your payment gateway, it is requires that you create free account from
https://rave.flutterwave.com/signup
, chose how you will like to accept payments with Rave and create your account.
During my research, I have also discovered what makes Flutterwave Rave different from other payment gateways. Here are my findings
●
Zero set up fees
Payments should be easy; Rave believe that, so they have made setting up on rave absolutely free
●
Straight forward set up
Rave don't believe in overcomplicating things. Their robust system is advanced yet accessible enough to handle your various needs
●
Top notch security
As a PCIDSS compliant solution, Rave ensures the security of your customer data. Rave is backed with vault-level security to ensure all transactions are secure
●
Easy to use dashboard
With an easy to use dashboard and a granular filtering system, Rave makes creating reports a breeze.
●
Multi-currency support
Rave go global, with 150+ supported currencies Increase sales by displaying prices and accepting payments in your customer's preferred currency, improving their overall experience. With Rave, you avoid high conversion fees and can receive funds in your local currency. Rave payment gateway support payment in Naira, US Dollar, Euro, British Pound and many more. And their multi-currency support allows customer to receive payments in multiple currencies at the flip of a switch, also supports cross currency conversions.
Flutterwave Rave has many Payment features that meet the needs of their users and help them to have control and optimize their complete payment journey, from accepting payments to settling funds with flexibility of multiple payment methods as described below.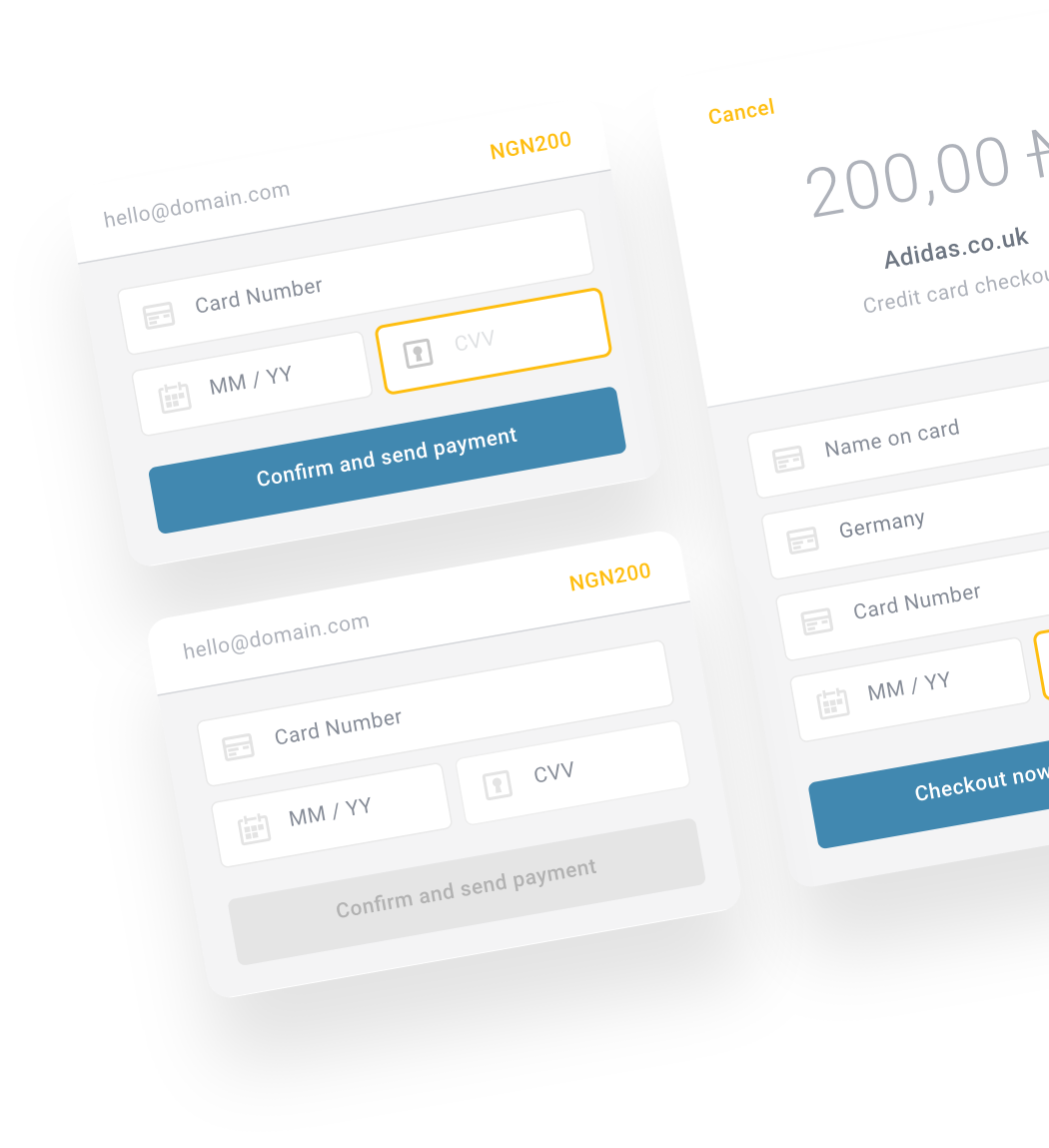 Card Payments
Accept debit/credit payments from customers in 154+ countries. Visa, Mastercard, Verve and more are all supported.
Bank Account Payments
Your customers in the US, South Africa, and Nigeria can pay you safely directly from their bank accounts or mobile wallet.
Mobile Wallet Payments
Customers using M-Cash, M-Pesa, TIGO, MTN, and VODAFONE can all pay you directly from their mobile wallets.
The service Rave is cost-effective, with no setup or monthly fees, you can start right away and only pay for transactions you accept. Rave end-to-end payment gateway means there are no additional integration or operational costs.
Rave payment system have other features that make payment gateway easier, which are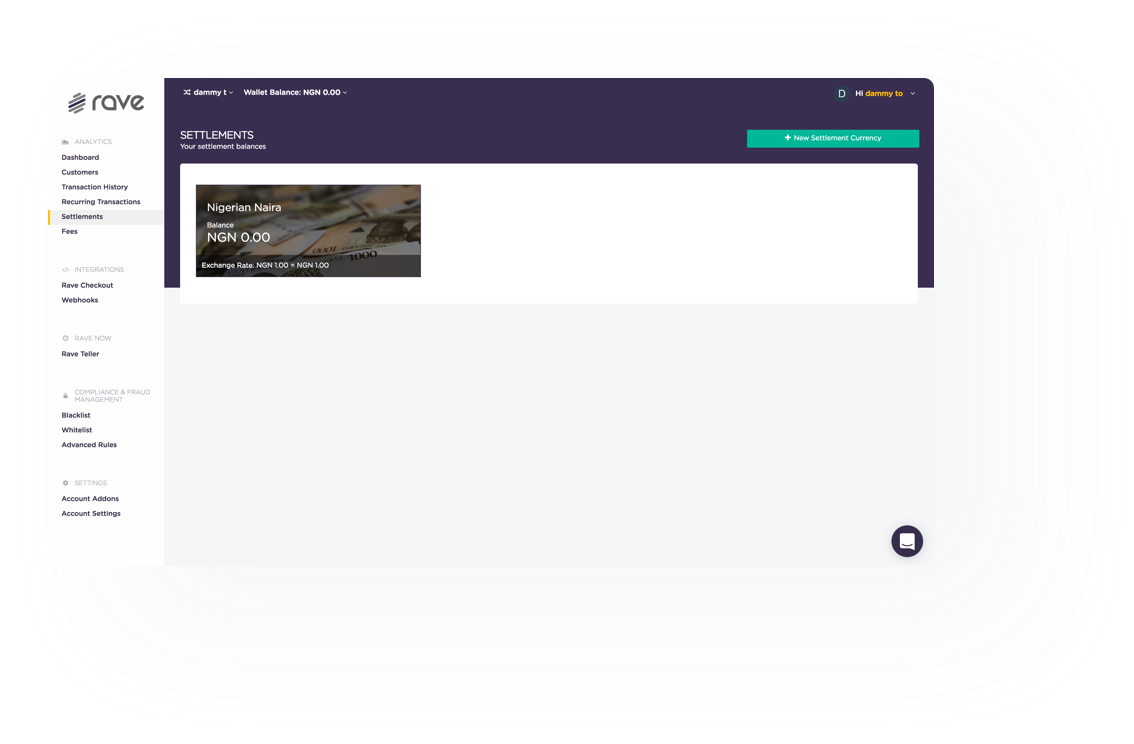 All in One Dashboard
We have built a trustworthy tool that helps you take advantage of valuable business insights to optimize your revenue and organize your payments. Manage multiple businesses and pay out to as many individuals as you need from one simple place. Use sales mode and the Rave dashboard to collect payments in your physical stores, restaurants, at events, or anywhere else you need to take payments in person. Rave collect payments in person and also collect payments in your app/website
Fully Supported
Starting with Rave is easy with just a few clicks, but we know if customer have questions they want them answered fast. Rave provide 24/7 support, fully managed and operated by Flutterwave.
Make the switch to Rave today and start accepting payments from all the channels where your business thrives. Integrate with their easy to use libraries, plugins or SDK's and start collecting payments in your online store, website or app today.
Sign up today with integrated payments platform ready for your business growth.
Even If you need a bigger solutions, Flutterwave can help with that too. Payments technology is their core, and they look forward to using their infrastructure to help your business build something greater.
In conclusion, Flutterwave with their financial app (Barter) and payment gateway (Rave) has been able to bridge the gap between banks and businesses to process payment across Africa, creating an easy way to send and receive payment across the world, allows user to manage their finances, make payments and subscriptions.