Chocolate tahini pudding with tahini cream and date molasses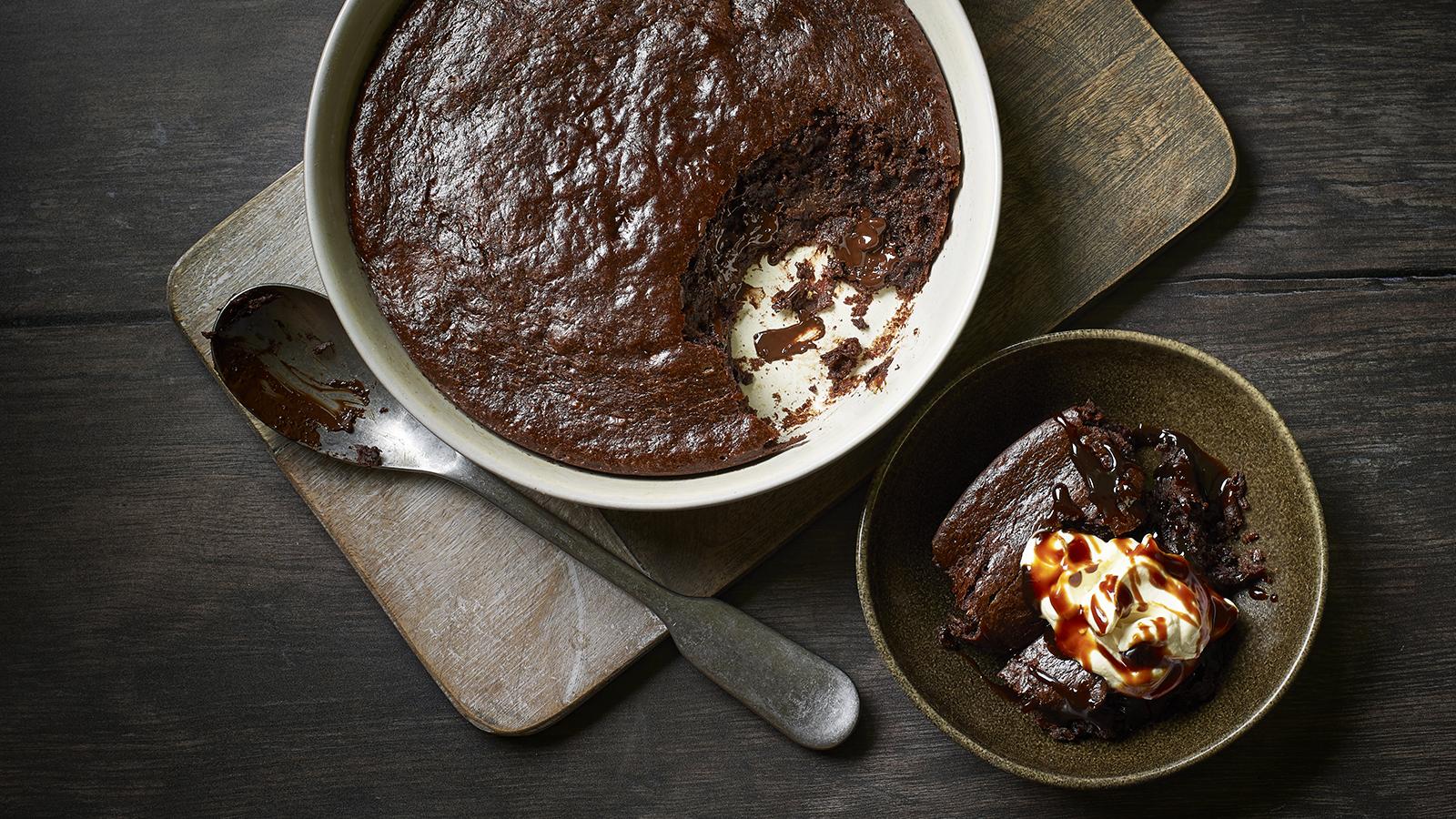 A warm, soft and squidgy pudding cake, this is both embracingly cosy and almost regally sumptuous.
Ingredients
250g/9oz (approx. 2 medium) very ripe or overripe bananas, peeled
4 tbsp olive or vegetable oil
50g/1¾oz tahini, at room temperature
50g/1¾oz full-fat Greek-style yoghurt, at room temperature
1 large free-range egg, at room temperature
50g/1¾oz caster sugar
50g/1¾oz soft dark brown sugar
1 tsp vanilla extract
60g/2¼oz plain flour (or gluten-free flour)
25g/1oz cocoa powder
½ tsp bicarbonate of soda
¼ tsp fine sea salt
100g/3½oz dark chocolate chips
To serve
4 tsp tahini
250ml/9fl oz double cream
date molasses, for drizzling
Method
Preheat the oven to 180C/160C Fan/Gas 4. Get out an ovenproof dish with a capacity of about 750ml/1¼ pint; mine is 18cm/7in in diameter and 5cm/2in deep.
Mash the bananas in a large bowl, either by hand or using an electric mixer. Then beat in the oil followed by the tahini and then the yoghurt. Beat in the egg, then the sugars and vanilla.
Whisk or fork together the flour, cocoa, bicarbonate of soda and salt in a bowl and slowly beat into the cake batter. When you can no longer see any specks of white, fold in the chocolate chips with a bendy spatula, which you can then use to scrape the runny batter into the ovenproof dish. Cook for 40–45 minutes, depending on whether you want it to have a gooey molten centre or not. Once it's out of the oven, leave to stand for 5–10 minutes.
Lightly whip the tahini and double cream together in a bowl and serve with the pudding, along with a generous drizzle of date molasses. Dive in for that first squidgy spoonful.
Recipe tips :
pg
Do try and get proper Middle Eastern tahini, which is smokier and more fluid, with a full-bodied velvetiness, than the more widely available Mediterranean one.