Smoking is one of the most ancient forms of food preservation. It likely dates as far back as the Paleolithic period when our early ancestors realized that smoke from their fires made meat least longer.
There are two methods for smoking food: Hot smoking and cold smoking. For most beginners, hot smoking is the way to go because it is safer, faster, and easier. See more information on
benefits of smoking meat
here.
Cold Smoking
With cold smoking, the temperature stays below 100F (usually between 68 and 86F) for a long period of time. The low temperature means the meat doesn't get cooked during the smoking process. Essentially, you are drying out the meat as you impart the smoke flavor.
To cold smoke, you need to maintain a steady supply of smoke for 1 to 5 days. Further, you need the temperature to remain consistent. That means the meat will need to be a good distance from the heat source so it doesn't get too hot. This simply cannot be done with a standard portable smoker. You'll need to build a smokehouse or get a large oven smoker.
Even with a smokehouse, cold smoking is risky. The low temperature creates the perfect conditions for bacteria to grow. Parasites also aren't killed at this low of a temperature. Thus, you have to be very careful when cold smoking meat to preserve it.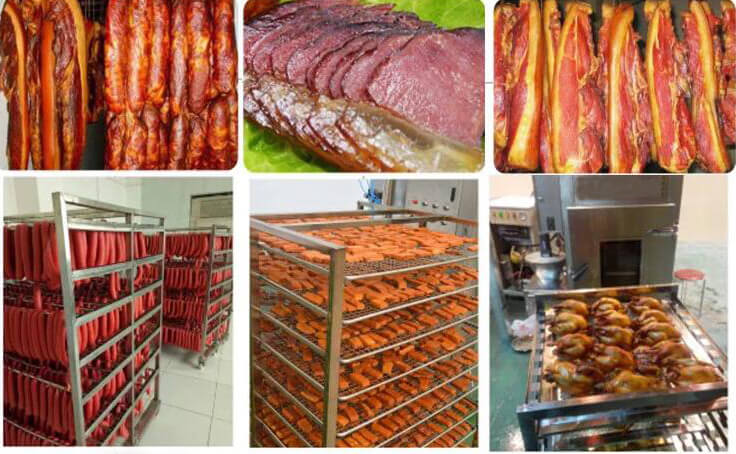 Hot Smoking
With hot smoking, the temperature is high enough to cook the meat – generally around 220F (though some recommend temperatures of 126F to 185F to prevent the meat from buckling). Usually a
meat smoking machine
is used for large scale meat smoking.
Because the meat is cooked with hot smoking, it can be eaten safely right after smoking. There is no need to cure or cook it before smoking. However, beginners should still make sure they are checking the internal temperature of the meat.
According to USDA safety standards, meat should reach at least 165F to be safe to eat. More on this later .
Note that hot smoking does not preserve meat. You'll need to keep hot smoked meat in the refrigerator and use it within a few days.