- Tanzania-born Magawa had an illustrious five-year career that saw him directly save the lives of people impacted by hidden explosives

- The handlers of the Cambodia-based African giant pouched rodent said he has become slow and sluggish but in good health

- In September 2020, Magawa received a gold medal for his bravery, devotion to lifesaving and diligence on duty
A hero rat celebrated for its ability to detect landmines is
about to embark on a well-deserved retirement.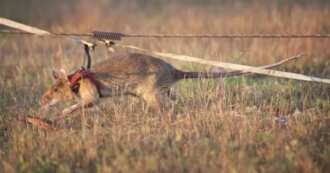 Magawa at work. He helped detect over 70 landmines. Photo: APOPO.
Tanzania-born Magawa had an illustrious five-year career that saw him directly save the lives of men, women, and children impacted by hidden explosives and war remnants.
According to APOPO, an organisation that trained Magawa, who is now based in Cambodia, the African giant pouched rodent has become slow and sluggish but in good health.
APOPO said on Thursday, June 3:
"Although still in good health, he has reached retirement age and is clearly starting to slow down. It is time."
The hero rat was born in Tanzania in November 2014. He grew up at APOPO's Training and Research Centre in Tanzania, where he learned how to sniff explosives.
Magawa then moved to Siem Reap in Cambodia in 2016, where he began his successful career.
During his career, Magawa found 71 landmines and 38 items of unexploded ordnance, making him APOPO's most successful hero rat.
Over the past five years, he has helped clear over 225,000 square metres of land, allowing local communities to live, work, play and be educated; without fear of losing life or limb.
Gold medal award
In September 2020, Magawa received a gold medal for his bravery, devotion to lifesaving and diligence on duty.
Magawa was formally presented with the miniature PDSA Gold Medal, the George Cross's animal equivalent.
The Cambodian Mine Action Centre reported that Cambodia might be sitting on top of more than six million landmines and other pieces of unexploded ordnance.
As a result, Cambodia has been recording the highest number of mine amputees per capita globally, with over 40,000 people suffering because of the mines.
A picture of Magawa displaying its medal
Source:
https://www.legit.ng/1419110-heroic-rat-received-gold-medal-detecting-explosives-retires-active-service-saving-lives.html
Last time, we shared details about a dog with two medals. Here's another rat with a gold medal. How many medals does any of you on this forum have? Y'all should be ashamed of yourselves.
Fynestboi Lalasticlala Mynd44 dominique Seun