1).
Giannis Antetokounmpo (AdeTokunbo)...the new Hakeem Olajuwon 5 Notes On Giannis Antetokounmpo's Playoff Performance So Far
Giannis Antetokounnpo has been carrying the Milwaukee Bucks in the playoffs. These five notes help explain how he's doing it, and how he could be even better.
Giannis Antetokounmpo has been extra freakish in the 2017 NBA Playoffs. The Greek Freak has now led the Milwaukee Bucks to a 2-1 series lead over the favored Toronto Raptors, and that Game 2 loss was a close one.
The Bucks could take a 3-1 lead with another win in Milwaukee, where they last beat the Raps by a whopping 27 points. Although that blowout was a team effort by the Bucks, Giannis still put up an impressive 19 point, eight rebound, four assist, two steal and two block stat-line against Toronto on Thursday.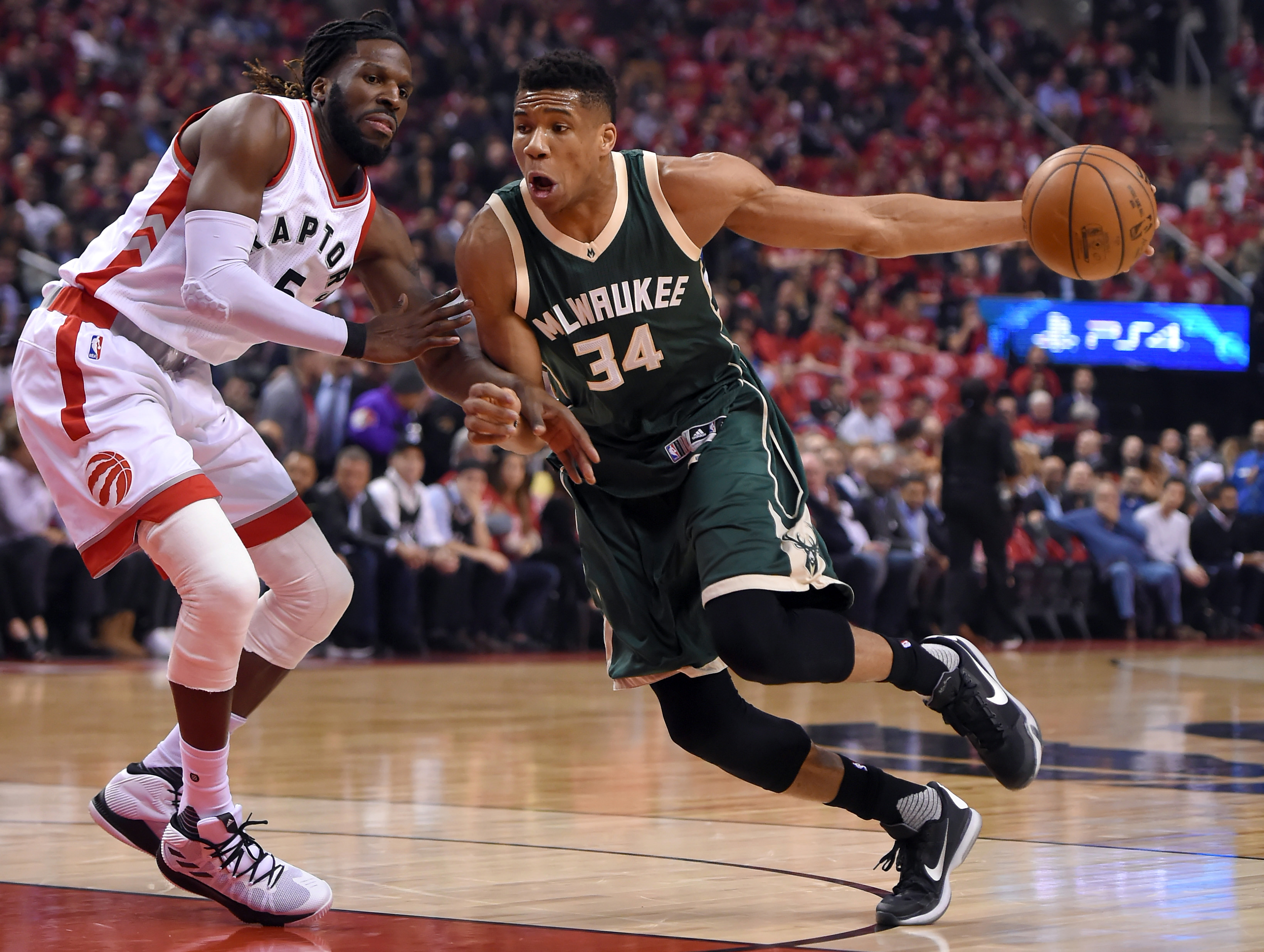 Giannis has been effective throughout the playoffs thus far. Antetokounmpo has 71 points through three games. Back when he and the Bucks made the postseason back in 2015, Giannis managed to score 69 points–in the entirety of the six-game series.
This is a new day in Milwaukee, one where the Greek Freak is capable of leading his team farther than a first-round exit, it appears. But just how is Giannis operating at such a high level with the stakes at their highest, considering Antetokounmpo averaged just 11 points per game in the playoffs last time he appeared in them?
The following five notes about his performances in the 2017 NBA Playoffs so far help to explain just why Giannis Antetokounmpo has been so effective thus far, although it's hard to encapsulate Giannis' game in any one article.
Being Aggressive
It's not easy for a kid from Greece to come over to America, get drafted at 15th overall by some team from Milwaukee, and become a superstar. It takes time. In his rookie season, Giannis took just over five shots per game on a terrible Bucks team.
The next season Giannis became a full-time starter, but he still took less than 10 shots per game. That was the last season in which Milwaukee qualified for postseason play, and although his usage upticked without Brandon Knight around Giannis still took less than 12 shots a game in the postseason.
That number is actually boosted from one game the Bucks played in that series that went to overtime, in which Giannis made 10 of his 22 shots for 25 points. For the rest of that series, Giannis never took more than 13 shots or scored more than 12 points.
Couldn't be this year's Giannis. In the 2017 NBA Playoffs, Antetokounmpo is taking over 17 shots per game and scoring 23.7 points per game. Maybe the best sign that Giannis feels the game differently now was actually Game 2.
Giannis struggled with his shot in that game, especially early on, but he didn't let that get him down. Antetokounmpo just kept on pushing, taking shots and attacking the rim, and ended the game with 24 points.
It took Giannis 24 shots to get there, but playoff basketball is just like that sometimes. The Bucks need Giannis to score, even if he's not making every single shot. There's a Russell Westbrook line that shouldn't be crossed as far as being too aggressive, but so far Giannis has found a nice happy medium of getting a healthy amount of touches without monopolizing Milwaukee's offense.
Making Some Triples
One of the things most often said about Giannis Antetokounmpo–besides something about how difficult it is to say/spell his name–is that he would be so damn good if he could only develop a jump shot.
Bucks fans often have to take the time to point out that, hey, Giannis is pretty damn good right now, as in starting the All-Star Game good, without having a knock-down jumper. Maybe they won't even have to say that pretty soon.
Quietly, Giannis is shooting 43.3 percent from three-point territory in the playoffs thus far. The sample size here is obviously tiny–he's taken seven shots from distance–but it's noteworthy that the Greek Freak is even taking those threes.
Locking Down With Thon
Everybody on the Milwaukee Bucks' starting lineup has really long arms. Each of the Bucks starters has a 6'10" or longer wingspan, which is pretty incredible. Giannis and Thon Maker have the longest arms of the group though, and they've used them to terrorize the Raptors.
Giannis and Thon have shared the floor for 52 minutes so far in the postseason. They've allowed the Raptors to score just 93 points per 100 possessions, while the Bucks have scored 112.8 points per 100 possessions in the same minutes.
Those two combining to play great defense makes a lot of sense. Even if they're not blocking every shot themselves, having either Giannis, Thon, or both of them in or around the paint is a major deterrent to either Kyle Lowry or DeMar DeRozan driving to the basket.
Those players are good, but they're not good enough to get through two athletic, long seven-footers. Both Giannis and Thon are laterally quick enough to get between a driving Raptor and the rim quickly.
There's a reason the Bucks prevented DeMar DeRozan from making a single shot in Game 3–between Tony Snell's relentless one-on-one defense and having Thon and Giannis to help, it can be tough to score on this team.
Staying Out Of Foul Trouble
This might be the biggest note about Giannis Antetokounmpo's playoff performances thus far. You can be the best player in the world, but it doesn't matter if you aren't actually playing. (See Joel Embiid's Rookie of the Year case for an example of the contrary.)
The only thing that could keep Giannis from playing is foul trouble, or actually being ejected from a game. He's picked up just eight total fouls in three playoff games thus far, which is a very manageable total.
Four of those came in Game 1, where Giannis did flirt with foul trouble slightly. He still managed to play over 38 minutes though, and four fouls for an entire game isn't entirely crippling. Since then Bucks fans have seen a lot of control from the Greek Freak, who's picked up just four fouls over the last two games.
One moment especially sticks out from Game 3, when Serge Ibaka was clearly jostling and pushing Giannis and looking interested in starting something. In a beautiful display of maturity, Giannis looked disappointed in Ibaka and just walked away.
Antetokounmpo now realizes the Bucks need him on the floor far more than they need him to make a statement by decking somebody on the other team, as much fun as it was to watch him take down Mike Dunleavy.
https://behindthebuckpass.com/2017/04/21/5-notes-giannis-antetokounmpos-playoff-performance-far/6/