In order to skip intro and credits, we need to add an extension to VLC Media player.
To enable the plugin, please follow this guide:
1) Ensure you have VLC media player installed or you can download it from VLC Download
2) Click this
https://addons.videolan.org/p/1154025
and download the plugin on the VLC extension page. The plugin is a .lua file and name is "159976-skipper.lua".Intro and Credit Skippers VLC Extensions
3) After downloading the plugin, Go the location of in which you installed the VLC and navigate to the position.
Windows Location For VLC Extension
C:\Program Files\VideoLAN\VLC\lua\extensions for windows
Linux Location for VLC Extension For All Users
/usr/lib(64)/vlc/lua/extensions/time_ext.lua , /usr/lib(64)/vlc/lua/intf//time_ext.lua for Linux based Operating system.
4) After navigating to the directory, copy and paste "159976-skipper.lua" or the downloaded file.VLC Extension Folder With Lua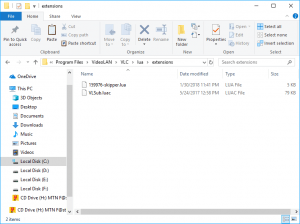 5) Launch the VLC Media Player, on the menu bar, click on View, then Click on Skip Intro.VLC View With Skip Intro
6) A window will open, "Skipper", there are some series which are already added, although you can also create your own and enter the time in seconds for both Skip Intro and Skip Credit and then Click on Save and Close.VLC Skipper Extension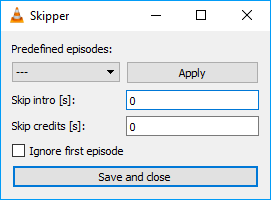 NOTE: You need to select "Ignore first episode", if you are watching a series in which they usually show Previous Episode.
Source:
https://aboutdevice.com/how-to-skip-intro-and-credits-on-videos-using-vlc-media-player/