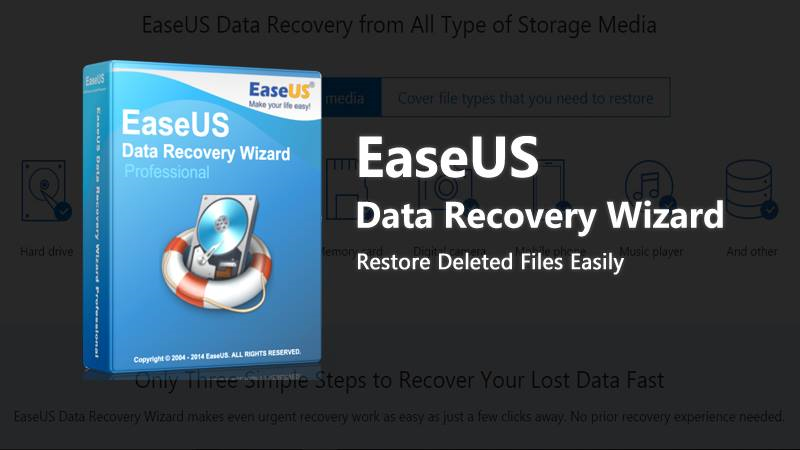 Your files are very important, we sometimes lose a lot of important files either from accidental deletion or corrupted hard drives/ memory card. Sometimes we lose a lot of money, time and opportunities as a result of these lost files. Today I am going to share with you a method of recovering your lost files from your hard drives, memory cards or other storage devices.
When data loss happens, first thing to remember is that you should stop using your computer or other external memory storage devices. Why? When you delete a file (even permanently) the system just hides the data by removing the file directory and mark the space free for use. At this moment you can easily get back the file by rebuilding the file directory. But if you continue to use the device, it might write some new data in that space and completely erase the content of the old deleted files. In this case the chances of data recovery is decreased. So use the device where you deleted your file as little as possible and start a recovery process as soon as possible.
How To Recover deleted Files With EaseUS Data Recovery Software
EaseUS Data Recovery Software is a very effective and almost free data recovery software. It is much cheaper compared to other data recovery software in the market. It offers a fast and effective way to recover deleted files or lost files from your device. The software supports all major platforms including Windows, Mac, Android and iOS. I am going to take you on a quick trip on how the software works. Before you start you will need to download the software from the official site then follow the below steps.
Step 1 - Launch EaseUS data recovery software and select the disk partition or storage location where you deleted your files and click "Scan".
1-s
Step 2 – The program will start a quick scan to find the lost and deleted files on the disk and after the quick scan, a deep scan will automatically start to find more files.
3-s
Step3 – Filter and preview all the recoverable deleted files by file type, select those you want and click "Recover" to restore them from PC hard disk, memory card or other storage device.
4-s
Caution – Don't save the recovered files on the partition or drive where you lost your data before you fully get back your files.
Another useful feature EaseUS data recovery software has is that it offers a backup and recycle bin recovery. This secures and safeguards your computer from any mishaps that may happen. This software also warns you beforehand if your computer or device is at risk, and even offers a solution to the problem. The next feature that is extremely beneficial is the EaseUS Partition Master. This feature helps you manage your space on your computer, as well as partition appropriately for optimal performance.
In conclusion, the EaseUS Data recovery software Wizard offers you a trial run before having to purchase it. This allows you to test out its effectiveness and efficiency. The solution to a stress-free life is just one click away.
Source:
https://www.9jatechguru.com.ng/2018/08/how-to-recover-deleted-files-easeus-data-recovery-software.html