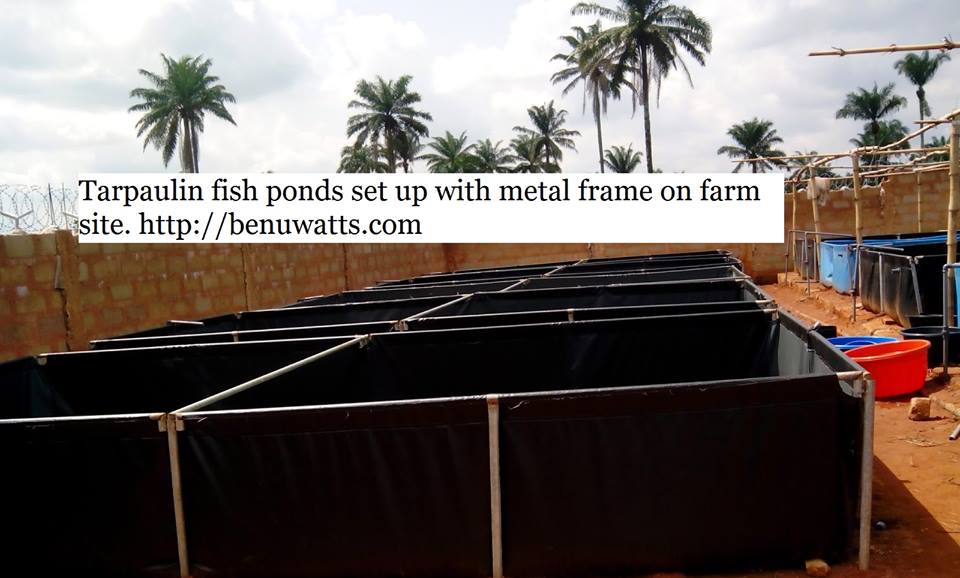 I have made this post to describe the common sizes of of mobile tarpaulin fish pond for sale in Nigeria.
But, before that, you may wish to quickly read up this short article on the
disadvantage of mobile tarpaulin fish pond
, so that you can understand why you should never buy tarpaulin fish pond from just anybody.
This article too on
common mistakes to avoid when using mobile tarpaulin fish pond
. can also be very helpful.
Now lets dive into the common sizes of of mobile tarpaulin fish pond for sale in Nigeria and their prices.
1. 15x15x4 feet Reinforced Tarpaulin for One thousand (1000) Table Size Catfish Capacity: if you are looking to farm up to one thousand table size fishes (catfish is used as reference), then you should consider going for this size.
However, it is always advisable to have two or even three ponds when starting out in order to have the opportunity to sort (or separate) your fishes based on their sizes.
Else the shoot outs (the fishes that quickly grow bigger than others) will begin to feed on the others.
So, instead of buying just one large 1000-capacity tarpaulin to house all your fishes from fingerlings/juvenile to table size, you should buy two or three smaller tarpaulins so that you can sort into the other tarpaulin ponds as the fingerlings/juveniles grow.
Mind you, the more space the fishes have to swim around, the better the results you will get in terms of size and weight of the fishes within a set period of time.
Price of 15x15x4 feet Reinforced Tarpaulin

At the time of this write up, this size of reinforced tarpaulin costs between N64,000 – N70,000 on Benuwatts website, aside ongoing promos.
To see the current price, detailed description and to buy this size of tarpaulin, click on
Mobile Tarpaulin Fish Pond for One Thousand Catfish.
.
There are also some other smaller sizes. Check them out at
various sizes of collapsible mobile tarpaulin fish pond and their prices