A month ago, I went visiting a friend at Lekki.On getting to his house, I stumbled on his wife using a Black mixture to shampoo her hair. My curiosity drove me to inquire whether she wanted to dye her hair since, obviously, the mixture seemed black and I had never seen a black mixture that lathers before. Only for her to tell me she is using the African Black Soap to *shampoo* her hair.
I was surprised. Was there a liquid African black soap for Hair? The ones we know are the DuduOsun, SheaMoisture of this world that works on our skin. I am sure you know about this too.She went further to burst my bubble. She told me, even her husband uses the African Black Soap Shampoo as his Beard Wash. My eyes popped out of their sockets
and I decided to try it my own way, being a beardking. LOL!
Hence, research started.
I got home, decided to check out the friendship and eventual marriage between the African Black Soap and the Beard.You'll be surprised at what I found about the African Beard Soap for beards:
Unlike the synthetic soaps, you would find at drugstores, the black soap is handmade from plant-based ingredients in Africa.
Produced mainly by women, especially in Nigeria, the common ingredients usually employed to use during the manufacturing of the African Black Soap are ash of African plants (especially from cocoa pods, plantain skin, etc.), shea butter, palm oil, coconut oil, etc.
Is African Black Soap Good for Beards?
I never thought of the African Black Soap for beards. And I dug further into the properties and realized *perfecto*, Our organic African product for the beards of the regular African man.
Without attempting to beat around the bush, the answer to this question is YES. The African Black Soap is good for the beards. Factually, the African Black Soap offers a great deal of importance to the beard. In other words, this substance is an underrated gold in the business of beard-grooming!
Just in case you want to know the properties of the African Black Soap that makes it suitable: 1. Moisturizer
The African Black Soap is also a beard moisturizer. Recall that when mentioning the ingredients from which this soap is made,
Shea Butter
was made mention of.
The presence of this Shea Butter in the
African Black Soap
is what causes it to act as a moisturizer. Fine, Shea Butter is known more for helping in relieving itchiness and all, it as well adds moisture to our beard.
2. It is Anti-inflammatory
The African Black Soap is anti-inflammatory. This is caused by the presence of some essential vitamins in the soap.
Black soaps have been tested and confirmed to be very rich in
Vitamins A and E
. With these vitamins, the African Black Soap can combat efficiently, free radicals and attacks on the beard. And/or otherwise, attacks on the underlying skin tissues of the beard.

3. Combats Acne
While on the course of mitigating against itchiness, irritation, and all, the black soap also helps in
fighting acne
.
In other words, while ensuring that the underlying skin of the beard has a balanced level of natural and essential oils in other to stimulate proper beard growth, the African Black Soap helps in repairing damaged skin cells.
4. Safe for All Type of Skin
African Black Soap is good and safe for all type of skin.
Perhaps you possess a sensitive skin or maybe a dry skin, just name the kind of skin, which might be off-point for some kinds of beard washes, then you need not worry any further, as the African Beard Soap suits just every skin type.
This soap is naturally free of fragrance. It is always a win-win situation with the African Black Soap.
There's more to the functions of African Black Soap but I will stop here for now. All Bearded men on Nairaland should note that it is important they do away with the regular soaps they use for washing and shampooing their hair and beards and jump on the Black Soap.
Remember that you need to be careful when using the African Black Soap though it may strip your beards or hair of its oils when you use it frequently, and that is why it is always advised to immediately use a Beard Cream after washing or shampooing your beard/hair.
This is a product that we will soon be making for all bearded men and *bearded men to-be*, as we have decided to go on this journey to creating something different for the African Man.
Away with foreign imported products that do not suit our African Hair. All the ingredients we need for hair grooming are all around us and it is important we leverage African Products for the African man.
Do you need more information on how to grow and groom your beards? Feel free to send me a DM or check out
beard grooming issues
.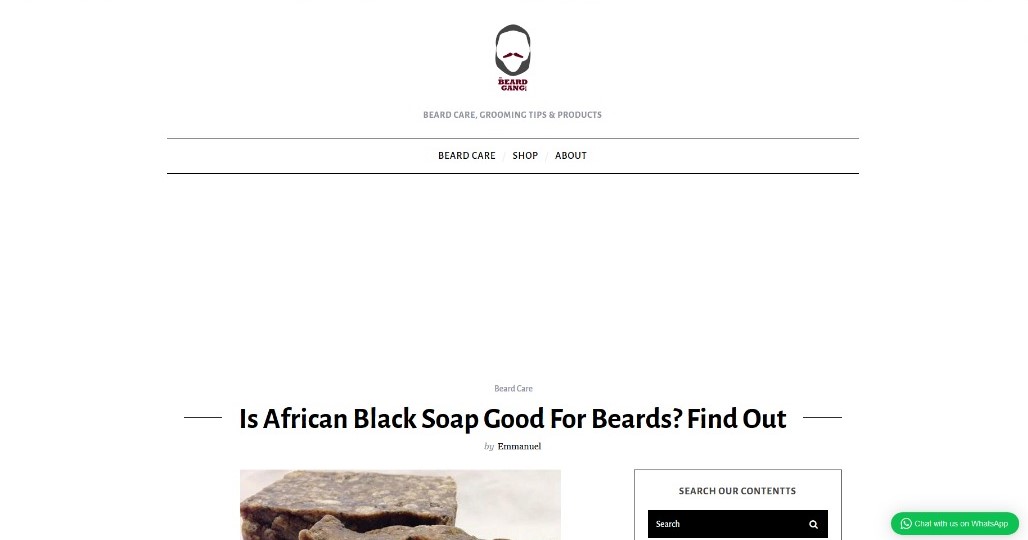 https://mybeardgang.com/is-african-black-soap-good-for-beards-find-out/
cc: lalasticlala, mynd44