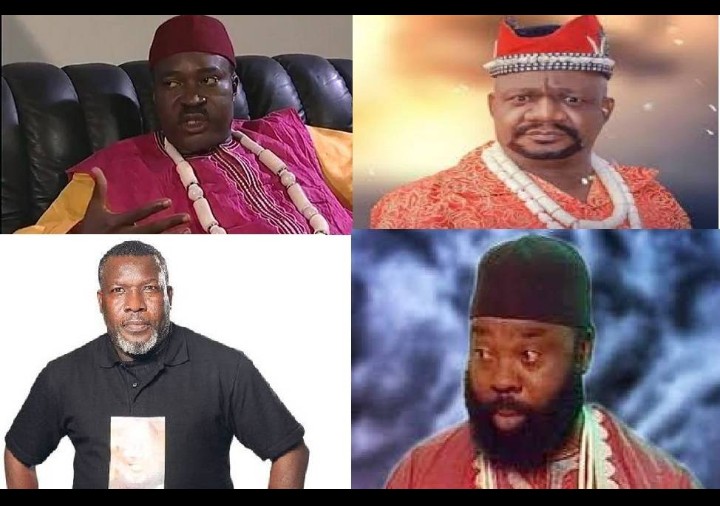 Fans stereotype some of their favourite Nollywood actors and actresses because of the frequency they play a particular role.
For the role of ritual money, some male actors have been placed ahead of others due to how well they play the role of ritualists.
Among them, four of them stand out. They are Kanayo O. Konayo, Alex Usifo, Ejike Asiegbu and Prince Emeka Ani. So the question is among these four, who is the king of ritual money in Nollywood?
Kanayo O. Konayo
Kanayo O. Kanayo also known as KOK is notorious for playing lead roles in money ritual movies. His face alone inspires tales of mutilated bodies and kidnappings. This man is so good, his name, KOK, is synonymous to ritual. There is nobody KOK cannot use for rituals, no relationship is too sacred; his mother, wife, children, siblings, even his pastor. KOK was ruthless, he only lived by one rule, and that was, Money must be made, by any means necessary. If KOK has acted 100 movies in Nollywood, at least 70 of them had him doing money rituals.
Alex Usifo
Alex Usifo was the ritualist with twenty years of ritual experience. He always had a few words of advice for the young ones and lived his baby boy life to the hilt. A man about town, if the group needed some young ladies who were no longer in need of their destinies, they would find them at whatever party Alex Usifo was organizing. Let us call him the Resource Manager of your average Blood Money Group of Companies
Ejike Asiegbu
Ejike Asiegbu is a Nigerian film actor and film director who once served as President of the Actors Guild of Nigeria. He was also previously appointed as personal assistant to former Biafran leader Odumegwu Ojukwu during the 1994 National Constitutional Conference in Abuja. He is also popular for his role in ritual money movies.
Prince Emeka Ani
Prince Emeka Ani was always part of the inner circle of ritualists and council of elders in the group. He was one of those responsible for ex-communicating any errant ritualist and organizing midnight sessions to deal with pastors who try to break up their ring. Emeka's glare was only second to Pete Edochie's, and his beard was enough to scare any right-thinking human.
[url]
https://cdn-af.feednews.com/news/detail/6dd9ce514eb38028b5bdb726cf7fb260
[/url]