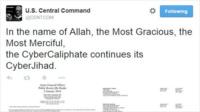 US Central Command's Twitter and YouTube accounts have been hacked by a group claiming to back Islamic State.
One message said: "American soldiers, we are coming, watch your back."
It was signed by Isis, another name for the Islamic State. Some internal military documents also appeared on the Centcom Twitter feed.
US Centcom said it was taking "appropriate measures". The Twitter account was later taken down so no tweets could be viewed.
The hack happened as President Barack Obama was preparing a major speech on cybersecurity.
His spokesman Josh Earnest said the US is looking into the Centcom hacking.
He said they were investigating the extent of the incident, and that there was a significant difference between a large data breach and the hacking of a twitter account.
Analysis - Dave Lee, BBC technology reporter
Let's be clear: this does not appear to be a hack of US Central Command, or any of its systems. It's far less sophisticated than that - but this was always intended to be a PR coup rather than a technical one.
The timing could not have been more embarrassing. President Obama was speaking about his big new plans for cyber-security - an announcement designed to reassure Americans that after a year of massive hacks, and the damaging Sony Pictures attack, personal information on the internet was safe.
As he was wrapping up his speech, the official Twitter account for US Central Command starting spilling out propaganda from IS. On YouTube, pro-IS videos were being posted on Centcom's official channel.
Messages on Twitter pointed to what hackers call a "data dump" - proof, they say, that they've accessed top secret files.
That claim is so-far unverified. The BBC found at least one of the "leaked" images was in fact already publicly available on the Pentagon's website - but the source of the other information posted is unclear.
http://m.bbc.com/news/world-us-canada-30785232