I was opportuned to have a taste of the 80's and 90's and I must confess the 90's still remains the best ever. In fact, anytime I remember the 90's , I feel nostalgic and wish I could roll back the hands of time
. Many will argue that the 80's was the best decade ever, some will tell you its the 70's, some will go for the 60's, some the 50's some will even go for the 2000's
. For me , the 90's beats these decades hands down and here goes my reasons...
THE MUSIC
The 90's was no doubt the era of good and splendid music. From hiphop to rap to soul and even rock. Just have a look at foreign masterpiece like Snoop Dogg's who am I (Whats my name), The notorious BIG Juicy,
Dr dre's (Still dre), Lauryn Hill's Doo Woop ( That thang) . These were classic songs I still even listen to till today. Even coming back home to songs like Seyi Sodunmu's Love me jeje
, to the Fela Kuti's
, Iyogogo and many more. Unlike the crap kids listen to today
.. I mean the davido's wizkid or wizboy whatever his name his , sean tizzle, olamide who sings like nothing but a danfo thug... Music is honestly what it ought to be and what it used to be.
The politics
Oh this was a great era of politics both home and abroad. You turn on your transistor only to hear of a coup attempted by Major Gideon Orka,
or one by Gen Sani Abacha, or the MKO Abiola saga and lots more. Newspaper were more fun to read then, any beer palour you go then, it was 90% sure it will be politics they are arguing about
. Unlike today, all we read on the news is about an accident that happened on and expressway or Buhari travelling to china for one meeting
, Obasanjo this, yar' adua that. Politics is going down the drain in today's Nigeria. Even crossing boarders and going foreign, you hear of the Rodney King verdict and L.A. riots tear the nation apart, OJ Simpson chase, Bill Clinton, and thousands more. Comm'on , this was an era that can never be rivaled .
The Movies
Titanic, The good fellas, The lion king, con air, brave heart, dumb and dumber, My own private Idaho, white men can't jump, Billie Madison... Time can't just permit me to mention them all. Even Nigerian movies were classical then. I still have collection of movies like living in bondage, Nneka the pretty serpent, blood money, issakaba, domitila and lots more. Today, I am extremely ashamed of Nollywood as it can be very embarrassing to watch. All they do now is knockbusters with little funds with the aim of making useless profit. You see films in Nollywood of today like spidergirl
,. I recently saw a movie one day titled ''I Want To Suck Your Blood''. I really laughed out loud. Nollywood is going down the drain.
The Fashion
Nothing just beats the fashion of the 90's. From the Alexander McQueen spring of 1997 to the Azzedine Alaïa shows of 1991 to calvin klein spring 1994 to the Balenciaga spring. The afro hair styles people carry about just blended with the atmosphere. Even here in Nigeria, fashion was at its peak and its best. People like Miss Sade Thomas, the great fashion designer were awesome
.
The Education
You can't argue with me that the quality of education of this era wasn't at its best. Although I must confess this started from era beyond. Today, we see young Nigerians wriggling their way through the university just to earn a degree. Many parents don't even care about their children's future anymore. They rather prefer to see them in the streets hawking pepper and okra and make money for them .
The Technology
The 90's really was an era of technology that really changed our lives for good.
These technologies really layed the platform for today's technology
From the walkman, to the nintendo's gameboy, to kids cruising around in barbie jeeps to pagers (I honestly prefer this to cell phones
) also, who will ever forget the ever green play station 1, Apples Imac G3 Comm' on,
The Sports
The 90's was obviously an era of great sport moments. From basketball, to cricket, to boxing , athletics etc Who will ever forget the '94 olympics where Nigeria clinched gold, soccer for example also saw the establishment of many great players like Gheorghe Hagi, Rivaldo, Ze roberto, Van Basten, lotar Mathaus, Baggio, Ronaldo, Figo, Romario and lots more. Even on our home turf, we had the likes of yekini,
Kanu
George Finidi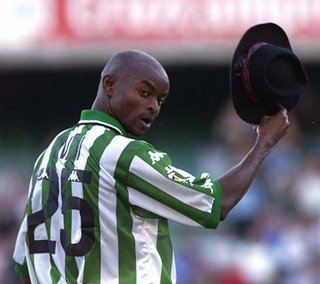 and co. They made football ore fun to watch unlike the Mikels, Iwobi's of today
The Slang
The 90's was an er of slangs. I just can mention them all....
'Sup, b Bangin'/Slammin Crib ,Bama ,Ghetto, Shiznit, Whassup...Time just can't permit me to mention them all.
I tasted both the 80's and 90's and I must confess its just the best decade ever. Far better than the 80's, 70's 60's 50's and beyond. Even better than the 2000's for our newer generation of kids


Feel free to add yours.