[CENTER]
Argentina play a quick, bright attacking game – but then again so do Germany. And both are in blistering form
Argentina have not been defeated yet in the tournament and have won four straight games. They have conceded only two goals in the World Cup till now and are the favourites to win this tie.
Argentina 3-1 Mexico
Argentina 2-0 Greece
Argentina 4-1 South Korea
Argentina 1-0 Nigeria
On the other hand Germany are also looking extremely strong after destroying England 4-1 in the last game. The Germans have only lost one game so far in the tournament and the match against Argentina would be fantastic.
Germany 4-1 England
Germany 0-1 Ghana
Germany 0-1 Serbia
Germany 4-0 Australia
watch live

ESPN
One of the most artistic football venues in South Africa, the newly-built Green Point Stadium is situated in one of the much sought-after areas in the city of Cape Town. Green Point Stadium is one of the two semi-final venues for the FIFA World Cup™.
This multi-purpose venue is also going to be used to stage major events and concerts. Fans will be a stone's throw from the ocean and the mountains of Cape Town will also provide the backdrop for matches. The location is ideal as it is a short walk from the transportation hub of the city. The new stadium has been partly built on land that was previously used as a golf course.
The stadium, which has an exterior that is covered with noise-reducing cladding has a capacity of 64,100 and is scheduled for completion in December 2009. The Green Point Common, on which the new 2010 stadium is being built, was originally much larger than what now remains, and included most of the land between the sea and Signal Hill, stretching from the city centre towards Sea Point.
Cape Town has another world-standard stadium, Newlands, but this is primarily used as a rugby union venue.  Post FIFA World Cup, the Green Point Stadium is likely to be used by some of the Cape Town-based professional football outfits that include Ajax Cape Town and Santos.
17 Jun 10 Argentina ARG 4:1 (2:1) KOR Korea Republic
22 Jun 10 Greece GRE 0:2 (0:0) ARG Argentina
27 Jun 10 Argentina ARG 3:1 (2:0) MEX Mexico
17 Jun 10 Argentina ARG 4:1 (2:1) KOR Korea Republic
22 Jun 10 Greece GRE 0:2 (0:0) ARG Argentina
27 Jun 10 Argentina ARG 3:1 (2:0) MEX Mexico
03 Jul 10 Argentina ARG - GER Germany
03 Jul 10 Argentina ARG - GER Germany
Goals scored 26
Top Scorer   Miroslav KLOSE
    * Sport
    * Football
    * World Cup 2010
World Cup 2010
    * Next
    * Previous
    * Blog home
Quarter-final, Green Point Stadium, Cape Town, Saturday, 3pm
World Cup 2010 head-to-head: Germany v Argentina
Argentina play a quick, bright attacking game – but then again so do Germany. And both are in blistering form
    * Digg it
    * Buzz up
    * Share on facebook (20)
    * Tweet this (17)
    *
      Comments (133)
Diego Maradona, Argentina coach Argentina's coach Diego Maradona is having a ball at this World Cup and is sometimes more entertaining than the matches. Photograph: Daniel Garcia/AFP/Getty
Form
Argentina v Nigeria 1-0, v South Korea 4-1, v Greece 2-0, v Mexico 3-1
Germany v Australia 4-0, v Serbia 0-1, v Ghana 1-0, v England 4-1
Both teams are in blistering form, and confidence in each camp must be sky high after impressive round-of-16 wins. Argentina arguably faced a stiffer test against Mexico than did Germany against England – Mexico outplayed England in a friendly just before the tournament started – but both sides have been among the goals since the word go. Argentina will be encouraged by the brief period in the first half in Bloemfontein when England had Germany on the ropes a little bit, either side of the phantom goal. Diego Maradona has acknowledged that a correct refereeing decision there would have made life a lot more difficult for Germany, and his players will be hoping to similarly exploit inexperience in the German defence.
Previous meetings
Argentina won 8
Germany won 5
Drawn 5
Argentina goals 25
Germany goals 24
Germany beat Argentina in the 1990 final, though both teams have evolved considerably since then. Argentina now play a quick, bright attacking game, and so do Germany. The quarter-final meeting in the last World Cup might be more relevant. Then, as now, Argentina looked unstoppable, until Jürgen Klinsmann's unfancied Germans actually stopped them, taking the match to the end of extra time and inevitably winning on penalties. The same thing could happen again, no World Cup student ever writes off Germany, though there is no home advantage this time and Manuel Neuer is a far less experienced goalkeeper than Jens Lehmann. Argentina have the firepower to prevent the same thing happening in Cape Town.
Managers
Diego Maradona v Joachim Löw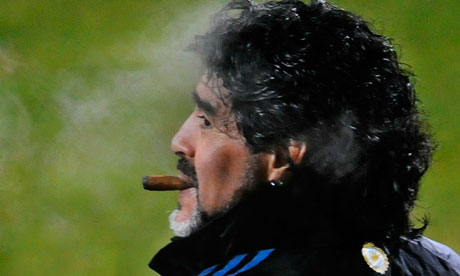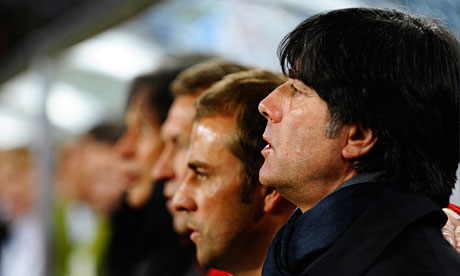 A contrast in styles, although put up virtually any manager in the world against Maradona and you would have a contrast in styles. Superficially, Löw is a quiet, undemonstrative type who tends towards expressionlessness on the touchline, while Maradona is an extrovert, hyperactive camera magnet who is sometimes more entertaining than the match. Both men clearly know they are photogenic and not so secretly enjoy the spotlight, though personalities apart it is the effect they have on their teams that matters. Löw has had his critics but proved at this World Cup that he is an ideal modern manager for a modern German team. Maradona has possibly proved even more. He has earned the right to be taken seriously, and consequently so has his team. The driver is not going to crash the bus after all.
Key clash
Lionel Messi v the Germany defence
Barcelona's little genius has not scored a goal yet in the World Cup, but that does not mean he is having a bad tournament or has disappointed in a similar manner to Wayne Rooney. He was excellent in the group games and he made the opening goal against Mexico, the ludicrously offside one that Carlos Tevez scored. Big-name players usually step forward in big games, and Messi's creativity and running with the ball could trouble a German defence that found dealing with England's attack relatively easy. While the Germans were able to push England all over the pitch they could be on the receiving end this time. Even if Messi fails to score, Argentina have Gonzalo Higuaín and Tevez waiting to pounce, and that's not even counting Diego Milito and Sergio Agüero on the bench. Messi, one feels, is due a big game.
Expectations
Chile's coach, Marcelo Bielsa, said it was acceptable to go out of the World Cup to Brazil, and in their heart of hearts Germany may feel the same way about Argentina. That is not to say the Germans expect to be beaten, they will doubtless put up a fight, but the two South American giants are looking ominously potent at this World Cup and there is every chance of them meeting in the final. Germany, as always, set out to get as far as possible in this World Cup and give a good account of Bundesliga standards. Argentina think they can win it, at least they do now their unpredictable coach has proved he is not going to be an obstacle to progress. Argentina should prevail – on paper at least they have a superior squad – but it would not be the greatest surprise should Germany prove savvy enough to turn the weight of expectation against their illustrious opponents. That is what Germans tend to do in World Cups.
[/CENTER]