Mysteries Of No-land by pabon(

m

): 12:24pm On Jan 29, 2019
This is the new story I'll be working on. I just finished the
Call of the Wind
. I had two options. One was to go for a Mystery/Crime work and the other fantasy. I choose fantasy because that's my best genre.
I'm hoping I can get to complete this one way faster than I did the last.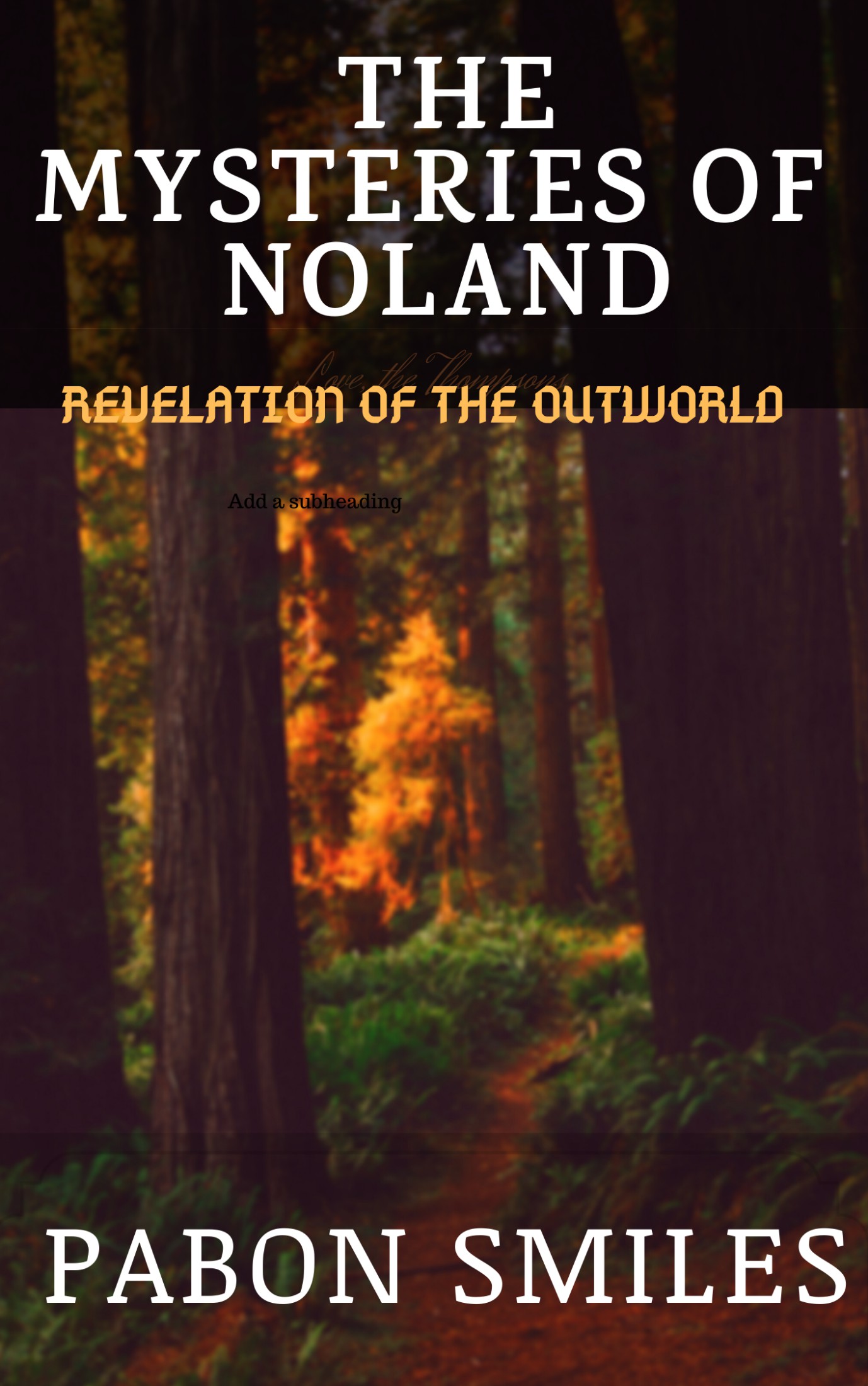 2 Likes
Re: Mysteries Of No-land by LightQueen(

f

): 1:32pm On Jan 29, 2019
Present already
Waiting...
Re: Mysteries Of No-land by Ayodipths(

m

): 2:03pm On Jan 29, 2019
Folowing You Bro
Re: Mysteries Of No-land by Ann2012(

f

): 9:02pm On Jan 29, 2019
Following
Re: Mysteries Of No-land by pabon(

m

): 9:34pm On Jan 29, 2019
Copyright, 2019

By Pabon Smiles

All rights reserved (seriously speaking!!!)

---
PROLOGUE
He jumped over the decaying log of wood, another unfortunate victim of their savagery. He increased his stride as he tried to cover the distance between himself and the swordsman. It was a good thing he was light-footed.
Pushing back a cluster of leaves, he ran deeper still into the forest. The leaves fizzled, and this muffled his movement. He had never been this glad about nature. Having always loved flowers and being a self-taught nature conservator, he always had been passionate in his desire to see life preserved.
The forest cover densely packed, allowed just glimmers of light to infiltrate the forest floor even as the orange glow from the setting sun dimmed. Good thing he wasn't a stranger to the forest.
He noticed that the stumping of the swordsman's boot was no longer audible and wondered if he had given up chasing him. He ran still until he came to a clearing where he was sure no one would follow him.
He stopped, breathing in the moist air gradually as he tried to catch his breath.
Slopping down, he allowed the tears to flow freely.
Why was this world so cruel and heartless?
Some hours ago, he had been in the company of those who mattered the world to him and the next they were gone.
Pictures of his father's dying body washed back into his memory, and another stream of hot tears came pouring down. He had tried to ensure that the life of his beloved boy was untouched but had died in the process. If only he had listened.
He remembered a song his beloved mother used to sing to him, the tune all the years sticking to his memory like a bad dream. He recalled the last line.
Just a little longer my dear child
There'd be no worries or fear
Your wishes and dreams light will find
Sleep for tomorrow draws near
A little at a time, a little for the night
She had lied to him. If only he could tell her so. She would put her hand on his shoulder and say 'my dear boy, mother never lies.'
Was she telling the truth then when she had said they'd always be there for him?
He knew without a doubt that she was dead, together with Thelma, his beloved sister, the wild version of himself. The castle had been torched with no one allowed to escape, but he had warned them.
He pulled his knees into his chest, burying his face as he began sobbing again, this time with no care that he might be heard. All hope of life had been seized from him. He had nothing to care about, nothing to live for.
The trees seemed to have quieted for him, showing him their sympathy. A friend bereaved. Even the chirping of the birds had ceased, and the nocturnal insects no longer sang their high-pitched lullaby to their sleeping neighbors. All was quiet.
Unusual
He got up, cleaning his eyes and looking around. His eyes found it challenging to adjust to the emerging darkness. His legs had begun to ache, punishing him for overuse. He carried them still, trudging slowly into the part of the forest unknown to him.
The smell of ash and dead matter blew past his nose. He traipsed, allowed his instinct to direct him.
He lost track of time as he wandered further into the dense and darker part of the night.
Then, he saw a faint glimmer of light some meters away. He approached with caution not wanting to give himself away for all he knew they could be Oreon's soldiers. He tiptoed closer and ducked behind a tree to watch three men tearing at pieces of meat they had cut from the larger one hanging over the fire they had set up.
Their clothing bore no semblance to armors, let alone Oreon's. The tall, wild-looking one with heavy beards spoke, and the others went reeling with laughter. They seemed to be ordinary men, night travelers perhaps. It wasn't strange to have people moving at night as the forest of Pongash was no home to wild creatures. They have long been driven away or worse killed during hunting expeditions.
There appeared what looked like a sack of rounded stuff near the shortest one among them who preferred to listen while the other guys talked. He kept looking around occasionally.
No worries boy. The danger is far past
Vince turned to go, thinking it wiser not to reveal himself to them. For one, though they weren't soldiers, they could be anything else if the daggers they had holstered to their waist were anything to go.
He only saw a flash of it as it came towards his head. In split seconds, the world faded from his view.
2 Likes 2 Shares
Re: Mysteries Of No-land by pabon(

m

): 9:37pm On Jan 29, 2019
LightQueen:
Present already

Waiting...

Thanks, for being the first. I hope you like the update.
Re: Mysteries Of No-land by pabon(

m

): 9:37pm On Jan 29, 2019
Ayodipths:
Folowing You Bro
Thanks. Welcome on board.
Re: Mysteries Of No-land by pabon(

m

): 9:39pm On Jan 29, 2019
Cc


MAcSEEKER
BlessedNiel
Taniaa
Ojusco
Pheezie
Wadewaltz
Fazemood
Reflex01
Immacul6
1 Like
Re: Mysteries Of No-land by Taniaa(

f

): 10:48am On Jan 30, 2019
pabon:
Cc


MAcSEEKER
BlessedNiel
Taniaa
Ojusco
Pheezie
Wadewaltz
Fazemood
Reflex01
Immacul6

aphroditee
zoeyj
Hercuteness

Thanks for the mention
Re: Mysteries Of No-land by Taniaa(

f

): 10:48am On Jan 30, 2019
pab0n:
Cc


MAcSEEKER
BlessedNiel
Taniaa
Ojusco
Pheezie
Wadewaltz
Fazemood
Reflex01
Immacul6

aphroditee
cuddlebear

Thanks for the mention
Re: Mysteries Of No-land by Ann2012(

f

): 2:01pm On Jan 30, 2019
Well done OP
Re: Mysteries Of No-land by LightQueen(

f

): 3:13pm On Jan 30, 2019
pabon:

Thanks, for being the first. I hope you like the update.
Sure. Still following
Re: Mysteries Of No-land by Ojusco(

m

): 10:26am On Jan 31, 2019
present!!! hope say this one nor go slow slow like Lagos traffic o! Mr pabon
Re: Mysteries Of No-land by BlessedNiel: 9:29pm On Jan 31, 2019
pabon:
Cc


MAcSEEKER
BlessedNiel
Taniaa
Ojusco
Pheezie
Wadewaltz
Fazemood
Reflex01
Immacul6


It's another one
And I'm loving it already
Thanks the mention Captain Pabon.
Re: Mysteries Of No-land by pabon(

m

): 11:23pm On Jan 31, 2019
Chapter 1

Bright flowers of every species he liked were swinging around him, sprouting fresh and lovely blooms as they danced to the rhythm of the moving cart. This was the life he'd dreamt of; affluence, Clean scented air and slaves at his beck and call.
A sudden jolt of the cart put a stop to his heaven-like visions and opening his eyes; Vince found out that he was still in the cage with his head throbbing like it had been clobbered with a hammer the size of Bolwart's hand.
They came to a halt, and he heard mumblings which were almost overshadowed by cries and shouts from different directions.

Where were they taking him to?

He pushed away from the cotton material used in sealing the cage from prying eyes. He had trouble doing so not able to use his hands instead of having to use his face. He forced his eyes shut, the ray of light blinding his eyes that had seen nothing but darkness since he awoke. From the little he saw, it seemed they were in a market.

"What do you have there?"

The voice was a cracked baritone.

"Some 'none -of-your business stuff. Get out of our way!"

A brief silence followed and then the movement continued. Vince wondered what they could have done to have dismissed the confrontation so quickly, efficiently. He would have screamed his lungs out if not for the bit that had been expertly fixed ensuring that no noise escaped his mouth. That Salen was a natural-born, talented larcenist.

The movement was smooth from there, no stops, bumps or throbbing until they came to what looked like a slope. They stopped.

Were they planning on throwing him in a river?
He dismissed the thought as soon as it came. They surely won't have gone through all that trouble to dump him in God knows where. He felt the cage being let down. Maybe he was wrong. He waited, his heart suddenly palpitating. Someone tore back the covering of his prison, pulled back the latch and toppled it so that he fell out in a heap.

He had to lower his gaze, the light still hurting his eyes. A kick on his buttocks jeered him to reality.

"Get the Bleep up you filthy animal!"

He struggled with the instructions. It wasn't exactly comfortable getting up when you had your hands bound to your back.
Finally, he was up on his feet. The wind kept peeling at his body and the pendant on his chest, cold kept sending chills down his spine as they moved into a cavern.

He wondered what they could have done with his shirt. That one had been his most expensive yet.

"How much do you think he'll bring? He's not exactly fat or muscular you know!" the one he'd come to know was Bolwart asked.

Vince gave him a hard glance that earned him a smirk in return.

"You'll be my last boy. When I'm done selling you, I'll buy a house in the hillside and drink myself to death. If the bargain goes well, I might as well get myself a bitch about the size of you. I like them young and fresh. Right, Salen?"

The pot-bellied guy who had his ponytail running to his shoulders barely nodded, his eyes never leaving the road. Vince was left wondering if he enjoyed what he did. Stealing people, kids like Vince to sell them off wasn't exactly a dream job.

They finally came to a big hall where they met some big muscled guys, as shirtless as he was, sporting big muscles, the kind that would make Bolwart jealous. Throughout this pitiable journey, he had often pontificated about how big and powerful he was. Perhaps, he might have bullied the others into joining his line of work. He was worried though that the third and only one among them who seemed to have a functional conscience still was no longer with them. He had been so kind as to have allowed him some sip from his waterskin.
Bolwart whispered some stuff into one of the guy's ears, and then he left after making eye contact with his other two colleagues.

Vince took the liberty of looking around. The place was quaint, bourgeois even. Several pieces of furniture adorned with mild colored embroidery covered them. On the unpainted walls were several paintings, each unique in their way.

The one with the flaming sword though. Something about it calls out to me.

He was drawn in by his dark eyes and black pupils. Looking closer, he saw that he had on his bare chest, the same pendant with him. He gawped at it not noticing when Bolwart came close. He turned to him sharply.

"Where did you get that pendant?"

Shakingly, seeing the fire in Bolwart's eyes he answered.
"I've had it on before I could even walk!"

"Damn! Salen, grab the boy. We're getting out of here immediately!"

Grabbing Vince, they skippered off only to be stopped by the melodious voice of a lady.
"Going so soon. Where are your manners, Bol!"

She was adorned in a wine-colored, floor-sweeping gown with a tint of silver lining the collar. She was resplendent, and from the way she carried herself, sashaying towards them, she was aware of it. She sat on the sofa. She beckoned on him to do the same, but he declined.
"I'm sorry we ain't doing business today."
"Why?"
"Change of plans! "
"Too bad then," she said shaking her head as she got up. She pointed at her hefty-looking guards.

"Kill them both and bring me the boy. He's the one we've been seeking!"
1 Like
Re: Mysteries Of No-land by Ann2012(

f

): 1:28am On Feb 01, 2019
Thanks for the update
Re: Mysteries Of No-land by ashatoda: 7:19am On Feb 01, 2019
loving this but please try and be consistent I lost interest in the call of the wind but since you claim it's concluded I will go and read it again. meanwhile thanks for this
Re: Mysteries Of No-land by pabon(

m

): 12:31pm On Feb 01, 2019
ashatoda:
loving this but please try and be consistent I lost interest in the call of the wind but since you claim it's concluded I will go and read it again. meanwhile thanks for this
I'm sorry you lost interest. I'll try to be more consistent with this than I was with COTW.
# MadeofMore
Re: Mysteries Of No-land by BlessedNiel: 6:18pm On Feb 01, 2019
"Kill them both and bring me the child"?
Interesting.
Is that to his freedom or.........?
Only Pabon knows.
Nice update
Re: Mysteries Of No-land by pabon(

m

): 10:59pm On Feb 01, 2019
Chapter 2


Salen proved to be a great fighter despite the bulge he carried like a pregnant woman. The dagger went slashing as he swung. There was pure adrenaline in the air.

The guards too were as tough as they looked, matching strike for strike and blow for blow. Their curved blades were causing the duo of Salen and Bolwart real problems.

Vince, not used to seeing much blood was shaking. He could see that no one was even paying attention to him. This might be his chance.

He looked around and was glad that no one even cared to steal a glance at his direction. He had the feeling that there was bad blood between these sets of men, not just because the lady had given the order.

Where was the lady by the way?

One of the guards came tumbling down on him, and as his hands were still bound, he couldn't parry his wounded body away. He fell against him, pushing him to the floor and they both landed on the hard-baked floor. He seemed to have taken the best of it as the guard was up in split seconds and was back attacking if only with more intensity and ferocity.

Vince crouched behind one of the cushions, his back resting against the back. He closed his eyes wondering how he got into such predicament.

"Come this way, quickly!"

He opened his eyes to see a lady, not much older than himself, a brunette with her eyes the color of Sapphire. With even the dark creases on her eyes, she looked beautiful, almost as beautiful as his sister had been

"Who are you?"

"How about we keep the questions for later and get you out of here! "

Vince nodded and taking that as an affirmation, the lady held his hand and led him out bending low so as not to be seen.

"You must do as I say to make it out of here alive," she said once they were out. He could see she was struggling to hide the fear in her eyes. He wondered who she was and why she had come to his rescue barely knowing him.

"Vince, immediately we walk past that door, you must run as fast as your legs can carry. Go down the corridor, all the way to the undergraduate channel. When you exit, you'll see a horse waiting for you, propped up against an olive tree. "

Vince didn't know how he was going to cope with such instructions, and worse even, he had no training riding horses.

"But I… "

"There's no time." She dipped her trembling hand into her blouse and produced what looked like a crystal ball. This should guide… "

Just then, a hooded man came into sight. He had two swords tucked at his sides. He unhooked them and twisted them as he approached them.
"Take this and go now. " She handed the crystal ball to him and turned to face their assailant.
He hesitated, not sure why he needed it.

"I don't..."
"Go now…run!"

As though propelled by her bellowed order, he ran for the door. Just before he got out, he heard her shout 'chaksak!' and listened to what sounded like thunder follow. He couldn't go back to see what it was as he sped into the darkness.

He ran not knowing where he went allowing his intuition to guide him. He wished he could just awake from this bad dream.

The crystal ball suddenly lit up with a bluish flame, and he stopped in his track. One more step and he would have fallen into a bottomless pit, chasm, whatever it was.

He bent low to catch his breath, his palpitations already threatening to burst his chest
.
I could have died there

He wondered how he was going to cross over without falling, no bridge visible. Or so he thought.

He looked at the far right and saw what seemed like a step that led downwards. Some pieces of rock were breaking off the walls and falling into the pit and taking like forever to get to the bottom. Cold shivers ran full length from his head to toe. He imagined seeing the guards picking his bones and trying to fix them together.

Why didn't I die with the others? Why wait till now?

Well, there was only one way to find out. All through his fourteen years, he had often heard people say his diehard determination will be the end of him, but it seemed to have been his saving grace. He had, against his parent's better, or worse judgment, not drinking from the expensive wine sent to them from the king of Oreon. Had they had their strength, they would have been able to escape, as he had, from the invasion.

He ran towards the step, the bluish luminance lighting his path. He steadily but carefully climbed down the step not stopping even when as it began to fall apart, not able to support his weight. He managed to make it down to the level floor just as some guards came into view.

They stopped when they saw that the steps had collapsed. Vince didn't wait to see what they would do next as he scrambled away towards the exit. He saw the horse tied to the tree and it seemed unaware of the danger, eating away at the luscious, green grasses that had been unfortunate to be growing where it had been tied.

Quickly untying it, he climbed up without even checking the saddle. He had hardly climbed up the horse when it cantered off as though enchanted. He held the reins feeling weaker the more distance they covered. A sharp pain from his back kept rising. Looking back, he saw a masked man letting down a bow. Just before he blacked out, he saw the head of the arrow protruding from the small of his back.
2 Likes
Re: Mysteries Of No-land by pabon(

m

): 1:47am On Feb 06, 2019
He sat at the bank of the river allowing his legs to fall freely into the flowing stream. This morning, all was quiet and still. The wind even had learned of the peace and solitude in slow and gentle motion, the swishing the leaves from side to side in reckless abandon like a child rocked in the trustworthy hands of a caring mother. Vince wished she was here.

A light was brewing from the bottom of the river. At first, it seemed a false image, a mirage probably due to the effect of the rising sun but a closer look proved otherwise. He stared, gazing deeply and noticing its ascent. Its radiance increased as it surfaced till it bubbled up, blinding his eyes.

He opened his eyes to find himself lying on a bed, sweating.
The glow of slowly burning lamp illuminated the room hung on a wall which looked long overdue for painting. A soft whistling caught Vince's attention, and sitting up; he saw the pot brewing at the fireside as it ejected steam which towered towards the ceiling, one he hadn't seen before.

What is this place?

Sharp pain at his back aroused his senses, and he remembered, with trembling, the arrow he had seen hanging from his back. He noticed he was wrapped in strange clothes as he looked downwards. Worse still, a dirty looking cloth was serving as his bandage. He examined it. The pain wasn't as much as it should be. The herb applied to his wound was working.

But who was his savior? How had he been rescued?

"I see you're awake... "
He looked up to see descending from a staircase, a fair lady taking gentle steps as she approached him. Her black gown had some stains in it only visible though as she bent over him feeling his temperature. Her touch was cold; a sharp contrast to his body which felt like it was warming in an oven.

"Your temperature is still not perfect, but I think you're getting better. "

"Who are y…"
"Shss…you are not quite ready to speak. There's no need rushing it. You'll have all the time to ask questions." She pushed his head down slowly till it rested on the makeshift pillow.

He watched her take down the pot from the fire and poured its content into a cup. It was greenish, no doubt some herbal concoction. He wondered if he was going to be asked to drink that, whatever it was.
Someone pushed open the door and rays of the sun gushed in. Vince had no idea it was the day.

"Has he awoken?"

It was the voice of a boy, a young one. By his look, he could pass for ten. He had curled hair, and he dropped what looked like a map on the table.

"He woke up, but he's back to sleep."

The light he had seen in the boy's eyes when he heard he was awake was short-lived but loveable. He wondered why he wanted him awake.

"How did the class go? "

"Horrible mum. I could barely channel my essence to locate Minnok."

He pulled off his shoes and drew the socks off his legs, dumping them on the table.

"The teachers are wack!"

"O common, don't say that. I was once a student there. Nivert raises the best cultivators in No-land."

NO-LAND? What sort of a name was that?

Closing his eyes, he imagined a school where students learnt to grow crops.

A school for farmers? Who does that?

Back at Pongash, farmers were self-taught, often learning from their parents as they kept on visiting the farms. He had never for once imagined there'd be a school for that. What were they going to teach?
The boy had said something about channeling. Channeling his essence?

He wondered what that meant. What a strange place!

He wished he had the audience of Stewart, the all-knowing palace tutor. He would no doubt have provided honest answers to this rubbish he was hearing.

What had even been Stewart's faith? Had he gone with his wealth of knowledge?

He remembered how he had come up with an excellent explanation about the pendant that hung around his neck. He had told him that it was a symbol of a separate life attached to his own. That another of his self roamed some other world and that he had in that other self a watchful eye. That was the only occasion he had doubted him. On every other time, Stewart provided what sounded like accurate answers.

Except for the one that involved the pendant

One thing was clear though, he had, again and again, been warned never to remove it from his neck.
He wondered what the pendant signified that had caused so much trouble. He reached for it, and to his greatest surprise and fear, it was missing.
1 Like 1 Share
Re: Mysteries Of No-land by BlessedNiel: 12:13pm On Feb 06, 2019
Thanks for the update Pabon
I'm following and enjoying it.
Vince being taken from one strange place to another. What's with him that makes people seek after him? Only Pabon can tell. I'm beginning to suspect that he possesses something extraordinary that he is not aware of himself. That's what I want to find out in following this story to the end.
Kudos to you once again Pabon my captain
Re: Mysteries Of No-land by pabon(

m

): 11:13am On Feb 12, 2019
Good Morning guys!

It's a few days to the elections. Hope you are gearing up for the future?

Still made of more!
1 Like
Re: Mysteries Of No-land by pabon(

m

): 2:16pm On Apr 12, 2019
Sitting down with Crayon and hearing him talk was fun. Vince stared, bewildered how a boy his age could know so much.

"The service center houses the Lord Spiritual. He has been a harvester for nearly a century now. News has it that he once drank of the eternal elixir. "
Vince hadn't grabbed it yet. He was still coming into terms with all these strange things, spells, essence and worst still, magic.
Magic and sorcery hadn't been a thing to worry about in Pongash. It simply never existed. Never. Not until he came to this place. A place that wasn't in the central map.

'If it does exist, this magic you claim to have, to be driven by, why haven't I seen you, or anyone in particular use it? "

He watched the boy grimace in what seemed like confusion. It was like he had the answers but didn't know how to put it. When he spoke, his emotions poured out.
"You can't just write off magic like that. It was by magic that I was able to locate where your dying body was and had I not seen it on time, you'd be dead!"

Silence took over like a balloon suddenly deflated. He could almost visualize the pain--the feeling of life being sucked away. The pricking sensation like a thousand needles working their way through his entrails. Such pain he wouldn't even wish for a sworn enemy.
He had heard about the scorpion venom, how deathly it was. But to feel it was a different thing entirely. He wondered why the world was suddenly against him. What had he done to merit all the bad things being released on him?
He tightened the jacket around his body, his hands in the pocket. The cold wind kept rising.

Crayon was quiet. He kept biting his lips. He didn't blame the boy. He had often been that way, and even worse towards his sister. She had been two years older and she wouldn't let him forget the fact. His own way of getting back at her had been through words.
She would pursue him all around the courtyard whenever he told her how unfortunate she had been to have come as a girl. The throne was his for an inheritance. He was going to teach her a lesson when it became his.
The threat would never materialize. Only now, did he realize how much he missed her. Bully or not, she was his sister and had been his source of strength, of pride.

She was already skilled with the sword when she was only ten, just a little taller than Crayon. She took part in the amateur swordsmanship duel at twelve. She'd won it gloriously but he had never been so fortunate.

Despite several training sessions, he had never mastered the wielding part. People said the sword hated him. It always fell from his tightened grip. Entering into the competition had not even an option.

Vince's only pride was his quick feet. He was a natural runner. None of his mates or even Thelma argued that fact. But all was lost, gone like Christmas, the difference being that he wasn't expecting their return.
"I'm sorry I didn't mean to say that!"

He was cut off from his reverie and didn't respond immediately. He knew of course that Crayon hadn't meant to remind him of his sorrows. He couldn't blame him for he wasn't always blithe. He had come to know that Crayon cared. He'd been with him throughout the period he was recuperating and would bring him flowers he gathered on his way from his school. He was himself learning to be more careful with words rather than being extemporaneous.

"It's alright. I know you didn't mean it. You're far too kind to do that!"
He watched Crayon's cheek light up. His cute dimple was visible.

"You can't be too sure of that," he warned pointing a finger at Vince. "I could just set you on fire one day."

Vince chuckled as he watched him try one of his spells, the umpteenth time he had watched him try.
"Enflammare!"

Fire shot out of his pointed thumb. It came towards Vince who had just split seconds to react. He didn't. The fire zoomed towards him. The fire made contact and Vince fell with his back to the ground.
The pounding on his heart was the only proof he had that he had seen it and not imagined it.
"You have magic! It's real!" he said shaking the Crayon. He didn't respond. He was still shaken.

"How's that possible, you should be burnt badly!"
Oh, I think you missed!"
"No, I saw it clearly, it was headed for your chest but jumped suddenly, as though pulled up, and, it entered your pendant."

"That can't be true?"

Crayon gawped at him, his mouth agape.

"I now see why mum allowed you to use the necklace again. It must hold some magical ability."

Vince didn't know what to say. He wasn't exactly sure that Crayon had missed. He thought his falling backward had been his saving grace.

He broke the silence. "Good thing is you did magic. Let's go tell Mrs. Mantel about it."

"Alright," he replied turning to go.
Vince listened to the young man blab about all the things he was going to do once he got to school the next day. He tried not to think about the pendant that was throbbing at his chest.
1 Like
Re: Mysteries Of No-land by Ann2012(

f

): 6:04pm On Apr 12, 2019
Thanks for the update
Re: Mysteries Of No-land by dawno2008(

m

): 4:17pm On Apr 13, 2019
Good story,pls keep the updates coming
Re: Mysteries Of No-land by Devilpen(

m

): 8:33pm On Apr 13, 2019
Seat number 004 has been booked
Re: Mysteries Of No-land by pabon(

m

): 7:42am On May 15, 2019
Good morning guys. I haven't forgotten about you. I've been busy with works.
I'm coming back soon.

#MadeofMore
Re: Mysteries Of No-land by BlessedNiel: 8:43am On May 16, 2019
pabon:
Good morning guys. I haven't forgotten about you. I've been busy with works.
I'm coming back soon.

#MadeofMore
I've been following your diary
And I guess you are involved in other projects
I hope it goes well
Just try to stop by and drop something for us from time to time
2 Likes
Re: Mysteries Of No-land by pabon(

m

): 12:56pm On May 16, 2019
BlessedNiel:

I've been following your diary
And I guess you are involved in other projects
I hope it goes well
Just try to stop by and drop something for us from time to time
Alright. Thanks for sticking with me.
1 Like
Re: Mysteries Of No-land by BlessedNiel: 8:06pm On May 16, 2019
pabon:


Alright. Thanks for sticking with me.
Always welcome
Re: Mysteries Of No-land by MAcSEEKER: 12:18am On May 19, 2019
finally am here! More update