Foreign Affairs / Re: Joe Biden Will Not Be President by jnhmaxxwell: 11:51am On Dec 20, 2020
scully95:
[/s][s]

OMG!
Paypal? Website?? LWKMD! Where mogbe OMG.. First of all where I live there is light uninterupted, good road and good water. (Get that straight first of all).
Number 2. It's really childish to attack the messenger while using such a stup*d nonsense unrelated tactics to the subject topic to justify anything the de-facto leader of the Anglozionist empire may do. A state that is *Rigging Election and its media openly publicly declare winner of Election* .

Even in Nigger Area created by the EMpire, Media can not style style declare the winner of an Election. Only a *10th world country* I repeat a 10th world country would do that and the dummies, brain dead like you would not see anything wrong with that..

Why would you? The answer is above. Instead of facing the real deal, better off attacking messenger instead of using little mushroom brain left. Again a brain dead from 10th world country or wannabe Angloo zoo potential puppet.. Useful id*ot if you ask me

Yes, there are many poverty stiken people living in Nigger Area(Nigeria). A creation of the Anglozionist empire. In other words, a zionist entity.

I am not saying this as a way of showing off.. No that is A STUPID capitalist mentality.. U can even judge by me being online for over 4 year on NL..

I only care about my ppl, the suffering from your Anglozionist empire must stop. And how they need to see what a 10th world in reality they are and would be a slap to compare such to the same 3rd world they often claim Nigger area is ok..

U.S.A is a 10th world country by those points above. Proof me wrong.. Election of 2016 was not rigged? Rigging again and again like it's normal thing. OMG.. Fuuu

If you can't answer that, i wont reply you again.

Pls get some brains.

And last point, just by calculating the amount of time I have spent online on Nairaland alone Vs yours, it's enough for reader to judge and the low life living poverty striken wanna be anglozoo puppet. Just compare your ID and amount spent online vs mine.

if you are to convert the amount I spent online on NL for over that year into data, it will probably feed your entire poverty stricken generation.
(Again it;s not in my nature to show off cos I am a Socialist to the core unlike you capitalist but i needed to point this one out.) You live a low life wherever you may be and the difference between me and you is, I want the best for my ppl, free for your Anglozoo masters.

Look at it yourself and let the readers be the judge. Who is more scammy lies, using petty tactics, running totally away from subject topic.
Even the same U.S the poverty that is growing at an alarming rate..



Your brain dead lowlife tactics of trying to attack the messenger but never ever face the real fact is just too childish. How old are you by the way.

Again U.S.A is a 10th world country by all of its act.. i think i will have to write an article about USA, the 10th world country Parading itself as Exceptional..

Now that this thread has touched a nerve. I will go on and write a full 3000 words article.. Subject topic - USA, the 10th world country Parading itself as Exceptional

When I am done with it, I will share it on here.

I always like reading from you. I look forward to the article
USA, the 10th world country Parading itself as Exceptional
.
3 Likes 3 Shares
Culture / Re: Are You Ready For Esu Is Not Satan 2020 Awareness Campaign #esuisnotsatan2020 by jnhmaxxwell: 11:34am On Dec 20, 2020
gregyboy:


You nigga borrowed esu from edo and misinterpreted
You don't know anything about Esu.
Foreign Affairs / Re: VenezuelaOnly: YANKEE PLOT TO OVERTHROW NICOLÁS MADURO AND STEAL VENEZUELA'S OIL by jnhmaxxwell: 10:27am On Mar 25, 2019
Up To 100 Russian Troops Deployed In Venezuela: Full Report bellow
On March 23, two planes of the Russian Aerospace Forces landed in Venezuela's main airport carrying a Russian defense official and nearly 100 troops, according to reports in mainstream media and claims by local activists.
The planes were identified as An Ilyushin IL-62 passenger jet and an Antonov AN-124 military cargo plane. They left Moscow from Russian military airport Chkalovsky on March 22 and visited Syria en route to Venezuela.
According to speculations, the mentioned defense officials was
Vasily Tonkoshkurov
, chief of staff of the Ground Forces. Some material [allegedly over 35 tonnes] was also delivered.
The Russian Defense Ministry has not provided comments on this report yet. However, the Russian mainstream media says citing "own sources" that the delegation arrived in Venezuela for "bilateral consultations" over a wide range of topics, including the military and technical cooperation.
3 Likes 3 Shares
Foreign Affairs / Re: Photos Of Israeli 'spice 1000' Guided Bombs Intercepted By Syrian Military by jnhmaxxwell: 4:24am On Jan 24, 2019
Israel is losing it big time. Syria has just hinted it will start bombing Israeli Airports as well. Syria threatens to 'strike Tel Aviv airport' if UN fails to stop Israeli air raids. This is fast getting out of hand. The Zionist cannot get anything done at this time so waiting patiently. Syria said it last time it will retaliate and it did.

The new 'threat' from Syria is real and they will surely do as they say if Israeli terrorists attack Syrian Airport again.
3 Likes 3 Shares
Foreign Affairs / Israel Claims Russian Version Of Il-20 Incident Is Fake by jnhmaxxwell: 11:10pm On Sep 23, 2018
On September 23, the Israeli military rejected the Russian accusation that it was behind the downing of the Il-20 intelligence plane on September 17 and insisted that the coordinate mechanism with Russia was used properly prior to the incident.
"The deconfliction mechanism operated in the relevant timeframe (as it has been operating over the last two and a half years,"
the Israeli military said in an official statement.
Furthermore, the Israeli military repeated its claims that Israeli Air Force (IAF) warplanes were in Israeli airspace at the time of the downing of the Russian plane. The Israeli military went on to blame Syria for the incident once again and vowed to continue its operations against Iranian forces in the war torn country.
"The IDF [Israeli Defense Forces] will continue to operate in accordance with the directives of the Israeli Government against Iran's incessant attempts to establish itself in Syria and to arm the terrorist organization Hezbollah with lethal and accurate weapons,"
the Israeli military statement reads.
Earlier, the Ministry of Defense of Russia released a radar map that proves IAF warplanes hide behind the Il-20 before it was hit by Syrian air defense fire. The ministry also confirmed that Israel informed it only one minute ahead of the airstrike and provided false info about the location of the target.
Independent observers said that the radar map released by the Russian MoD was plausible, which indicates that Israel lied about the location of its warplanes during the incident.
https://twitter.com/obretix/status/1043879321310572547
Israel's refusal to recognize its mistake and its insistence on conducting new attacks will likely lead to more tension with Russia. The situation may escalate further if Israel launched new attacks without improving the coordinate mechanisms with Russia.
1 Like 1 Share
Politics / Re: Nigerian Police Working Against Their Ancestors: Police Arrested Pros. Moyo O by jnhmaxxwell: 1:22pm On Jul 14, 2018
scully95:
*Political Correctness working against Cultural Openness
*Nigerian Police Working against their Ancestors: Police arrested Pros.Moyo Okediji for building ÀKÒDÌ ÒRÌṢÀ.

It was reported a few days ago that the Nigerian police single handedly decided to arrest a professor in Ifa, Professor Moyo Okediji  for building ÀKÒDÌ ÒRÌṢÀ.

See the short report of the event that went on from the University of Ifa by Professor Moyo Okediji.
'The Nigerian Police arrested me yesterday for building the ÀKÒDÌ ÒRÌṢÀ. They said I was building a house for the Orisa.
They are right. I have built a house for the Orisa. But my lawyer says it is legal and constitutional for me to build a temple for whomsoever I desire.'

'This is what happens when Politically correct ideas work against cultural Openness, these are people who are brainwashed to attacking their roots or origin, henceforth their ancestor says  an Ifa Chief priest


A lenient spokesperson for Orisa Tradition says 'If it's Brazil or European countries they will take is precious and a tourist center. Nigerians prefer following a religion that they don't know the roots. Baba keep doing your things IFA aagbew lapapo'.

This has generated massive condemnation against the Nigerian police for taking a look at the Buidling and decided to just arrest the professor.

On getting to the professor, this question was asked and he replied.

May I please ask you further explanation about a different law system in a different culture: why would it be forbidden to build a house for Orixas? How do they know it´s not a conventional house but a yet-to-become sacred building?

Professor Moyo Okediji: They took one look at it and it was apparent to them, from the embellishments with use of indigenous African materials, that it is most likely for the purpose of celebrating indigenous ways.

A student of Ifa University 'Adeleke Ademola says  'They must be very stupid, though, am a Muslim, if I built a mosque they are coming to arrest me?'
Another student Guzzi Rarely answered:  No bro.



This news have generated massive condemnation all across the country, we will bring in more update soon.



Here is the beautiful photo of the Edifice ÀKÒDÌ ÒRÌṢÀ.



Those policemen are ignorant, I bet if you find out very well, they must be Fulani herdsmen working against the culture and tradition of the people. Who sent them message ? Inglorious bastards
2 Likes 1 Share
Foreign Affairs / Syrian Military Video Shows Air Defences Intercept Israeli Terror Missiles by jnhmaxxwell: 9:09pm On May 14, 2018
https://www.youtube.com/watch?v=UhvpvpQYnAo
'It is very clear that most of the missiles fired by the Zionist state into Syria are being intercepted. Israelis lied when they claimed Iran's missiles in Syria have been knocked out of commission. Within 2 weeks or less, the Israelis will try again which means they failed
In 2006, Israelis got a butt kicking when its military entered Lebanon. They definitely would not fare well against Syria, and with Russians training Syrians in use of these advance missile systems.'
1 Like 1 Share
Foreign Affairs / Re: Is Israel A Psychopath? by jnhmaxxwell: 7:30pm On May 14, 2018
lekanskills:
the jewes suffered in the hands of the nazis this suffering is still afflicting them hence they are afraid of Everything and everyone.
History will always remember Nazi truly fought against Zionism in Soviet union even though it lost the war but this eventually made the Soviet Zionist Bolshevism regime fall. For Germany it was more like falling from frying pan to Fire when Anglo-America and Anglo Saxon burned down Dresden while Moscow looked the other way. This is why today, Germany will never go against Russia, they are more partners. Germany may need to fight again but the time, they surely will be on the side of those resisting the Zionist forces and this again will affect the Jews.
Foreign Affairs / Is Israel A Psychopath? by jnhmaxxwell: 8:53pm On May 07, 2018
Laurent Guyénot for the Saker
Introduction
There is a lot of talk these days about the psychopaths ruling the world. A study among high executives of large companies, published under the title Snakes in Suits, shows that psychopathic traits are widespread among them.[1] This naturally reflects into collective forms of psychopathy: in The Corporation: The Pathological Pursuit of Profit and Power, Joel Bakan noted that "corporate behavior is very similar to that of a psychopath."[2]
Some states also behave like psychopaths among nations. The USA is such a state, with a "pathology of power" (the title of Norman Cousins's 1987 book) probably related to the degree of psychopathy of the men in charge. Behind the mask of sanity and morality displayed by the US on the world's stage, there is a "deep state" moved by an insatiable thirst for power and uninhibited by any moral conscience or empathy; this pathological deep state is today in almost complete control of US foreign policy.
Israel is another psychopathic state. The relationship between the US and Israel is a peculiar one, and there are differing opinions regarding its nature. Who, of the two, is the driving force? Have US moles infiltrated and hijacked Israel's foreign policy, or the opposite? I consider that the issue has been settled by Professors Mearsheimer and Walt in their 2008 book The Israel Lobby and U.S. Foreign Policy (and before that by Pat Buchanan in his 2003 article "Whose War?"[3]): it is Israel who has drawn the United States into wars which were not in their strategic interest, and which, in fact, jeopardize US national security. It was true about Iraq, and it is true about Syria. The Neocons, the overwhelmingly dominant force in the US deep state since 2001, are crypto-Zionists. America is not controlling Israel's foreign and colonial policy; it has failed to do so whenever it tried, and it has now stopped trying. Instead, as Ariel Sharon famously said one month after 9/11: "We, the Jews, control America, and the Americans know it."[4] The very fact that this outrageous statement was quickly buried makes its point self-evident: for, as Gilad Atzmon has also famously said, "Jewish power is the ability to get non-Jews to stop talking about Jewish power."
Israel's control of the American people's mind and heart, based on near total control of the mainstream media alongside large-scale psychological operations such as September 11, is truly bewildering (those who doubt that Israel masterminded 9/11 with its network of super-sayanim should read my article "Inside Job or Mossad Job?")[5]. But it becomes understandable in light of what psychiatrists call the "psychopathic bond." I do not mean to deny that the US is pathological in its own right, even genetically so. But I will here concentrate on the one nation I believe to be the most dangerous psychopath among nations: Israel. The Israeli journalist Gideon Levy wrote in Haaretz in 2010 that "Only psychiatrists can explain Israel's behavior" toward Palestinians, suggesting "paranoia, schizophrenia and megalomania."[6] I suggest psychopathy as a more accurate diagnosis.
Although specialists debate on the difference between psychopathy and sociopathy, I will use both terms interchangeably. The latest Diagnostic and Statistical Manual of Mental Disorders has opted for "antisocial personality disorder," which has the advantage, like sociopathy, to indicate that we are dealing with a dysfunction of the capacity to socialize.
Jewishness as a tribal sociopathy
Psychopaths are narcissists with a huge appetite for power and no moral conscience. Incapable of emotional empathy, they feel no remorse for the suffering they inflict on others. The diagnostic criteria for psychopathy, as listed by Robert Hare, include pathological lying, cunning, and manipulative behavior.[7] The psychopath has no feeling for anyone, but has developed a great ability to simulate, sometimes with a tendency to histrionics. He can be charming and charismatic. Although he himself is immunized from guilt, he learns the art of inducing and exploiting others' guilt.
Lying is so deeply embedded in his nature that the question of his sincerity is almost irrelevant. The truth has no value in his eyes, or is confused with the version of events that serves him; he can beat a lie detector. The psychopath is unable to put himself in the shoes of anyone else, and thus to view himself critically. He is never wrong, and his failures are always the fault of others. Confident in any circumstance of being right, innocent, and superior, he considers the resentment of his victims as pointless "hatred."
Although those who have paid the price to see through his mask can judge him raving mad, the psychopath is not sick in the traditional sense. Given his social competitiveness, he cannot be regarded as maladapted from a cognitive or behavioral standpoint. However, from the point of view of depth psychology, it can be argued that the psychopath represses a deep existential angst, a fear of his own inhumanity. Feeling fundamentally unlovable, he knows that his only chance resides in lies, and that, if others could see through him, he would be confronted with his own vacuity. Because he assumes that others are as heartless as he is, he fears to be destroyed if exposed. And therefore, he must keep lying better and better. His obsession for domination is the counterpart of his deep fear of annihilation.[8]
In The Future of an Illusion (1928), Sigmund Freud described religion, particularly Christianity, as a collective neurosis. In this line of reasoning, I will argue that Judaism is rather a form of collective sociopathy. This does not mean that "the Jews" are sociopaths, but rather that they are victims of a collective sociopathic mindset. The difference between collective sociopathy and individual sociopathy is the same as between collective neurosis and individual neurosis according to Freud: participation in a collective sociopathic mentality allows members of the community to channel sociopathic tendencies toward the outside of the community, and to maintain within it a high degree of sociability.[9]
The idea is easy to illustrate: The individual who feels superior to everyone is a megalomaniac; but Maurice Samuel is simply a communitarian Jew when, in his book You Gentiles (1924), he expresses his belief
"that we Jews stand apart from you gentiles, that a primal duality breaks the humanity I know into two distinct parts; that this duality is a fundamental, and that all differences among you gentiles are trivialities compared with that which divided all of you from us."[10]
The individual who feels constantly surrounded by enemies is a paranoiac; but Leo Pinsker is a respected forerunner of Zionism for having written that Judeophobia is a hereditary and incurable "disease transmitted for two thousand years", "a variety of demonopathy, with the distinction that it is not peculiar to particular races but is common to the whole of mankind."[11] Likewise, Josué Jehouda doesn't have any mental illness, but just an ethnocentric theory of history, when he writes:
"He who plumbs the depths of universal history, to gain an overall vision, finds that from ancient times until today two opposing currents are fighting over history, penetrating and shaping it constantly: the messianic current and the anti-Semitic current."[12]
In other words, it is only when the Jews think, speak and act as representatives of the Jews and in the name of the Jews—when they say "we Jews . . ."—that their behavior toward non-Jews and their conception of relations with non-Jews betray a sociopathic pattern.
But when someone says "we Jews," he is generally reproducing a category elaborated by the Jewish cultural elite, the Levites of the past and present. The dominant ideology is the ideology of the dominant. And so the collective psychopathy of Jews is a cognitive paradigm imposed on them by a minority of influential Machiavellian Jews to keep them under control. "The evils of Israel are the evils of leadership," wrote Jewish publisher Samuel Roth in Jews Must Live: An Account of the Persecution of the World by Israel on All the Frontiers of Civilization (1934). He blamed all the suffering of the Jews on "the stupendous hypocrisy and cruelty imposed upon us by our fatal leadership."
"Beginning with the Lord God of Israel Himself, it was the successive leaders of Israel who one by one foregathered and guided the tragic career of the Jews—tragic to the Jews and no less tragic to the neighboring nations who have suffered them. […] despite our faults, we would never have done so much damage to the world if it had not been for our genius for evil leadership."[13]
Continue reading here
http://thesaker.is/is-israel-a-psychopath/
Foreign Affairs / Re: Ethiopia Is Now Africa's Fastest Growing Economy by jnhmaxxwell: 11:11am On Apr 25, 2018
Any info about Africa cannot be trusted from the west, the western media or any of the western institution and its proxies. This is void already in 2018 by their acts.
Foreign Affairs / Us Centcom Chief Makes "secret And Unprecedented" Visit To Israel As Russia.. by jnhmaxxwell: 8:11pm On Apr 24, 2018
Us Centcom Chief Makes "secret And Unprecedented" Visit To Israel As Russia Mulls Arming Syria !
Here is the twist to it. Israel to Russia: We have a red line. You can not give a ''defensive weapon'' to Syria which will enable Syria to ''defend'' itself better because -although they don't attack us- we want to be at liberty to attack them whenever we want. We can not just sit here and watch ISIS and likes to be exterminated by them. We can not stand enemies around us that can defend themselves. We like defenseless people, preferably civilian and young.
Originally appeared at ZeroHedge
Increasingly it appears that the recent US coalition missile strikes on Syria have utterly backfired: instead of weakening Syria or degrading its military capabilities, the attack may have actually served to strengthen Syria's defenses.
Since the massive strike which involved the US, UK, and France launching over 100 cruise missiles, Russia is rumored to be moving forward on delivery of its advanced S-300 missile defense system, which would be a monumental upgrade allowing Syrian defenses to far surpass current capabilities which utilize the Soviet-made S-125 and S-200 air defense systems.
Crucially, S-300s have a range of up to 150-200 kilometers (or 120 miles), bringing Syrian deterrent reach easily to within Lebanese airspace (as Israel has routinely struck targets inside Syria while firing over "neutral" Lebanese airspace in recent years), and could even extend airspace coverage into Israel itself.
Could this be the reason for some major behind-the-scenes diplomatic scrambling?
Undated file photo of S-300 air defense missiles launched at Ashuluk shooting range in southern Russia.
On Monday VOA News chief White House correspondent Steve Herman announced that US CENTCOM commander General Joseph Votel is in the midst of "a secret and unprecedented visit to Israel."
Knowledge of the "secret" visit was based on exclusive footage broadcast by Israel's Kann News, which first reported, "the commander of the American Central Command arrived for the first time to Israel, and met with senior security officials, including the Chief of Staff."
Steve Herman
✔
@W7VOA
Israeli public broadcaster reports @CENTCOM commander General Votel making a secret and unprecedented visit to #Israel.
https://twitter.com/kann_news/status/988462149520457728
…
19:22 - 23 Apr 2018
21
35 people are talking about this
Twitter Ads information and privacy
No doubt the potential for what weapons experts have commonly described as the "exceptionally advanced" Russian-supplied S-300 in Israel's backyard is making Tel Aviv and its allies nervous. Israel has repeatedly called delivery of the S-300s a "red line" for which it would act, however, plans for just such a scenario could be hastening.
Early Monday morning Israel's Channel 10 senior diplomatic correspondent broke the following, subsequently confirmed in the Times of Israel and Reuters:
Russian newspaper Kommersant reports that Russia might deliver S-300 anti aircraft missiles to Syria in the very near future in order to defend Damascus & Strategic Syrian army bases from Israel & U.S. airstrikes.
Kommersant reported Russia will give the S-300 missiles to Syria for free from Russian army supplies as part of its military assistance to Syria. This way the delivery could be done very quickly.
Russian military sources said parts of the S-300 will be delivered soon to Syria via cargo planes or Russian navy ships. Until Syrian officers will be trained to operate the system it will be operated by Russian military experts in coordination with the Syrian army.
According to Kommersant Russia believes that delivering the system will stabilize the situation in Syria and deter Israel and the U.S. from continuing its airstrikes in Syria. Russian sources said that if Israel attacks the missiles the results would be catastrophic.
Barak Ravid
✔
@BarakRavid
1 \ Russian newspaper Kommersant reports that Russia might deliver S-300 anti aircraft missiles to Syria in the very near future in order to defend Damascus & Strategic Syrian army bases from Israel & U.S. airstrikes
08:21 - 23 Apr 2018
26
32 people are talking about this
Twitter Ads information and privacy
Though still being hotly debated and contested among analysts, Syria's over 30-year old current deterrent system appears to have performed well, likely stunning the West and neighboring Israel (which itself played a part in the coalition attack) as it reportedly shot down 71 of the 103 cruise missiles, according to official Russian and Syrian government sources.
As we previously described, Pentagon officials have vehemently denied that their "nice and new and smart" cruise missiles were actually shot down, and Russia now further claims to be in possession of at least two non-detonated coalition missiles. Most Western media reports continue to assert that Syrian missile defense failed to shoot down a single inbound missile. Notably, the Pentagon has been careful in all statements to say Russia's S-300 system (currently present aboard Russian battleships in the Mediterranean) did not engage.
However, there are other possibilities that the coalition's missiles simply failed in reaching their targets in some instances without intercept by Syrian defenses, or even that advanced Russian air defense Electronic Counter Measures (ECM) may have been in play.
But one doesn't need to take the Russian Defense Ministry's word for it. It is entirely possible and even likely that Russian intercept claims are inflated, yet that there were a number of intercepts that night was also reported by several important outside sources, including by Syrian pro-rebel media, foremost being the Syrian Observatory for Human Rights (SOHR), which has for years been a chief go-to source for all mainstream reporting on Syria (though ironically when SOHR contradicts the mainstream media, such as in this case, its numbers are ignored).
Foreign Affairs / Did The West Just Lose World War III By Forfeit? by jnhmaxxwell: 5:01pm On Apr 22, 2018
Written by James George Jatras; Originally appeared at strategic-culture.org
In the fall of the year 1480, at a point not far from Moscow, two armies faced each other on the opposite banks of the Ugra River.
On the one side were the forces of the Grand Duchy of Moscow, whose ruler, Grand Prince Ivan III (known as "the Great" and the "gatherer of the Russian lands"),
had recently rejected further payment of tribute to the Great Horde.
On the other were the forces of Grand Khan Ahmed bin Küchük, who had come to lay waste to Moscow and instruct the impudent Prince Ivan to mend his ways.
For weeks the two assembled hosts glared at one another, each wary of crossing the water and becoming vulnerable to attack by the other. In the end, as though heeding the same inaudible signal, both withdrew and hastily returned home.
Thus ended more than two centuries of the Tatar-Mongol yoke upon the land of the Rus'.
Was this event, which came to be known as "the great standing on the Ugra River," a model of what happened in Syria last week?
Almost immediately upon reports of the staged chemical attack in Douma on April 7, speculation began as to the likely response from the west – which in reality meant from the United States, in turn meaning from President Donald J. Trump. Would Trump, who had repeatedly spoken harshly of his predecessors' destructive and pointless misadventures in the Middle East, and who just days earlier had signaled his determination to withdraw the several thousand Americans (illegally) stationed in Syria, see through the obvious deception?
Or, whether or not he really believed the patently untrue accusations of Syrian (and Russian) culpability, would Trump take punitive action against Syria? And if so, would it be a demonstrative pinprick of the sort inflicted almost exactly a year earlier in punishment for an obvious false flag chemical attack in Idlib? Or would we see something more "robust" (a word much beloved of laptop bombardiers in Washington) aimed at teaching a lesson to both Syrian President Bashar al-Assad and his ally, Prince Ivan III's obstreperous heir Russian President Vladimir Putin?
The answer soon came on Twitter. Assad was an "animal." Putin, Russia, and Iran were "responsible" for "many dead, including women and children, in mindless CHEMICAL attack" – "Big price to pay."
Around the world, people mentally braced for the worst. Would a global conflagration start in Syria with an American attack on Russian forces? A grim trepidation reminiscent of the October 1962 Cuban Missile Crisis gripped the hearts of those old enough to remember those thirteen days when the fate of all life on our planet was in doubt.
Certainly there were enough voices in the US establishment egging Trump on. Besides, at home he still had the relentless pressure of the Mueller investigation, intensified by the FBI's April 9 raid on his lawyer Michael Cohen. Trump's only respite from the incessant hammering was his strike on Syria last year.
During the first Cold War both American and Soviet forces took great care to avoid direct conflict, rightly afraid it could lead to uncontrolled escalation. But now, in this second Cold War, western commentators were positively giddy at the thought of killing Russians in Syria…
…or rather killing more Russians, citing the slaughter of a disputed number of contractors (or "mercenaries" as western media and officials consistently called them, implying they deserved to have been exterminated). That'll teach 'em not to tangle with us! It was unclear whether the warning from Russian Chief of Staff General Valery Gerasimov that Russia would respond against an attack by striking both incoming weapons as well as the platforms that launched would be taken seriously.
After a slight softening of tone by both Trump and Defense Secretary General James "Mad Dog" Mattis on April 12, during which a team from the Organisation for the Prohibition of Chemical Weapons (OPCW) was approaching Douma to conduct an on-site examination, there emerged a slim ray of hope that Trump would step back from acting on the transparently false provocation. (The slimness of any such hope was illustrated by the fact seemingly the most restrained of Trump's advisers was somebody nicknamed "Mad Dog.")
When on the evening of Friday the Thirteenth (Washington time) news came that the US had initiated military action, together with France and (the country Russia had accused of staging the Douma fraud) the United Kingdom, many feared the worst. The hasty timing was clearly aimed at preempting the arrival of the OPCW inspectors.
Of greater concern was the extent of the assault? If Russians were killed, Gerasimov was serious.
As it turned out, the worst didn't come. World War III didn't happen. Or hasn't – yet.
In fact nothing much happened at all. According to the official US reports, something over a hundred missiles were launched at three targets. All missiles reached their targets – "Mission Accomplished!" The other side, however, claimed to have shot down roughly 75 percent of the incoming Tomahawks.
In the end, the damage was even less than from the follow-up to Idlib last year. No one was reported killed, neither Syrian nor Russian nor Iranian. Western governments claimed to have struck a serious blow at Syria's chemical weapons capability. Syrians and Russians scoffed that the missiles had hit empty buildings and that Syria had no CW to hit since 2014, as certified by the OPCW.
In the aftermath of the missile show, media carried unverified reports that Trump had wanted a stronger campaign but deferred to Mattis's caution, no doubt reflecting the views of professional military men who didn't want to find out whether Gerasimov was bluffing. Mattis also reportedly wanted Congress to vote on any action before it was taken but was overruled by Trump.
There was even some speculation that the whole thing was a charade worked out in cooperation with the Russians. Even if true (and it's unlikely) the mere fact that Trump would have to engage in such a ruse speaks volumes about the weakness of his position. "Whatever Trump says, America is not coming out of Syria," writes Patrick Buchanan. "We are going deeper in. Trump's commitment to extricate us from these bankrupting and blood-soaked Middle East wars and to seek a new rapprochement with Russia is 'inoperative'."
That's clear from the comments of US Ambassador to the United Nations Nikki Haley. She states that America won't disengage until three objectives have been met: that ISIS has been defeated (a pretext, since ISIS is on the ropes and remains alive only because of hostile actions taken by the US and others against Syria); Damascus is finally deterred from using chemical weapons (a falsehood, since they don't have any); and Iran's regional influence is blocked (which means we're staying in effect permanently in preparation for a larger war against Iran and perhaps eventually Russia).
The last point is unfortunately true, as plans are underway to beef up a Sunni anti-Iran bulwark in eastern Syria to cut off Tehran's so-called "land bridge" the Mediterranean. Most Americans in Syria are to be replaced with a so-called Arab force – the "Arab NATO" touted last year in connection with Trump's maiden foreign trip as president. (As though the one NATO we already have weren't bad enough!)
Saudi Foreign Minister Adel al-Jubeir has suggested troops from his country would participate. Aside from whether Riyadh can spare them from their ongoing task of wrecking Yemen, Saudi personnel are likely to become a prime target for Syrians itching to get a crack at their chief tormenters over the past seven years.
So was anything really settled on April 13? On this occasion the West chose not to "cross the river," much as Khan Ahmed's force declined to do in 1480. For their part, the Russians in Syria, like their ancestors on the Ugra, were on defense and had no need to risk offensive action.
Unfortunately, unlike the "the great standing on the Ugra River," which resolved the question of Russian independence and sovereignty in that era, nothing has been resolved now. The question remains: will the US peacefully relinquish its position as the sole arbiter of authority, legality, and morality in a unipolar world in favor of a multipolar order where Russia's and China's legitimate interests and spheres of influence are respected? Or will we continue to risk plunging mankind into a global conflict?
Syria remains a key arena where one path or the other will be taken to finally wrap up what US Army Major Danny Sjursen calls "Operation Flailing Empire." The irony is that peacefully "losing" our pointless and dangerous attempt to rule the world would only be to Americans' benefit. That's what Trump promised in 2016. He hasn't delivered and it's increasingly doubtful he can.
In the end, the threat of World War III hasn't vanished. It has just been postponed.
2 Likes
Foreign Affairs / Ex-pink Floyd Frontman Slams White Helmets As "fake Organization" Creating Pro.. by jnhmaxxwell: 11:32pm On Apr 19, 2018
Ex-pink Floyd Frontman Slams White Helmets As "fake Organization" Creating Propaganda For Militants
According to emails revealed by US journalist Max Blumenthal, the propaganda organization White Helmets have tried to lobby Pink Floyd co-founder Roger Waters with Saudi money.
The White Helmets have became widely known thanks to the conflcit in Syria where they are actively invovled in media operations aimed at promoting the regime-change in Syria.
In the email from October 2016, Saudi billionaire Hani Farsi invited Roger Waters to a fundraising dinner he had organized on behalf of The Syria Campaign, which is a public relations front established to promote the White Helmets in the Western audience. Waters was also encouraged to watch a documentary about the group in the email. Rogers has not respond to the email as Blumenthal said.
Furthermore, during his Barcelona concert, Waters denounced the White Helmets:
"The White Helmets is a fake organization that exists only to create propaganda for jihadists and terrorists. That's my belief. We have opposing beliefs," he said. "If we were to listen to the propaganda of the White Helmets and others, we would be encouraged to encourage our governments to start dropping bombs on people in Syria. This would be a mistake of monumental proportions for us as human beings."
"What we should do is go and persuade our governments not to go and drop bombs on people. And certainly not until we have done all the research that is necessary so that we would have a clear idea of what is really going on," Waters added. "Because we live in the world where propaganda seems to be more important than the reality of what is really going on."
https://www.youtube.com/watch?v=6FFReCibdMM
1 Like 1 Share
Foreign Affairs / Re: This Is Why Russia Will Suffer Enormous Defeat If Confronted By USA by jnhmaxxwell: 4:59pm On Apr 19, 2018
4 Likes 1 Share
Foreign Affairs / Re: This Is Why Russia Will Suffer Enormous Defeat If Confronted By USA by jnhmaxxwell: 4:02pm On Apr 19, 2018
proxillin:
Syria 'failed to intercept ANY missiles during US-led chemical weapons strike - and only managed to fire two of their self-defence rockets before the attack had finished'

Syria only managed to fire two air-defence missiles during last week's chemical weapons strike and both of them missed their targets, it has been claimed.

In total Syria fired 40 interceptor missiles in response to the attack but 38 of them launched after the strike was over, according to The Daily Beast.

The report flatly contradicts widely-disputed Russian claims that 70 per cent of incoming weapons were shot down.

The US, Britain and France fired a total of 105 cruise missiles at targets they said were linked to chemical weapons in Damascus and Homs.

The Pentagon previously said all of the missiles hit their targets.

Two US government sources spoke to The Beast on condition of anonymity.

Russian S-300 and S-400 missile defense systems did not respond to the attack, though it is not clear whether this was deliberate or because the incoming missiles were not detected.

Satellite images revealed the strikes destroyed the Barzah Research and Development centre in Damascus and two smaller sites in the Homs countryside.

The US-led coalition said Barzah was at the heart of the Syrian chemical weapons programme, while the other sites were being used to store weapons


America said it used the AGM-158B JASSM-ER, a stealth cruise missile designed to evade radar systems, for the first time in combat during the strike.

In total 19 JASSM's were fired alongside 66 other missiles by the US. France fired 12 SCALP missiles, while Britain used eight Storm Shadows.

Assad continues to deny using chemical weapons, telling visiting Russian politicians that Western air strikes against his country were accompanied by a campaign of 'lies' and misinformation at the UN.

Moscow's ambassador to the US, Anatoly Antonov, said: 'A pre-designed scenario is being implemented. Again, we are being threatened.

'We warned that such actions will not be left without consequences. All responsibility for them rests with Washington, London and Paris.'



http://www.dailymail.co.uk/news/article-5633947/Syria-managed-fire-two-missiles-led-chemical-weapons-strike.html
Another lunatic disinformation. This is why I always warn Nigerians from following western media bullshit. Out of the 107 strikes, only 15-16 strikes went through if we are to analyze the images shown by the same western media (
https://www.nairaland.com/4456968/proofs-missile-interceptors-fired-blindly#66850166
). Where did the rest go ?
This Propaganda is just too funny. They don't even know how to do propaganda again !
6 Likes 2 Shares
Foreign Affairs / Re: Proofs that Missile Interceptors Fired Blindly, Failing To Stop US Missiles by jnhmaxxwell: 3:03pm On Apr 19, 2018
Patriot9:

I have no time to argue. You should have embarked on thorough research before coming online with one-sided image and lame view. Please dnt tell me it is photoshop, well call it whatever you like but the truth remains. Below is the Satellite image of BEFORE and AFTER the missiles strike on one of the Research Centers.
There is no point arguing with you since you shared the aftermath of the missile strike. According to the lies. 76 Cruise missile that targeted the area and the remnants is the picture you sent ?
That is a big lie, the biggest lie ever. See the photo you shared bellow, I have attached it. 73 missiles would have caused a large crater and you will see it in the satellite images. Even 10 missiles would still show a very large crater on the ground per 1000Lb.
So there is no way 73 missiles was sent there. Again that is a lie.
This now lead us back to what Russia is saying, that other targets were being targeted and the missiles were shot down. Yes, shot down. This is true in any case. That is the point.
We are just saying use logic this time to understand the truth.
Syria: Center for 'Scientific Research' in Barzeh After Airstrikes
https://www.youtube.com/watch?v=GcA0cIx8WPs
Look again at the area that the buildings occupied. 76 cruise missiles, each with a 1,000lb warhead, are said to have hit those 3 buildings, only partly demolishing them. That's 35 tons of high-grade military explosives. For comparison, see the video again above of just 9 1,000lb bombs hitting a building that covers roughly the same surface area as the HIAST buildings:
The two other areas allegedly targeted by US cruise missiles were to the west of Homs. A "centre for sarin gas production" and a "command post" or a "bunker" (or something like that. It might have been a cow shed).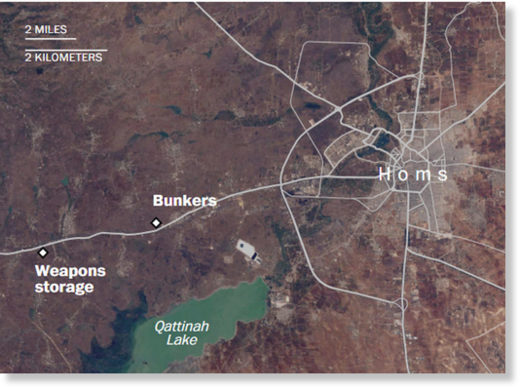 Now it's time for some 'before and after', not very close up, grainy satellite photos, courtesy of the media (courtesy of the US government) of the two areas shown above. Here's the "center of sarin gas production" site: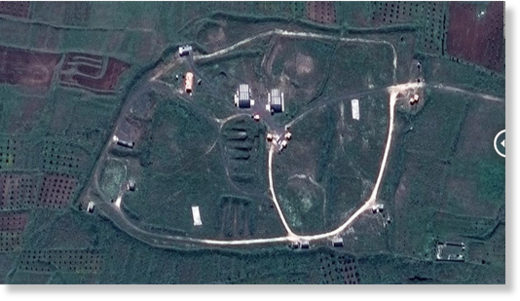 "Sarin gas production site" target. West of Homs. Before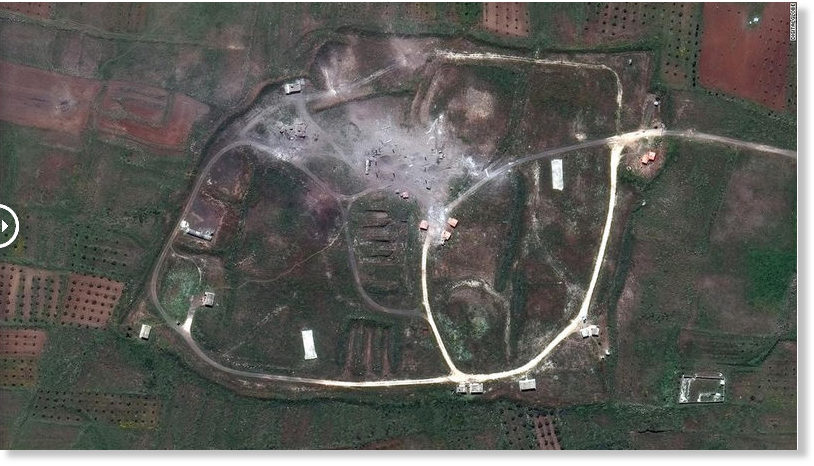 And after
Now that's some nice shooting there. I count maybe 4 or 5 impacts (small craters) on the ground there, and those 3 little buildings gone.
Let's move on to the last of the 3 targeted sites. The "command post bunker" thingy, just a few miles up the road from the above image: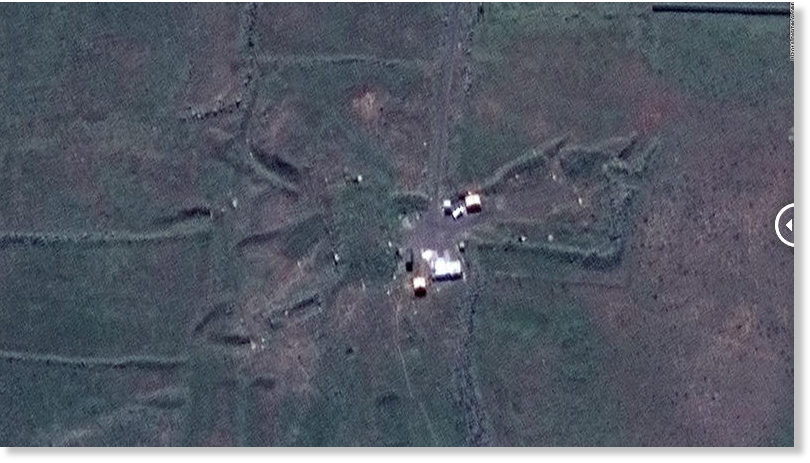 "Command post bunker". West of Homs. Before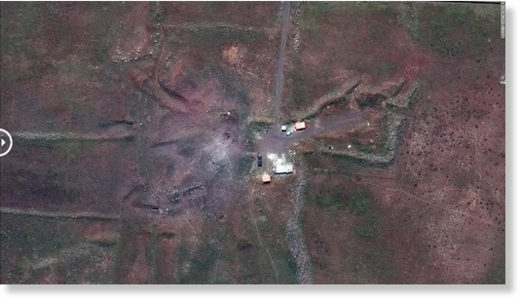 After
Not so good on this one. Looks like a single impact to the left of the target. The "chemical weapons command post bunker" thingy is, sadly, intact.
So what's our tally? Let's be generous and give 9 x 1000lb cruise missiles to the HIAST campus buildings. Let's give 5 more to the "sarin gas production site" west of Homs, and 1 more to that little shed thingy above. That's 15 successful impacts in total, by the US government's own statements and imagery on the 3 targeted sites.
But in the interest of impartiality and objectivity, I'll include the reports that the Mezzeh military airbase just south of Damascus was also hit by cruise missiles, as reported by the Syrian government. There is also a video clip published by Ruptly.
Many Nigerians wont be able to watch the video because of Data, those outside Nigeria would be able to watch the video and understand what this means.
Here is the update from number of missiles shot down.
Duwali airbase - 4 missiles fired, 4 shot down
Dumayr airbase - 12 missiles fired, 12 shot down
Baley airbase - 18 missiles fired, 18 shot down
Shayrat airbase - 12 missiles fired, 12 shot down
Marj Ruhayyil airbase - 18 missiles fired, 18 shot down
Damascus international airport - 4 missiles fired, 4 shot down
1 Like 1 Share
Foreign Affairs / Re: Proofs that Missile Interceptors Fired Blindly, Failing To Stop US Missiles by jnhmaxxwell: 9:14am On Apr 19, 2018
OAUTemitayo:
The way you people lie is amazing.
You used 103 missiles to destroy 3 buildings?

It is pretty obvious most of the missiles were shot down.
Simple logic is required here and you are right. You have too much of brainwashed people that only follow same western fake news.
1 tomahawk missile is between (500kg-1500kg). Just 10 is too much to destroy each targets in the photo being shared by the invader. 10 per target would be too much and one would see a large crater (a dip hole formed) on the ground. This honestly was not seen if we assume it was 10 per target which is 30 in total needed.
This is simple logic, very simple primary one calculation.
So what happened to the remaining missiles ?
If you fire an interceptor and it does not hit target, the interceptor will fly back to the ground on the earth and explode. Interceptor does not explode in the air. What is happening in the air is the missile exploding on contact.
See example of just 9 missiles hit here in the video to see for yourself what it means to send about (500kg-1000kg) note that 1000lb = 453kg missile to a place.
https://www.youtube.com/watch?v=ilo2wxk_KMA
Start @1:10
The Barzeh 'scientific research center' isn't really a 'scientific research center'. First and foremost, it is a University called the 'Higher Institute for Applied Science and Technology' (HIAST):
"HIAST was established in 1983. Its aim is to qualify personnel in order to conduct scientific and technological research in all applied sciences and technology fields, so they can participate in the scientific and economic process in Syria. HIAST provides opportunities to make progress in applied research fields by joining courses to be awarded the degree of engineering Diploma, Master and Doctorate."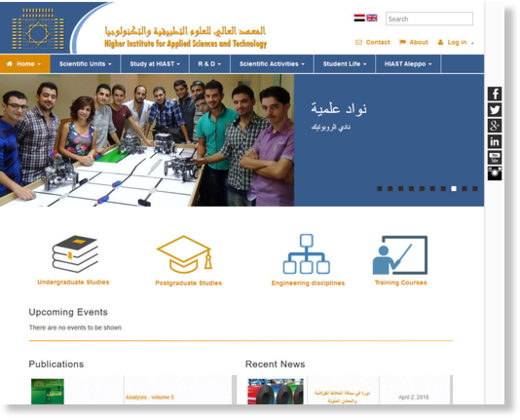 As part of their 'reporting' on the US government claim that this university housed a "chemical weapons facility", the media reproduced satellite images showing the target area before and after the missile strike. These images were provided to the media by the US government.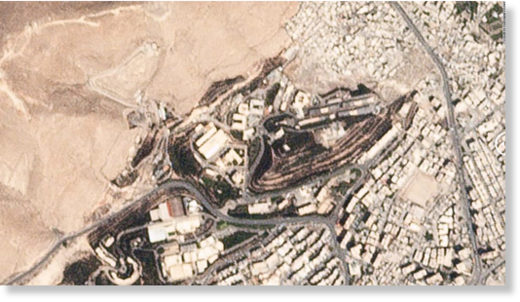 HIAST campus before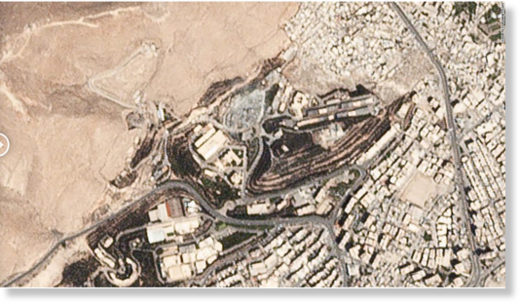 HIAST Campus after
Maybe grainy satellite images are preferred by the media because it affords a measure of mystique and distance between the reader and the reality of what they are looking at, but I can't understand why Western media hacks didn't just go to Google Maps and check the HIAST campus out themselves.
Below is an image of the general area of the HIAST campus from Google Maps, where you can see that it's located on the outer edge of the Barzeh district of Damascus. The "chemical weapons lab", part of the campus that was targeted by US missiles, is circled in red.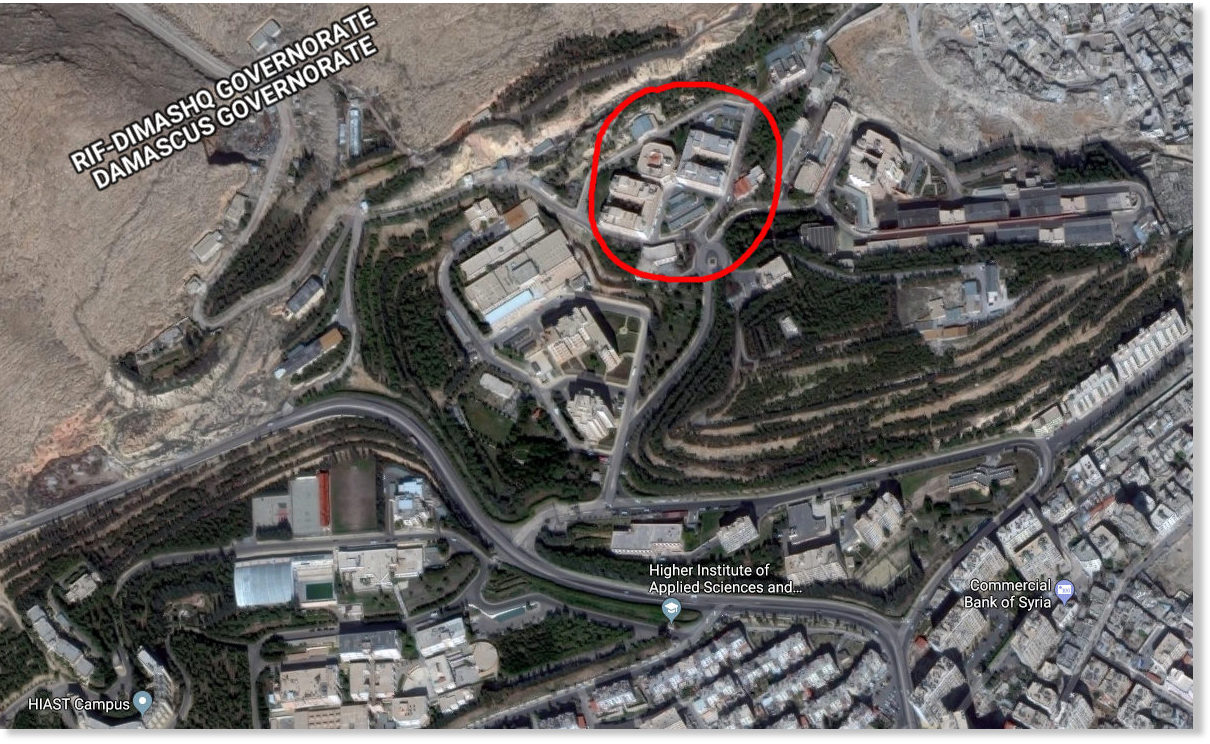 Look again at the area that the buildings occupied. 76 cruise missiles, each with a 1,000lb warhead, are said to have hit those 3 buildings, only partly demolishing them. That's 35 tons of high-grade military explosives. For comparison, see the video above of just 9 1,000lb(453kg) bombs hitting a building that covers roughly the same surface area as the HIAST buildings:
1 Like 2 Shares
Foreign Affairs / Re: Syria, Damascus, 1 Hr 9 Mins Video Taking During USA Striking Syria, April 13th by jnhmaxxwell: 7:49pm On Apr 16, 2018
Obainoneandonly:
I went through your profile and found DST all d thread you ave opened are all centered on dis Syrian issue.and I also found out that all the articles are culled from a site named THE SAKER.the author is Mathieu Dutour Sikiric,from russia.u are here saying dat CNN,BBC and aljazera are all fake news.what do you call Dis.articles from a Russian source on Russian issues.u are d one spreading fake news and useless propaganda
The Saker is not a Russian source. He lives in U.S.A, has worked for the U.S military industrial complex and is a military analyst more like an alternative point of view or media if you like. There are others too like that though, in fact many alternative medias. Like the Iranian media Press TV, Syrian SANA(Syrian Arab News Agency) media, Chinese CCTV then Russian RT. These are alternative medias or point of view and always showing more facts.
Compare that to the Co-operate media that has for years Brainwashed Nigerians and other western people. The difference is just huge.
Note that you will not see any of these alternative medias above in Normal cable in Nigeria. This is telling you the leadership(Media) in Nigeria is highly controlled and to fit in the western narrative each time. Obviously, you get to see the same thing on NL. Most of the articles that made it to front page are always copied from the Western narrative media.
Check Nigerian Punch. Virtually all of the copy and paste are from western media AFP (French brainwashing tool)
Foreign Affairs / Re: Syria, Damascus, 1 Hr 9 Mins Video Taking During USA Striking Syria, April 13th by jnhmaxxwell: 3:08pm On Apr 16, 2018
Obainoneandonly:
I don't ave much mb,if not,I would ave watched it and draw my own conclusion. but u calling dem fake news isn't right.I mean apart from dem,where else can one get reliable news
Now that is the main issue I had when I went to Nigeria. I had go to the net to get alternative media and source for Information. All the medias in Nigeria are so tied to the western one or its proxies. It's even hard to watch Chinese English version on Normal cable Channel. Internet that should be free(Per monthly subscription), they are charging per MB in 21st century in Nigeria, this is totally wrong. I watch other channels on Flat screen paying just a token per month for Internet outside Nigeria.
Foreign Affairs / Re: Syria, Damascus, 1 Hr 9 Mins Video Taking During USA Striking Syria, April 13th by jnhmaxxwell: 1:45pm On Apr 16, 2018
Obainoneandonly:
general McKenzie of homeland showed satellite footage of before and after Images after d strikes.and he said they(Syrians)deployed their Interceptors ,but none was successful. now you are claiming that all their missiles were shot down,and you expect me to believe you.the Americans proceed beyond reasonable doubt dat their missiles struck their intended targets
4
No one is saying none were Successful. What everyone is saying is 71 out of 103 were shut down. Compare that to all were successful.
See the video again above in the area of Damascus above.
Which one do you believe - All Successful ? (I think this one is out of it)
Or 71 out of 103 were shutdown (32 went through). Even 32 going through is too much for the target shown on the satellite.
See the video yourself above.
Obainoneandonly:
ave been following the development closely, on CNN,BBC and aljazera ,and all commentators concur with d american version of event
You have been watching fake news. See the reality in the video I have shown above. Just watch the video to understand CNN, BBC and Aljazera(British-Qartari Puppet or proxy media) are fake news. The video above is not from any news but from Syrians living in Damascus.
Foreign Affairs / Syria, Damascus, 1 Hr 9 Mins Video Taking During USA Striking Syria, April 13th by jnhmaxxwell: 11:41am On Apr 16, 2018
This is for those doubting the power of Syrian air defense systems shooting down modern day U.S, France and U.K's Cruise missiles in the Area of Syrian, Damascus.
Syria, Damascus, 1 Hour 9 Minute Video taking During USA Striking Syria, April 13th, 2018
https://www.youtube.com/watch?v=MRfg-zVDliA
All Missile Interception
14:44
32:24
35:08
37:38
42:09
48:24
52:02 Launch - 52:33 Interception
1:01:55
Please note that this is only in the area of Damascus, according to the report from Russia, other Airbase were targeted but shut down.
According to Russian MOD
Four missiles were launched at the area of the Damascus International Airport. All these missiles were intercepted.
12 missiles were launched at the Al-Dumayr Military Airport. All these missiles were intercepted.
(Al-Dumayr Military Airport is a Syrian Arab Air Force installation located 40 kilometers north-east of Damascus, Syria)
18 missiles were launched at the Bley Military Airport. All these missiles were intercepted.
12 missiles were launched at the Shayarat Military Airport. All these missiles were intercepted.
9 missiles were launched at the Mezzeh Military Airport. Five of them were intercepted.
(Mezzeh Military Airport (also spelled Mazzeh) is a Syrian Air Force military air base located in Mezzeh, Damascus, Syria, south-west)
16 missiles were launched at the Homs Military Airport. 13 of them were intercepted.
30 missiles were launched at targets in the areas of Barzah and Jaramani. Seven missiles were launched.
***** Mille, Zoharariel
See for you own eyes: Obainoneandonly, adeniyi3971, sublimes, JUHABACH, unknownsolja, ruggedtimi, Abbeybailey, illitrate
Foreign Affairs / Alas, This Is Far From Over! by jnhmaxxwell: 10:14pm On Apr 15, 2018
Let's begin by a short summary of events.
About a month ago Nikki Haley announces to the UNSC that the USA is ready to violate the rules of this very self-same UNSC should a chemical attack happen in Syria
Then the Russians announced that they have evidence that a chemical false flag is being prepared in Syria
Then a chemical attack (supposedly) takes place (in a location surrounded and, basically, controlled by government forces!)
The OPWC sends investigators (in spite of western powers loudly proclaiming that no investigation was needed)
The AngloZionists then bomb Syria
Next, the UNSC refuses to condemn the violation of its own rules and decisions
Finally, the US Americans speak of a 'perfect strike'
Now tell me – do you get a sense that this is over?
If you tell me that 32/103 is hardly perfect, I will reply that you are missing the point. In fact, if anything, 32/103 is further incentive to bomb again!
Let's look at the differently for a second and ask this: what has the AngloZionist attack actually demonstrated?
The western general public is so terminally zombified that false flag attacks can now be announced 4 weeks in advance
The Europeans now live by the motto "my honor is called solidarity" (a variation of the SS motto "my honor is loyalty")
Lead by the USA, western countries have no objections to wars started in violation of their own national laws
The UN Security Council has no objections to wars started in violation of the UN Charter and International Law
The PRC leaders, in their infinite wisdom, act as if they have nothing personal at stake and act like bystanders
The Israelis, via the UN Neocons, are now in total control of the Empire and use it to "clean house" next door
Oh, I hear the objections. They go something like this:
– But the attack was a dismal failure!
– So what? the Empire did not pay any price for executing it.
– But the US Americans did blink! The attacked from Jordanian airspace and from the Red Sea! They avoided the Russians completely! They are afraid of them!
– So what? They still bombed a Russian ally with total impunity.
– But, surely you are not suggesting that the Russians should have started a war against the USA over a strike which did not even kill a single person?
– No, of course not, but by not taking any action the Russians also failed to deter any future attacks.
– But what could the Russians have done?
Now *that* is the right question!
Let's look at it a little closer. Roughly speaking, the Russians have a choice of 3 types of retaliatory measures: political, economic and military. However, each one of them has a specific set of prerequisites which are currently problematic to say the least:
[img]
http://1.bp..com/-Tsy9tWEKdlw/WtPBKPbgi4I/AAAAAAABT9E/NpYcrF3nWPYa8pZ9FBPMIfC0CuTXNOZrgCLcBGAs/s1600/poli.png
[/img]
This really can be summarized a simple sentence: the AngloZionist Hegemony is a threat for the entire planet, but nobody besides Russia and Iran is willing to take it on. Ain't that an irony!
The so-called "Christian West" has become a willing parasite for its Zionist host and the only ones with the courage and moral integrity to take it on are Orthodox Christians and Muslims! Sic transit gloria mundi indeed…
But what is even more important is this: while it is true that the US Neocons did not succeed in delivering the kind of massive attack they would have wanted to, and while it is true that the US attack was just about as lame as can be, you need to completely forget about these facts. Facts simply don't matter. And neither does logic. All that matters are perceptions!
And the perception is that "we" (the AngloZionist rulers and their serfs) "kicked" Assad's "ass" and that "we" will "do it again" if "we" feel like it. That is all that matters in the Empire of Illusions which the AngloZionist Hegemony has become.
As soon as you understand that, you also will have to agree that Trump was right: it was a "perfect strike" (again, not in reality, but in the world of illusions created around it).
So now we come full circle.
The AngloZionist Hegemony demands that the entire planet bows down and worships it. Except for Russia and Iran, everybody meekly goes down on their knees or, at most, meekly looks away. In their own delusional reality, the 'Mericans feel empowered to smack down Russia or Iran at anytime. There is nothing Iran can do to stop them, and while Russia can, she can only do that at the risk of the future of our entire planet.
Now you tell me – do you really think this is over?
The Saker
Foreign Affairs / Re: Russian Military Provides List Of Targets, Details Of 'repelled' Us-led Strike by jnhmaxxwell: 10:59am On Apr 15, 2018
unknownsolja:
here you go
SATELLITE IMAGERY SHOWS AFTERMAH OF "76 MISSILES" STRIKE ON SYRIA'S BARZEH SCIENTIFIC RESEARCH COMPLEX
Check it out, you need 76 missiles to strike and destroy SYRIA'S BARZEH SCIENTIFIC RESEARCH COMPLEX ?
Please that alone has destroyed the western Narrative! How can you send 76 missiles to destroy what you see in that photo you shared ?
What Russia has detailed above were the real targets those missiles aimed at and they managed to shoot down 71 of those missiles. If SYRIA'S BARZEH SCIENTIFIC RESEARCH COMPLEX was well defended like the bases then the Syrian S-200 would have repelled the SYRIA'S BARZEH SCIENTIFIC RESEARCH COMPLEX attack as well.
ImageSat International released satellite photos showing an aftermath of the April 14 US-led strike on the so-called "Barzah Research and Development Center" in Syria.
According to the Pentagon, the US and its allies launched 76 missiles at this center and all the missiles hit the target.
imagesatintl
@imagesatint
Three main buildings were #destroyed as a result of the #strike at #Barzah #SSRC Research and Development Center #Damascus #Syria #Syriastrikes @FoxNews
22:55 - 14 Apr 2018
According to the photos, all three buildings of the facility were destroyed. According to Syrian sources, this facility has been mostly abandoned before the US-led strike.
Some experts question the need of 76 missiles to destroy three "abandoned" buildings.
The US said that this facility had been an active place where the the Syrian government was recently producing chemical weapons. The Syrian government and Russia reject this claim by saying that chemical stockpiles controlled by the government have been destroyed and the production of chemical weapons has not been resumed.
On April 14, the US, the UK and France launched 105 cruise and air-launched missiles on targets in Syria [According to initial estimates 103 missile]. Currently, there are two conflicting versions of the events:
3 Likes 3 Shares
Foreign Affairs / Re: Russian Military Provides List Of Targets, Details Of 'repelled' Us-led Strike by jnhmaxxwell: 4:42pm On Apr 14, 2018
JUHABACH:


if it's a sham, then show me the facilities targeted still intact. it's that simple. satellite maps and even Syrian state media shows the facilities were destroyed.
let russia sell s300 or even s400 to the Syrians so that we can finally know how far.
and lol, they couldnt even get their story straight. first they were saying 13. all of a sudden it's 71. lol.

It was 13 counts and then 21 until this morning that everything was counted. The attack lasted 50minutes. You expect them to have counted it even before the attacks ended ?
The new US concept of a "perfect" mission: 32 out of 103
Yup, he said "mission accomplished", "perfectly executed" and that he was "so proud" of his "great military".
That considering that 71 out of 103 missiles were intercepted.
That there were no Syrian (or Iranian or Russian) fatalities.
That not a single airfield was hit.
That the buildings destroyed were empty.
That only Syrian air defense were used.
That Russian air defenses were completely bypassed.
This guy:
Called the strikes "Precise, overwhelming and effective" (does he also look like an alcoholic to you?)
Finally, and this is weird, there is no evidence of the French doing anything at all (go figure?). Oh, speaking of the French, it appears that they warned the Russians about what would happen. So, technically speaking, the US generals are being truthful when they say that they did not warn the Russian but just "deconflict". The French did all the warning for them.
As for that pathetic scorecard, the Pentagon "spokesperson" said that they had noticed a 2000% increase of "Russian troll" activity over the past 24 hours.
No kidding!
I would think that completely destroying a non-existing Syria chemical warfare capability could even be called a "infinite success".
Let's wait for further details (a lot of pro-Syrian outlets did exaggerate the number of missiles shot down) but it appears that the AngloZionist went for the "least bad" option in terms of risk for our planet: a symbolic and completely useless "pretend strike". And for that I am personally grateful. Let's hope that, at least for a while, they need to establish their "indispensableness" will be satisfied.
I also think that the Russians need to dramatically increase both the speed and the magnitude of the delivery of their air defense systems to the Syrians. One Russian general remarked this morning that they were considering delivering S-300s to the Syrian. I guess that is better a case of better late than never. But the one system most needed are Pantsirs. The Russians need to built then on an emergency 24/7 schedule and deliver as many and as fast as possible as they are much better suited for the kind of tasks (cruise missile point defense) than the much larger S-300s.
One more thing: all this pathetic Disney-like show is a shame and a disgrace. The USA as truly sunk to the level of the kind of degeneracy shown by Brezhnev in his last years or by Eltsin. Frankly, I think that Trump is even more of a buffoon than these two. What a disgrace!
[Sidebar: as for those bitching about Trump being as bad as Hillary, this is both true and false. Inherently yes, of course, he is. And he is far dumber than her. But getting him in the White House bought Russia (and Syria) about 1 year of time to prepare for what happened yesterday. So, no matter how sub-pathetic Trump is, keeping the Neocons away from power for a year or so bought some very precious time for the rest of the planet. That is a good thing even if Trump himself is a maniacal coward, a narcissistic piece of shit and dangerous buffoon of the worst kind]
Also, I want to comment on one more thing. Even the two arch-villains of our official historiography, that would be Hitler and Stalin, compare favorably to Trump in terms of a) actually using diplomacy and b) trying to build alliances. Yes, I know, both Hitler and Stalin did use force (and even false flags!), but force was ONE of the the tools in their international relations toolkit. At least both Hitler were capable of negotiations and the building of alliances. The clowns in the White House can't even do that.
Yes, sorry if that offends anybody, but US Presidents have now sunk even lower than Hitler, Stalin, Brezhnev or Eltsin.
So ask yourself: what awaits them and their regime in the future?
The Saker
6 Likes 4 Shares
Foreign Affairs / Re: Russian Military Provides List Of Targets, Details Of 'repelled' Us-led Strike by jnhmaxxwell: 4:10pm On Apr 14, 2018
JUHABACH:


>sends me a video on repeat showing a few missles intercepted
>somehow thinks that equates to 71 missles.

you don't believe anything except it's live right?

why don't you give use live pics of those facilities to prove they are still intact.
https://www.telegraph.co.uk/news/2018/04/14/footage-shows-destroyed-chemical-weapon-research-facility-syrian/

https://syria.liveuamap.com/en/2018/14-april-more-photos-showing-extent-of-damage-following-strikes


the u s. used bombers to deploy the missles btw (the B1 lancer). not fighter jets. and definitely not their high end stealth jets.
You actually expect all the intercepted ones to be on video right ? These videos were uploaded by civilians and you have a lot of them on the net.
You can do the math, it's very simple. 103 -71 = 32 probably were not intercepted by Syrian S-200. Some for sure hit target, no one is disputing that but to say all of the missiles hit target is a pure lie.
Someone said it above and I agree with what he or she says. If all their military industrial complex combined with France and U.K. could be made inefficient by Syrian missile defense system, shooting down 71 illegal Missiles by any international norms then they really need re-consider what they call military industrial complex. It's a Sham ! That is what I am getting at.
Syrian defense forces have repelled the attacks. This is similar to the surprise attack in Iraq that saturated the Iraqi air defense. Syria has repelled these attacks. I think Russian MOD is now considering selling S-300 to Syrians.
4 Likes
Foreign Affairs / Re: Russian Military Provides List Of Targets, Details Of 'repelled' Us-led Strike by jnhmaxxwell: 3:22pm On Apr 14, 2018
JUHABACH:


both Syria and Russia knew the target of the strikes and thus evacuated all personnel beforehand. the sites were within areas strongly held by the Syrian government. why the hell would they send soldiers to guard sites that are about to be blown up and within Territory firmly in their control. use common sense please.

according to the u.s. sec of defense, none of the missle fired by the u.s. were intercepted and all hit their targets. can't speak for Britain and France though.
the goal of the operation was to diminish assad's chemical weapon program and avoid any civilian casualties. based on reports, the targeted sites were destroyed or severely damaged and there were no fatalities. I would call that a rousing success.
the u.s. used JASSMs which are smart, stealth missles with range over 300 to 1000 kilometers. none of their planes even needed to get near Syrian airspace.
https://en.m.wikipedia.org/wiki/AGM-158_JASSM

it's called precision, mate.
Please check out the video I have shared above. In the first video I shared above. I don't believe in anything anyone says except it's live. This new video bellow was even taken close to the day break. The strike was a complete sham.
https://www.youtube.com/watch?v=PvDEV-4z01I
If 71 missiles could be shut down, fighter jet has zero chance.
3 Likes 3 Shares
Foreign Affairs / Re: Russian Military Provides List Of Targets, Details Of 'repelled' Us-led Strike by jnhmaxxwell: 2:53pm On Apr 14, 2018
Obainoneandonly:
they took precautions to avoid civilian casualties, and generally McKenzie showed a satalite feed showing d damages don.and he said all d missiles they fire hit their intended target
Did general show any video of the missile strike ?
See the video of one of the missiles shut down by Syrian S-200. I think about Four intercepts in just this one clip.
https://www.youtube.com/watch?v=PvDEV-4z01I
See it above yourself without one thing one general said. First was at mark 0.07
5 Likes 2 Shares
Foreign Affairs / Re: Russian Military Provides List Of Targets, Details Of 'repelled' Us-led Strike by jnhmaxxwell: 2:32pm On Apr 14, 2018
Obainoneandonly:
it wasn't repelled. all d missiles struck their target.tune in to cnn right now.don't believe Russians fake news
CNN of all news ? CNN is fake news and even Trump confirmed that so many times. The general said some of the 'Ballistic trajectory' were intercepted and also confirmed that no Russian S-300 or S-400 were fired. Meaning only Syrian S-200 intercepted their missiles in 'ballistic trajectory'
Russian has listed there own side. I believe the Russians more here.
Watch one of the missiles intercepted bellow. This is not a lie.
https://www.youtube.com/watch?v=PvDEV-4z01I
6 Likes 3 Shares
Foreign Affairs / Russian Military Provides List Of Targets, Details Of 'repelled' Us-led Strike by jnhmaxxwell: 2:17pm On Apr 14, 2018
Russian Military Provides List Of Targets, Details Of 'repelled'Us-led Strike On Syria. Trump claims It Was 'perfect
The Russian Defense Ministry says that the Syrian Air Defense Forces shot down 71 of 103 missiles launched by the US, the UK and France last night.
In line with the Russian Defense Ministry, the US and its allies fired cruise missiles, including seaborne Tomahawks and GBU-38 guided bombs from B-1B planes while F-15 and F-16 fighter jets launched air-to-surface missiles. The UK Air Force's Tornado aircraft fired eight Scalp EG air-launched cruise missiles.
The US-led strike was aimed at the following targets:
Four missiles were launched at the area of the Damascus International Airport. All these missiles were intercepted.
12 missiles were launched at the Al-Dumayr Military Airport. All these missiles were intercepted.
18 missiles were launched at the Bley Military Airport. All these missiles were intercepted.
12 missiles were launched at the Shayarat Military Airport. All these missiles were intercepted.
9 missiles were launched at the Mezzeh Military Airport. Five of them were intercepted.
16 missiles were launched at the Homs Military Airport. 13 of them were intercepted.
30 missiles were launched at targets in the areas of Barzah and Jaramani. Seven missiles were launched.
According to the Russian Defense Ministry, the facilities in the areas of Barzah and Jaramani were partly destroyed. The military added that these facilities had been for a long time abandoned and had not been invovled in the production of chemical weapons in contrary to the claims of the US-led coalition.
Meanwhile, US President Donald Trump continued his "smart missiles" story and described the last night strike as "perfectly executed".
A video from the Mezzeh military airbase:
https://www.youtube.com/watch?v=Srkva9gSxzI
1 Share
Religion / Re: Ifa Naa Ki Bayi Wipe: Òkàn Sá by jnhmaxxwell: 5:20am On Apr 11, 2018
Wow! Ase
1 Like 1 Share