Travel / Re: The Kainji Dam In Pictures by Rossikk(

m

): 8:39pm On Jul 27
SenecaTheYonger:
Ok. seethe harder, _faggot
Rather a fagg.ot than a maggot.
Travel / Re: The Kainji Dam In Pictures by Rossikk(

m

): 8:32pm On Jul 27
SenecaTheYonger:


Lol, what a loser. Get a life man. Imagine getting played like a football online
It's YOU getting 'played' by someone who knows more than you do. You can fake laughter as much as you want, but if you come in here making racist statements against blacks and Africans, I will bury you with facts and figures disproving your garbage.
THIS book may help cure your self hate, if you can afford it: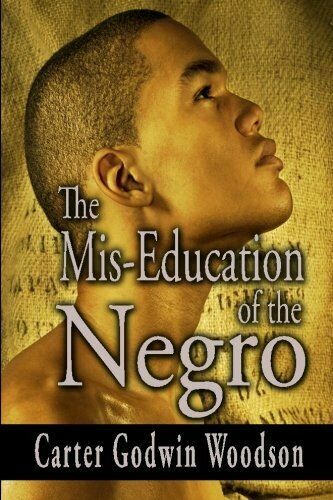 Travel / Re: The Kainji Dam In Pictures by Rossikk(

m

): 8:18pm On Jul 27
SenecaTheYonger:


Lol loLAnd this took you 48 hrs to type.
Do you think I'm a jobless failure like you with nothing to do but come on NL to spew his inferiority complex and self-hatred?
Lol, imagine the damage I did to your small brain that made you type an epistle. Lol, sry, but didn't read any of that. Hope you recover though.
Don't bother reading it as you couldn't possibly understand a single word or argument, being an unread donkey. This was for OTHERS who read your insolent response and need to be educated.
Travel / Re: The Kainji Dam In Pictures by Rossikk(

m

): 7:44pm On Jul 27
SenecaTheYonger:


Like a black man like you would have done any better if you had the power adn resources to colonize a continent.
Actually, you self-hating, ignorant donkey drowning in inferiority complex, black Africans DID 'colonize' the entire world in history, and DID bring civilization to many lands, rather than looting, enslaving and exploiting those lands.
Most recently was the civilizing influence of the Moors, black Africans from West Africa who brought leadership, learning and education to Europe during its 'Dark Ages', a 500 year intervention that led to the European Renaissance, which led to the Industrial revolution.
I know you have no clue of this history, but the Europeans do, as shown by the numerous statues in honour of the black Moors existing till date, and numerous family crests of modern aristocratic European families honouring their black Moorish forbears.
Moorish Crests in Europe:
https://www.google.co.uk/search?q=moorish+crests+black&sxsrf=ALeKk03uGaIjLA0LRGKOmT6CulL1ipHeUg:1595875631492&source=lnms&tbm=isch&sa=X&ved=2ahUKEwimqPuAjO7qAhUcRhUIHV0xCLoQ_AUoAXoECA0QAw&biw=1862&bih=975
Moorish Statues in Europe honouring their black civilizers:
https://www.google.co.uk/search?q=moorish+statues&hl=en&sxsrf=ALeKk03X4syMt0KZWAWFuchcaeKWWhd6XQ:1595876000295&source=lnms&tbm=isch&sa=X&ved=2ahUKEwjaoemwje7qAhWpRBUIHZuFCkQQ_AUoAnoECA0QBA&biw=1862&bih=975
Citation:
''The Moors invaded Spain in 711 AD and African Muslims literally civilized the wild, white tribes. Recent scholarship now sheds new light on how Moorish advances in mathematics, astronomy, art, and philosophy helped propel Europe out of the Dark Ages and into the Renaissance.

Contrary to conventional wisdom, it was ancient Africans that brought civilization to Spain and large parts of Europe and not the other way around.

The first civilization of Europe was established on the Greek island of Crete in 1700 BC and the Greeks were primarily civilized by the Black Africans of the Nile Valley. The Greeks then passed on this acquired culture to the Romans who ultimately lost it; thus, initiating the Dark Ages that lasted for five centuries. Civilization was once again reintroduced to Europe when another group of Black Africans, The Moors, brought the Dark Ages to an end.

When history is taught in the West, the period called the "Middle Ages" is generally referred to as the "Dark Ages," and depicted as the period during which civilization in general, including the arts and sciences, laid somewhat idle. This was certainly true for Europeans, but not for Africans.

Renowned historian, Cheikh Anta Diop, explains how during the Middle Ages, the great empires of the world were Black empires, and the educational and cultural centers of the world were predominately African. Moreover, during that period, it was the Europeans who were the lawless barbarians.

After the collapse of the Roman Empire multitudes of white warring tribes from the Caucasus were pushed into Western Europe by the invading Huns. The Moors invaded Spanish shores in 711 AD and African Muslims literally civilized the wild, white tribes from the Caucus. The Moors eventually ruled over Spain, Portugal, North Africa and southern France for over seven hundred years.

Although generations of Spanish rulers have tried to expunge this era from the historical record, recent archaeology and scholarship now sheds new light on how Moorish advances in mathematics, astronomy, art, and philosophy helped propel Europe out of the Dark Ages and into the Renaissance.

One the most famous British historians, Basil Davidson, noted that during the eighth century there was no land "more admired by its neighbours, or more comfortable to live in, than a rich African civilization which took shape in Spain".

The Moors were unquestionably Black and the 16th century English playwright William Shakespeare used the word Moor as a synonym for African.''
https://www.pambazuka.org/pan-africanism/history-how-african-muslims-%E2%80%9Ccivilized-spain%E2%80%9D#:~:text=Garikai%20Chengu&text=The%20Moors%20invaded%20Spain%20in
,civilized%20the%20wild%2C%20white%20tribes.&text=Civilization%20was%20once%20again%20reintroduced,Dark%20Ages%20to%20an%20end.
You can't even develop your own country ruled by your own people, but expect other who conquered you to do it. Victim mentality.
Oh, Nigeria IS developing, far faster than it was under colonial inertia. No road led to your village before 1960. Just footpaths. Today you can drive there. No power plants existed before 1960. Your grandparents used ONLY palm oil lamps. No major hospitals or roads were in existence, and not a single university. Today we have 200 universities courtesy of black rule.
Without Nigerian independence you would be an illiterate village peasant just like your grandparents were under colonialism. At independence, illiteracy was 95% after 63 years of white rule. Meaning there was near-zero investment in education by the colonial thieves. Today that figure is down to 24% thanks to black rule, and investment in mass education.
If you had a working brain in your tiny dumb, self-hating, colonised head, you would thank God everyday for the independence and BLACK RULE that allowed you to become educated and even know what it means to ''develop'', you ignorant little donkey.
Politics / World's Largest Oil Refinery Nears Completion In Lagos by Rossikk(

m

): 10:42pm On Jul 26
Dangote Refinery, Lagos
The refinery is situated on a 6,180 acres (2,500 hectares) site at the Lekki Free Zone, Lekki, Lagos State.
With a single crude oil distillation unit, the refinery will be the largest single-train refinery in the world on completion.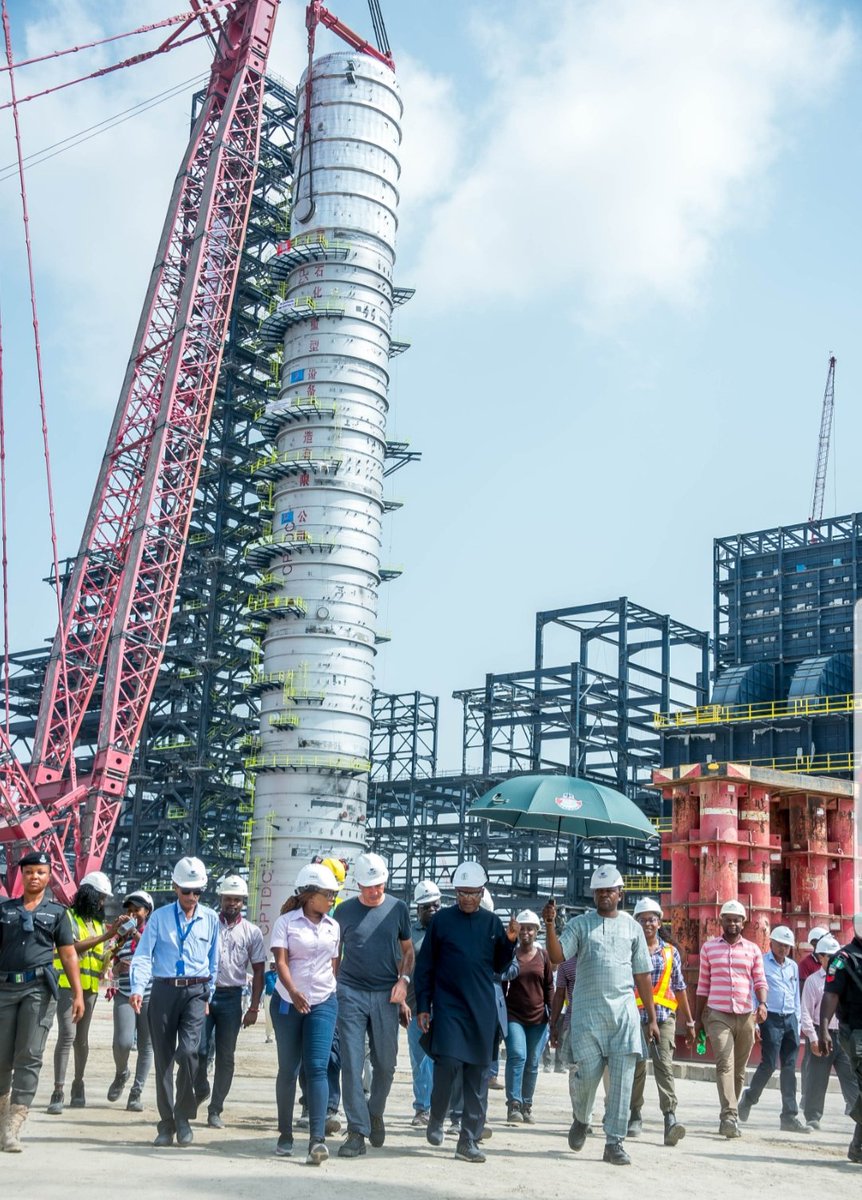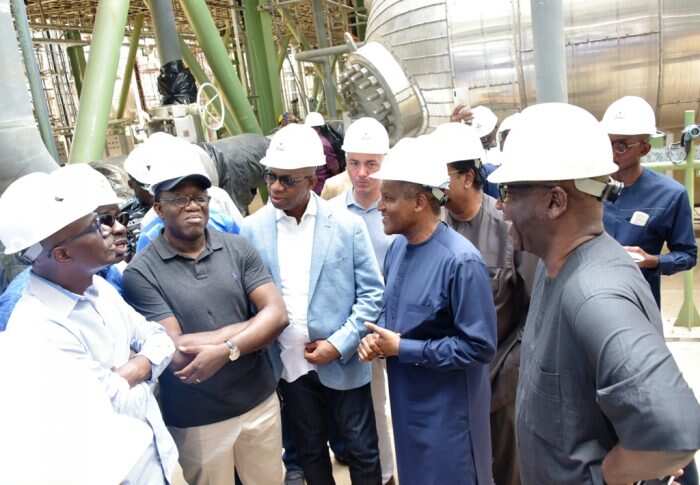 .
.
.
Dangote - Building the world's largest oil refinery
13 Likes 2 Shares
Travel / Re: The Kainji Dam In Pictures by Rossikk(

m

): 10:25pm On Jul 26
Awoleesu:
Yakubu Gowon, like any of us has his terrible side...many of which may haunt him till his death. But, I can authoritatively state that about 80-85% of the meaningful money spinning public corporations and infrastructures that today's leaders are milking freely were launched and commissioned by Gowon!
Talk of NNPC, NITEL, Nigeria Airways, Major Medical centres and Teaching Hospitals, Major tertiary institutions and institutes ( with the exception of UI, Yabatech and Kadoly...) etc

The point is, one is left wondering why only one (or two) out of over 15 Heads of Government we've had, had built enduring legacies. What did the rest do?
85% Gowon? What rubbish.
Dude, 95% of the infrastructure in Nigeria today has nothing to do with Gowon. Go around the country and stop living in the past.
1 Like
Travel / Re: The Kainji Dam In Pictures by Rossikk(

m

): 10:06pm On Jul 26
SenecaTheYonger:
How come we couldn't build this before white people came?
The
REAL
question you should ask if you didn't have colonial mentality is:
Why did it take Independence for us to have a dam? Our First dam and power plant?
Commissioned in 1964 by the Balewa administration.
What did the British who ruled from 1897 to 1960 do with all the money they made from the exports of our products for 63 years?
Lord Lugard, Lord McPherson, Lord this, Lord that.
What did they do with all our money?
THAT
is the question you should be asking, Mr white man worshiper.
David Cameron once called Nigerian leaders ''fantastically corrupt''.
But they are angels compared to his kinsmen who ruled here before them.
2 Likes
Sports / Re: Nsukka Township Stadium In Enugu State Takes Shape (Photos) by Rossikk(

m

): 8:57pm On Jul 26
Rubicon67:

Our politicians and stadiums.
You'll be surprised that it's actually what the people there want.
It will employ, and raise the businesses of, a lot of people, as builders, staff, transport, catering folks etc, and boost economic activities.
Infrastructural development is always a plus in any economy.
Sports / Re: Nsukka Township Stadium In Enugu State Takes Shape (Photos) by Rossikk(

m

): 8:54pm On Jul 26
Kobicove:
What exactly is the economic benefit of this project to Enugu State?
So, recreation has no benefit in your head?
You people and money.
Travel / Re: Beautiful Pictures Of Ikoyi, Lagos (video) by Rossikk(

m

): 8:40pm On Jul 26
larryking540:


lot of things are wrong in the pictures ,to have a more organized landscape ..
first ,street halking should be stop
secondly ,who uses a traffic warder these days when u can make use of traffic light for crossing and stoping vehicles ,

last and not least , Nigeria have to have a common color for painting buildings
all these Mr a paint his office yellow ,while the next sky skyscrapper is green makes the place look like a ghetto ,
I some times imagine wat our politicians go abroad to do sometimes ,great innovation to bring back home but they don't implement ,,,


all country might have same technology development but wat differentiate them is the weather climate ,and Africa have a great weather climate ,and it will attract foreigners when we have a proper environment setting
We do not need a 'common colour for painting buildings'. Your ''yellow and green'' imagery is an exaggeration of the sharpness of contrasts we see in the colours of the buildings..
Travel / Re: Beautiful Pictures Of Ikoyi, Lagos (video) by Rossikk(

m

): 8:18pm On Jul 26
Eke40seven:


These buildings there are not necessarily slums.
I guess they are 5 star accommodation in your colonised little head. Ewu.
Can you live there?
The govt provides adequate housing for all citizens or permanent residents in Germany but there are people who are termed, "Voluntary homeless" or something along that line. They don't live in homes because they can't afford one but because they choose to live a nomadic life... These people are very common in Berlin. East Berlin itself use to be part of East Germany rather than west.
I didn't ask you for all these stupid long stories and excuses for European poverty.
Some idiot said Ikoyi was worse than a slum in Germany.
I then posted a slum from East Berlin to show he was talking rubbish.
You should be supporting my response to him instead of posting this horse shit.
As for the trash you posted that ''everyone in Germany can afford a house'', a recent report begs to differ:
''The poverty rate [in Germany] also excludes the many refugees forced to reside in camps, and the hundreds of thousands of homeless people. It is thus clear that the real rate of poverty is much higher than the official figures suggest.''
https://www.wsws.org/en/articles/2019/12/30/pove-d30.html
Sure, all those hundreds of thousands of homeless people in Germany can actually afford to buy beautiful mansions, but just prefer to be homeless street tramps begging for money and sleeping with stray dogs..... IDIATT...
4 Likes
Travel / Re: Beautiful Pictures Of Ikoyi, Lagos (video) by Rossikk(

m

): 7:25pm On Jul 26
shogsman:

Who asked you, you people are cursed with inferiority complex
Plus the folks who liked his post, all dumb, ignorant self-haters drowning in inferiority complex.
East Berlin slum. Germany
Source:
https://www.pinterest.co.uk/pin/57772807697555147/
I wonder if their father's house in Ikoyi looks like these Berlin photos.

Anyway who dash their papa house for Ikoyi.
6 Likes
Travel / Re: Beautiful Pictures Of Ikoyi, Lagos (video) by Rossikk(

m

): 7:09pm On Jul 26
flyingpig:
This na ghetto for Germany
No it's not, you ignorant, self-hating scumbag.
East Berlin slum. Germany
Source:
https://www.pinterest.co.uk/pin/57772807697555147/
5 Likes
Politics / Re: Looks Like Hushpuppi Has Been Released From US Prison by Rossikk(

m

): 2:03am On Jul 23
Nbotee:


If u believe connection will get u freedom wen u have been indicted in the west and US in particular, den U can as well believe APC is a party of saints. Connected kor, elected ni
Trump that has been 'pardonIng' convicted criminals that are his friends in America. Stay there talking rubbish.
Money talks in America. With a good, expensive lawyer you can escape virtually any crime conviction there.
1 Like 2 Shares
Politics / Re: FG Commences Ibadan-Kano Railway Project (Photos) by Rossikk(

m

): 1:54am On Jul 23
plaindealer:






Different projects, different funding.

The fact that they are starting a new project doesn't mean the one before won't be completed and commissioned, they are totally unrelated.

With independent funding that has nothing to do with ongoing and practically almost completed project, where is the sense in sitting around waiting to start another project?

What's next?

They shouldn't start any road project, bridge project or any project at all until all the road projects in Nigeria are all completed?

Why are Nigerian youths so shallow like this?
Honestly, their ignorance and simple-mindedness is astounding.
A whole Nigeria is the country they are saying should wait till we finish one project before we start another one. Just reasoning like village people. And I'm sure some of them are graduates.
Politics / Re: FG Commences Ibadan-Kano Railway Project (Photos) by Rossikk(

m

): 9:29pm On Jul 22
fulanimafia:
This is just beautiful.

At the end of the whole project, moving people and goods from Kano - Kaduna - Abuja - Lagos ports will be a piece of cake; decongesting roads, boosting trade, productivity, industry & industrialization. The future is bright for Nigeria.

Kudos to Amaechi & our darling daddy President Buhari.


I keep telling people that Buhari is Nigeria's Paul Kagame (of Rwanda).
He has a plan for massive infrastructural development of this country, and it is coming to fruition.
1 Like
Politics / No More A Sh...hole? Nigerians Abroad Beg To Be Brought Back by Rossikk(

m

): 6:11am On Jul 22
From Libya To Montenegro.
From The USA to Canada.
From Germany to the United Kingdom.
And from the Netherlands to New Zealand.
Nigerians are returning home in droves, and where they cannot, are appealing to the FG to send planes to bring them home.
AS WE SPEAK, RIGHT NOW, Nigerians in America, China, UK, Germany etc are appealing to the ''failed state'' to send planes to their ''successful nations'' to rescue them and return them home to Nigeria, as the 'pandemic' rages in those parts of the world, and disrupts their societies, shattering their economies in an unprecedented manner, and turning them into police states.
So far, the Nigerian government has evacuated 1,000 Nigerians from the USA in the last couple of weeks, with thousands more Nigerians stranded, and BEGGING the FG to send more planes to repatriate them back to the ''failed shithole'', Nigeria.
https://nairametrics.com/2020/07/18/more-nigerians-depart-us-for-nigeria-3-denied-boarding/
As the years roll on, and the west's decline accelerates, MORE Nigerians will be begging to be sent back home to the ''failed state'', from the ''successful, brilliant states''.
The clock is ticking.
3 Likes 1 Share
Culture / Re: Benin City Was Among The Most Advanced Cities Of The Ancient World - UK Guardian by Rossikk(

m

): 11:02pm On Jul 21
RIHMEEK:
That's why there's a "Maybe" in my response to him
ok
Politics / Re: Imagine If Allen Avenue Looked Like THIS? by Rossikk(

m

): 10:00pm On Jul 21
Rodwave:


Writing these rubbish will never, and can never change the fact that nigeria is a failed state where corruption, elite rascality, police brutality, disjointed economic policy, visionless leadership hold sway. You can keep consoling yourself over worthless and non existence achievements. You are probably one of the lootocrats that parade themselves as the intellectuals patriotic Nigerians while in reality you are nothing but empty barrel who hides under "I love Nigeria" to commit fraud and atrocities against the people . The days of you lootocrats are numbered. Nonsense.
Someone needs to take a pampered little twit like you to a REAL ''failed state''.
You will not last 30 minutes there before BEGGING to be returned to Nigeria.
Was that not how your fellow self-hating, ignorant dullards ended up as slaves in Libya?
They fled Nigeria, the ''failed state'' where they somehow could garner thousands of dollars to travel abroad, and passed through ''successful state'' LIBYA, a war-torn hell hole, which as they were leaving Nigeria they MUST have thought, ''aah, Libya is far better than Nigeria!''
They arrived Libya, and were immediately bundled to a slave market, where they were sold to local Libyans to work as house slaves.
Till TODAY, there are Nigerians in slavery in Libya, COURTESY OF YOUR DUMB MENTALITY OF SELF HATE.
Eventually, hundreds of Nigerian slaves appealed to the ''failed state'' Nigerian govt to come and save them from the ''successful state'' Libya, by sending planes to evacuate them back to the ''failed state'' Nigeria.
On arrival at the airport, Nigerian TV captured their testimonies of torture, racism, hunger, starvation, and brutal treatment from Libyan slave owners and Libyan police.
One man said he had abandoned his thriving business in Nigeria to make that desert trek across the Sahara to Libya. He was enslaved there for 3 years and kept incommunicado. He was fed food meant for dogs. Not fed actually. They threw it on the floor for him to pick.
He regretted his mistake, he said. He said if he had remained in Nigeria, his business would have expanded seriously by now. He was in tears. He said that following his repatriation home by Nigerian planes, he finally could see that NIGERIA was a true African giant, and he was proud to be a Nigerian, and more than glad to be back. ''No place like home'', he said.
ALL the other returnees expressed the same sentiments, many with harrowing stories of brutal treatment by Libyans.
One day,
YOU
will learn their lesson.
Update:
AS WE SPEAK, RIGHT NOW, Nigerians in America, China, UK etc are appealing to the ''failed state'' to send planes to their ''successful nations'' to rescue them and return them home to Nigeria, as the 'scamdemic' rages in those parts of the world, and disrupts their societies, shattering their economies in an unprecedented manner, and turning them into police states.
So far, the Nigerian government has evacuated 1,000 Nigerians from the USA in the last couple of weeks, with thousands more Nigerians BEGGING the FG to send more planes to repatriate them back to the ''failed shithole'', Nigeria.
https://nairametrics.com/2020/07/18/more-nigerians-depart-us-for-nigeria-3-denied-boarding/
As the years roll on, and the west's decline accelerates, MORE Nigerians will be begging to be sent back home to the ''failed state'', from the ''successful, brilliant states''.
The clock is ticking.
Politics / Re: Imagine If Allen Avenue Looked Like THIS? by Rossikk(

m

): 11:14pm On Jul 19
Rodwave:


KEEP making excuses for stupidity and failure. You are definitely going to wait for 500 years in that dilapidated dungeon before you can ever get 5hrs of electricity in your poorly planned street. Nonsense.
Your rotten lips like ''stupidity and failure''. I guess all 80% of the world which comprise developing nations like Nigeria, are all ''stupid, failed states'' in your undeveloped, 2 year old mind.
Let me just remind you who
YOU
are, you pampered ingrate.
You are barely a generation removed from illiterate village African peasants under colonial subjugation.
Your direct forbears were virtually SLAVES in this country, with near zero education, zero infrastructure, zero everything.
As recently as the 1950s, your national soccer team visited England to play some games. They insisted on playing BAREFOOTED, because they were not used to football boots, courtesy of British misrule.
Majority of children, including your grandparents, ran around naked with no shoes. Malnutrition was the norm. Cars were only for the super rich.
Electricity was non-existent. Not even for ''5 hours''.
There were no power plants in Nigeria until 1964, when Kainji Dam was commissioned by the Balewa administration. The British simply imported huge industrial generators to power areas their officials lived in - the 'GRAs' of today. The rest of Nigeria was on lantern and candle, 24/7, 365.
Universities were non-existent. Primary and secondary schools were only for a select few.
Illiteracy was 95% at independence. That number has fallen to 24% today, courtesy of our ''stupid failed leaders'' who invested massively in free education after independence, building thousands of primary and secondary schools, and universities across the nation.
Today, you can get up and decide to get a visa and leave Nigeria to work in America or Germany, or Austria, or China, or Japan, based on that education you got in post-independence Nigeria.
Did your grandparents have that option in their village farms under colonialism? Did they know what 'visa' meant or where 'America' was, much less what they would do if they got there?
Do you know that before independence you could not drive to most villages in Nigeria?
In the unlikely situation that you actually owned a car, you could not drive to your village, because
no road led to your village
.
Instead, you would drive from wherever and then stop at the nearest road to your village, and then use footpaths to walk there. Depending on the distance, it could be half a day's walk.
Or three days.
Or five days.
Today, courtesy of our ''stupid failed leaders'' you can drive to the most remote hamlet in Nigeria on a motorable road, tarred or otherwise.
You've NO IDEA HOW GOOD YOU HAVE IT.
You can sit in your bedroom today and start a full-fledged business using only your smartphone.
What would your illiterate forbears
barely a generation ago
have done with a smartphone if they saw one?
They would have broken it up and used it for cutlery.
YOU
are a pampered
INGRATE
who has 100 times more than his immediate peasant village forebears ever did, courtesy of Nigerian independence, yet all you see is ''failure''. With your attitude, you deserve no further successes in my view.
1 Like
Politics / Re: Imagine If Allen Avenue Looked Like THIS? by Rossikk(

m

): 10:19pm On Jul 19
Rodwave:


Do you know when dubai begins to build up her infrastructure? Do you know when south Korea begins to build up her infrastructure? You are mentally backward. With stupid illiterate slaves like you, that monkey Republic will never progress. Tuah.
If you consider yourself a monkey, leave us our of your complex.
You clearly lack a working brain, otherwise you would not be calling ''Dubai'' in the same breath as Nigeria.
UAE in which Dubai is, has THREE TIMES Nigeria's oil reserves, and exports DOUBLE the number of barrels Nigeria does per day.
And her population is 9 million.
What will they do with all that money apart from create a paradise in their tiny country?
If you give all of Nigeria's annual earnings from oil and gas to Ikeja Local Govt for the next 10 years, do you think you will be able to recognise the place if you visit it in 2030?
The Arab gulf leaders are mega rich oil sheikhs who transfer billions to their accounts every month. Go to London and Paris. They own the biggest mansions there by a mile. But because they make so much money from oil, there is more than enough to keep their tiny populations well-fed and even rich.
South Korea? What do you know about the history of South Korea? No need to answer. You know nothing about their history. All you see is their wealth and development, and that tells your simple mind, ''they're superior to me!''
But the truth is that South Korea, like the two or three other 'Asian Tigers', were deliberately funded and supported by the victorious western allies after WW2 to make them strong capitalist outposts in Asia that could checkmate Soviet communist drives in the Pacific region. They could not afford for every country there to be like communist North Korea, China, etc, and so they threw billons into selected economies there, such as South Korea, Hong Kong, Singapore, and Taiwan, through massive foreign investment and transfer of technology, and granted them
unprecedented access to western markets for their finished products
- something never granted any African country. This transformed those chosen countries in 30 years, to developed nations.
The clearest evidence that their rapid growth was artificially created is a cursory look at their neighbours and brothers (by race) - Cambodia, Nepal, Mongolia, Burma, Laos etc. These are countries whose development levels fall even below African standards. THAT is what South Korea and other ''tiger economies'' would have looked like without that western intervention after WW2.
So by saying stuff like, ''Why can't we be like South Korea?''.... ''Look at Singapore!''... ''Look at UAE!'' you are simply displaying your crass ignorance of the world you inhabit.
Politics / Re: Imagine If Allen Avenue Looked Like THIS? by Rossikk(

m

): 8:19pm On Jul 19
awgumayor:
The head start of South Africa shouldn't be the criteria to defend Nigeria underdevelopment. What can you say about UAE, Qatar and other gulf nations that got their acts right few years ago. The problem with Nigeria is the country never had leaders who believed in Nigeria unlike the imperialist South Africans who believed that South Africa is their country and started developing it. All the money stolen from Nigeria since 1960 can transform Nigeria to the look of UAE within ten years. Another problem is with the citizens who have been living like an animals and never knew what is to live like humans, only good at singing praises to their incompetent leaders they have made their gods.
Any day there is leader or leaders in Nigeria who have Nigeria at heart and not their pockets you will see how the nation will begin to transform.
Use you goddamn brain. What the HELL is wrong with you people? Did you not go to school? Why are you mentioning Qatar and UAE?
Qatar's population is 2.7 million. They export 1.6 million barrels a day.
Nigeria's population is 200 million. We export 1.7 million barrels a day.
Yet you expect Nigerians to be as rich and developed as Qatar.
I mean, simple basic mathematics is seemingly beyond you in your haste to condemn your nation.
NIGERIA IS NOT A RICH COUNTRY.
GET THAT BASIC FACT INTO YOUR THICK SKULLS.
Even without corruption we would still be in a massive struggle towards development.
Our primary mission is DIVERSIFICATION away from oil and gas, in order to raise our national earnings enough to complete infrastructure and other projects.
Our current 35 billion dollar annual budget is a
pittance
for our huge population.
And NO, ''all the money stolen from 1960'' is less than 600 billion USD or so, and CANNOT ''transform Nigeria to UAE''. That is the thinking if an ILLITERATE.
The UK's ANNUAL budget is
1.2 TRILLION dollars
. That is double the amount supposedly stolen by Nigerian leaders since 1960.
Yet with that huge annual budget, the UK has not turned to Dubai or Qatar. There are still thousands of homeless people on the streets of London.. Millions are in poverty and debt, and many there still haven't got enough to eat.
But somehow the 600 billion ''Nigerian leaders stole since 1960'' is enough to transform the whole Nigeria into Paradise on Earth.
I don't actually think you people know exactly what kind of money it takes to become a developed nation.
You are completely clueless.
You think this TINY money we make from oil is enough to transform Nigeria ''if only govt officials were not corrupt''. That is the HEIGHT of self-deception and delusion. You hear ''billion'' and your head scatters. The USA's annual budget is 6.8
TRILLION
dollars.. China's is 3.8
TRILLION
dollars. Germany, 1.6
TRILLION
. France 1.3
TRILLION
. On and on it goes.
Our Number ONE priority is to DIVERSIFY. And raise our national income. It is FAR more important than ending corruption. If Nigeria diversifies sufficiently to declare say a 200 billion dollar annual budget, as opposed to the current 35 billion, it would change the life of every Nigerian for the better, with or without corruption.
Diversification is what we need.
Stop comparing yourselves to America, UK, Qatar etc.
Their annual budgets will make you RUN in fear.
Here is a list of nations by annual budget. See where Nigeria sits. THAT is why we are underdeveloped. We simply do not make enough money as a country.
https://en.wikipedia.org/wiki/List_of_countries_by_government_budget
Education / Re: 12 Amazing African Inventions That Changed The World by Rossikk(

m

): 6:33am On Jul 19
helinues:
Yet we are still living as if we are in 18BC...


NOT THE FAULT OF YOUR ANCESTORS WHOSE ACHIEVEMENTS ARE WELL RECORDED.
Question is What are
YOU
doing?
Education / 12 Amazing African Inventions That Changed The World by Rossikk(

m

): 6:15am On Jul 19
12 Amazing African Inventions That Changed The World1 Speech
The first words by humans were spoken by Africans.
''Using statistical methods to estimate the time required to achieve the current spread and diversity in modern languages today, Johanna Nichols — a linguist at the University of California, Berkeley — argues that vocal language must have arisen in our species at least 100,000 years ago. Using phonemic diversity, a more recent analysis offers directly linguistic support for a similar date. Estimates of this kind are independently supported by genetic, archaeological, palaeontological and much other evidence suggesting that language probably emerged somewhere in sub-Saharan Africa during the Middle Stone Age, roughly contemporaneous with the speciation of Homo sapiens.''
http://en.wikipedia.org/wiki/Origin_of_language
2 Writing
In 1999, Archaeology Magazine reported that the earliest Egyptian hieroglyphs date back to 3400 BCE which "...challenge the commonly held belief that early logographs, pictographic symbols representing a specific place, object, or quantity, first evolved into more complex phonetic symbols in Mesopotamia."
Who were these original Egyptians?
The Greek historian Herodotus.. described the Colchians of the Black Sea shores as "Egyptians by race" and pointed out they had "black skins and kinky hair."
Apollodorus, the Greek philosopher, described Egypt as "the country of the black-footed ones" and the Latin historian Ammianus Marcellinus said "the men of Egypt are mostly brown or black with a skinny desiccated look."
http://www.bbc.co.uk/worldservice/specials/1624_story_of_africa/page88.shtml
In his book 'Egypt', British scholar Sir E.A. Wallis Budge says: "The prehistoric native of Egypt, both in the old and in the new Stone Ages, was African and there is every reason for saying that the earliest settlers came from the South." He further states: "There are many things in the manners and customs and religions of the historic Egyptians that suggests that the original home of their prehistoric ancestors was in a country in the neighborhood of Uganda and Punt [present day Somalia]."
''Greek historian Diodorus Siculus devoted an entire chapter of his world history, the Bibliotheke Historica, or Library of History (Book 3), to the Kushites ["Aithiopians"] of Meroe. Here he repeats the story of their great piety, their high favor with the gods, and adds the fascinating legend that they were.. the founders of Egyptian civilization, invented writing, and had given the Egyptians their religion and culture.''
(1st century B.C., Diodorus Siculus of Sicily, Greek historian and contemporary of Caesar Augustus, Universal History Book III. 2. 4-3. 3)
http://wysinger.homestead.com/blackegypt101.html
To summarise:
"Ancient Egypt was a Negro civilisation. The history of Black Africa will remain suspended in the air and cannot be written correctly until African historians connect it with the history of Egypt. The African historian who evades the problem of Egypt is neither modest nor objective nor unruffled. He is ignorant, cowardly and neurotic. The ancient Egyptians were Negroes. The moral fruit of their civilisation is to be counted among the assets of the Black world."
- Cheikh Anta Diop, The African Origin of Civilisation.
3 Medicine
''The earliest known surgery was performed in Egypt around 2750 BC.... The Ebers papyrus (1550 BC) is full of incantations and foul applications meant to turn away disease-causing demons, and also includes 877 prescriptions. It may also contain the earliest documented awareness of tumors..
Homer (800 BC) remarked in the Odyssey: "In Egypt, the men are more skilled in medicine than any of human kind" and "the Egyptians were skilled in medicine more than any other art". The Greek historian Herodotus visited Egypt around 440 BC and wrote extensively of his observations of their medicinal practices. Pliny the Elder also wrote favourably of them in historical review. Hippocrates (the 'father of medicine'), Herophilos, Erasistratus and later Galen studied at the temple of Amenhotep, and acknowledged the contribution of ancient Egyptian medicine to Greek medicine.
http://en.wikipedia.org/wiki/Ancient_Egyptian_medicine
4 Architecture
The African empire of Egypt developed a vast array of diverse structures and great architectural monuments along the Nile, among the largest and most famous of which are the Great Pyramid of Giza and the Great Sphinx of Giza
The pyramids, which were built in the Fourth Dynasty, testify to the power of the pharaonic religion and state. They were built to serve both as grave sites and also as a way to make their names last forever. The size and simple design show the high skill level of Egyptian design and engineering on a large scale. The Great Pyramid of Giza, which was probably completed c. 2580 BC, is the oldest and largest of the pyramids, and is the only surviving monument of the Seven Wonders of the Ancient World. The pyramid of Khafre is believed to have been completed around 2532 BC, at the end of Khafre's reign.
http://en.wikipedia.org/wiki/Ancient_Egyptian_architecture
5 Mathematics
The invention of mathematics is placed firmly in African PRE-HISTORY.
''The oldest known possibly mathematical object is the Lebombo bone, discovered in the Lebombo mountains of Swaziland and dated to approximately 35,000 BC. It consists of 29 distinct notches cut into a baboon's fibula. Also prehistoric artifacts discovered in Africa and France, dated between 35,000 and 20,000 years old [respectively], suggest early attempts to quantify time.
The Ishango bone, found near the headwaters of the Nile river (northeastern Congo), may be as much as 20,000 years old and consists of a series of tally marks carved in three columns running the length of the bone. Common interpretations are that the Ishango bone shows either the earliest known demonstration of sequences of prime numbers or a six month lunar calendar.
Also, Predynastic Egyptians of the 5th millennium BC pictorially represented geometric designs.
http://en.wikipedia.org/wiki/History_of_mathematics#Prehistoric_mathematics
''Numeral systems have been many and diverse, with the first known written numerals created by Egyptians in Middle Kingdom texts such as the Rhind Mathematical Papyrus.
The earliest uses of mathematics were in trading, land measurement, painting and weaving patterns and the recording of time. More complex mathematics did not appear until around 3000 BC, when the Egyptians and Babylonians began using arithmetic, algebra and geometry for taxation and other financial calculations, for building and construction, and for astronomy''
http://en.wikipedia.org/wiki/Mathematics
6 Mining of minerals
The oldest known mine on archaeological record is the "Lion Cave" in Swaziland, which radiocarbon dating shows to be about 43,000 years old. Much later on, the Africans of Egypt mined malachite....Quarries for turquoise and copper were also found at "Wadi Hamamat, Tura, Aswan and various other Nubian sites"..The gold mines of Nubia were among the largest and most extensive in the world, and are described by the Greek author Diodorus Siculus. He mentions that fire-setting was one method used to break down the hard rock holding the gold. One of the complexes is shown in one of earliest known maps. They crushed the ore and ground it to a fine powder before washing the powder for the gold dust.
http://en.wikipedia.org/wiki/Mining#Prehistoric_mining
7 Iron Smelting
Iron smelting is a form of extractive metallurgy; its main use is to produce a metal from its ore. This includes production of silver, iron, copper and other base metals from their ores. Smelting uses heat and a chemical reducing agent to decompose the ore, driving off other elements as gasses or slag and leaving just the metal behind.
Early iron smelting:
''Where and how iron smelting was discovered is widely debated, and remains uncertain due to the significant lack of production finds.. [but] there is a further possibility of iron smelting and working in West Africa by 1200 BC. In addition, very early instances of carbon steel were found to be in production around 2000 years before the present in northwest Tanzania, based on complex preheating principles. These discoveries are significant for the history of metallurgy.''
http://en.wikipedia.org/wiki/Smelting
8 Religion
Greek historian Diodorus Siculus. From his own statements we learn that he traveled in Egypt around 60 BC. His travels in Egypt probably took him as far south as the first Cataract. He wrote about the black races of inner Africa whom he called ''Ethiopians'', dwelling south of Egypt.
"They further write that it was among them that people were first taught to honor the gods and offer sacrifices and arrange processions and festivals and perform other things by which people honor the divine. For this reason their piety is famous among all men, and the sacrifices among the Ethiopians are believed to be particularly pleasing to the divinity."
9 Laws
Stephanus of Byzantium, who is said to represent the opinions of the most ancient Greeks, says:
"Ethiopia was the first established country on the earth, and the Ethiopians were the first who introduced the worship of the Gods and who established laws."
Quoted by John D. Baldwin, Prehistoric Nations, p. 62.
10 International Trade
In 1825, Arnold Hermann Heeren (1760-1842), Professor of History and Politics in the University of Gottengen and one of the ablest of the early exponents of the economic interpretation of history, published, in the fourth and revised edition of his great work
Ideen Uber Die Politik, Den Verkehr Und Den Handel Der Vornehmsten Volker Der Alten Weld
, a lengthy essay on the history, culture, and commerce of the ancient Ethiopians, which had profound influence on contemporary writers in the conclusion that
it was among these ancient Black people of Africa and Asia that international trade was first developed.
He wrote that as a by-product of these international contacts there was an exchange of ideas and cultural practices that laid the foundations of the earliest civilizations of the ancient world. Heeren in his researches says:
"From the remotest times to the present, the Ethiopians (ancient name for blacks south of the Sahara) have been one of the most celebrated, and yet the most mysterious of nations. In the earliest traditions of nearly all the..civilized nations of antiquity, the name of this distant people is found.
..The annals of the Egyptian priests are full of them, and the nations of inner Asia, on the Euphrates and Tigris, have interwoven the fictions of the Ethiopians with their traditions of the wars and conquests of their heroes; and, at a period equally remote, they glimmer in Greek mythology. When the Greeks scarcely knew Italy and Sicily by name, the Ethiopians were celebrated in the verses of their poets, and when the faint gleam of tradition and fable gives way to the clear light of history, the lustre of the Ethiopians is not diminished. They still continue to be the objects of curiosity and admiration,
and the pen of clear-sighted, cautious historians places them in the highest rank of knowledge and civilization
."
https://www.jstor.org/stable/3025163?seq=2#metadata_info_tab_contents
11 Philosophy
Philosophy is the study of general and fundamental problems, such as those connected with reality, existence, knowledge, values, reason, mind, and language. Philosophy is distinguished from other ways of addressing such problems by its critical, generally systematic approach and its reliance on rational argument.
http://en.wikipedia.org/wiki/Philosophy#Ancient_philosophy
Philosophy in Africa has a rich and varied history, dating from pre-dynastic Egypt, continuing through the birth of Christianity and Islam. Arguably central to the ancients was the conception of "ma'at", which roughly translated refers to "justice", "truth", or simply "that which is right". One of the earliest works of political philosophy was the Maxims of Ptah-Hotep, which were taught to Egyptian schoolboys for centuries...Ancient Egyptian philosophers made extremely important contributions to Hellenistic philosophy, Christian philosophy, and Islamic philosophy.
http://en.wikipedia.org/wiki/African_philosophy
''Ancient Egyptian philosophy has been credited by the ancient Greeks as being the beginning of philosophy''.
http://en.wikipedia.org/wiki/Ancient_Egyptian_philosophy
12 Art
The oldest art objects in the world—a series of tiny, drilled snail shells about 75,000 years old—were discovered in a South African cave.
http://en.wikipedia.org/wiki/Art
Culture / Re: Benin City Was Among The Most Advanced Cities Of The Ancient World - UK Guardian by Rossikk(

m

): 5:40am On Jul 19
RIHMEEK:
"Maybe" we weren't mature enough when we got our independence...
Don't be ridiculous. If Benin was ''mature enough'' to be among the top cities on earth 500 years ago, why are you not mature enough to govern yourself today?
See what colonialism has made you think of yourself?
If you have problems, be they corruption, nepotism or whatever, you SOLVE THEM YOURSELVES, however long it takes. You don't go inviting people from thousands of miles away to come and colonize you.
Culture / Re: Benin City Was Among The Most Advanced Cities Of The Ancient World - UK Guardian by Rossikk(

m

): 5:38am On Jul 19
Coder2Client:
Indeed, they do walk stark naked that time, according to history no be me talk am
That is your colonial miseducation talking. Do you see any naked people in the pictures above?
Culture / Re: Benin City Was Among The Most Advanced Cities Of The Ancient World - UK Guardian by Rossikk(

m

): 5:10am On Jul 19
ctd...
The city was split into 11 divisions, each a smaller replication of the king's court, comprising a sprawling series of compounds containing accommodation, workshops and public buildings – interconnected by innumerable doors and passageways, all richly decorated with the art that made Benin famous. The city was literally covered in it.
The exterior walls of the courts and compounds were decorated with horizontal ridge designs (agben) and clay carvings portraying animals, warriors and other symbols of power – the carvings would create contrasting patterns in the strong sunlight. Natural objects (pebbles or pieces of mica) were also pressed into the wet clay, while in the palaces, pillars were covered with bronze plaques illustrating the victories and deeds of former kings and nobles.
At the height of its greatness in the 12th century –
well before the start of the European Renaissance
– the kings and nobles of Benin City patronised craftsmen and lavished them with gifts and wealth, in return for their depiction of the kings' and dignitaries' great exploits in intricate bronze sculptures.
"These works from Benin are equal to the very finest examples of European casting technique," wrote Professor Felix von Luschan, formerly of the Berlin Ethnological Museum. "Benvenuto Celini could not have cast them better, nor could anyone else before or after him. Technically, these bronzes represent the very highest possible achievement."
What impressed the first visiting Europeans most was the wealth, artistic beauty and magnificence of the city.
Immediately European nations saw the opportunity to develop trade with the wealthy kingdom, importing ivory, palm oil and pepper – and exporting guns. At the beginning of the 16th century, word quickly spread around Europe about the beautiful African city, and new visitors flocked in from all parts of Europe, with ever glowing testimonies, recorded in numerous voyage notes and illustrations.
Lost world
Now, however, the great Benin City is lost to history. Its decline began in the 15th century, sparked by internal conflicts linked to the increasing European intrusion and slavery trade at the borders of the Benin empire.
Then in 1897, the city was destroyed by British soldiers – looted, blown up and burnt to the ground. My great grandparents were among the many who fled following the sacking of the city; they were members of the elite corps of the king's doctors.
Nowadays, while a modern Benin City has risen on the same plain, the ruins of its former, grander namesake are not mentioned in any tourist guidebook to the area. They have not been preserved, nor has a miniature city or touristic replica been made to keep alive the memory of this great ancient city.
A house composed of a courtyard in Obasagbon, known as Chief Enogie Aikoriogie's house – probably built in the second half of the 19th century – is considered the only vestige that survives from Benin City. The house possesses features that match the horizontally fluted walls, pillars, central impluvium and carved decorations observed in the architecture of ancient Benin.
Curious tourists visiting Edo state in Nigeria are often shown places that might once have been part of the ancient city – but its walls and moats are nowhere to be seen. Perhaps a section of the great city wall,
one of the world's largest man-made monuments
, now lies bruised and battered, neglected and forgotten in the Nigerian bush.
A discontented Nigerian puts it this way: "Imagine if this monument was in England, USA, Germany, Canada or India? It would be the most visited place on earth, and a tourist mecca for millions of the world's people. A money-spinner worth countless billions in annual tourist revenue."
Instead, if you wish to get a glimpse into the glorious past of the ancient Benin kingdom – and a better understanding of this groundbreaking city – you are better off visiting the Benin Bronze Sculptures section of the British Museum in central London.
https://www.theguardian.com/cities/2016/mar/18/story-of-cities-5-benin-city-edo-nigeria-mighty-medieval-capital-lost-without-trace
1 Like
Culture / Benin City Was Among The Most Advanced Cities Of The Ancient World - UK Guardian by Rossikk(

m

): 5:08am On Jul 19
Benin City, The Mighty Medieval Capital Now Lost Without Trace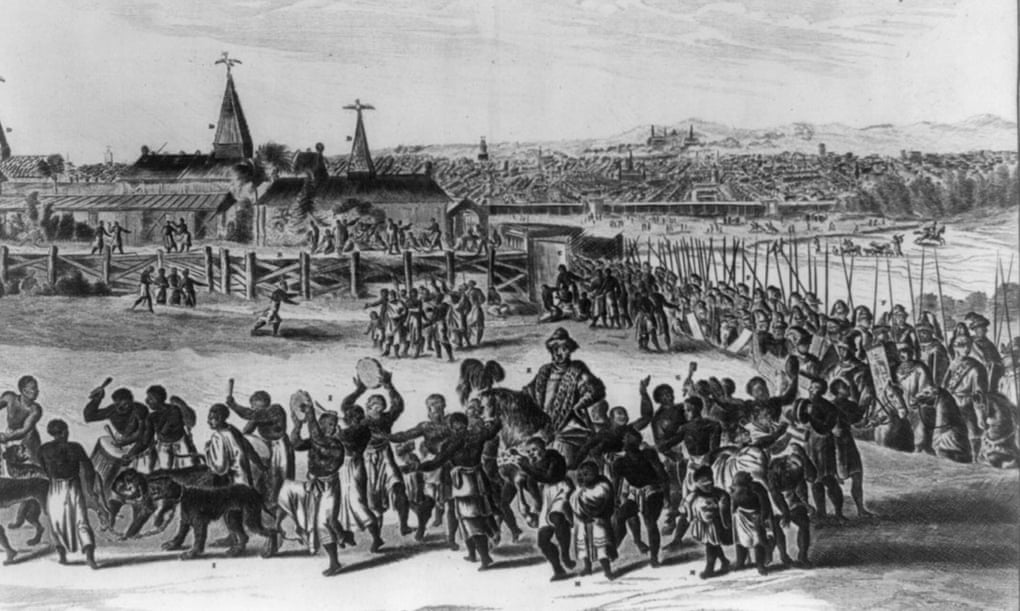 Benin City was described as 'wealthy and industrious, well-governed and richly decorated'. Illustration: Decompiling Dapper: A Preliminary Search for EvidenceGuardian Newspaper, UK
https://www.theguardian.com/cities/2016/mar/18/story-of-cities-5-benin-city-edo-nigeria-mighty-medieval-capital-lost-without-trace
With its mathematical layout and earthworks longer than the Great Wall of China, Benin City was one of the best planned cities in the world when London was a place of 'thievery and murder'. So why is nothing left?
This is the story of a lost medieval city you've probably never heard about. Benin City, originally known as Edo, was once the capital of a pre-colonial African empire located in what is now southern Nigeria. The Benin empire was one of the oldest and most highly developed states in west Africa, dating back to the 11th century.
The Guinness Book of Records (1974 edition) described the walls of Benin City and its surrounding kingdom as the world's largest earthworks carried out prior to the mechanical era. According to estimates by the New Scientist's Fred Pearce, Benin City's walls were at one point
"four times longer than the Great Wall of China, and consumed a hundred times more material than the Great Pyramid of Cheops [in Egypt]".
Situated on a plain, Benin City was enclosed by massive walls in the south and deep ditches in the north. Beyond the city walls, numerous further walls were erected that separated the surroundings of the capital into around 500 distinct villages.
Pearce writes that these walls
"extended for some 16,000 km in all, in a mosaic of more than 500 interconnected settlement boundaries. They covered 6,500 sq km and were all dug by the Edo people … They took an estimated 150 million hours of digging to construct, and are perhaps the largest single archaeological phenomenon on the planet".
Barely any trace of these walls exist today.
Benin City was also one of the first cities to have a semblance of street lighting. Huge metal lamps, many feet high, were built and placed around the city, especially near the king's palace. Fuelled by palm oil, their burning wicks were lit at night to provide illumination for traffic to and from the palace.
When the Portuguese first "discovered" the city in 1485, they were stunned to find this vast kingdom made of hundreds of interlocked cities and villages in the middle of the African jungle. They called it the "Great City of Benin", at a time when there were hardly any other places in Africa the Europeans acknowledged as a city.
Indeed, they classified Benin City as one of the most beautiful and best planned cities in the world
.
In 1691, the Portuguese ship captain Lourenco Pinto observed:
"Great Benin, where the king resides, is larger than Lisbon; all the streets run straight and as far as the eye can see. The houses are large, especially that of the king, which is richly decorated and has fine columns. The city is wealthy and industrious. It is so well governed that theft is unknown and the people live in such security that they have no doors to their houses."
In contrast, London at the same time is described by Bruce Holsinger, professor of English at the University of Virginia, as being a city of "thievery, prostitution, murder, bribery and a thriving black market made the medieval city ripe for exploitation by those with a skill for the quick blade or picking a pocket".
African fractals
Benin City's planning and design was done according to careful rules of symmetry, proportionality and repetition now known as fractal design. The mathematician Ron Eglash, author of African Fractals – which examines the patterns underpinning architecture, art and design in many parts of Africa – notes that the city and its surrounding villages were purposely laid out to form perfect fractals, with similar shapes repeated in the rooms of each house, and the house itself, and the clusters of houses in the village in mathematically predictable patterns.
As he puts it:
"When Europeans first came to Africa, they considered the architecture very disorganised and thus primitive. It never occurred to them that the Africans might have been using a form of mathematics that they hadn't even discovered yet."
At the centre of the city stood the king's court, from which extended 30 very straight, broad streets, each about 120-ft wide.
These main streets, which ran at right angles to each other, had underground drainage made of a sunken impluvium with an outlet to carry away storm water
. Many narrower side and intersecting streets extended off them. In the middle of the streets were turf on which animals fed.
"Houses are built alongside the streets in good order, the one close to the other," writes the 17th-century Dutch visitor Olfert Dapper. "Adorned with gables and steps … they are usually broad with long galleries inside, especially so in the case of the houses of the nobility, and divided into many rooms which are separated by walls made of red clay, very well erected."
Dapper adds that wealthy residents kept these walls
"as shiny and smooth by washing and rubbing as any wall in Holland can be made with chalk, and they are like mirrors. The upper storeys are made of the same sort of clay. Moreover, every house is provided with a well for the supply of fresh water".
Family houses were divided into three sections: the central part was the husband's quarters, looking towards the road; to the left the wives' quarters (oderie), and to the right the young men's quarters (yekogbe).
Daily street life in Benin City might have consisted of large crowds going though even larger streets, with people colourfully dressed – some in white, others in yellow, blue or green – and the city captains acting as judges to resolve lawsuits, moderating debates in the numerous galleries, and arbitrating petty conflicts in the markets.
The early foreign explorers' descriptions of Benin City portrayed it as a place free of crime and hunger, with large streets and houses kept clean; a city filled with courteous, honest people, and run by a centralised and highly sophisticated bureaucracy.
3 Likes 1 Share
Education / Re: 12 Amazing African Inventions That Changed The World by Rossikk(

m

): 4:05am On Jul 19
illicit:


Africa civilised the entire world my as.s

same Africa that don't even have medicine for malaria and no polio vaccine yet you say they invented things.

What things
Did you actually read the original post? You sound like a drunkard.
No mechanized farming, just brute strength
What does this mean? Modern mechanized farming is less than 200 years old, in a world that's been inhabited for 100,000 years minimum.
Whole civilizations rose and thrived without mechanized farming, which is an offshoot of the industrial revolution that began in the late 18th century.
Without African ingenuity over thousands of years prior, there would have been
NO
industrial revolution, and
NO
mechanized farming.
EVERYTHING we enjoy in the world today is traceable to the INGENUITY of ancient black Africans.
Travel / Re: Did You Know SUDAN Has More PYRAMIDS Than Any Country On Earth? by Rossikk(

m

): 3:51am On Jul 19
lol....I'd even forgotten about this thread.