This Review is compiled by one of the publishers at
www.HealthPally.com
and the opinion is neither for or against the brand.
Our sister sites are also
www.TechPally.com For Every Thing Techy And Business
and
www.FarmPally.com for Plant And Animal Life
What is Alomo Bitters?
Alomo bitters is an alcoholic liquor produced in Ghana by Kasapreko Company. Dr. Kwabena Adjei started the company in 1989.
Alomo bitters is the company's flagship product, very popular in Ghana, Nigeria and South African.
What's the Company into?
No doubt, Kasapreko Company Limited is one of the leading herbal drink manufacturer in Ghana after being one of the first herbal drink company that developed her own lab, formulate the drinks out of extensive research and unique design that speak much of the African culture.
One of their chief aims is to produce quality herbal drinks in different varieties and taste at affordable prices.
Today Kasapreko now has tens of products in her basket. Some of them are, whisky, gin, liqueur, brandy and wine drink which are marketed and sold in Nigeria, Ghana, South Africa, USA and the entire globe.
Kasapreko has invested so much in this business in the past 30 years of operations, several awards and international recognition. Their official website is
http://kasapreko.com
With the massive success, they've been able to add more quality drinks such as Kasapreko Barman Herbal Gin, Kasapreko London Dry Gin, Kalahari Bitters, K20 Whisky, K20 Dry Gin, Lime Cordial and Classic Margarita Lime, Opeimu Herbal Bitters, Airforce Bitters, Carnival Strawberry, VIP Irish Cream, Kasapreko Brandy, Tonic Wine, and Kasavino Vermouth.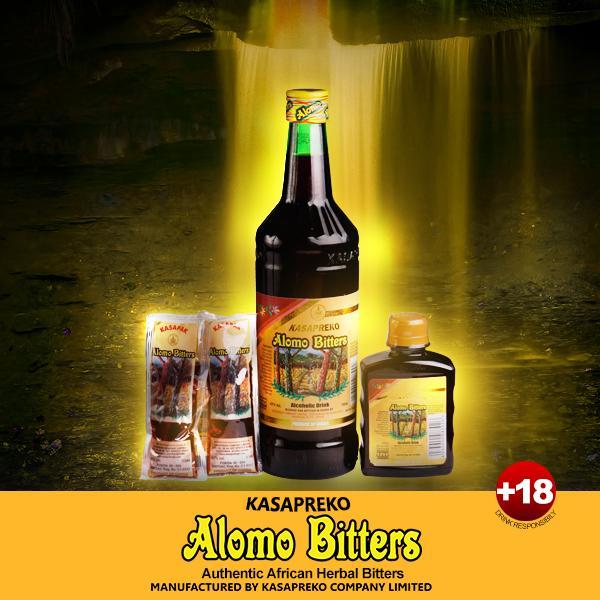 How to Make Alomo Bitters
Kasapreko alomo Bitters is a blend of some African native tropical plant extracts which have been known in past times for their health benefits in traditional medicines. The plants have been researched to have health benefits on digestion, weight loss, libido and others.
Alomo bitters can be made by by infusion or distillation using aromatic herbs , bark , roots, gentian root, goldenseal rhizome, wormwood leaves, ) and yarrow flowers ( Achillea millefolium) as typical contents of bitters formulas and for flavor and medicinal properties.
What are the ingredients of Alomo bitters herbal drink
Kasapreko Alomo bitters Common ingredients which are used in making this alcohol herbal drink are:
Orange peel , and quinine from Cinchona bark ( grown in Peru and Indonesia ).
The flavor of Angostura bitters,
Suze and Peychaud ' s Bitters derives primarily from gentian
Angelica root ( A . archangelica )
Bitter orange peel ( Citrus aurantium )
Blessed thistle leaves ( Cnicus bendicutus)
Gentian root ( Gentiana lutea)
Goldenseal rhizome ( Hydrastis canadensis )
Wormwood leaves ( Artemisia absinthium ) and yarrow flowers ( Achillea millefolium)
What are the Functions of Alomo bitters in the body
The benefits of alomo bitters are derived from the nutritional contents of the ingredients used in brewing this drink. Some of them with their benefits to the body are below
cascarilla: Cascarilla have been used in the past to reduce fevers, aid easy digestion and digestion problems, clear flatulence, help in stopping Diarrhea and Vomiting, and also used as an expectorant.
Although there are no sufficient clinical studies to back up all these claims but there are testimonial given by those who have used this for healing
Cassia: Cassia, which is another ingredient of alomo bitters has several health benefits that are backed by scientific studies. Cassia alone is an anti-emetic, carminative, emmenagogue, anti-galactagogue, astringent, febrifuge.
It also work in stopping diarrhea, helping against depression, help in reducing virus and bacteria, preventing rheumatism, improving blood flow and serving as stimulant to the body.
Other health benefits of taking Alomo Bitters
Generally, herbal bitters are helpful in lessening the urge to take sugar content. This is called sugar cravings. It can also help soothing gas in the stomach and reducing bloating, especially for pregnant women when the fetus has developed to baby.
Alomo bitters can also enhance the digestive enzymes relieve one from acid reflux and chestburn, stomach upset, nausea and encourage bile and HCL production.
For someone having chronic constipation, alomo bitters drink can help in regulating the bowel movement.
Others claimed alomo bitters help in diluting and reducing the sugar in the body while others testified it enhances their performance and they're able to have better rest after taking this drink.
Alomo bitter authentication as herbal drink
Alomo Bitters has been certified as healthy drink. It has been certified by the Ghana Food and Drugs Board (FDB), Ghana Standard Authority (GSA) and also the National Authority for Food and Drugs Administration and Control (NAFDAC) in Nigeria
Alomo Bitters Dosage
No matter the healthy benefits of any food or drink, its effectiveness in the body is related to the dosage. If the 'right' amount is taken and the usage instructions are well followed, the health benefits will manifest.
If it's otherwise, there would not be any healing effects and in most times, the abuse or misuse can even lead to side effects either during the time of it's used or later in the future.
Since alomo is not medicine per say and not used as drug in the medical world, however, we would suggest the small bottle of alomo bitter which is 200 ml should be taken in two days.
Alomo bitters in Sachet
Not quite long, Kasapreko- the maker of Alomo bitters has gone deeper to target different classes and make sure the drink is affordable for everyone that's legible to drink alcoholic drink in Nigeria.
They now the alomo sachet which is just 30ml in a sachet and ever since it has been launched, it has increased the popularity of the product in Nigeria. Right now, almost 50% of the sales from alomo in West Africa is from Nigeria and that means alot to the company
Where can I buy Alomo Bitters
Alomo bitters are sold Such bitters are sold in public markets, food and drinks, Supermarkets and shopping malls in Nigeria, Ghana and South Africa.
In Nigeria, you can also buy alomo bitters in Motor packs, roadsides, highways, and shops around you.
How to Drink Alomo bitters
You can take 50ml in the morning and 50ml at night before sleep. This would be about 3 spoonful of alomo in the morning and 3 spoonful of this drink at night. As an antidepressant, it will make you feel relaxed after you're battled with the office work for the day.
It is advisable to take alomo bitters after eating and not on an empty stomach because of the acohol contents and some other herbal contents which may make you feel a little depressed without food.
The alcoholic content of 200ml of alomo bitters is about 42%.
Taking a whole of this is likely going to get you intoxicated. Although, you're much likely going to behave normal and coordinate yourself as intoxication as stages, we suggest taking it slowly in other to have positive effects over time.
Alomo Bitters for Weight loss
Alcohol and other herbs in alomo can help losing weight if taken daily for a period of one month. Although it is not advisable to take this for losing weight since exercise and natural foods are better in shedding some weight.
One of the ingredients in alomo that's likely going to be responsible for its weight loss effect is Bitter orange pee, which is mostly found in tea and products for bodybuilding and weight loss, along with caffeine.
Possible side effects of Alomo Bitters
While alomo bitters can help relieving you from back pain, pile and possibly sexual performance, there are dangers if not taken in small amount.
Alomo bitters and other herbal drinks have high concentration on alcohol and they're easily abused. Alcohol, when taken in large quantity over a period of time can cause severe damages to the important organs of the body, especially the digestive organs.
Some of these possible harmful effects are anaemia, increase in the risk of cancer and stroke, risk of liver cirrhosis, increase in sexually transmitted diseases, Kidney failure and even infertility in both men and women.
Alomo bitters can be used to shed some pounds in the body but the excessive intake of alcohol can burn much fats since there's no regulated dosage and people tend to drink as many bottles as they could afford.
Some experts also claimed it can damage the internal system if one is addicted to taking alomo bitters and other alcoholic herbal drinks. This can cause shortage of blood when there's too much dehydration as a result of taking alcohol.
Others are social effects, such as sexual promiscuity which could lead to sexual abuse and rape, violence, overspeed by drivers and road accidents, social vices and immoralities in the society.
Alomo bitters and Pregnancy
Pregnant womens are classified as special population and they need special attention especially as regards their health while they're pregnant. Due to several changes in their body, there are likely going to be some interactions between foods, drinks they take. And their body, even if they're fine taking them before being pregnant.
Bitters are not advised to be taken by pregnant women and alcohol at the same time is not healthy for pregnant women and nursing mothers. Therefore, if you're pregnant, you're advised not to take alomo bitters in that periods.
You should also consult your doctor for advice whenever you're in doubt in taking any food or drink during pregnancy so as to avoid complications to yourself and your fetus.
Alomo Bitter price
Alomo bitters has distributors, local retailers and direct sellers across Nigeria. You can get this drink near you, either it's a rural area or urban centre. One out of every three small or big shop will have this product.
Speaking with few sellers a year ago, she claimed it's an not cake. She told me she had forbidden selling this product before because of religious beliefs but after trying it, she was happy because it's a product that sells fast just like bread.
Depending on your location in Nigeria, the 200ml alomo bitters is sold between 300 to 400 Maura while the 750ml is sold between #1000 and #1200 also in Nigeria.
In South Africa, the 200ml of alomo bitters is sold for between R25 to R30 while the 750ml is about R85. There may be a little difference depending on your area.
Also in US, you can get alomo bitters, although still scarce but at the rate of $2. They're mostly being sold by blacks.
Alomo Bitters sellers and Distributors
There are many distributors of alomo bitters, just contact those who're selling it around you and make enquiries. Some of the distributors in Nigeria are
AB Netto Nigeria enterprise
Jufek Stores
Solaq Nigeria limited
Lucy Nigeria enterprise
Godsfavour Provision store
Kindly note that there are fake products of Alomo bitters due to the fact that the product is selling fast. Nigeria having its huge population from as adults. Such drink is a symbol of social class dominated by both young and old adults.
How to differentiate between Original and Fake Alomo bitters
There are fake products of many herbal drinks in Nigeria and Kasapreko, the maker of alomo bitters in Ghana are working hard in making sure consumers are enlightened on spotting the fake ones and going for the original alomo bitters in the market.
On the bottle of your favorite alomo drink, you should check the following
The Kasapreko brand isi Embossed at the back of the 200ml Green PET Bottle and also, the Kasapreko logo is printed in green on the yellow plastic cap of the bottle.
On the 750ml Green Glass Bottle of alomo, the bottle is Embossed with Kasapreko written on two sides of the shoulder area of the bottle
Volume and strength of the glass embossed at the foot area of the bottle (0.75L 76.5), the cap colour is maroon.
The Engraved horizontal gold foil strip at the bottom of the bottle has "Product of Ghana" written in it., engraved 45 degree slanted gold foil strip at the top left corner
iii. Engraved Kasapreko logo (Encircled gold crown with Kasapreko at the bottom) tied in with an horizontal gold foil strip, Engraved Kasapreko in gold placed on top of "Alomo Bitters", Engraved letter "R" indicating a registered trademark and referring to "Alomo Bitters"
Also take note of these Registration Numbers
Ghana Food and Drugs Board (FDB) Number – FDB/Dk 00-059
Nigerian Authority for Food and Drugs Administration (NAFDAC) Number - A1-8029