Adverts / #pepsilyricschallenge - Write For Tiwa Savage And Voice Your Dreams by thenewsman: 5:34pm On Dec 27, 2012
Yes! Write for Tiwa Savage in the Nigerian Idol: Voice Your Dream competition by Pepsi, and stand the chance to win N150,000, iPads, iPhone 5s, and Beats by Dre earphones.
Go to:
http://facebook.com/pepsinigeria
and send your lyrics to the inbox. Deadline: 28th of December, 2012
Food / Introducing Lazyappetite, Nigeria's Pioneer Food Delivery Portal by thenewsman: 6:16pm On Dec 15, 2012
We have good news! Introducing
LazyAppetite.com
, Nigeria's pioneering food delivery portal. We like to think of it as a "grub-hub". LazyAppetite.com connects you to the best restaurants, pizza houses and fast-food outlets serving your location; further bridging the gap between you and your food.
You can picture
LazyAppetite.com
as an online maitre'd, welcoming you to food heaven and guiding you through the maze that take-away food delivery is currently. With over 45 restaurants listed including: Terra Kulture, Cafe Maison, La Pizza, Wan Tan Fusion, Debonairs, Imperial Chinese, Obe to dun and Crumbles n' Cream, etc., there is a wide array of choices and the first time visitor will be forgiven if he browses around and gets on
Facebook.com/lazyappetite
Sans Unicode]
Twitter.com/lazyappetite
[/font] to rave about the discovery and ease of navigation around the site. It is obvious that a lot of work has gone into the site with the menus all planned out with prices so you can stick to your budget.
As seen on YNaija
http://www.ynaija.com/introducing-lazyappetite-com-nigerias-pioneer-food-delivery-portal/
Politics / Here's Why MTN, Other Telcos Are Promising You Airplanes by thenewsman: 12:43pm On Oct 25, 2012
Of late, Nigerian telcos seem to be trying their hardest to outdo the rest in flamboyant gestures of largesse, in a bid to get your attention. They love you so much that they'll do and give you anything – they'll double your airtime, dash you free internet data and even give you an airplane for just recharging with N200.
While not necessarily taken in by these cloyingly random displays of affection, Nigerians are notorious lovers of freebies, and they can't be bothered with whether the telcos motives are sincere or mercenary. I wasn't either, until free airplanes became involved.
Read More >>
http://otekbits.com/2012/10/heres-why-mtn-other-telcos-are-promising-you-airplanes/
Business / Sharetori Wants To Pay You For Local Content - No Jokes! by thenewsman: 8:02pm On Oct 03, 2012
Yes, Sharetori is a social sharing network for sub-Saharan Africa that provides support for spreading information about local business, news, video, and social causes.The aim is to amplify your social interactions.
Get in on the action here:
http://otekbits.com/2012/10/sharetori-wants-to-pay-you-for-local-content-while-building-a-social-sharing-network/
Business / Top 40 Startups Including Maliyo To Launch At First-ever DEMO Africa Conference by thenewsman: 6:15pm On Sep 27, 2012
At the first-ever DEMO Africa conference to be held in Nairobi, Kenya in October, some 40 of the most innovative technology companies from Africa including Maliyo Games (
http://maliyo.com
) makes interactive multimedia content, published for web and mobile distribution, would launch their products to the world.
The start-up companies were selected from over 500 applications by a pan-African panel of judges including entrepreneurs, VCs and Academia and they cover five categories — Social Media, Cloud Services, Mobile, Consumer and Enterprise Technologies — from South Africa, Kenya, Ghana, Nigeria, Cameroon, Senegal, Egypt, Tanzania and Zimbabwe.
Read More:
http://techloy.com/2012/09/27/demo-africa-40-startups/
Properties / Is Nigeria Ready For Online Real Estate? I'm Not Quite Sure by thenewsman: 2:52pm On Sep 19, 2012
The internet revolution and the rise of mobile on the black continent has heralded a deluge of technological conveniences in communication, business, and lifestyle that hitherto were the preserve of the first world. One of the most obvious of these trends is growing traction in the e-commerce sector, which after a number of false starts has begun to show sure signs of taking off in earnest as consumers come online and demonstrate increasing willingness to participate in electronic transactions.
The online retail sub-sector looks all but ready to explode, with the likes of Konga and Jumia jostling to capitalise on the early advantage. The online travel vertical isn't doing badly either. Local pioneers in that space, Wakanow, are entrenched, and have recently had the South African Travelstart snapping at their heels.
Read More:
http://otekbits.com/2012/09/is-nigeria-ready-for-online-real-estate-im-not-quite-sure/
Business / Maliyo Games: A Farmville For Africa - BBC Future Feature by thenewsman: 10:20am On Aug 31, 2012
For Hugo Obi, mosquitoes are an unlikely source of inspiration.
"They are very common here and throughout Africa," says the co-founder of a start-up called Maliyo Games, based in Lagos and London. "They are a menace to society."
When he talks about the bugs, he is not only referring to the scourge of malaria that mosquitoes bring, but also the day-to-day dreariness of swatting and squashing them.
"We wanted to turn that into a game," he says enthusiastically. "So we created Mosquito Smasher." The web-browser based game is simple. You use the mouse to control a thumb that hovers above a bunch of mosquitoes. Then a timer starts and you have to squash as many as possible in the time allotted.
It may be difficult to comprehend the "fun" that can be had recreating task that is so repetitive in real life, but it is a recipe that has proved popular for other so-called casual games. Think of FarmVille, where players tend crops and animals over and over, yet has more than 70 million players. The difference with Obi's games is that they are made specifically for the African market.
Read More at: http://www.bbc.com/future/story/20120830-a-farmville-for-africa/1Play MALIYO Games here: http://maliyo.com/games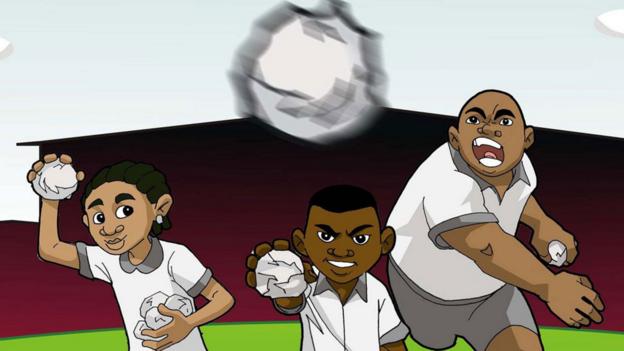 Politics / Iroko, Kasuwa, Sabunta And More. Talent War Ignited On Nigerian Tech Scene by thenewsman: 4:21pm On Jul 18, 2012
Remember 2007, when Etisalat opened shop in Nigeria? Even if it seems a long time ago, one thing I cannot forget was the transfer of talent from other telecom operators like MTN, Glo and Airtel (Zain at the time) to Etisalat. I will want to assume that Etisalat is the richest telecom operator in Nigeria, and that means a lot of revenue allocated at attracting the best talents in the industry. Etisalat offered up to three times the salaries and did get a lot of talent transfer in a couple of weeks.
Looks like it's happening again – Deja Vu! This time around, it is Rocket Internet's Sabunta and Kasuwa, allegedly on a hiring spree and luring talent from other tech companies and startups. According to a Facebook update made by Jason Njoku, Founder and CEO of iROKO Partners, Sabunta and Kasuwa have been snooping around LinkedIn profiles of iROKO staff, and offering them double and triple the amount they currently earn at iROKO.
Read More >>
http://otekbits.com/2012/07/18/talent-war-ignited-in-the-nigerian-tech-scene/
Politics / Celestine Omin Talks Gbedu.fm, Blackberry, Nigerian Tech Hubs, And Developers by thenewsman: 12:56pm On May 23, 2012
Programming / Google Sets Another Standard For Crazy: Future Technology by thenewsman: 2:39pm On May 21, 2012
Politics / The Facebook Story: IPO, Birthday And Divorce by thenewsman: 6:11pm On May 18, 2012
Politics / The Nigerian Constitution Mobile App 2.0 - Pledge51 by thenewsman: 3:58pm On May 18, 2012
One of the things I fancy so much about the mobile phone is its ability to be with us at all times. Three things we can hardly leave the house without; a mobile phone, Keys and our wallet [Money]. Not only is the mobile phone with us at all times, but it connects us with the wonderful conversations we like to have with people that we are connected with.
Pledge51 with the support of Indigo Trust and Co-creation Hub is releasing the Version 2 of The Nigeria Constitution on mobile phones. The app has been repackaged and developed to promote citizenship enlightenment.
Read More:
http://otekbits.com/2012/05/18/pledge51-mobile-app-nigerian-constitution/
Technology Market / Iroking Adds Symbian To Mobile Apps by thenewsman: 5:42pm On May 17, 2012
Webmasters / Why Nairaland Remains Nigeria's Number One by thenewsman: 5:39pm On May 17, 2012
Politics / How Technology, Or Lack Of One, Killed University Of Lagos's Vice Chancellor by thenewsman: 5:50pm On May 14, 2012
…don't mind my nerve, you can call it fiction,but I love being submerged in your contraction – Jason Mraz (Beautiful Mess)
There's been many tales on how the (former) Vice Chancellor of the prestigious University of Lagos passed away in the early hours of Saturday, 12th of May, 2012. Here's my version, and even though I couldn't hear from the horse's mouth as it seemed quite difficult, or rather impossible, I got the account of his death from a reliable source. I'd summarize what happened and move on the what prompted me to writing this post.
Read More:
http://otekbits.com/how-technology-or-lack-of-one-killed-university-of-lagoss-vice-chancellor
Celebrities / Okocha Scoffs At Reports Of Marriage Troubles by thenewsman: 3:05pm On Apr 12, 2012
Former Super Eagles captain, Austin Okocha, on Thursday, debunked recent media reports that his marriage is on the rocks.
In an exclusive chat with Daily Times, the former midfield maestro said his marriage to his wife, Nkechi, is not threatened by any issue; adding that reports of a looming divorce were "fabricated rumours."
"I just got into Nigeria at the weekend, and I attended the AY [Comedy Talk] Show together with my wife on Easter Sunday," he said. "Our marriage is still strong, and all those stories are nothing but fabricated rumours."
Read More:
http://dailytimes.com.ng/article/okocha-scoffs-reports-marriage-troubles
Politics / Corruption Is Nigeria's Modern Day Slavery – Dabiri-erewa by thenewsman: 1:26pm On Apr 12, 2012
Nigerians are still in slavery, more than two centuries after its abolishment; however, the new form of servitude has remained an unrelenting scale of corruption, a House of Representatives committee has said.
"Nigerians are still in slavery since one person can keep as much as N2 billion in his account and nothing happens to him. Nigerians are still in the bondage of corruption," chairperson of the Diaspora committee, Abike Dabiri-Erewa, said at a meeting held on Wednesday between the House committee on Diaspora and the High Commissioner of Trinidad and Tobago.
Read More >>
http://dailytimes.com.ng/article/corruption-nigeria%E2%80%99s-modern-day-slavery-%E2%80%93-dabiri-erewa
Politics / Criticisms Against Jonathan Are Laughable by thenewsman: 2:01pm On Apr 05, 2012
Says the President neither solicited nor accepted bribe from any company
The Presidency, on Wednesday, explained and defended President Goodluck Jonathan's alleged acceptance of a gift from a construction firm.
Jonathanhasrecently come under strong criticisms for accepting a newly designed and constructed church in his hometown, Otuoke, Bayelsa State, which was donated to him by an Italian construction firm, Gitto.
Read More >>
http://dailytimes.com.ng/article/criticisms-against-jonathan-are-laughable-presidency
Politics / Another Case Of 'accidental Discharge' By Nigerian Police by thenewsman: 1:54pm On Apr 05, 2012
Case of Ademola Aderinto, killed by a police bullet during the anti-fuel subsidy removal protest, begins
The Lagos State Police Command, on Wednesday, told an Ikeja Magistrate Court that the death of Ademola Aderinto, killed by a police bullet during the anti-fuel subsidy removal protests, was accidental.
Investigating Police Officer, Olumide Alagbe, while giving evidence at the first hearing of the case, told the court that the defendant, Chief Superintendent of Police, Segun Fabunmi, accidentally killed the deceased when his team was attacked by youths.
Read More >>
http://dailytimes.com.ng/article/another-case-accidental-discharge
Politics / World Bank: Goodluck Jonathan Endorses Ngozi Okonjo-iweala by thenewsman: 4:11pm On Apr 02, 2012
President Goodluck Jonathan said on Monday that Nigeria's Finance Minister, Ngozi Okonjo-Iweala, possessed the best credential to clinch the Presidency of the World Bank.
Jonathan officially declared the support of the government and people of Nigeria for Okonjo-Iweala's candidacy in a statement issued in Abuja.
In the statement, the President demanded an open and transparent process in the election process for the World Bank top job.
Read More
http://dailytimes.com.ng/article/world-bank-gej-endorses-noi
Politics / PENGASSAN Threatens Strike. Is It Time For #occupynigeria Part 2? by thenewsman: 2:12pm On Apr 02, 2012
The Petroleum and Natural Gas Senior Staff Association of Nigeria (PENGASSAN) says it will embark on a three-day nationwide strike from April 16, to protest alleged poor labour practices by employers, anti-union activities and insecurity of several of its members while at work and at their residences.
In a petition sent to the Federal Government through the minister of labour and productivity, PENGASSAN spelt out their aggravation and also stated that they had made several reports to the various appropriate government agencies and departments without getting any favourable feedback.
Read More >>
http://dailytimes.com.ng/article/pengassan-threatens-strike
Politics / 'pay Minimum Wage Or Resign', P D P Tells Ajimobi by thenewsman: 10:39am On Apr 02, 2012
Says refusal to implement the 18,000 minimum wage is cruel
[i][/i]
The South West arm of the Peoples Democratic Party (PDP) has advised Oyo State governor, Abiola Ajimobi, to begin payment of the N18,000 minimum wage to state workers or resign from his position.
The zonal publicity secretary of the PDP, Kayode Babade, described as cruel, Ajimobi's refusal to pay the state workers the minimum wage while maintaining a cabinet with over one thousand political appointees all earning above N300,000.
"We in the PDP have an advice for him, he should please resign and let someone else who won't see Oyo State Government in terms of naira and kobo take over the affairs of the state," Babade declared in a signed statement.
Read More >>
http://dailytimes.com.ng/article/pdp-asks-ajimobi-resign
Programming / Microsoft Makes ASP.NET MVC A Lot More Open by thenewsman: 8:39am On Apr 02, 2012
In the world of web application development especially on Microsoft's Platform, ASP.NET MVC has been adopted on several small to large scale software projects. MVC stands for Model View Controller and is a design pattern employed to make building robust applications easier. ASP.NET MVC started out as a third party framework and was later adopted by Microsoft.
ASP.NET MVC, Microsoft's Web application framework, has been open sourced since its first version, and was switched to Microsoft's permissive license in 2009. However, there's a difference between open development and mere open source (as those following Android's development will be well aware). Previously, the source was available, but its development was Microsoft's sole concern; third parties had no ability to suggest changes or contributions of their own, and little ability to comment on the work that Microsoft was doing.
[img]
http://www.otekbits.com/wp-content/themes/kernel-theme/timthumb.php?src=http://www.otekbits.com/wp-content/uploads/2012/03/asp-net-hosting.jpg&w=315&h=177&zc=1&q=100
[/img]
Politics / Fuel Dries Up In Benin- Will This Happen In Nigeria? by thenewsman: 8:31am On Apr 02, 2012
Residents of Benin have called on the state government to prevail on petroleum tanker drivers in the state to resume lifting of fuel; as scarcity bites harder in the area.
The aggrieved tanker drivers are protesting the kidnap of their colleague and chairman of the Petroleum Tanker Drivers Association, Osasuyi Osahon, who was abducted on Monday last week.
Osahon's whereabouts is still unknown one week after he was abducted.
Read More >>
http://dailytimes.com.ng/article/fuel-dries-benin
Politics / Is Nigeria Getting Dumber? NECO Records Another Mass Failure by thenewsman: 10:29am On Mar 29, 2012
The National Examinations Council (NECO) has recorded another mass failure in the November/December Senior School Certificate Examinations (SSCE).
The registrar to the examination body, Professor Promise Okpala, made the announcement on Wednesday, while releasing the results at the council headquarters in Minna, Niger state.
The 2011 result that was just released by the council revealed that 10 percent of the 110,724 candidates that sat for the examinations scored credit and above in core subjects like English language, Biology, Chemistry, Physics and Geography.
Read More >>
http://dailytimes.com.ng/article/neco-records-another-mass-failure
Politics / Fela: Double Wahala For Dead Body. Double Tragedy In Abakaliki, Nigeria by thenewsman: 10:27am On Mar 29, 2012
Tragedy struck on Wednesday in Abakaliki, Ebonyi State when fire razed shops located at the Police Headquarters, just as a gang of armed robbers shot a 20-year-old girl dead for refusing to be raped.
Confirming both incidents, the Police Public Relations Officer of the Ebonyi state command, John Eluu, said the police had deposited the girl's body in a mortuary, while the fire was due to electrical
Read More >>
http://dailytimes.com.ng/article/double-tragedy-abakaliki
Crime / Senate Passes Budget by thenewsman: 6:25pm On Mar 15, 2012
The Nigerian Senate on Thursday passed the revised 2012 budget of N4,877,209,156,933 at a plenary session.
Speaking after the session with journalists, the Chairman of the Senate Committee on Appropriation, Senator Ahmad Maccido,pointed out that the budget for the Central Bank of Nigeria (CBN) was excluded from the budget, but the budget of the Nigerian National Petroleum Company (NNPC) was included in the 2012 budget.
Read More >>
http://dailytimes.com.ng/article/senate-passes-budget
Sports / The Fairy-tale From Nicosia Continues In The Champions League by thenewsman: 6:52pm On Mar 08, 2012
Twelve months after introducing some rule amendments that enabled more league champions (from lesser European league) to compete in the latter stages of the UEFA Champions League, UEFA President, Michel Platini, will have slept like a baby on Wednesday night when Apoel Nicosia dumped French side, Olympique Lyonnais, out of the second round of the elite tournament in a packed GPS Arena in Cyprus.
Apoel Nicosia thus became the first Cypriot side to reach the quarter final of an European competition, after knocking out perennial Champions League participants, Lyon, on penalties.
Read More >>
http://dailytimes.com.ng/article/fairy-tale-nicosia-continues
Sports / Messi Hits Five As Barcelona Maim Leverkusen by thenewsman: 6:47pm On Mar 08, 2012
Lionel Messi scored five goals, a Champions League record, as Barcelona thrashed Bayer Leverkusen 7-1 at the Camp Nou to win their last-16 tie 10-2 on aggregate.
Messi netted with two lobs, a fine low drive, a close-range finish and a long-range screamer to make history for the umpteenth time in his short career.
Read More >>
http://dailytimes.com.ng/article/messi-hits-five-barcelona-maim-leverkusen
Sports / U-17 Wc Qualifier: Zambia Threatens Flamingos‬ by thenewsman: 6:39pm On Mar 08, 2012