Politics / Re: 100 Of Peter Obi Can Not Compel Ndigbo To Go Into Election In 2023 - Simon Ekpa by Ofodirinwa: 5:55pm
Ekpa should shut up. And this is coming from a Biafra supporter who will not be voting for Obi.
Politics / Re: Opinion - Why Is Peter Obi Living In The Southwest? by Ofodirinwa: 7:56pm On Jun 23
KingofAnambra:
Immediately Peter Obi finished his tenure as Governor of Anambra, he relocated to the Southwest and has been living in Lagos for many many years now. He lives in Ikoyi, just around Bourdillon where Tinubu lives.

Peter Obi is enjoying the dividends of Tinubu's legacy of a metropolitan Lagos with security. Even as governor, Obi was a very frequent visitor to Lagos, almost like as if Southwest was 10 minutes away.

No other governor in Nigeria is as dysfunctional as this. Dysfunctional because if truly Peter Obi left a good legacy in Anambra like his social media bandits claim, them Obi has no business living in the Southwest. He would have stayed back in Anambra to enjoy the fruit of his labor, to enjoy the dividends of good governance he left behind.

But Obi abandoned Anambra, not only Anambra but rejected the entire East, for the Southwest. Only the Southwest was good enough for him to live in. It means he has no legacy in Anambra, it means his governance over Anambra was disastrous to say the least.

It means if someone like Obi becomes president (Tufiakwa! God forbid bad thing), after destroying Nigeria, he will run away to Egypt to live there. Or maybe the facts are not clear enough, so someone that knows better should enlighten us what Obi forgot inside Southwest that has made him abandon Anambra for Lagos to be enjoying Tinubu's legacy of socio-economic development?
Obi lives in Onitsha, Abuja, the US and Lagos
1 Like 1 Share
Foreign Affairs / Re: Americans Have Fundamental Right To Carry Firearms In Public - US Supreme Court by Ofodirinwa: 4:29pm On Jun 23
gambojimeta:
Okay.

In the US supreme Court, there are currently 4 republican judges and 2 Democrat judges. The judgement is not surprising at all.

The killing continues.
20 democrats would have made the same judgement
Politics / Re: Obi And Wike Should Form Igbo/ikwerre Ticket by Ofodirinwa: 12:02am On Jun 23
Makavelli001:
Very naive and myopic tend.
Ikwerre is not even among the 4 largest tribe in south south. They are a very minute minority.
Igbo
Bini
Efik
Ibibio
...damn you're right.
Politics / Obi And Wike Should Form Igbo/ikwerre Ticket by Ofodirinwa: 9:11pm On Jun 22
Two of the most influential tribes in Nigeria. ObI from Igbo which can sway the SE, Wike from SS which can sway Ikwerre and similar groups like Bini etc. It will also show Obi's detribalised side as the two tribes have had conflict in the past

2 of 4 regions locked down. Obidient in north and sw are already massive in number
Politics / Re: Peter Obi's $12.24m Investment In Breweries Now Worth $5.38m - TheCable by Ofodirinwa: 5:30pm On Jun 22
PS712:

Please because you are on front page, kindly edit your comment to tell them the report is skewed. It didn't report at what value per share when Peter Obi invested over $12M of Anambra state funds, and the report did not state how much jobs and businesses have been created along the value chain?
The fraudulent report didn't mention why the dollar equivalent of the investment will definitely have to be low, which is the loss of value of the Naira to the dollar courtesy the APC government.
in my post, I'm only measuring their accusation against the accusation of others. It is not about the fact. I know that the investment was solid and fruitful but I want them to see what they are accusing him of and what has been a proven fact for the other candidates.
1 Like
Politics / Re: Peter Obi's $12.24m Investment In Breweries Now Worth $5.38m - TheCable by Ofodirinwa: 2:08am On Jun 22
tegrianonigltd:

Dollar increased, you invested at 200, and now 400 plus, how yku expect to gain, Dangote dropped because of dollar fall na lol, because na naira e invest not dollar
I don't disagree with you
Politics / Re: Obi Shouldn't Consider Kwankwaso by Ofodirinwa: 1:13am On Jun 22
SmartPolician:
Obi should get in touch with Sanusi.

That's if he's willing to get into politics.

TBH, there are few intelligent politicians from the north and they are mostly in the APC (El-Rufai and Zulum).

Shehu Sani is another good choice, but his electoral value has waned over the years.
Sanusi is only important to southerners online. Ganduje has also crippled him.
Politics / Obi Shouldn't Consider Kwankwaso by Ofodirinwa: 7:45pm On Jun 21
Udo everyone,

Obi should not consider Kwankwaso. To my knowledge Kwankwaso is very popular among youths, has a great grass roots structure, and performed well in Kano as governor.

Therefore, Obi should leave him. A divided Northern vote, especially a divided vote in Kano will only benefit other candidates more. Atiku's primary threat is his high chance of victory in Kano.

Kwankwaso also has a lingering feud with Ganduje who is dedicated to swashing Kwankwaso and controls the most powerful state in Nigerian politics, Kano.

VPs don't win elections. They can boost your vote in an area but that is it. So Kwankwaso's supporters may switch to Atiku if their man is not the main name on the ticket.

Atiku believes Okowa is going to get him Igbo votes for example. I can tell you now as a fact that Igbos have not flinched at the idea of Okowa. If anything it has only led to more Igbos accepting that his home region, Agbor, is not Igbo due to their own behavior.

Obi should consider a smart young northerner Muslim, even if they're a relative unknown because the south and north would love seeing this type of person.
6 Likes
Politics / Re: Peter Obi's $12.24m Investment In Breweries Now Worth $5.38m - TheCable by Ofodirinwa: 7:33pm On Jun 21
Obi: invested in hopes of bettering state financial standing. Took significant loss

Tinubu: Receives Lagos Tax revenue, uses it for personal politics

Atiku: Primary sponsor of Miyetti Allah
596 Likes 33 Shares
Politics / Re: Can Obi Receive 20% Votes In Any Of The SS States by Ofodirinwa: 6:28pm On Jun 21
SS is not a factor
Travel / Re: Why Do People In The Diaspora Come Back To Nigeria To Settle When They Get Old? by Ofodirinwa: 7:45pm On Jun 20
Amalekki:

Do your research before reaching conclusions, go out of your comfort zone and find out things around you
me or the old Nigerians?
Travel / Re: Why Do People In The Diaspora Come Back To Nigeria To Settle When They Get Old? by Ofodirinwa: 6:30pm On Jun 20
Mode4:
I have been thinking why the few peeps I know including some of my distant uncles who spent most of their years abroad came back to Nigeria to live when they became old. Is there something awkward about growing old overseas?

Even my sister in the US, has been telling me that once she gets old, she will come back to Nigeria to spend the remainder of her life. Folks abroad, what's really going on? Is there a harsh reality for the aged over there?
I live in the US and being old here is people waiting for you to die. In Nigeria the elderly have a lively social live, social clubs, social events. They're treated with respect for their age alone, and you can genuinely relax in Nigeria. The west is an extremely lonely society, especially if you're old. All of the people and things you grew up knowing are in Nigeria. An elderly person in the US still has to think about money too often. In Nigeria you don't have to worry too much about taxes etc. Nigerians abroad are abroad to work, when the work finished (retirement) they go to Nigeria. Lastly, retirement money in the US will make you poor but in Nigeria you'll be rich with the same amount.
9 Likes
Politics / Re: I'm An Igbo Man From South-south ~ Gov. Okowa by Ofodirinwa: 2:56am On Jun 19
redseason:

Is this the best you could come up with? If you were intelligent, you would know that the word is pronounced either Igbo or Ibo, and both are acceptable. Ogbeni, you don't win presidency on SM while your kins keep selling your lots to the highest northern bidder! Your kins have been selling your lots since 1960 and I don't see that stopping soon. It's inherently in you guys, more like a cultural thing. I love Peter and he is the undisputed best candidate, I was still in Unizik when both Ngige and Obi was governor. I know his pedigree, but he will not even win Anambra state. No structure, no grassroots, just SM euphoria.
oya, Mr. Intelligent, Ibo and Igbo are not pronounced the same and only one is acceptable. I didn't read anything else you wrote
Politics / Re: Okowa: I Am An Igbo Man, Can't Be Counted Out by Ofodirinwa: 2:53am On Jun 19
GGirll:


That was how GEJ used Azikiwe as hi Igbo name to get Igbos to vote for him n it worked, Amaechi also recently claimed hes Igbo and now this one.....later they will claim they are South south abeg shift let me focus on my OBidient.
Buhari v. GEJ and you think Igbo ppl voted for GEJ because of his name. I know you were one of the idiots shouting Chanjii up and down
1 Like
Politics / Re: Okowa: I Am An Igbo Man, Can't Be Counted Out by Ofodirinwa: 7:56pm On Jun 18
Election season and everyone is Igbo
274 Likes 20 Shares
Politics / Re: I'm An Igbo Man From South-south ~ Gov. Okowa by Ofodirinwa: 4:51pm On Jun 18
gidgiddy:


I remember when Ifeanyi Okowa was talking at the launch of "Asusu Ika". He told the audience in Igbo that his surname is actually Oke-Owa, because he is from Owa and means "great Owa", which is what it translates to in Igbo
Imagine launching a language. Dead people
Politics / Re: I'm An Igbo Man From South-south ~ Gov. Okowa by Ofodirinwa: 4:48pm On Jun 18
redseason:
See how some people are saying it's the GEJ format! If you fell for the GEJ Azikiwe format, that is your personal issue because how an ijaw man(ijaw is one of the largest ethnic tribes in Nigeria after after the big 3 spread across several states) metamorphosed into an ibo man is strange.

This is not a brief for Okowa, I benefit nothing from his government, that being said, while I cannot tell much about river state, I know for certain as an ukwuani man from NDOKWA west that we identify as delta ibos, an acronym for all the ibo speaking parts of delta which spans across NDOKWA west, east, some parts of ukwani LGA, Oshimili north and south, Aniocha north and south and the whole of IKA. Have you heard a terminology like "delta bini or delta edo? Did you take cognizance of the names of these people and their dialect? Even the names of their towns and communities? Their dress sense? Their culture? Their masquerades/festivals? Even their local gods? But of course we expect the across the Niger ibos to come forward today and tell us how an IKA man is a lesser ibo man, even when the urhobos, ijaw, itsekiris, isokos all class them as the ibos among them.

This is one of the reasons the average ibo man from places other than the south east should be wary of the southeastern ibos. Their oneness is when power and money is not involved. The moment money or power is introduced, you will see their inherent greed. The very reason am ibo man will never be president is because an ibo man will always sell the ibo tribe to an outside bidder.

I pity my people at the actualization of Biafra which we hope to usher a better life, because the marginalization from the east will dwarf whatever the region experiences from other parts today. You think the average eastern ibo will allow power rotate equitable? Even in delta, they allow it rotate equitable around the 3 geopolitical zones. The eastern ibo is so greedy that he would rather sell his brother than allow power stay with his neighbors. Who sold the ibos in the first republic? Who did the core ibo heavy weights campaign for in the ruling APC primaries? When the ibos had the slot of the senate presidency under obasanjo, remind me again how many times they were used to do hatchet jobs and impeach themselves? In one government, we had Emwerem, okadigbo, wabara, Anyim etc.

I graduated from Unizik in 2009 and I saw first hand how power drunk they are, every district, you have an igwe because nobody wants to be subservient to his neighbor. Igwe Nodu, Igwe okpuno, igwe nodu okpuno, igwe every single department, igwe every single faculty, igwe every single hostel, igwe every single fellowship, igwe every church, igwe anything about everything. Even the streets have igwe. These are the people that will allow power rotate to Delta or Rivers in a Biafra?

How convenient that in my country of residence, we just discovered that every count of people we have had issues with regards to betrayal and bussiness deals gone bad is an eastern ibo from imo state, save a single edo exception. 11 total cases with a whopping 10 from one eastern state.

They will never see anything wrong in themselves. I expect them to bash me and ignore the barefaced truth, it will not stop it from being the truth. And yes, presidency is far from the east until the put their greed and betrayal tendencies behind. Obi will not be president, even though he is the best man for the job. I don't live in social media delusions.
You cant even spell Igbo but you have energy for this essay
1 Like
Politics / Re: "I Am An Igbo Man From South South" Okowa's Tribal Politics Gets Response by Ofodirinwa: 4:35pm On Jun 18
Stingy Ftc
Politics / "I Am An Igbo Man From South South" Okowa's Tribal Politics Gets Response by Ofodirinwa: 4:33pm On Jun 18
Despite Igbo ppl historically neber voting for tribe, they have come with their soud soud identity politics
Politics / Re: Anger Persists In Rivers As Wike Reviews Next Action by Ofodirinwa: 2:29am On Jun 18
all the money in the world and PDP chose a candidate because they were Igbo.
Anyways, the ogwu ndi Obigbo tiri for this man's head is not childsplay. Watch and wait
3 Likes
Politics / Re: Amosun Shut Down Ogun State For Tinubu Today. Pictures. by Ofodirinwa: 3:35am On Jun 17
DiscoverID:

Go and support your Pandora thief.
between Obi and Tinubu, if you're pro-Tinubu, how far will you get using theft as an insult?
Politics / Re: Amosun Shut Down Ogun State For Tinubu Today. Pictures. by Ofodirinwa: 9:07pm On Jun 16
Someone will leave their work to listen to a urine soaked politician.
Politics / Re: My Opinion Of Okowa As Atiku's VP by Ofodirinwa: 4:11pm On Jun 16
Okowa >>>>>>>>>>>>>>>>> Wike
Foreign Affairs / Re: UK Reward War Criminals Like Tony Blair With Knighthood by Ofodirinwa: 5:22am On Jun 16
What exactly did you think a Knight was?
Politics / Re: Few Pics From Imo State by Ofodirinwa: 9:12pm On Jun 15
huncho22:
if God gives me money I'll build a recreational center in Owerri it's gonna be massive just like pleasure park in pH there is money in that business
God will give you nothing nwanne, you have to use what God has already given you to make your dreams come true
Politics / Re: Few Pics From Imo State by Ofodirinwa: 5:46pm On Jun 15
sanctity454:


Money no dey naa
start small, piece by piece it will happen. Our generation loves telling government our business plans
Politics / Re: Few Pics From Imo State by Ofodirinwa: 2:04pm On Jun 15
huncho22:
bro I weak they should at least open a standard TV station
who is they? why not 'you'?
2 Likes
Politics / Re: Few Pics From Imo State by Ofodirinwa: 1:06am On Jun 12
PVC Registration Event
3 Likes
Politics / Re: Few Pics From Imo State by Ofodirinwa: 1:04am On Jun 12
Charlesdonald:
no gutter??
what does those fake gutters do? honestly
Politics / Re: Deadlock Over Governor Wike As Atiku Searches For Running Mate by Ofodirinwa: 6:29pm On Jun 09
Wike will not bring 1 vote for Atiku. All Wike can bring is money and Atiku has more than enough.
Wike will not bring the SS because he is Igbo and arrogant. Wike will not bring the SE because he is not Igbo and arrogant. The SW doesn't know him so he cannot deliver the collective south.

The part is already united under Atiku. It will remain so w/ Atiku but a vice is supposed to 'bring' their region and Wike cannot deliver on this.
Atiku should REALLY keep his eye on Ihedioha or someone for the Southwest who has a decent reputation (Adesina for example). Look into the performers from the GEJ admin. Ngozi Iweala if she's interested as well to secure the woman vote across regions, but Wike is dead weight.
6 Likes 4 Shares
Politics / All Three Majority Groups Are Represented In This Election by Ofodirinwa: 6:23pm On Jun 09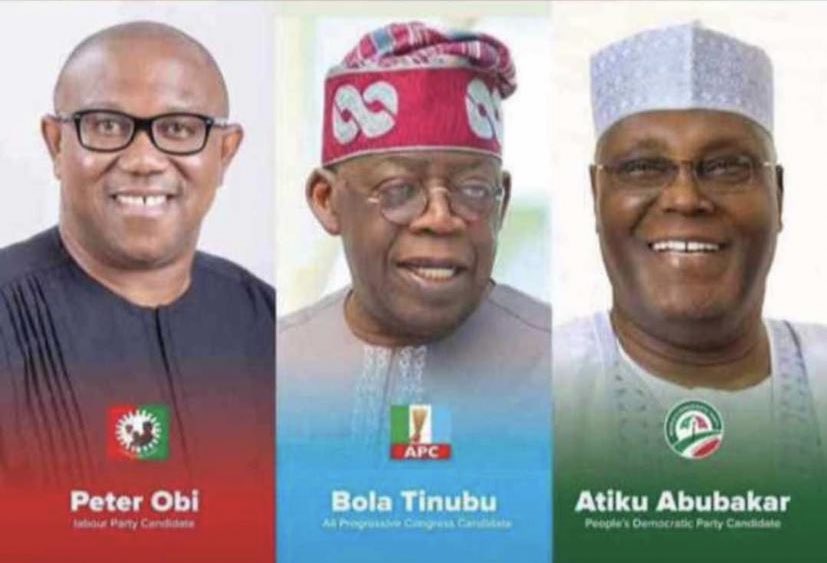 still a zoo though