Politics / Re: Bandits, Not IPOB, Responsible For Killings In Anambra – Obiano Tells Buhari by IsraeliAIRFORCE: 11:01pm On Oct 07
Neighbouring State actors sponsored by IMO State Governor, Hope Uzodinma. If you don't understand the coded message then decipher it now.

The same Governor that paid people, mostly from the North to receive Buhari at the Airport.
Politics / Re: UGM Attack Onitsha, 5 Soldiers Killed In Bloody Attack by IsraeliAIRFORCE: 10:43pm On Oct 07
Anambragully:
When army starts theirs make una no shout genocide oo,I don talk mine
Don't be stupid. Is genocide committed on armed groups or defenceless civilians?
Take your frustration off unarmed civilians and everyday people.
5 Likes
Religion / Re: Can A Born Again Christian Be Possessed By Demon? by IsraeliAIRFORCE: 9:34am On Oct 03
Ola17:


Most of what people term demon possession is a case of psychological problems. Ask yourself why demons and witches are powerless towards people who doesn't believe they exist.
It's only in under-developed and developing countries that mental health issues are being attributed to demon possession.
1 Like
Religion / Re: Can A Born Again Christian Be Possessed By Demon? by IsraeliAIRFORCE: 9:30am On Oct 03
babajide107:
Being born again doesn't mean you can't be possessed..Being born again is the first step.you can't just stop dier .it's just like gaining admission into the university.do you tink after writing jamb and gaining admission,you would get your Bsc?
To preaching heresy.
Jesus Christ, Holy Spirit can't cohabit your body and life with a demon. It's only one at a time.
Religion / Re: Can A Born Again Christian Be Possessed By Demon? by IsraeliAIRFORCE: 9:15am On Oct 03
It's 100% impossible for a practicing Christian to be possessed by a devil. Never happened and wouldn't happen in this life.

If you're a baptised, born again Christian and is having a problem, rule out ancestral curses. Look for a solution and avoid wasting your prayers on whatever sin you think your ancestors did or didn't do or committed.

You can't be curse but you can fall victim to ignorance and be destroyed.
Politics / Re: IPOB Killed Chike, Akunyili's Husband — Uche Mefor by IsraeliAIRFORCE: 12:58pm On Sep 30
How Northerners now love Igbos is a Miracle.
16 Likes 1 Share
Politics / South African Bourse Seeks To Lure Firms From Nigeria To Kenya by IsraeliAIRFORCE: 12:39pm On Sep 30
The latest South African stock exchange opens Thursday pledging to lure firms from across the continent with listing costs that are a third of that charged by the Johannesburg Stock Exchange.
TWK Agri Pty. will be the first company to trade on the Cape Town Stock Exchange, which was previously called 4 Africa Exchange Pty. before an overhaul that resulted in the bourse becoming a full-fledged stock exchange, according to Chief Executive Officer Eugene Booysen. BKV Holdings will list a few weeks later.
While a wave of initial public offerings has swept across the world, firms in the continent's most-industrialized nation, especially smaller companies, have been de-listing from South Africa's main exchange in recent years due to cost and onerous compliance issues. Cape Town Stock Exchange and other rivals such as A2X and ZarX have been using technology to cut listing costs in a bid to lure business.
"We reduce the cost, risk, time and complexity for companies looking to list," said Booysen. "This, and owning our technology, enables us to target small and medium firms of between 25 million rand ($1.7 million) to 2 billion rand market capitalization."
Read: IPO Mania Skips Africa, Where Fast-Growing Firms Prefer Debt
Other than the JSE, the Cape Town Stock Exchange, will be the only bourse that is able to offer companies equity and debt trading, said Booysen. The exchange managed to get its debt listing rules approved last year, and is set to begin trading of debt in October, he said.
While private equity has managed to find growth companies, South African exchanges have not been able to bring them to market, said Booysen. South Africa has two fast-growing tech firms in branchless lender TymeBank, backed by billionaire Patrice Motsepe, and payments company Yoco, but both have raised funding from outside the equity-capital markets. TymeBank raised $109 million in February, at a valuation of 8 billion rand. Yoco attracted $83 million in July.
Rising investment in renewable energy worldwide should also bode well for South African firms, which could benefit from a new government policy allowing more private power generation. Such companies may sell equity to raise funds providing the new exchange with business.
The Cape Town Stock Exchange is also in talks with other African bourses to share its technology offering and work on a revenue share basis, said Booysen. The exchange, where companies with a total market value of 7 billion rand traded under its previous avatar, estimates shares valued at 50 billion rand will trade on the bourse by mid 2023.
The Cape Town Stock Exchange would like to become the Nasdaq of Africa, able to attract companies looking to raise capital in Kenya, Nigeria, Ghana and others, said Booysen.
https://www.bloomberg.com/news/articles/2021-09-30/south-african-bourse-seeks-to-lure-firms-from-nigeria-to-kenya
Politics / Re: DSS Denies Killing Chike Akunyili by IsraeliAIRFORCE: 9:52pm On Sep 29
Why deny it without investigations?

Independent investigator is needed.
1 Like
Politics / Re: Court Prohibits FG From Retrying Orji Uzor Kalu by IsraeliAIRFORCE: 11:38am On Sep 29
Is this not the same technicality that saved Tinubu from code of conduct tribunal.

The law is there to protect the citizens from double jeopardy.
Politics / Re: Soldiers Shoot At Shiites In Abuja, 6 People Reported Dead - Politics Nigeria by IsraeliAIRFORCE: 6:19am On Sep 29
muykem:
Hope you are OK sha. Procession by blocking major road in F CT.
f
Sunni Moslems and some Churches block major roads during services and Moslems block roads on Fridays.
Politics / Re: Soldiers Shoot At Shiites In Abuja, 6 People Reported Dead - Politics Nigeria by IsraeliAIRFORCE: 2:11pm On Sep 28
muykem:
What's shites still doing in Abuja Road after their boss has been released.
What a stvpid question. The Shites do their yearly peaceful procession in every part of the world including Europe and Asia without harassment by the government.
1 Like
Politics / Re: War Over Value Added Tax: The Facts And The Fictions By Olawepo Hashim by IsraeliAIRFORCE: 2:04pm On Sep 28
mfm04622:


That facts that he used in supporting his narrative is from Vanguard Newspaper. Is Vanguard Newspaper a propaganda outlet for the north now?
If you don't read, how can you honestly refute his claims?
What's the meaning of Nnamdi Kalu's Abia State when the States with VAT laws are Rivers and Lagos States?
The man is stupid to have said that nonsense.
2 Likes
Politics / Re: War Over Value Added Tax: The Facts And The Fictions By Olawepo Hashim by IsraeliAIRFORCE: 1:56pm On Sep 28
es144000:
But they are doing better than Eastern states and seem to be more viable.I pity those hoping for Biafra.
We agree. Let them accept the obvious. The decentralisation has just started.
1 Like
Politics / Re: War Over Value Added Tax: The Facts And The Fictions By Olawepo Hashim by IsraeliAIRFORCE: 1:52pm On Sep 28
mfm04622:


Did you read before commenting? I doubt it!
Read the propaganda. Why are they resisting? The South supports decentralised VAT collection at the detriment of most Southern States.
The North should stop resisting the obvious or better still rewrite the whole constitution from scratch.
Politics / Re: War Over Value Added Tax: The Facts And The Fictions By Olawepo Hashim by IsraeliAIRFORCE: 1:47pm On Sep 28
Conversely, when it came to distribution, Nnamdi Kanu's Abia State got N20.020B for generating N2billion, yet he wants to leave Nigeria that is "oppressing" him. Abia got 10 times what it contributed whereas Kaduna and Kano did not get as much as twice what they contributed. Lagos, Rivers and Oyo got lower.
Another foolish propagandist.
Stop complaining and decentralised the government.
EVEN without a kobo to most Southeast States, we want VAT collection to be done by the States.
1 Like
Politics / Re: Federal high Court strikes out FG plea, insists IPOB is not an unlawful group by IsraeliAIRFORCE: 1:03pm On Sep 24
I don't blame the Federal Government rather Southeast Governors and Ọhaneze Ndigbo who proscribed IPOB to please the FG and retain goodwill with Fulani oligarchs.
2 Likes 1 Share
Politics / Re: 2023:2011 Presidential Election Throwback Result by IsraeliAIRFORCE: 12:34pm On Sep 24
mrvitalis:

What should north leave it for south alone
You dey mind the sophisticated hypocrites.
They want the North to stay clear for South but wouldn't want to give chances for their brethren in the East
1 Like
Politics / Re: 2023:2011 Presidential Election Throwback Result by IsraeliAIRFORCE: 12:28pm On Sep 24
seunmsg:
Well, south east already told us they are not in on any southern presidency agenda since they have no presidential candidate. For them, it's Atiku or nothing.
Greedy back stabber.
You ensured Jonathan lost.
The entire South got Obasanjo elected for eight years but you couldn't see Jonathan finish just for years.
Osibanjo is the VP and you greedy lots want the entire South to return another Yoruba to Aso Rock.
What a greedy bunch. Why not canvas for another Southern from different region?
Why won't Northeast or North Central lay claim to the presidenty since it's rotary?
Tell me no Southeasterner is qualified as usual.
2 Likes
NYSC / Re: Who Is Lying? NYSC Denies Telling Corpers To Prepare Ransom by IsraeliAIRFORCE: 12:06pm On Sep 24
WibusJaga:

Instead of them to fish out whoever is the culprit responsible for adding that nonsense paragraph & deal with him, they are here denying & blowing grammar.
You mean punish the sincere bureaucrat trying to save lives.
You no try at all.
Politics / Re: Bandits Outnumber Nigerian Army, Police Personnel In North-west – Katsina Gover by IsraeliAIRFORCE: 9:44am On Sep 22
That's a massive recruitment of regional Army.

Call them Bandits or ISWAP, they are Islamic Northern Nigeria Army.
2 Likes
Politics / Re: Ifeanyi Uba Laments Over Sit At Home, Begs IPOB To Allow Anambra Election To Hol by IsraeliAIRFORCE: 12:49pm On Sep 20
Is IPOB in control of Executive Powers in Southeast?

Talk to your brothers in IPOB, they are not monsters.
Family / Re: Woman Divorces Her Husband, Forces Daughter To Go With Her (Photos) by IsraeliAIRFORCE: 9:18am On Sep 20
A 32 years marriage can't produce such small child.
Phones / Re: GSM Booster: NCC Warns Against Unauthorized Use Of Telecommunication Boosters by IsraeliAIRFORCE: 9:17am On May 20
cornelin:
These network boosters impedes the signal strength of those not using it. It kind of localised the signal to a particular location band those not in the range of the signal will have to deal with poor network.

A very good example are mostly felt in commercial areas like big markets, Alaba international market for example.
Stop misinforming people. It's just like your normal A/C Stabilizers at home.
2 Likes
Foreign Affairs / Paid To Serve, Not To Die': French Police Walk Out To Call On Government by IsraeliAIRFORCE: 5:25pm On May 19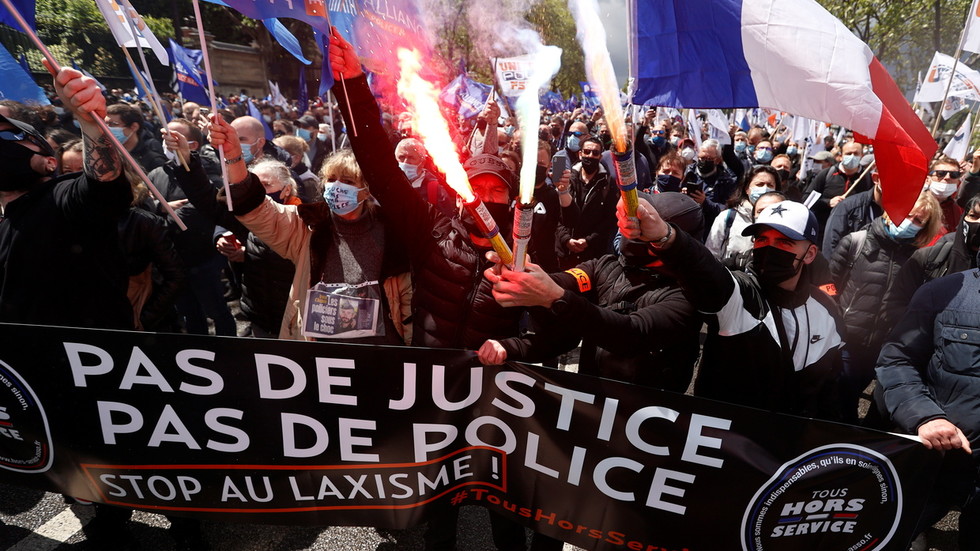 French police have staged a demonstration outside the National Assembly to call on President Emmanuel Macron's government to protect them against violence and bring tougher punishment for those who attack law enforcement officers.
Interior Minister Gerald Darmanin was booed by some on Wednesday as he briefly attended the rally in a show of support. "This can't go on any longer. You really need to protect us. It's getting worse," one officer told him.
The protest, held outside the National Assembly building in Paris, attracted thousands of law enforcement officers who waved flags and banners. One banner read, "Paid to serve, not to die."
Unions have complained that the government is failing to protect officers from violence against the police and the state. During their speeches on Wednesday, union leaders demanded in-depth reform of the justice system and the establishment of minimum prison sentences for anyone found guilty of attacking a police officer.
"The sentences must be executed, we must severely punish recidivism," insisted Olivier Varlet, the secretary general of the UNSA-Police union.
ALSO ON RT.COM
'You weaken our institution': Top French cop hits back at 93 ex-officers who signed letter calling for 'civil war' to be avoided
Officers also paid tribute to those killed and injured in recent weeks in the line of duty. Within the last month, one policeman was killed during a drug raid while a police force employee was stabbed to death outside her station.
In April, the French parliament passed into law a controversial bill on "global security" containing a heavily criticized provision on penalizing the malicious dissemination of images of the police. The bill, particularly Article 24, which penalizes the sharing of images that maliciously identify police officers in operations by face or name, provoked major demonstrations in the fall and new year.
https://www.rt.com/news/524239-france-police-rally-support-macron/
Crime / Re: Army Deserter, 33 Others Arrested For Suspected Internet Fraud In Osogbo by IsraeliAIRFORCE: 8:44am On May 19
Princengwakwe@yahoo.com
oldtruth:


Legitimate?
I was perplexed
Politics / Re: Police Launch 'operation Restore Peace' In South-east Over IPOB, ESN Uprising by IsraeliAIRFORCE: 3:33pm On May 18
Mutemenot:
The whole place has been more peaceful without the police. No extortion, no road block and unnecessary traffic jam by the police... from my little experience, I think this country is safer and homely without police
It's not true. Unethical policing doesn't takeaway the advantages and importance of a disciplined Police Force by the people and for the people that abide by defined rules of engagement.
Politics / Re: Atiku: Power To Change Nigeria Does Not Lie In Aso Rock by IsraeliAIRFORCE: 8:50am On May 17
No Fulani should be allowed to be President of Nigeria until every other ethnic group has been elected President.

Chile just voted to write a new constitution to reflect the make up of the country.
Politics / Re: Why I Disagree With Southern Governors Call On Buhari For National Dialogue by IsraeliAIRFORCE: 10:24am On May 14
How many times did General Mohammadu Buhari contest for president before it favoured him?


Giving up a call central to peaceful coexistence in this fragile period of our national misunderstanding now is an act of cowardice and betrayal.

For your information, the call for national dialogue and restructure are central to APC manifesto hence the call is perfectly in order and the best moment is now.
1 Like
Family / Re: Why Do Wives Like Secretly "Stealing" From Their Husband? by IsraeliAIRFORCE: 9:26am On May 10
What kind of generalised stupid topical question is this? Even the Moderator allowed it without necessary modifications?

Seun, please take note.

I presume you meant some women or wives. It's happens when trust and purpose of marriage is broken.

There was this woman who connives with her husband's employees to defraud the man. It wasn't until the woman found out that she was her husband sole next of kin. She did not only change, she became a guardian of his husband wealth.
1 Like
Politics / Re: Divorce: Bill & Melinda Gates Goes Separate Ways After 27 Years Of Marriage by IsraeliAIRFORCE: 10:15pm On May 03
She should ask Queen Elizabeth how she sustained her marriage for life.